Written by Dave Pankew // Photos By: Jacob "The Rising Sun" Leveton | 24 August 2010
Page 1 of 2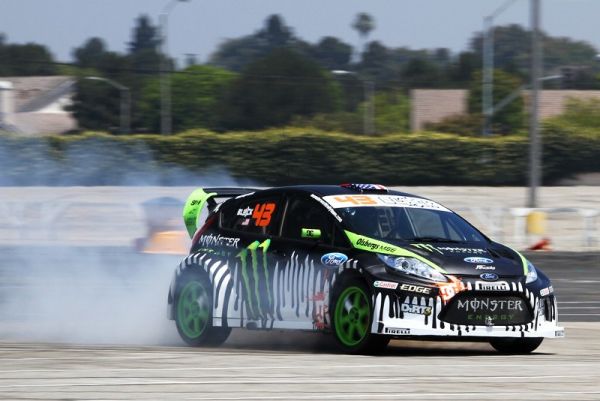 Seem like only yesterday I was on the phone with Ken Block putting together an article. Back in 2004, Ken was hard at work putting together a trio of Subaru STi for the upcoming Gumball 3000 event. The move marked a long and successful relationship between the two and the proliferation of Rally and Rally Cross at the X-Games to be the next big thing. Block owner the viral car movie scene with his high budget Gymkhana videos and in the last year or so has completely changed direction again.
Block has the total package with this micro compact, all wheel drive and 650 ponies clawing at the ground.
With new sponsors and a car provided by Ford, Block has taken his passion for going fast and getting stupid and focused it on a new form of motorsport - Gymkhana. For those that don't know Gymkhana is by definition a test of speed or athleticism. As a motorsport it is really nothing new, but of course Block being the marketing genius that he is, knew how to repackage it. Gymkhana involves the best of motorsport, the tight turns, the drifting, the smoke and squealing tires that the audiences crave. The course itself resembles and auto-cross but is ridiculously hard to remember prompting many drivers to duct tape a course layout on their dashboard. All of the techniques used in Rally are need to get around the tight course the quickest including: left foot braking, jamming the e-brake and drifting a turn to get the ass end around quick-time.
To get more insight on the success of this car in the emerging motorsport, we spoke with Chris Willard who runs the series. "As a former co-owner of Redline Time Attack I saw the high-0dollar teams waling away with the prize." Says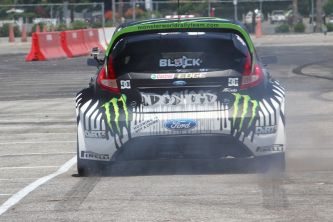 Willard "I believe that Gymkhana levels the playing field and more modest cars can be very competitive."
Proof of this was the recent Gymkhana Grid media event where Ken Block set the tone with a 0.54-second run. A great effort by any standards but what wasn't expected were some of privateers with not nearly as much motorsports prowess as Block, coming within a second of his time! Just because you have 1000whp in a full-prepped chassis, doesn't secure a victory over a snappy 300whp in a compact chassis.
Block however, has the total package with a micro compact, all wheel drive and 650 ponies clawing at the ground. With a build like this, it will be difficult to top, even if they do come close. Obviously, there isn't much Fiesta left in it aside from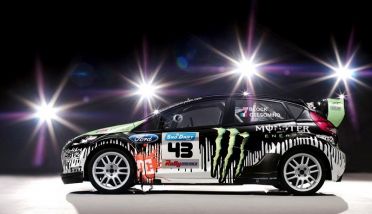 the headlights and some old sheet metal. The engine itself has been fully built as a collaboration between Ultra Motor in the UK and Olsbergs Motor Sport Evolution (OMSE) in Scandinavia. The 2.0L Duratec mill was build to exacting standards using JE 10:1 pistons and Carrillo rods connected to an Arrow crankshaft. The head was ported and polished by OMSE and bolted back up with ARP studs sandwiching a metal headgasket. The turbo pushing the boost is a WRC-spec Garrett TR3076R that uses a titanium wheel inside a stainless steel housing perched atop a custom OMSE top-mount manifold regulated by TiAL 44mm wastegate. The fuel comes correct with 800cc Bosch injectors pushed by twin Bosch in-lines. The cool side is all OMSE custom piping vented by an HKS SSQV3 blow-off valves.
The ensemble was tuned by Excentrics using a curious contraption made from a SAAB ECU. The dust fell and at high boost with 104-octane the car pumped out 650whp horsepower. That kind of jam would tear apart stock gear so an OMSE-built tranny was added along with an Alcon clutch. The differentials are OMSE Maktrak both front and rear for stupid grip.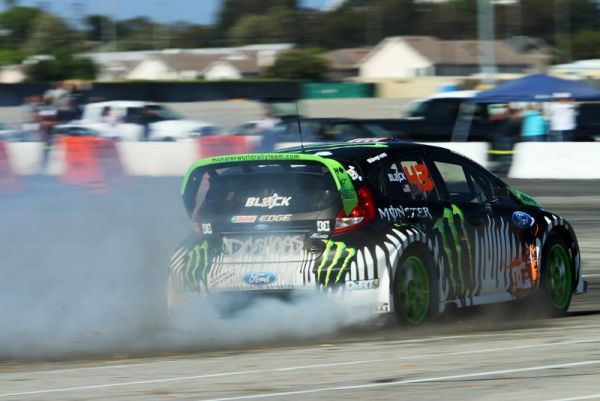 The fiery Fiesta need to be harness, so when Block and crew were sourcing suspensions, they went to the best – Öhlins. The 4-way adjustable dampers are custom valves and feature custom spring rates and and in-car adjustable compression and rebound controller. The rollers selected are a set of Japan's finest TE37's forged alloys 18x9-inches on all four corners. The rubber is Pirelli's new Trofeo tire measuring 245/45R18 all around. Lurking behind the green spokes are a set of Alcon 6-pistons up front and a capable 4-piston rear. The e-brake madness comes courtesy of a custom fabricated hydraulic e-brake system to get around those tight turns.

Read on for Full Specs