Written by Dave Pankew // Photos By: RCH Designs | 07 April 2011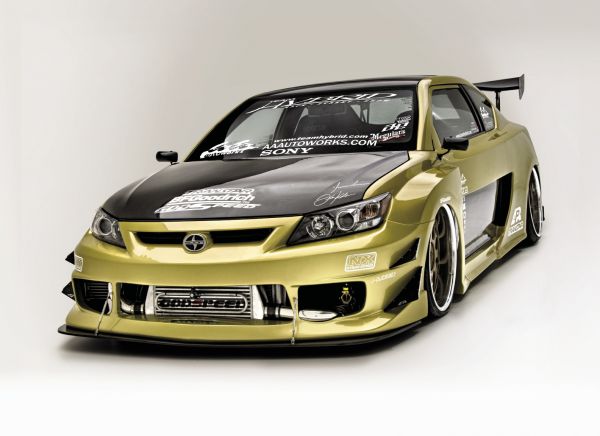 As the both President and Founder of Team Hybrid and Hybrid Hunnyz, James Lin has earned his stripes to become one of the leaders in the custom Sport Compact business. Since 1995, his level of commitment has been unwavering and his builds earn covers and features in every magazine title that you have ever been in to.
May 16+ years of Team Hybrid's legendary tradition continue making import history
The sponsorships, the praise, the trophies and many other import accolades have piled up for Lin & Team Hybrid over the years. Lin said, "May 16+ years of Team Hybrid's legendary tradition, philosophy, innovation, management and quality continue making import history." Lin takes the import tuning game seriously and over the years companies have realized he is the go-to guy to build demo cars, tour them all over the place and bag awards, covers and features for all of his hard work!
Back in 2006, Lin and Scion formed a lasting relationship to put their cars on the map. His Scion xA build earned him 1st place in the National Scion SEMA Tuner Challenge that year and he repeated his performance with a Scion xD in 2007. As a back-to-back champion, he had to share the spotlight in the following years but never stopped trying, which is how this golden 2011 Scion tC was born.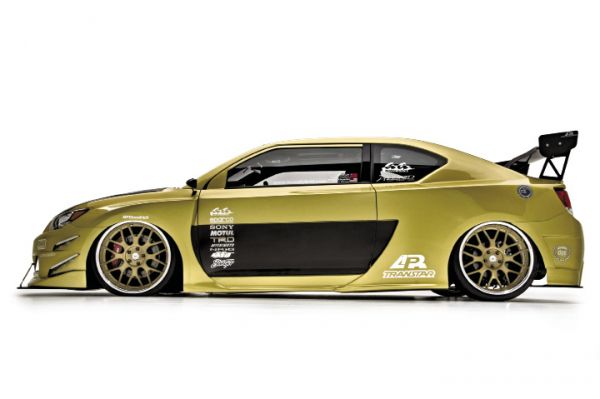 "Since there weren't any commercially available parts for this car, I needed to innovate, project direct and outsource the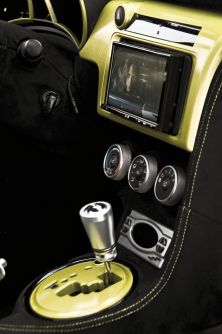 development of parts as one-off pieces while relying on loyal sponsors," said Lin. "The foundation for the design process was my philosophy of building clean, innovative cars that can win at the race-street-show. I attribute this multi-disciplinary approach as the primary reason Team Hybrid has become legendary in the tuning industry and another main reason why Scion selected me to compete for the third time."
We rolled up on Lin at SEMA standing beside his tC like a proud father. He was walking us through all of the challenges he had to work through to make it happen. The most striking feature of the build was the elaborate widebody, which of course was entirely custom since nothing had made it to market when he took delivery. AA Autoworks stripped the car and began to redefine its whole appearance. The body was completely shaved of everything and widened by 3 inches on both sides. AA Autoworks added carbon fiber inserts on the doors and fenders. AIT Racing fabricated a custom hood and trunk, using dimensions for their own product available today. AIT Racing also offered up their front carbon fiber splitter and rear diffuser to manage airflow around the car. APR was contacted for a set of their front bumper canards, some of the GT carbon fiber mirrors and the quintessential GTC300 wing! The entire project was shot in several layers of Transtar custom mix gold paint applied by AA Autoworks.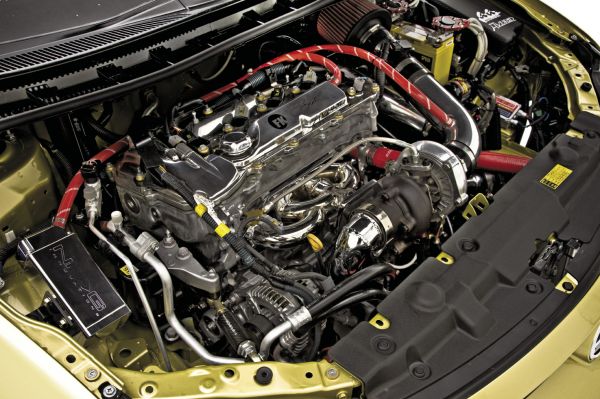 The second order of business was to pay attention to details under the hood. Lin only builds car with some jam under the lid with some bling at the same time. At the core of the build is a God Speed turbo based on the GT2876R T-28 Garrett. The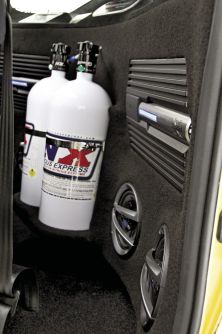 custom kit, built by Project Manager, Frankie Klepadlo of Team Hybrid and AA Autoworks features all of the supporting modifications including a God Speed Type M front mount intercooler and an anodized gold blow-off valve. Lin of course added his own touches by chroming the manifold and downpipe. The air is hauled in with a DC Sports intake and the fire is fueled with Denso 550cc injectors pushed by a Walbro 255lph pump. Mishimoto stepped in for all of the cooling needs including an aluminum radiator, electric fan kit, racing thermostat and silicone hoses to connect it all up. Some NRG product was also blended in including a grounding kit, catch can and a pair of carbon fiber hood dampers.
With some juice under the lid, he needed to hook it up properly and fill out those fat fenders. Lin contacted Manu at DPE Wheels for a set of custom gold finish and polished lip wheels running stupid offsets. The DPE R16 wheels are sized in 20x8.5-inch featuring -15 offset, 3.5-inch lips and BFGoodrich 225/30R20 g-Force T/A KDWs. 'Round back, Lin runs a 20x10-inch rocking a zero offset and 4.5-inches of dish with a BFGoodrich 245/30R20 g-Force T/A KDW stretched over it. The correct stance was dialed-in using an Air Lift suspension to lay frame when needed. The kit consists a blend of proprietary and custom brackets and the AutoPilot digital lift controller on each corner with a 5-gallon tank and Viair 380C compressor. Peeking through the spokes are some binders engineered for the tC from TRD, which feature 4-piston calipers and 340mm rotors.
Inside the cabin, Lin was unrelenting in making a statement with his Scion. The factory seats were pulled in favor of Sparco Fighter seats with a pair of matching 4-point cam lock harnesses. The wheel was replaced with a Sparco 325mm suede unit matched with a NRG Gen3.0 quick release hub. The shift knob was upgraded to a Sparco Fast R along with a Sparco drift handbrake. The interior was pulled apart by Art's Custom Upholstery and totally redone in suede and carbon fiber with a few select pieces being spraying in the color-matched gold.
Team Hybrid and Sony had forged a long-lasting relationship that they can thank PASMAG for. When we need to connect our audio partners with the right builders, Lin was definitely on the A-list and Sony opened up their catalog for him. Lin entrusted the crew over at Al & Ed's Auto Sound in Northridge, CA to work the magic they needed to get the car noticed at SEMA. The build started with the removal of the interior, followed by the addition of Stinger sound deadening and the installation of a Sony 7-inch double-DIN XNV-770BT receiver/navigation unit. Sony also added their back-up camera module, mobile Blu-Ray player and a DASH personal internet viewer for multimedia on the go. Video signals are relayed to a variety of monitors inside the car including a 32-inch Sony Bravia and a total of four Sony HVM-H65 6.5-inch monitors.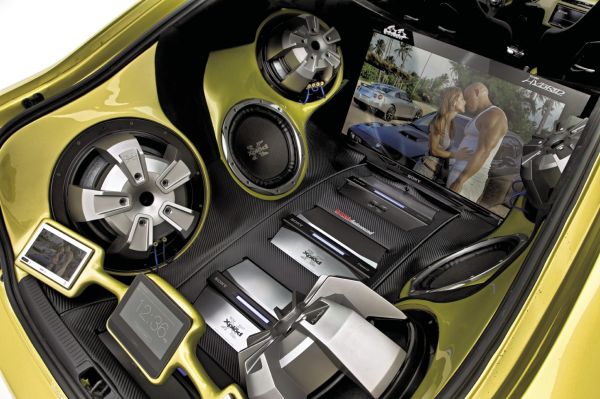 On to the audio side of things where Sony Xplod products were selected. A total of four Sony Xplod XM-ZZR3301 Class D mono amplifiers drive a pair of Sony Xplod 15-inch XS-L156P5 subwoofers in a custom fiberglass color-matched enclosure. The 15-inch subs are inverted and fire towards the body, while four 12-inch Sony XS-LD126P5 subwoofers pound the inside of the cabin. Sony Xplod XM-ZR704 4-channel amplifiers drive the balance of the speakers inside custom housings. A pair of Sony Xplod XS-GTX1621S reside in the doors with a pair of Sony XS-GTX1641 co-axial speakers in the rear seat section.
While Lin had a legitimate shot as a 3-time champion, the judges felt otherwise. For Lin, it only motivates him to push the envelope a bit more in the future. After all, he's spent 16+ years getting his Hybrid grind on.
Read on for Full Specs
Builder: James Lin (Team Hybrid / Hybrid Hunnyz)
Location: Oxnard, CA / Taipei, Taiwan   
Vehicle: 2011 Scion tC
Website:  www.teamhybrid.com / www.hybridforums.com

ENGINE MODIFICATIONS
God Speed GT2876R T28 turbo charger
God Speed Type M front mount intercooler
God Speed/custom intercooler piping
God Speed anodized "Gold" blow off valve
Custom chrome manifold & downpipe
DC Sport air filter
Denso 550cc injectors
Nology spark plugs
Walbro 255LPH fuel pump
Mishimoto radiator
Mishimoto fan shroud with fans
Mishimoto race thermostat
KOM Automotive oil cooler kit
NRG ground wire system x2
NRG voltage stabilizer
NRG carbon fiber engine damper
NRG carbon fiber hood damper
Nitrous Express intercooler spray system with purge
Password: JDM gold aluminum washers and 10mm bolts
Dry Carbon wrapped fuse box cover
Stinger compact size battery (relocated)
Motul 300V CHRONO 10W-40 Racing oil
Custom mix Transtar Gold engine bay by AA Autoworks
Custom Turbo kit by Frankie Klepadlo of Team Hybrid & AA Autoworks
WHEELS, TIRES, BRAKES
DPE Wheels R16
F: 20x8.5-inch featuring -15 offset
R: 20x10-inch featuring 0 offset
BFGoodrich g-Force T/A KDW
F: 225/30R20
R: 245/30R20
TRD 4-piston calipers with 340mm rotors

SUSPENSION
Custom Air Lift air suspension
5 gallon tank.
Viair 380c heavy duty compressor

EXTERIOR
One off custom wide body kit by AA Autoworks
One off  carbon fiber hood  by AIT Racing
One off carbon fiber trunk by AIT Racing
Custom hand laid carbon fiber on door inserts, rear quarter panels and front fenders by AA Autoworks
Custom Sparco fuel cap non-locking brush
Custom door handles (Megatronix keyless remote entry button pops doors open)
Shaved antenna, wipers, handles, mirrors
Show-Off HIDs 6000k HID kit
AIT Racing carbon fiber front bumper splitter
AIT Racing carbon fiber rear bumper splitter
APR splitter rods
APR front bumper carbon fiber canards
APR GT carbon fiber side mirrors
APR GTC 300 carbon fiber rear wing
Custom mix Transtar gold paint by AA Autoworks


INTERIOR
Sparco Fighter Seats
Sparco Harness 4-point
Sparco Harness Pads
Sparco Steering Wheel 325mm Suede
Sparco Fast R Shift Knob
Sparco Stripe STD Pedal Kit
Sparco Hand Brake "Drift"
Sparco Track Set Sliders
Custom seat brackets
NRG 3.0 quick release
NRG short hub
Broadway rear view mirror
Art's Custom full suede / carbon wrap with gold stitched interior
Custom mix Transtar Gold painted interior accents
AUDIO / MULTIMEDIA
Sony 7-inch Double DIN XNV-770BT A/V receiver w/ navigation (Prototype Unit)
Sony 12-inch XS-LD126P5 subwoofers x2
Sony 15-inch XS-L156P5 subwoofers x4
Sony XM-ZZR3301 Class D mono amplifiers x4
Sony XM-ZR704 4 channel amplifiers x2
Sony XS-GTX1621S components x2
Sony XS-GTX1641 co-axial speakers x2
Sony HVM-H65 6.5inch monitors x4
Sony XA-R800C rear view camera
Sony Bravia 32-inch LCD TV
Sony BDP-S370 Blu-ray player
Sony DASH personal internet viewer
StingerRKX36B sound damping material
Stinger TRUE-SPEC tinned Oxygen-free copperline wires and cables
Stinger compact size batteries #SPV20 x3
Stinger power supply
Custom alternator upgraded from stock 75 amps to 150 amps
Megatronix poppers and keyless remote entry system
Customized and fabricated in fiberglass painted in custom mix Transtar Gold / Meguiar's Wraptivocarbon wrap multimedia audio and video system by Al & Ed's Autosound, Northridge

SHOUTOUTS
Meguiar's car care
NOS energy drinks
Gorilla Print & Wrap