09 June 2011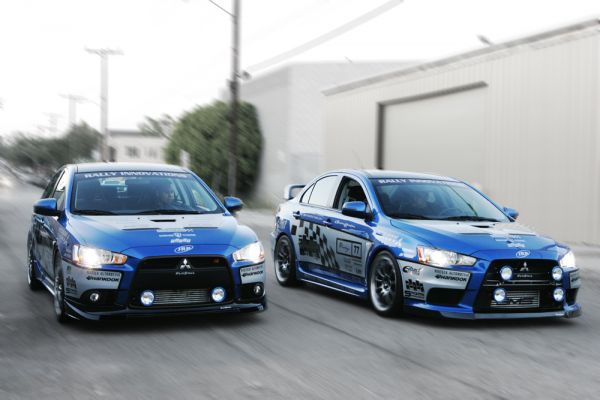 The original concept of building this 2010 Lancer Sportback Ralliart was to showcase their rally-inspired designs in the Mitsubishi niche. As with any car that has been built by Rally Innovations, they were able to utilize their marketing partners to come up with a great combination of functionality and marketability. The car has been featured both on and off the track and performs well under each condition.
The Mitsubishi Sportback project began as a joint-venture with Mitsubishi North America Motors and Rally Innovations to create the sister vehicle of RI's well-known Evolution X.   Rally Innovations was part of a program that would stir up interest for the Sportback in the sport compact scene before the car was released to the public. The plan was to find the right partners and debut the vehicle at SEMA as well as at International Auto Shows in both Los Angeles and San Diego.
Rally Innovations has been able to incorporate some truly exclusive products and showcase them on this car. Products such as the Soltek Fuego 4" HID fog lights, EvoSoul LED side mirror covers, EvoSoul interior trim pieces, HOS front lip, Ralliart mid & lip spoiler and carbon fiber overlayed aluminum fuel door transform this basic trimmed Ralliart to make one believe it's an EVO X hatch.
The motor received some tweaks to crank a few more ponies out of it. With a custom intake and custom exhaust sporting an ANSA muffler, the motor was ready to breathe and exhale better. A load of AMS performance upgrades were added including and intercooler and piping kit as well as an AMS Performance tune.  Rally Innovations took the car to be dynoed at Mavrik Motorsports where they extracted 255whp and 253lb-ft from the 4B11 motor with a stock Ralliart turbo.  That's about 10whp more than a stock Evolution X!
On the exterior, the car received a dose of Rally Innovations styling. From the front lip spoiler to the 2-tier Ralliart wing the exterior is a bold new statement in automotive. The paint work was done by Banshee Auto Tunin before the vinyl graphics were cut to give some love to the sponsors.
The rollers also were replaced with something decidedly more aggressive. A set of Work Wheels 11R Emotion were selected in gunmetal measuring 18x8.5-inches. The rubber selected was an aggressive Hankook RS-3 R-Comp 245/35R18 on all four corners for maximum contact patch.
If you are ever in Orange County and have a Mitsubishi or Subaru be sure to stop in at Rally Innovations to see what they offer for your car. You might see the Sportback or one of their other Mitsus at the next car show or running around the streets of Anaheim in the unmistakable blue and silver color scheme.
The Essentials
Owner: Rally Innovations
Location: Anaheim, CA
Vehicle: 2010 Mitsubishi Lancer Sportback Ralliart
Power: 255whp with 253lb-ft
Engine: Mitsubishi 2.0L 4B11 Inline-4 MIVEC
Engine Modifications:
Rally Innovations Intake
Rally Innovations ANSA Exhaust
AMS Performance Intercooler upgrade & piping
Engine Management:
AMS Performance
Sprint Booster
Wheels & Tires:
Work Wheels 11R Emotion 18x8.5-inch
Hankook RS-3 R-Comp 245/35R18
Exterior
Rally Innovations:
HOS Front Lip
EvoSoul LED Mirror Covers
Ralliart 2 tier hatch spoiler
Soltek 4" Fuego HID Fog Lights
Mitsubishi Aluminum Fuel Door wrapped in carbon fiber
Paint by Banshee Auto Tunin
Vinyl by Dynamic Graphics
Shout-outs:
Pentech Automotive, Sports Racing Fuel, Eibach, Mitsubishi North America, HKS, Dynamic Graphics, Perfect Color.net, Cool Tints, Hankook Tires, Powder Coat Services Inc., Speed Element, Revi-wear, L&R Promotions, Freelance West, Majestic REI.com, Velocity Motoring, Motive Club, Boys & Girls Clubs-Brea-Placentia-Yorba Linda, Frank's Auto, Banshee Auto Tunin, Chuck's Creations, South Coast Mitsubishi, ANSA Automotive, AMS, Tarmac Performance, HOS Automotive, Rally Innovations, Mavrik Motorsports