18 July 2011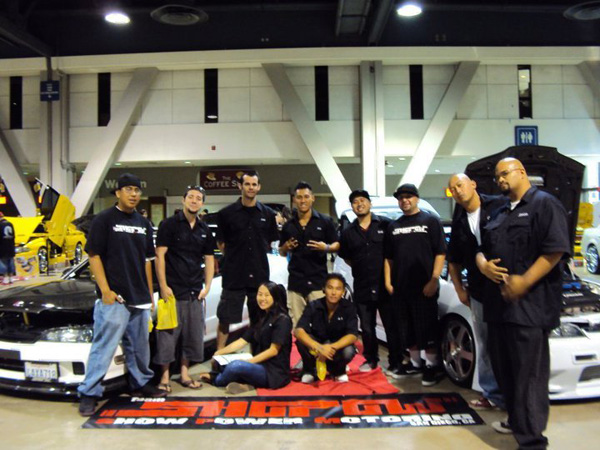 Club Name: Team Shopow
Year Established: Since Early 2000, but (the) team split apart with only 1 Member left. (It was ) revived in 2007.
Website: www.TeamShopow.com
Facebook Group Page: www.Facebook.com/TeamShopow
Myspace Page: www.myspace.com/teamshopowsd
PASNATION Team Username: Trubluryder
Locations / Chapters: San Diego/ Northern California/ Southside San Diego
# of Members: Currently 18 members and 3 prospective members.
President / Founder: Dino Panuga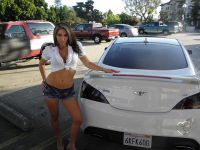 Team Sponsors: NRG Innovations, RPM Exhaust, Kearny Mesa Paint Supply, Top-Line, Industrial Products Inc, Madman GrafX, Wheels and Heels Magazine, Triple Graphix.
Introduction:
We were established in 2001. A Bunch of friends who shared the same interest with imports got together and created Show Power Motoring, aka team Shopow. We were seen all over the southern part of San Diego, cruising, hanging out and had a few shows in San Diego. After 2003, members started losing interest, stopped hanging out and stopped showing up to the meetings. It got to a point that there was only one member left, officially the team was dead. In 2007, unplanned, the team was revived. A new wave of members joined that just didn't have an interest, but a passion. We're here to stay, make new friends and promote a positive image of ourselves. Hopefully unite San Diego and bring back the good old days. If you see us on the street say, "what's up?" We're all pretty chill. Team Shopow, we're family first and then we're a team.
Currently our team has 19 members and 4 prospects with over 20 vehicles. Our team is made up of Filipino members; Vietnamese, African, Mexican, Jewish, etc. (We are very diverse. (It is) funny how we get along, as if we were blood related. Our vehicles range from imports to euros. We don't just represent the JDM scene, but also the old school and euro scene. Other then attending car shows, we also do toy drives and can food drives for our community. Our goal is to progress as a team and meet other enthusiasts who share the same passion as we do. We strive to keep the scene in San Diego alive since everyone knows that here, it's pretty much dying. We are one of the only few that are currently active in the community.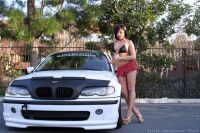 Awards / Accomplishments: Best Display (Panda Cage) Extreme Autofest, 2nd Place Euro (Bmw), 3rd Place Import (Honda Accord), 2nd Place Import (Honda Accord) , 3rd Place Euro (Mercedes), GreddyFest2 Best Greddy Theme.
Media Coverage (feature / articles):
Greddy Fest 9-05-2010 @ Irvine - Chris Sinh's Teggy, Best Greddy Themed
Team Shopow's Joel Montecalvo PasswordJDM.com "Money Shot" Photography Contest winner 5-01-09
Super Street, August 2009 Issue. Coverage of Extreme Autofest Anaheim. Dino's Panda Cage 1st apperance.
Phi's Accord in the Super Street January 2011 Issue. Coverage of Greddy Fest 2010 12-01-10
PASMAG Magazine October Issue 2010, Coverage of Spocom Long Beach - Chris's Integra
Alan's Benz in the Uniont Tribune News Paper's coverage of Extreme Autofest San Diego 7-27-09
Joel Montecalvo picture of Team Shopow Integra, Honda Tuning "Oh Snaps" Photography contest runner up 5-1-09
Shows Attended:
2007
7/7 National City Car Show
2008
6/1 Extreme Autofest San Diego
9/1 San Diego Auto Swapmeet Qualcomm Stadium
12/8 JDM Unlimited Can Food Drive
2009
1/25 Eibach Meet
3/28 Race Legal Car Show, Chula Vista
5/2   Extreme Autofest Anaheim CA
5/28 UCSD Car Show
6/7   SDRev Concourse
7/26 Extreme Autofest San Diego
8/6 Dr. Pepper Shoot
8/15 Cruise for the Cause Car Show
2010
2/22 Mels Can Food Drive
3/20 Remix XDC, Irwindale Speedway
5/18 Eibach Meet Corona CA
5/23 Extreme AutoFest San Diego
5/30 Redline Showcase, Fontana Speedway
7/18 Spocom, Long Beach
8/7   RPM Event Series
8/11 Wheels and Heels Mag Photoshoot
8/14 Nisei Showoff Week, Little Tokyo
8/28 Extreme Dimensions in Fullerton CA
9/4  GreddyFest2, Irvine CA
9/26 Cornado Speed Festival, San Diego
10/3 5 & A Dime Car Even, San Diego
11/14 Redline Showcase, Fontana Speedway.
Community Involvement: We try to give back to our community by attending and doing our own toy drives and can food drives.
Future Plans: To grow as a team and continue to meet new enthusiasts. Leaving a positive image and possibly bring back the scene to San Diego.
Organized Meets: Our car club meets every other Wednesday at certain locations.
Membership / Modeling Details: Visit our team's website for contact info and also our Facebook for (further) information.
Club Vehicles:
Vehicle Varies from
Honda Civics
Honda Accords
Honda Prelude
Acura Integras
Scion Tc
Acura TSX
Hyndai Genesis
Mercedes Benz
BMW 325i
Special Thanks to: All of our Family and Friends who support us and our passions. Shout out to all of our Sponsors and Affiliates: Affordable Paint and Body, Chula Vista Tire Center, NRG Innovations, RPM Exhaust, Kearny Mesa Paint Supply, Top-Line Industrial Products Inc, Madman GrafX, Wheels and Heels Magazine, Triple Graphix, Solar Eclipse, Pann Auto, Cartune, Jprint, and everyone else! And from Team Shopow we would like to thank PAS MAG for this opportunity!
General Questions
How long was the club operating? When did it start?
Since 2001
How did it start?
It all started from a group of friends in High School who shared a passion for cars.
How did you come up with the name?
Shopow came about from "Shiopow", a Filipino snack that's really GOOD!
How many members in your club?
Currently 19 members and 4 prospect members
What kind of cars are in your club?
Mostly imports such as Civic, Accord, Integra. We also have a few Euro's, Mercedes and BMW; Scion Tc, Hyundai Genesis
Where is the club based (City, State/Province, Country)?
San Diego, North California, and Southside San Diego
What is your club all about? (What do you do together, how often do you meet, what do you offer your members, etc)
We are like a family. We believe in being a family first and then we're a car club. We meet every other week and go out whenever we are all free, just like what anyone else would normally do with friends. What we offer to our members are a family environment and a car club environment. What most car clubs don't have is a family aspect and different characteristics that come with that. We are a very close knit group of friends. We go to shows together, and grow as family and team.
Tell us anything else unique / of interest to our readers about who you are
If you see us at the shows, come by and say, "Hello." It's always cool to meet new people with the same passion.
Event Schedule
Events for 2011
Updated with more shows when available
Here is a list of show's we are planning to be attending
16.25.11 - Best of the West 3 - hosted by alphaSQUAD in San Bernardino
07.10.11 - Extreme Autofest @ Qualcomm Stadium
08.06.11 - SPOCOM Show @ Anaheim Convention Center
08.13.11 - NIESEI ShowOff in Little Tokyo
08.21.11 - MOTION Presented by Pro Motion @ Long Beach Convention Center
09.10.11 -  Japanese Classic Car Show - Queen Mary / Long Beach
09.23-24.11 -  14th Annual Coronado Speed Fest - Coronado
09.xx.11 - Dub Show @ Qualcomm Stadium (date pending)
10.08.11 - Slammed Society in Irwindale Presented by FatLace/HellaFlush
12.18.11 - Import Face Off @ AutoClub Dragway, Fontana
More shows are always being added, as they become announced.
Alot has gotten better for the Team and I from the last time we spoke. Here is our website
www.TeamShopow.com
From there, you can see who's in our team, our cars, sponsors, past and future events.