17 October 2011
Page 1 of 3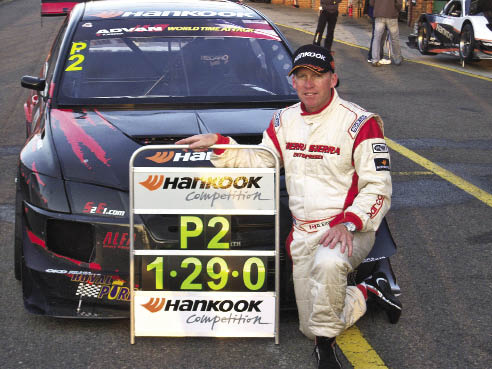 For the past two years, the sport of time attack has been given a global stage, the World Time Attack Challenge held at Eastern Creek Raceway in Australia. The event is simple; the top time attack teams from each country around the globe are invited to represent their flag in an epic battle to claim the title of fastest time attack car in the world. For the past two years, the United States has been represented by one car and one car only, the Sierra Sierra Enterprises Mitsubishi Evo VIII.
he team at Sierra Sierra Enterprises entered the world of time attack in 2009 and although they are relatively new to the time attack scene, they are no strangers to motorsports. Sierra Sierra Enterprises comes from a long history of open-wheel racing in the Star Mazda and Formula Atlantic series before moving into time attack. Their expertise and knowledge in open-wheel racing has led to a short learning curve for making the transition to production based sports cars. In their third season of time attack racing, they are already serious contenders for the World Time Attack Challenge title. They missed it this year by just one tenth of a second.
Their amazing story starts with a Mitsubishi Evo VIII, one of the most popular platforms in time attack racing around the world. At the heart of the beast lies a stroked 2.2L Mitsubishi 4G63 4-cylinder turbo engine meticulously built by the geniuses at Cosworth. It's not just any old 4G63 engine though. Everything has been carefully planned and selected for maximum performance and reliability and the result is over 825 horsepower at the wheels on E85 fuel! The potent powerplant ingests incredible amounts of air through a Borg Warner EFR Performance Series turbocharger where a dual wastegate setup using Turbosmart Comp-Gate40 wastegates control the amount of boost. Air is force fed through a custom intercooler setup before it makes its way to an OEM throttle body off of a Nissan- yes, Nissan- VH45DE V8 engine. Air makes its way into the engine via an HKS Kansai intake plenum and into the Cosworth CNC ported cylinder head. A Cosworth ultra-high rev dual valve spring kit allows the engine to rev up to 8600rpm time and time again white Cosworth EVO 8 SWB camshafts control Cosworth intake and exhaust valves. A custom fuel system spews massive amounts of E85 fuel through 1,600cc RC fuel injectors where it meets up with the air inside the block. Cosworth forged pistons compress the air/fuel mixture while an Okada Project ignition system lights the fire. Spent exhaust gasses make their way through a Full-Race exhaust manifold before making their way back through the Borg Warner EFR Performance Series turbo and out through the custom exhaust. The intricate timing of the high performance Cosworth engine package is controlled by a Cosworth Pectel SQC engine control unit. Royal Purple XPR motor oil is trusted to keep the engine safe.
The massive amounts of horsepower generated by the Cosworth power plant make their way through a stock Mitsubishi 5-Speed transmission fortified with Quaife internals, Group N rally spec transmission gears, and a Tilton clutch and flywheel setup. A stock center differential is used with the aid of a Cosworth Pectel EDC that controls the balance of power to the front and rear wheels. An OS Giken rear differential finishes up the drivetrain modifications.