Written by Dave Pankew | 27 November 2009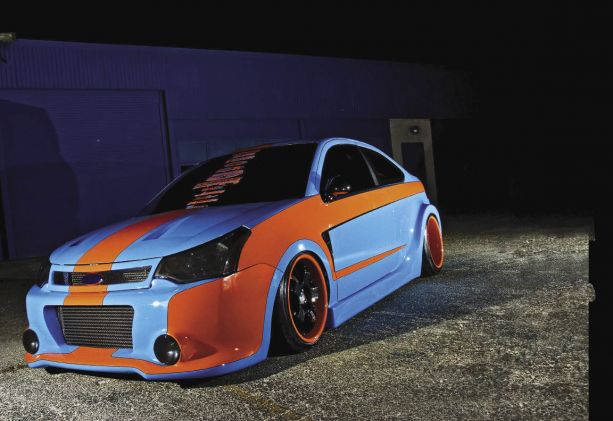 Written by Dave Pankew | Photos by John Jackson
How do you improve upon one of the best selling cars of all time? One that's won countless awards and has several hundred thousand still on the road today? Well, it requires real talent and skill to take a good thing and making it even better. Case in point, the crew over at Design Tech in Catskills, NY, who took a stock 2008 Ford Focus SES Coupe and transformed it into something unrecognizable. If you know your classic exotics then the inspiration is obvious, the Gulf Ford GT40 from 1968. The never duplicated color scheme is instantly recognizable by any car buff. After many late nights and several computer renderings, the final design scheme was decided.
"Taking cues from the Ford GT40, we blended raw power and innovative technologies to create a vehicle that speaks for itself," says Design Tech owner Colm Derasmo. "We dubbed the car the 'DT40' to pay homage to Design Tech and the 40 days we had to build it."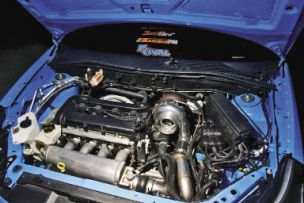 With that said, the gloves came off and Design Tech started ripping the car apart. This one of a kind turbo Ford Focus was fitted with a T3/T4-style SPA turbo sitting on top of a top mount 4-1 stainless steel manifold. The exhaust flows by a SPA external wastegate before entering a full 3-inch turbo back exhaust built with a Magnaflow resonator and twin 5-inch tips. The fuel was ramped up with a custom billet rail, SS lines feeding upgrade injectors. The entire engine bay was cleaned up by relocating the ECU, fuse block, ignition, battery, heater core and reservoirs before hitting the engine bay with color match paint.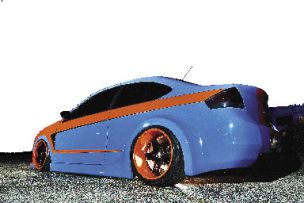 The intense engine overhaul was no easy task, but the exterior treatment ended up being a monumental one. The DT40 appearance package features a wide race stance with a 4.5-inch increase in the rear and a 1-inch up front. The custom side skirts were molded into the body for that extra clean look.
The custom rear bumper was stretched out and fitted with a rear diffuser flanking a center mounted exhaust. The front bumper was carved out to accommodate a large high performance S-Max intercooler and integrates a front splitter and PIAA smoked driving lights. The rear deck features an integrated trunk lid spoiler. Several components were shaved and deleted such as door handles, trim and molding and a set of race-inspired mirrors and custom grille were added. A StreetGlow 7-Color LED underbody lighting system was added in addition to high-intensity strobe lighting. The blue and orange paint scheme was based on the GT40 #1075 which won LeMans 24 hour in 1968 and 1969. The vinyl was completed by Grafx to give some love to the various sponsors involved in the epic build.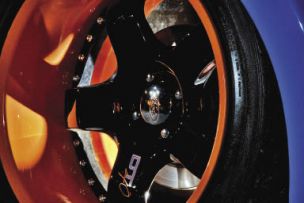 The rollers are a custom set of Garson 3-piece deep dish wheels. The fronts measure 18x8.5-inch while the rears are a heavy hitting 18x11-inches and boast a jaw-dropping 7-inch lip! These massive wheels were wrapped with Falken FK452s and stretched to perfection. The stock rear drums were removed and the entire system was fitted with SVT brakes and cross-drilled rotors.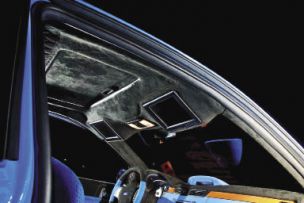 Inside, the interior was completed gutted. All areas were stripped and covered in Dynamat's finest with over 200sq. ft. of material used. The Momo race seats were reupholstered with a cross stitched diamond pattern and custom 4-point harnesses with 'DT40' embroidered in the center. The doors feature Kicker SS 6.5-inch mid-bass speakers inside custom fabricated door panels.
Plus, a set of Kicker RS 5.25-inch components reproduce the highs driven by a Kicker ZX150.2 amplifier. A pair of Kicker L5 subwoofers are driven by a Kicker ZX500.1 mono amp in the rear, as the install includes an illuminated 'DT40' logo. Signal processing is delegated to the Audio Control LC8 line driver and an Audio Control 6XS crossover.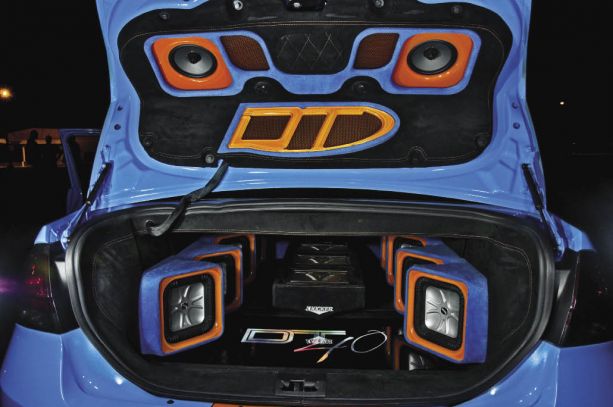 On the multimedia side, Design Tech really ramped up their efforts. They fitted the car with a factory option Microsoft SYNC to control the full Bluetooth, multimedia and audio experience. The Microsoft Xbox 360 is also integrated into the system for some advanced gaming. A pair of 9-inch monitors now reside in the headliner, where the front visors used to be. Video playback is delegated to the motorized Toshiba 42-inch LCD rockin' some true 1080p goodness in the trunk. The entire system is ignited by a Kinetik HC1400 battery providing more than enough juice for this entire audio / video assault.
For a shop that we just recently heard of, we have to pay some respect. They came down to Spring Break Nationals in Daytona Beach all the way from New York City to make a real splash. After what we saw here, mission accomplished.
ESSENTIALS
Owner: Design Tech
Location: Catskills, NY
Vehicle: 2008 Ford Focus SES
ENGINE MODIFICATIONS
SPA T3/T4 Turbo
Polished intake Housing
SPA Aluminum External Wastegate
Mounted in High-Profile Configuration to showcase turbo
CAD Designed and CNC Cut Flange
Aluminum Intake Manifold
CAD Designed and CNC Cut Flange and Plenum
Aluminum Fuel Rail
Steel Braided Fuel Lines
Custom SS Intercooler piping
Relocated: ECU, Fuse Block, Ignition system, Battery, Heater Core, Power Steering Reservoir
EXHAUST
3-inch Stainless Steel Exhaust
Stainless Steel 4-1 Exhaust Manifold
WHEELS, TIRES, BRAKES
Garson 3-Piece Deep Dish Racing Wheels; 18x8.5-inch (f), 18x11-inch w/ 7-inch lip (r)
Falken FK452 tires
SVT Focus Brake Conversion
SUSPENSION
Easy Street by Airlift Air Ride
Front Suspension Sleeve
Rear Lower Control Arms
Aluminum Upper Perch Mounts
Microcontroller based valve system
Allows for 'set and forget' ride height adjustment
Air Tank mounted in spare tire well
EXTERIOR
"DT40" Appearance package Widebody extended 4.5-inches in rear
Custom side skirts molded into body
Center exhaust exit
Lower air diffuser
GT40 inspired inverted hood scoops
Smoked 6-inch PIAA Driving lights
Integrated trunklid spoiler
European Race inspired 'Cup' Mirrors
Shaved door handles
Custom Molded Front Grille
Smoked Headlights, Driving lights and tail lights
StreetGlow 7-Color LED Underbody Lighting System
StreetGlow Hi-Intensity Strobe Lighting
Two-tone Blue and Orange Paint
Black Pinstriping under clearcoat
Vinyl by Grafx
INTERIOR, AUDIO & MULTIMEDIA
Microsoft SYNC technology
Microsoft XBOX 360
Dynamat 200sq. ft.
Custom 2-tone Upholstered MOMO Racing Seats
Reupholstered: Headliner, Racing Seats, Center Console, Rear Trim Panels and Trunk Lid w/orange offset stitching
4-Point Racing Harnesses w/Integrated DT40 Logo
Subwoofers were placed in DTM Louver inspired enclosures
Kicker SS series 6.5-inch 2-way x4
Kicker RS 5.25-inch 2-way x4
Kicker L5 subwoofers x8
Kicker ZX650.4 amplifier x2
Kicker ZX500.1 amplifier x4
Kicker ZX150.2 amplifier
Audio Control LC8 Lin Driver
Audio Control 6XS crossover
9-inch LCD monitors in visor position
Toshiba 42-inch 1080p KCD on motorized rack
Kinetik HC1400 battery