Written by Dave MacKinnon | Photos by Ryan Belville | 23 May 2012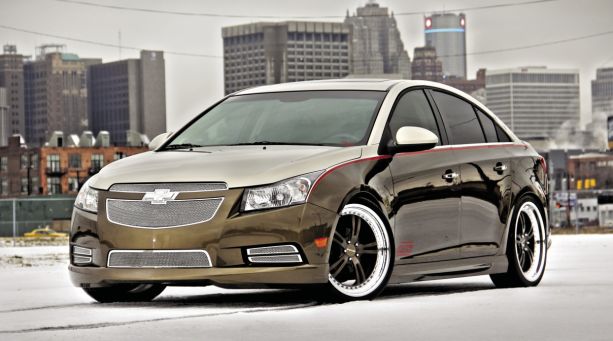 The trials and tribulations of the North American auto industry shook the world a few years back. We almost lost two of the Big Three companies. If not for a little government intervention, things could be very different than they are today.
General Motors came out of the challenge with a new focus on business and one product that's been paying off for its efforts is the Chevrolet Cruze. This seemingly simple vehicle has taken the world by storm and has become a best-selling car in the United States, Canada, Europe and elsewhere.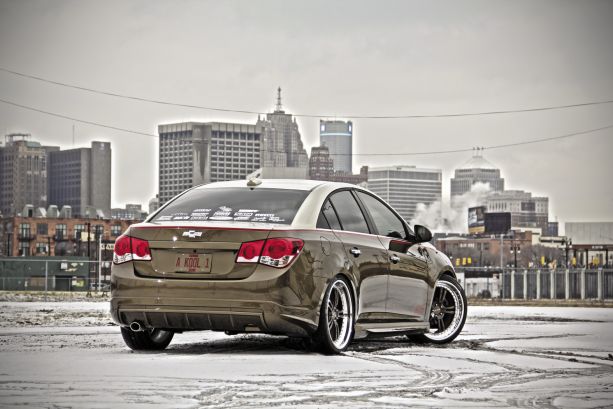 Rick Bottom of Medota, Ill. chose an 2011 LTZ model as the platform for his 38th creation for the SEMA show since 1997. He chose this car because it's nice, gets good fuel mileage, has a smooth ride, is relatively quiet inside and would serve as a nice platform for a build.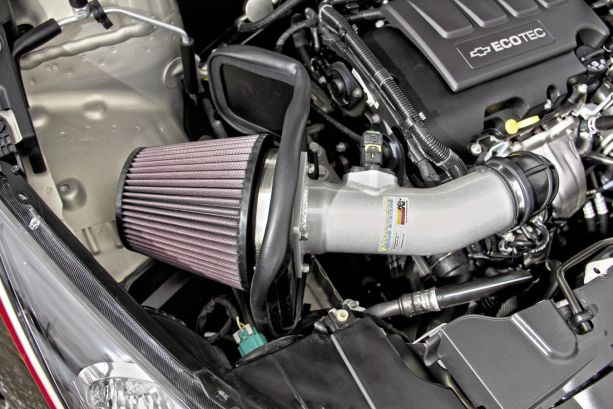 Some of the more simple modifications include a K&N intake system and a Borla cat-back exhaust system to assist the 138-hp, 148 lb-ft of torque turbocharged four-banger. An ECU upgrade from the GM engine management experts at Trifecta Performance is said to pony up an additional 30 percent more horsepower and almost 40 percent more torque on this configuration.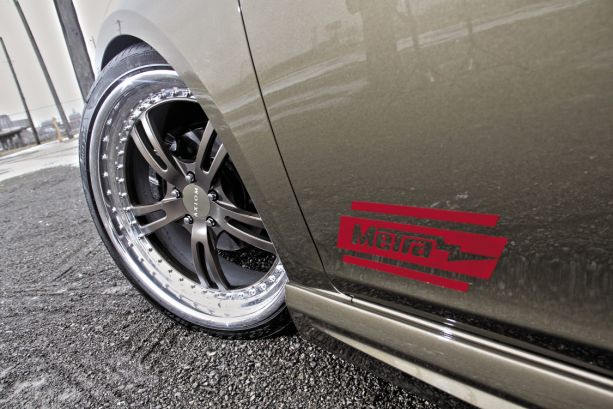 3D Carbon and Air Designs body components have been grafted on and the car given a two-tone paint job. Planet Color and Sherwin Williams collaborated on the Gold Mist, Golden Umber paint and that is topped off with a Turnin' Orange pinstripe. Grill inserts from E+G Classics round out the clean and effective look while healthy-sized 20-inch Axiom three-piece wheels wrapped with Pirelli PZero 235/35 rubber provide effective traction. The suspension has also been replaced with Pedders Xa coil-over system so that ride height can be set perfectly.
Metra Electronics of Holly Hill, Fla. is well known for its dash kits and wiring harnesses products. The Metra demo vehicle has been undertaken to show off some of its other lesser-known brands such as Fli, Tsunami, Ballistic, Shuriken and Axxess.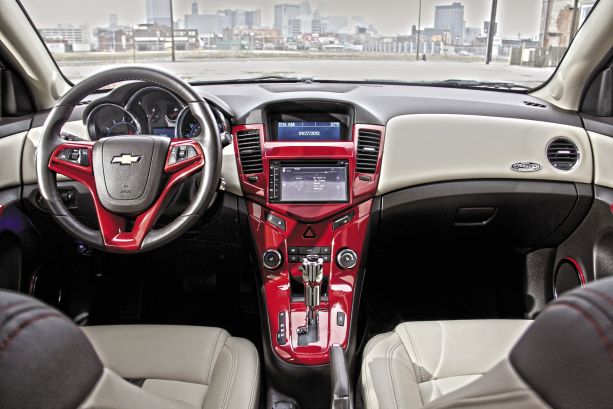 The dash, of course, features one of the new Metra Cruze dash kits. It also features a Metra's double-DIN Freeway source unit that passes a video signal to a pair of Helios headrest monitors; and audio to a pair of Fli Underground amplifiers. A FU 1000.1 sub amp takes care of a pair of Fli FU10 subwoofers while a FU720.4 multichannel amp drives the Fli FU6 mids and highs.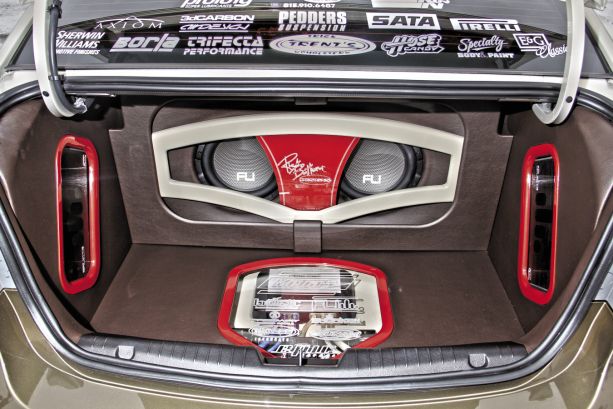 The A/V system is kept alive by a pair of Shuriken batteries and Tsunami capacitor. Everything is tied together with Tsunami wiring and interconnects. Epic Garage in Sugar Grove, Ill. is responsible for the audio build, including the classy vinyl work in the trunk; though the interior upholstery work though comes by way of Trent's Trick Upholstery in Baltimore, Ohio and includes custom leather seats with red contrast stitching. This red accent is picked up with red paint on the dash kit, center stack and steering wheel. An American Brothers Design chrome shifter, sill plates and speaker trim rings finishes off the interior with some shine.
The Cruze made its debut at SEMA 2011 where it won a pair of GM Design awards – Best Compact and Builder's Choice. Onlookers usually comment 'That's a Cruze?' when they see his creation and it's usually followed with 'I love the colors,' which gives Bottom satisfaction that his combination of classic themes and a clean look is well respected by the public.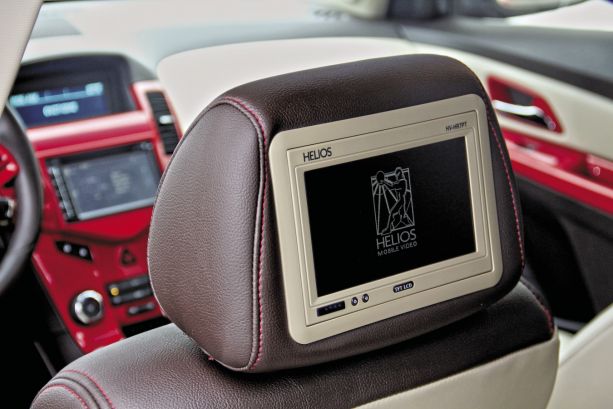 ESSENTIALS
Vehicle: 2011 Chevrolet Cruze LTZ
Owner: Rick Bottom
Location: Mendota, Illinois
Engine Displacement: 1.4L
Horsepower: 190 hp
Website: www.rickbottomdesigns.com
ENGINE MODIFICATIONS
K&N (air intake, air filter)
Trifecta Performance ECU programming
EXHAUST
Borla Exhaust cat-back system
EXTERIOR
3D Carbon and Air Designs body kit and ground effects
E&G classics grills
WHEELS / TIRES / BRAKES
Axiom 3-pc., staggered width step-lip wheels – 20x8 (F/R)
Pirelli P-Zero tires – 235/35R20 (F/R)
SUSPENSION
Pedders USA Xa coil-overs
INTERIOR
Metra Electronics Cruze dash kit
American Brothers Design (chrome shifter, sill plates, speaker rings)
AUDIO / MOBILE ELECTRONICS
Metra Freeway head unit
FLi Underground (FU 1000.1 sub amp, FU 720.4 multichannel amp, FU 10 subwoofers (x2), FU6 component speakers)
Helios video monitors (x2)
Shuriken SK-BT-45 batteries (x2)
Tsunami (X15HCAP-20 capacitor, wiring, interconnects)
SPONSORS
GM
Pirelli
Axiom Wheels
Sherwin Williams Automotive Finishes
3D Carbon
Air Designs
American Brothers Design
E&G Classics
Metra Electronics
FLi Audio
Tsunami
Shuriken
Pedders USA
Trent's Trick Upholstery
Borla Exhaust