Written by Giancarlo Pawelec (AutoMotoFoto.net) | Photos by Anthony Reyes | 30 July 2012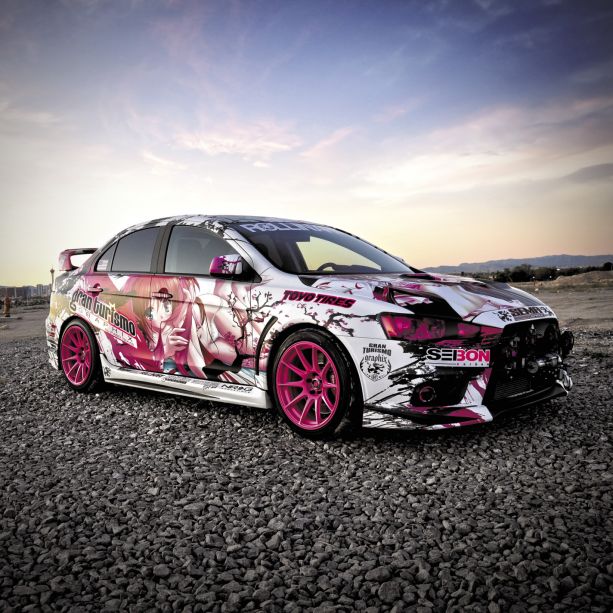 Wrapped in the international breast cancer awareness campaign's signature pink, this Evo has been built with a real purpose. In this day and age, one must climb great heights to spread awareness for any issue whether it be social, political or health related. Breast cancer affects one in every eight women and is a major health concern for many around the world. Fabian Gutierrez of El Paso, Texas is one soldier that's leading the march to raise awareness not with televised campaigns, but rather his modified 2008 Mitsubishi Lancer Evolution 10.
In a matter of nine months, Gutierrez, a student, and the team at GT Graphix built this Mitsubishi for the SEMA Show. Its bright pink exterior is a call for awareness and action against breast cancer. "The car was selected to represent Rollin' Art at SEMA, where many people gave us thanks for displaying such a large banner on the rear windshield," said Gutierrez.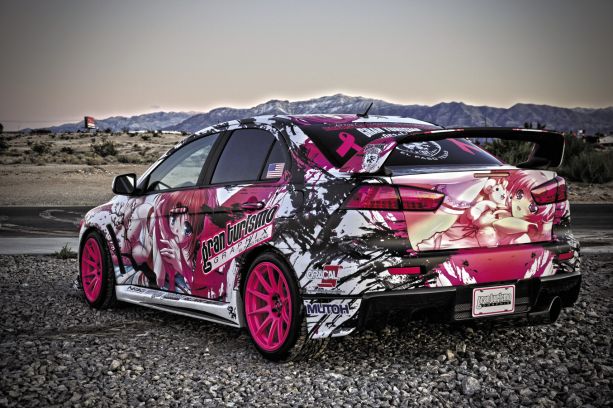 Mitsubishi's rally-bred Evolution is blazing fast straight from the factory with cornering capabilities rivalling many exotics. However, like any true tuner enthusiast, Gutierrez couldn't resist modifying this AWD beast – even if only slightly. The factory air box has been pulled in favour of an AMS performance intake system and an AMS turbo-back exhaust system installed. An HKS Super Sequential blow-off valve lets out its signature note while adding a NRG grounding kit has shored up the electrical system.
With the performance upgrades completed under the hood, the build's focus quickly shifted to improving its rally-inspired handling. A selection of Whiteline goods are entrusted to tighten up the Evolution, including sway bars, bushings, toe arms, control arms, trailing arms, crossmember mount insert and the steering rack and pinion. Beefing up the near bulletproof drivetrain is a forged lightweight steel flywheel from Competition Clutch. A set of pink 18-inch XXR 527 wheels wrapped in 245/40 Toyo R888 tires is charged with putting the power to the road.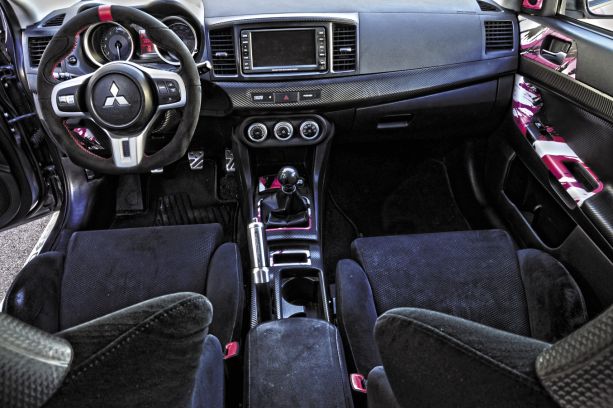 Inside the cockpit, Gutierrez has replaced all controls with more tuner-friendly pieces, including an ACE rally steering wheel and various pieces from NRG (black carbon fiber shift knob, e-brake handle and racing harnesses). Further interior customizations done by GT Graphix include the custom dash, shift boot and upgraded audio system, which now features a Rockford Fosgate head unit pushes signal to a midrange amp that powers a set of two-way speakers and 10-inch subwoofer.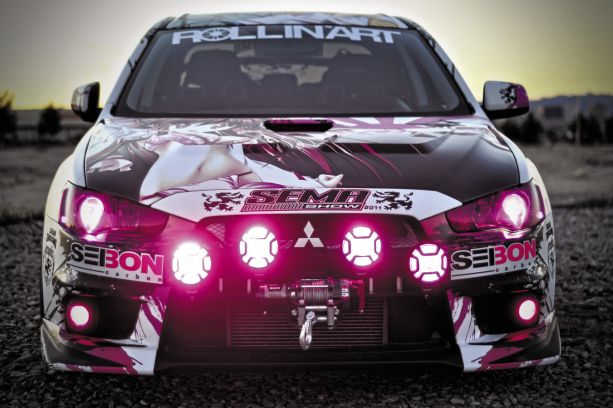 If it isn't already obvious, this Evolution has been built with one purpose in mind – to promote awareness for breast cancer. As such, it is covered in the international awareness campaign's signature pink color via a full vinyl wrap by GT Graphix in a Japanese manga (cartoon) theme. A Seibon carbon fiber hood and trunk, brake air guides and rear valence adding to the frenzy.
The modifications and eye-catching design scheme have netted Gutierrez the 'Best Mitsubishi' award at the Import Face-Off in Tucson, Arizona earlier this year.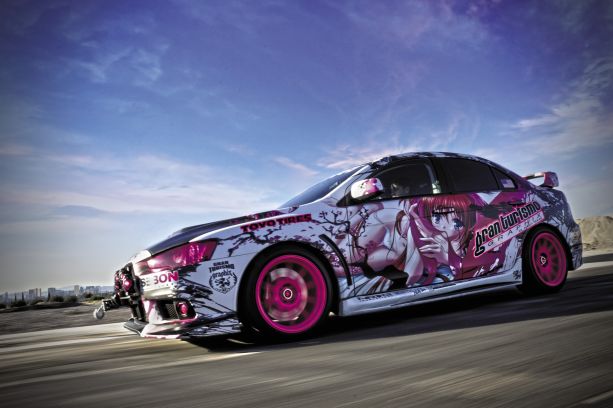 Building a project vehicle is no easy feat, especially in a time period of less than a year. Thanks to his sponsors Toyo, Whiteline, NRG, Seibon Carbon, Rollin' Art, Hose Candy and Projekt Cars, Gutierrez's mission to help spread breast cancer awareness has been accomplished, albeit ongoing. Defeating the disease is another thing altogether, but the crew at GT Graphix have done an incredible job to help get the ball rolling.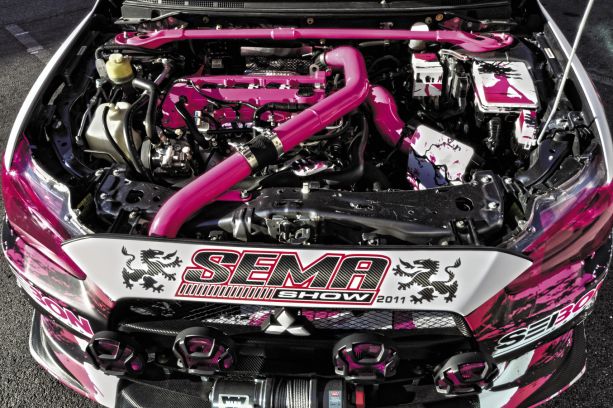 With a massaged 320-hp powerplant and enough JDM flare for any Evo fan to appreciate, Gutierrez has maintained the Evo's daily driving capabilities and gives new meaning to the phrase "pretty in pink!" Both will certainly will ensure the message gets out loud and clear.
ESSENTIALS
Vehicle: 2008 Mitsubishi Lancer Evolution
Owner: Fabian Gutierrez
Location: El Paso, Texas
Engine Code: 4B11
Horsepower: 320 hp
Torque: 300 lb-ft
Club Affiliation: Rollin'Art
ENGINE MODIFICATIONS
AMS performance air intake
HKS SSQ blow-off valve
NRG (EPAC-300 charging system, red grounding system, red radiator cap, FW-110 fender washer kits x4)
EXHAUST
AMS (wide-mouth down-pipe, turbo-back exhaust system)
DRIVETRAIN
Competition Clutch (forged lightweight steel flywheel)
CHASSIS / SUSPENSION
Whiteline (sway bars, bushings, lower inner and outer control arms, steering rack and pinion, crossmember mount insert, inner toe arm and front/rear trailing arms)
Warn (6,000-pound winch, custom winch mount)
WHEELS / TIRES / BRAKES
XXR 527 wheels – 18x9.75 (f/r)
Toyo Tires R888 – 245/40 R18 (f/r)
EXTERIOR
Seibon Carbon (carbon fiber hood, trunk, rear valence)
GT Graphix (front, side, rear air dams, brake air guides, rear spoiler extension, pink rear taillights, full vinyl wrap, fog lights x4)
INTERIOR
GT Graphix (custom dash, shift boot, brake grip, gauge pod, gauge trim)
NRG (black carbon fiber universal shift knob, hand brake, three-inch cam lock and harness bar, seat belts)
ACE rally steering wheel
Recaro seats
AUDIO / MOBILE ELECTRONICS
Rockford Fosgate (head unit, amplifier, coaxial speakers, 10-inch subwoofer)
Sirius Satellite Radio
SPONSORS
Toyo Tire, Whiteline, NRG, Seibon Carbon, Rollin'Art, Hose Candy, Projekt Cars