Written by Dave Pankew | 04 December 2009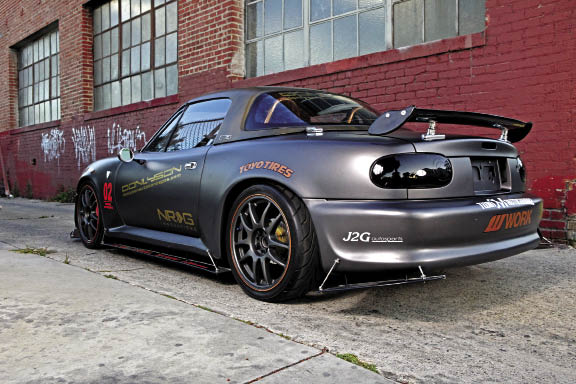 Written by Dave Pankew | Photos by Adam Nelso
A few Porsches throughout history got the moniker "Widow Maker" slapped on them since many novice to intermediate drivers were greeted with serious consequences due to lack of skill. It was never really base 911 models though but the twitchy high-horsepower and lightweight versions like the GT2 or the 930 Turbo that were truly dangerous in the wrong hands. Modifying any tuner car to pump out over double the horsepower and reducing overall mass in the process can take a safe Sunday driver into one track abusing "Widow Maker" too.
The Miata never really had a factory race inspired version in North America, but has been modified into a car with potential for those with some driving skills. You won't want to drive a light roadster with Z06 region of horsepower at 10/10ths because you will learn in a hurry how dangerous that can be. Owner Francis Fabiculanan of Los Angeles, CA was bent on making his own version of an agile track car. His donor would be a lowly 1991 Miata and the keys were handed over to the experts at Donlyson Auto Concepts in Los Angeles, CA.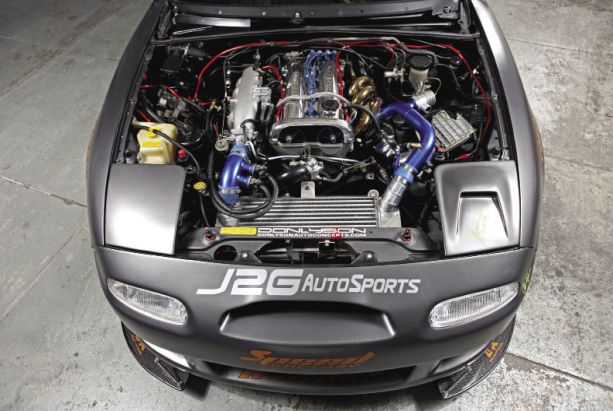 When we stumbled on this car at SEMA last year, we knew there had to be something backing up its sinister appearance. After popping the hood, we found out that we were dead-on correct. After slipping in a built 1.6L motor, the car underwent some surgery to fabricate a forced induction setup. Starting with a GReddy TD04 turbo, the snail sits atop a GReddy stainless steel top-mount manifold. The compressed air is forced into a network of Aerodyne intercooler piping and chilled with an Aerodyne front mount. The exhaust side feeds into a custom Aerodyne dump pipe and is regulated by a GReddy wastegate. The fuel system consists of a Walbro 255lph pump feeding GReddy 330cc injectors with two extra onboard. To add that much more jam, a single fogger NOS system was added. The engine bay is completed with an NRG grounding kit and an oil catch tank setup.
The outside of the car has that shoot first, ask questions later kinda look. Then again it is also adorned with loads of functional gear. The aerokit is a custom fabrication and the roadster has been fitted with a custom fiberglass hardtop. The rear wing, diffusers and side skirts are all custom as well. NRG stepped in to add a damper kit for the carbon fiber hood and hood locks to keep it planted.
When it came to wheels, the owner turned to WORK for a set that would rock people on the streets. At 17x7-inches, these WORK Emotion CR Kai are fairly big for the car and were cloaked in Toyo R888 measuring 205/40R17 all around. Behind the spokes are blazing red Rotora 4-piston brakes gripping 330mm cross-drilled and slotted rotors. The suspension is ramped up with a set of TEIN Super Street coilovers for a high degree of adjustability.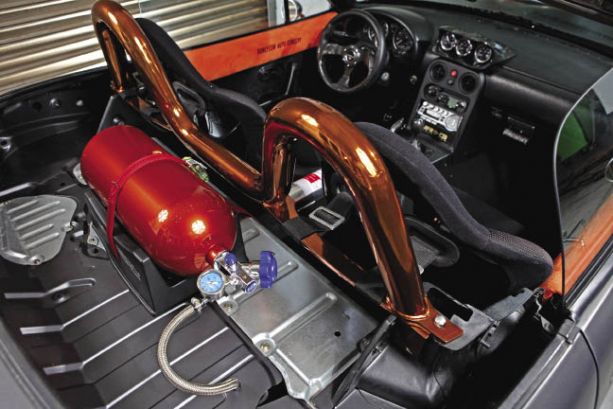 In the cockpit is where major sponsor NRG got a chance to flex their applications list. The seats have been replaced with a pair of NRG carbon fiber racing seats and matching 4-point harnesses with Sabelt buckles. The shift knob and the handbrake have also been replaced with NRG carbon fiber units and the racing pedals are by NRG. The steering wheel has been replaced with an NRG Pilota carbon fiber with black leather connected to an NRG quick release and short hub. Blitz provided the 60mm gauges in the carbon fiber triple pod and the SBC-iD boost controller to set the tone for the drive.
When the dust settled, the Miata was now bumped up a few levels in terms of being a capable track car. Sure you can just throw R-comps on any used Miata and have fun on the track, but now with the new and improved powerplant, a car like this definitely falls under the category of widow-maker.
THE ESSENTIALS
Owner: Francis Fabiculanan
Location: Los Angeles, CA
Vehicle: 1991 Mazda Miata
ENGINE
Mazda 1.6L B6 inline-4
ENGINE MODIFICATIONS
GReddy td04h
GReddy stainless steel top mount manifold
Aerodyne custom down pipe
GReddy external wastegate
Aerodyne custom v-mount intercooler w/ piping
Koyo radiator custom v-mount.
GReddy injectors 330cc x 2
Walbro 255lph
Blow off valve: prof
Electrical fan: spal
NOS system
NRG grounding wire system
NRG oil catch stainless steel tank
ENGINE MANAGEMENT
GReddy Rebic
WHEELS, TIRES, BRAKES
17" Work Emotion CR KAI Wheels
205/40R17 Toyo R888 Tires
Rotora 4 piston/330mm brakes
SUSPENSION
Tein Super Street coilovers
EXTERIOR
Custom carbon fiber spoiler, diffuser and side skirt
NRG carbon fiber hood damper kit
NRG carbon fiber hood lock
Custom fiberglass hard top carbon kevlar look finish
Carbon fiber wing
Custom smoked tail light
INTERIOR
NRG Pilota style steering wheels
NRG titanium aluminum shift knob
NRG titanium aluminum hand brake
NRG bucket racing seats
NRG 4 point safety harness
NRG racing pedals
Custom bronze finish head bar
Blitz boost controller
Blitz gauges
Sparco fire extinguisher
AUDIO / MULTIMEDIA
MB Quart speakers
Pioneer KP5 dial head unit
SHOUTOUTS
Toyo Tires
NRG Innovations
Rotora Big Brakes
APR Performance
Arlene
RKC & family
Joey & Cora Fabiculanan / Donlyson Auto Concepts
Michael Juban / Twin M Autosoundz
Eugene Avendano / J2G Motorsports
Chucky Hernandez / Showstoppers USA
Omar Penate / Sightwaves
Rocky & Roland / Lead CrewAerodyne Industries
Team High Intenzity