Written by Jordan Lenssen | Photos by William Lam | 14 September 2013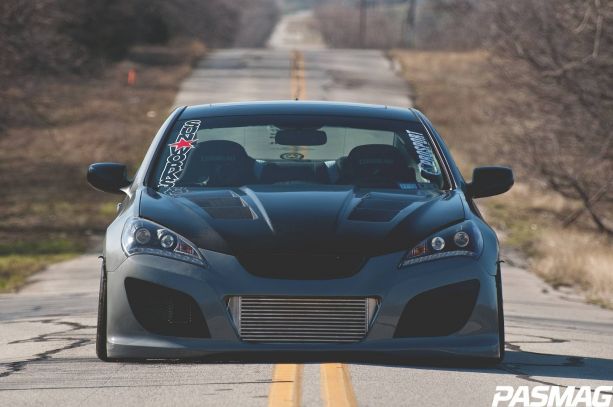 For some reason, the best tuner cars are often the ones that were purchased with little to no planning in mind. Case in point, Jacob Reining's Hyundai Genesis 2.0T Track Edition is part of a long lineage of cars. His dad used to tell him stories about his collection of brute American muscle cars, including a 1964.5 Ford Mustang and '68 Chevelle SS, which spurred Reining's interest as a young kid. The Gen coupe you see gracing these pages started from modest beginnings; Reining originally planned little more than a wheel and suspension upgrade, some basic bolt-ons and a few stereo components. After some good fortune, he went ahead and started building the ultimate RWD turbo.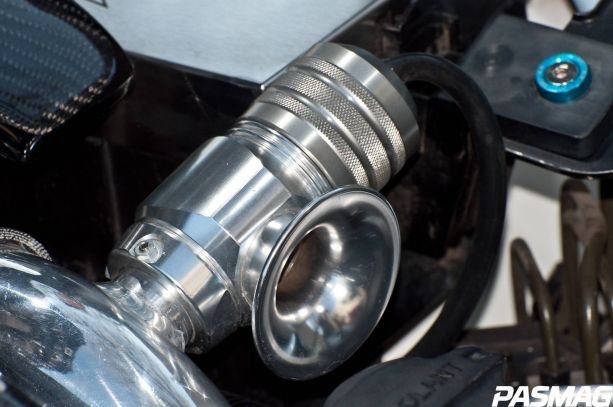 Reining is no stranger to tuning cars. In fact, he does the majority of work himself. He started off with a 2001 Mercury Cougar that involved a set of wheels, lowering springs, performance bolt-ons and carbon fiber upgrades (namely a hood and trunk), but he's the first to say it was far from the hottest car in the neighborhood. So, he moved to a 2003 WRX wagon, again with some minor mods. He kept the car for a couple of years before parting ways. When it finally came time to sell it, an acquaintance took the car for a solo test drive and completely shredded the transmission. Knows that particular model is prone to issues, Reining refuses to say anything beyond that. While his WRX sat limp, Reining was driving a Suzuki SX4, again with simple bolt-ons, lowering springs and a set of wheels. Not thinking too seriously about another ride, his friend asked to swap rides to haul some car parts for a few days. The car he got in return was an EVO VIII with a lot of work done to it. By the time they switched back, Reining knew he had to get something else.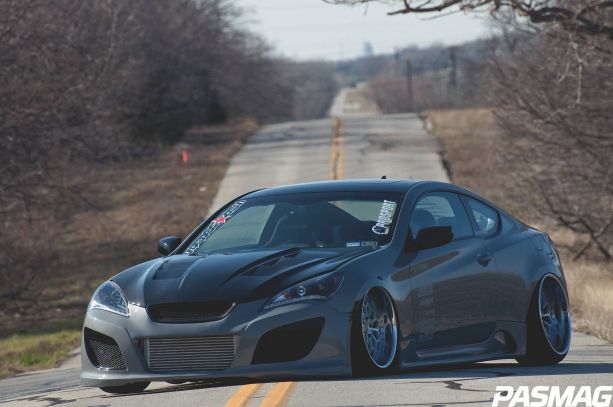 When he started looking for a new ride, he had a few ideas in mind. He didn't have many mods planned, but he wanted something with a fair number of aftermarket parts. He also wanted something that was and fun out of the ordinary – and turbocharged, in particular.
Looking closely at the EVO, WRX STI, Cobalt SS, Caliber SRT4 and the Genesis, the only cars available to test were the Cobalt, Caliber and the Genesis. His choice is now obvious, but Reining says there are a few things that made his decision easy. "I liked that it is rear wheel drive. I never owned a rear wheel drive car before," he says. "I also like that it's an actual sports coupe. A lot of cars out there look real sporty and look like they should be rear wheel drive, but they're not." When he finally got it home, he started gathering the goods for his build. Coil-overs, wheels and some bolt-ons were first on the list. But the basic build plan was soon out the window. After he and a friend posted videos of his coil-over install, a number of vendors approached him, interested in learning what else he had planned. That spurred on discussions with his first major sponsor, Custom Performance Engineering, who provided Reining with a long-list of upgrades, including a turbo-back exhaust, front-mount kit and some rare HKS carbon fiber goodies. His "basic build" was looking more like a big beast.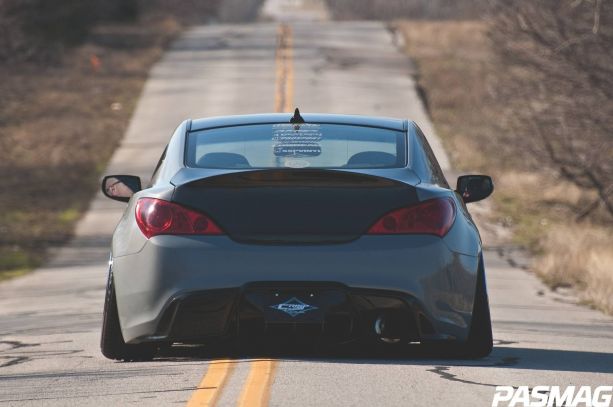 Completing his first overhaul and visiting SEMA as a guest in 2009, Reining decided to enlist in SEMA 2010 with his new feature vehicle. Figuring he'd done about as much as he could with the car, he decided to sell it. He had trouble finding buyers, so he decided to strip it down to stock and part it out, but even that proved to be a hassle. Maybe it was a sign from the car gods. Soon after, TurboXS contacted Reining to run parts on his car.
When sales took off for the company, the higher-ups decided to do a full sponsorship. That's when his Gen coupe started getting some serious notoriety as being one of the most serious transformations around, including commercial spots with AirRex and ISS Forged. And, it's well-deserved, considering he has the first set of ISS Forged/Blonix Forged Snowflake RS wheels (19x9 -11 up front, 20x10.5 -6 in the rear), one of only two sets ever made.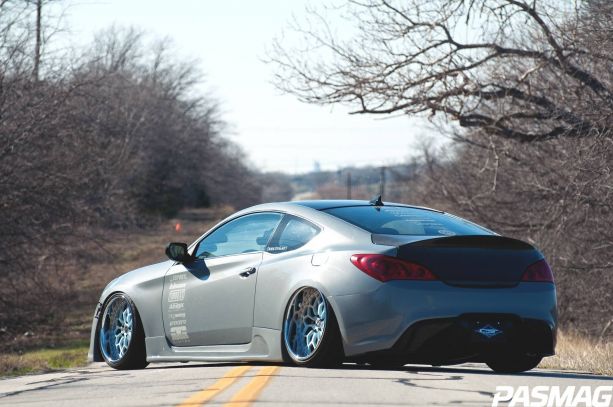 His center caps are equally as rare; there are only 15 sets in existence. Set inside are his giant Track-Edition OEM Brembo brakes with four-piston calipers and 13.4-inch rotors in the front. Reining made sure to put an equally eye-popping set of two-piston calipers and 13-inch rotors in the rear. Toyo Proxes Sport T1S tires are wrapped around the Felgen Outlet Award-winning package, which Reining says is his proudest achievement with the car.
"I got that at SEMA last year," he says. "They only give 20 awards a year for the best wheel and tire combinations worldwide, so it'll be hard to top that. The trophy's badass too, it's a little Schmidt H-Line three-piece wheel!"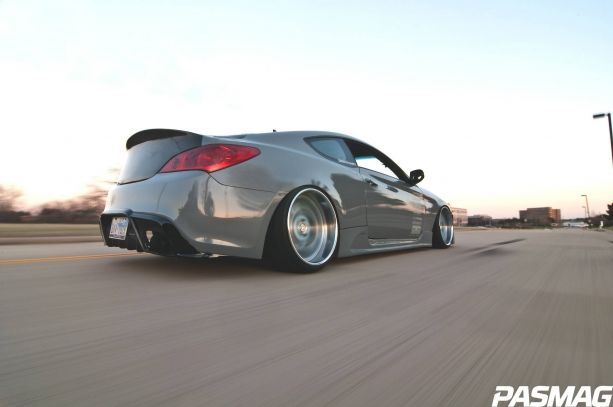 For proper stance and performance handling, AirRex front and rear struts are complemented with a fully-manual AirRex air management by Marshall Lum at AirRex, two 380 cc Viair pumps and a four-gallon tank. To get the Genesis over any hurdles and lay the front lip on the ground when he brings it to shows or puts it to bed, Reining had to remove the front sway bar for stance, but it's an easy bolt on when he wants to take it to the track.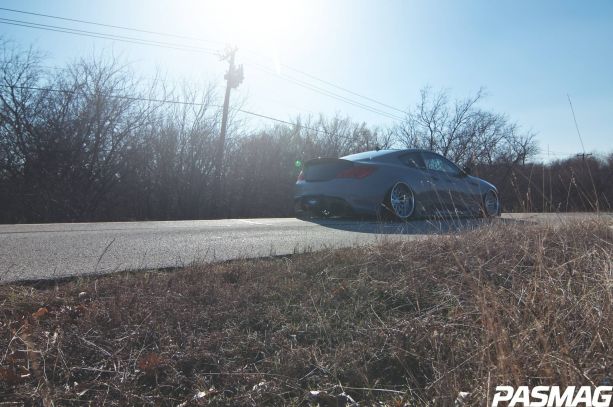 The exterior of the car is impressive but understated, keeping with Reining's original plan of having a solid, clean build. Much of the credit goes to Mike Crisp of Crisp Customs in Amarillo, Texas, who not only took care of the custom grey BASF-RM paint work, but also the intricate fender work to keep the wheel and body package looking tight at any height.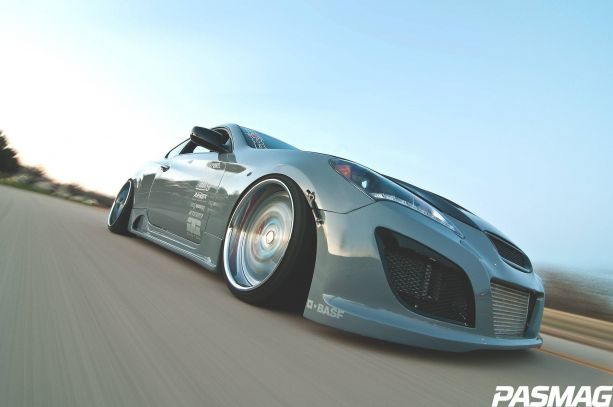 The Sarona Design body kit includes a quick release Hanna polyurethane front bumper, carbon grill, side skirts and single-exit rear diffuser that look like they were made exclusively for his Gen coupe. Lighting upgrades consist of Spec D headlights with Diode Dynamics 6,000 K HIDs and custom-sprayed "red-out" taillights.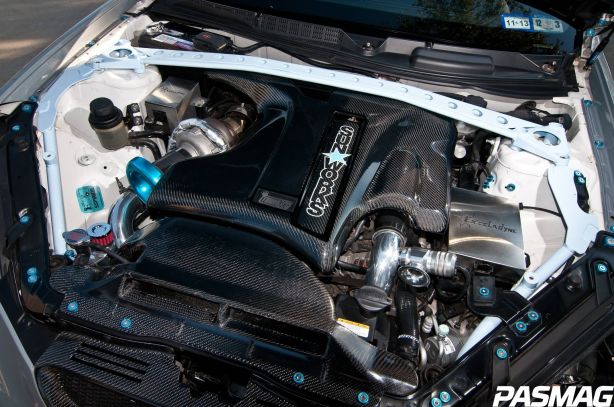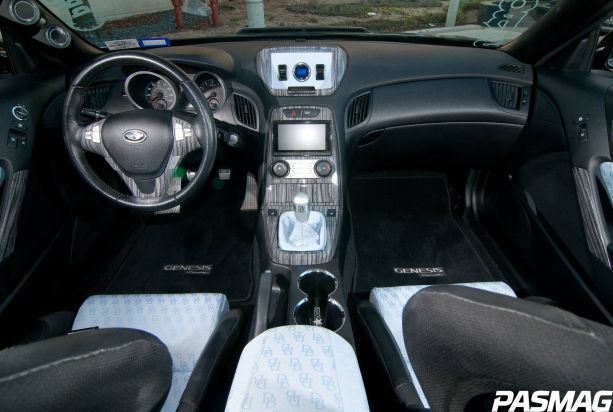 The interior of the car stays true to the clean nature of the build, with equal parts race car and entertainment system – no unnecessary additions welcome. The Corbeau FX1 Pro seats, shift boot, armrests and door panels are dressed in custom, color-matched Dooney & Bourke fabric, taken care of by legendary upholsterer David Lodin in Amarillo, Texas.
"I don't know if he has a shop name, he just does it out of his house. But he's been doing it for over 50 years," Reining says. "He started with his dad in Las Vegas when things started getting big there. His work is second to none."
TurboXS provided an aluminum shift knob, and Prosport provided EVO-series boost and wideband gauges that sit in a Motorsports Authority A-pillar gauge pod. Diode Dynamics stage-three interior and LED foot well lighting brightens up the interior, matched with acrylic plates in the door pulls, cup holder and armrest that provide a uniform finish that looks phenomenal at night.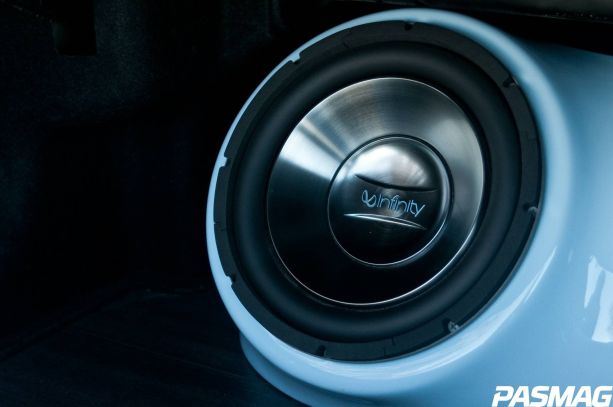 For the entertainment, Pioneer's newest App Radio head unit sits in the center console, offering complete smartphone control and access to some of the coolest driver-friendly apps, including BestParking, Pandora, CommuteWX, Navfree and more. Sound is pumped through an Infinity Kappa ONE subwoofer amp into two Infinity Reference 1,062-watt subs that sit inside a custom sealed enclosure by Jacer Fiberglass.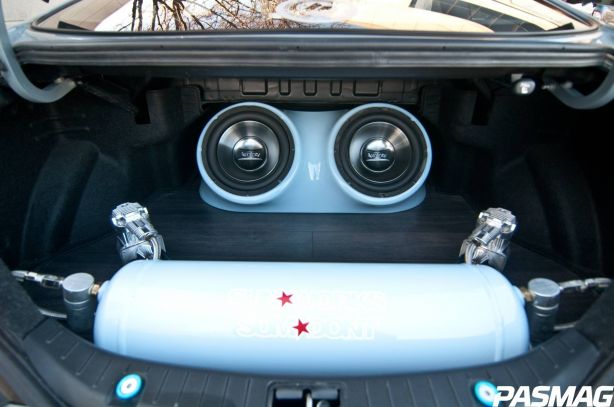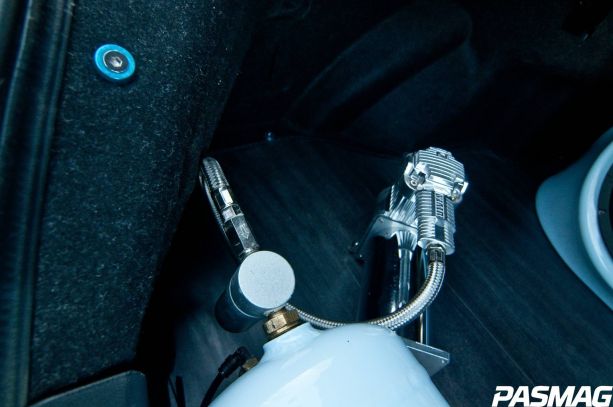 "I'm not sure what I'm going to do yet. I just want to make sure I have the time to enjoy the car the way it should be," Reining says. "At the same time, I've put a lot of heart into it and would have a hard time getting rid of it. It's at the point I have a hard time taking it out some- times because I don't want to mess it up, but at the same time I enjoy the s#*t out of driving it!"
"My wife keeps telling me I should keep it, because if I get rid of it I'm just going to want to do it again!"
When the gods have brought you this far and your wife supports it, that's a pretty good situation to be in as a builder. So, while there's no denying the workmanship behind this Genesis 2.0T Track Edition, whether Reining decides to keep it or not, we're positive we'll be hearing more about his amazing work down the road.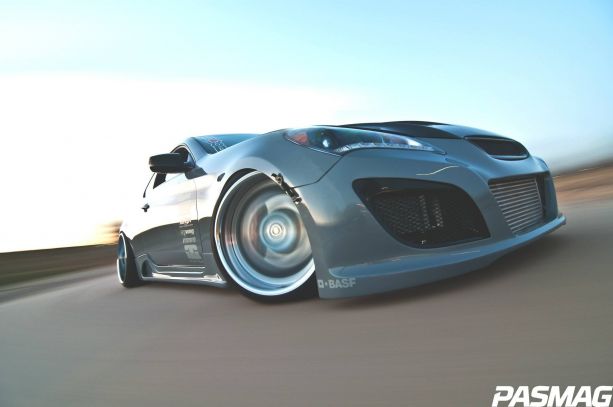 ESSENTIALS
2010 Hyundai Genesis 2.0T Track Edition
Driver: Jacob Reining
Team: Team SunWorks
Built By: Jacob Reining, Crisp Customs, David Lodin Upholstery, JD Tire
Engine: 2.0L turbocharged inline-four
Horsepower: 407 hp
Torque: 343 lb-ft (est.)
ENGINE
Garrett GTX2867r turbocharger (tuned by TurboXS)
TurboXS (ECU, intercooler and piping, RFL blow-off valve, air filter, air intake)
AGP 46 mm waste gate
DeatschWerks (DW300 fuel pump, 750 cc fuel injectors)
Mishimoto hoses
GrimmSpeed gaskets
SickSpeed hardware/ bolts
EXHAUST
TurboXS (GT turbo manifold, Racepipe down-pipe, RS exhaust)
DRIVETRAIN
Competition Clutch (billet flywheel, Stage-3.5 clutch)
Factory Torsen LSD
WHEELS/ TIRES/ BRAKES
ISS Forged/ Blonix Snowflake RS wheels (custom) - 19x9 -11 (f), 20x10.5 -6 (r)
Toyo Proxes Sport T1S tires - 225/35 R19 (f), 255/30 R20 (r)
Brembo brakes (OEM) - four-piston calipers, 13.4-in. one-piece rotors (f), two-piston calipers, 13-in. one-piece rotors (r)
Stoptech braided brake lines
AMSoil DOT-4 brake fluid
EXTERIOR
Sarona Design body kit installed by Mike Crisp (Hanna polyurethane front bumper, carbon grille, side skirts, single-exit rear diffuser)
Custom-rolled and pulled fenders by Mike Crisp
Custom grey BASF RM paint by Crisp Customs
Spec D headlights with Diode Dynamics 6,000 K HIDs
Custom-sprayed "red-out" taillights
6K HID headlights
INTERIOR
Custom Dooney & Bourke upholstery by David Lodin (seats, shift boot, centre armrest, door inserts, clock display)
Corbeau (FX1 Pro seats, 3-in. five-point cam lock harnesses)
TurboXS aluminun shift knob
Motorsports Authority gauge pod
Prosport EVO-series boost and wideband gauges
Diode Dynamics (stage-3 LED lighting, acrylic plates in door pulls, cup holder and arm rest, LED footwell lighting)
Hydrodipped interior plastic panels
AUDIO / MULTIMEDIA
Pioneer App Radio head unit
Infinity (Kappy ONE subwoofer, 1,060 W reference subwoofers (2))
Custom sealed fiberglass enclosure by Jacer Fiberglass
Fiberglass subwoofer enclosure with 15-inch monitor flush mounted
SPONSORS
TurboXS, BASF, Crisp Customs, Competition Clutch, Prosport Gauges, SSP Vinyl, Toyo Tires, Mishimoto, Motorsport Authority, ISS Forged/ Blonix Wheels, AirRex, Corbeau, SickSpeed, DeatschWerks