Written by Jordan Lenssen | 22 September 2013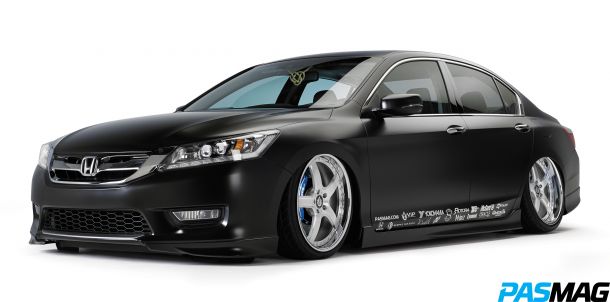 Written by Jordan Lenssen | Photos by Mahovlich Photography
PASMAG takes on Honda's top two platforms
With Honda's newest platforms, more custom options than ever before, it's easier to stand out from the crowd and make your car a true representation of yourself. From lug nuts to brake kits, intakes to exhaust, people have consistently used Honda as the platform for car customizations.
For 2013, PASMAG teamed up with Honda to introduce the latest and hottest options available to Honda owners, while connecting Honda with grassroots enthusiasts.
After a successful project last year, this year's Tuned by Honda projects feature Canada's top selling car for 15 years – the 2013 Civic (Si) and the Accord V6 Touring Sedan. For each project we took a completely different approach, but we're equally happy with our sport-inspired Civic Si and luxury VIP Accord.
With help from a number of installers and custom fabricators, a full range of modifications were installed on both cars. Starting with custom 3M exterior vinyl wraps and Enkei and VIP Modular wheel upgrades voted on by our Facebook fans, each car highlights two extremely different ways to customize your Honda. The crew at ReStyleIt took car of the flawless exterior wraps, while Hi-Speed Performance installed a number of performance mods and custom fabrications. Ultra Auto Sound took care of the audio on the Civic Si, while the Accord was treated like a VIP with the help of Air Assisted, Chase Custom Car Audio and Weir Technologies.
After a studio date at Michael Mahovlich Photography, the cars were sent to the Montreal Auto Show in January for the official Honda/PASMAG unveiling. From there they traveled west through Toronto and Calgary, returning back to Toronto for the Canadian Auto Show and the Honda IndyCar weekend. Here's the background of the work what went into each car…
CIRCUIT SPORTS CIVIC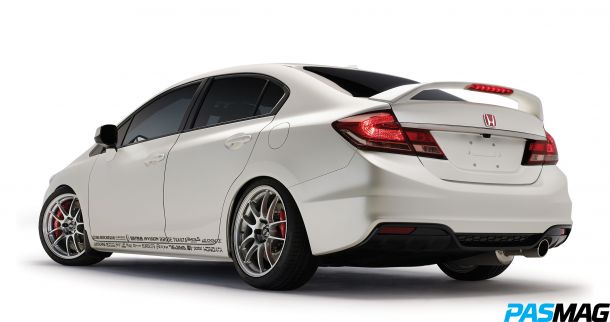 Taking the new designs into consideration, we built around the best of what the new Si has to offer, for a complete package that turns heads and performs on the track.
On the power front, we had a great starting point with the 2.4-liter i-VTEC engine. At 201 horsepower and 170 lb-ft of torque, it launches the Si to hair-raising speeds out of the box. Combined with the six-speed short throw manual transmission and Megan Racing EZ Street coil-overs and rear upper camber arm upgrades, and Si is set up as the ultimate street and track machine.
Hi-Speed Performance took charge of the performance and custom modifications, including a long list of parts and safety upgrades. Starting under the hood, a custom four-point engine brace was fabricated by the Hi-Speed Performance crew in-house to give the Civic a major strength upgrade and create a one-of-a-kind engine bay. Next, a K&N 69 series Typhoon Air Filter and Hondata FlashPro ECU tuner and data logger tuned by Advanced Powerhouse maximizes the mods.
The result is a power curve that improves on the stock Si in every way. The dyno results from Ultimate Racing show that torque and horsepower increases throughout the power band. The peak has moved from the mid-rpm range to the upper range – just where you want it for maximum performance on the track.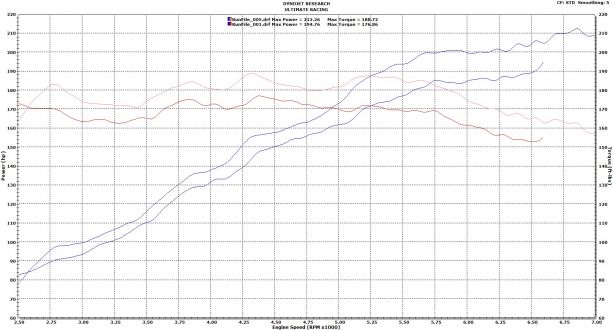 Although the new Civic Si comes with a sharp 17-inch wheel and tire package and great suspension, we wanted to boost the looks and performance even more. On top of the Megan Racing suspension upgrades installed by Hi-Speed, this sedan sticks to the ground thanks to a set of Enkei PF01 18x8.5-inch +30 racing wheels and Michelin Pilot Super Sport 225/40 R18 tires.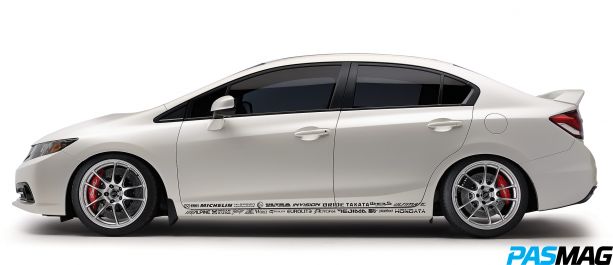 Not done there, Hi-Speed Performance decided to up the braking power with Rotora Street Challenge Big Brakes and a custom IPSCO parking brake setup mounted to an HS Performance 6061-aluminum E-brake bracket.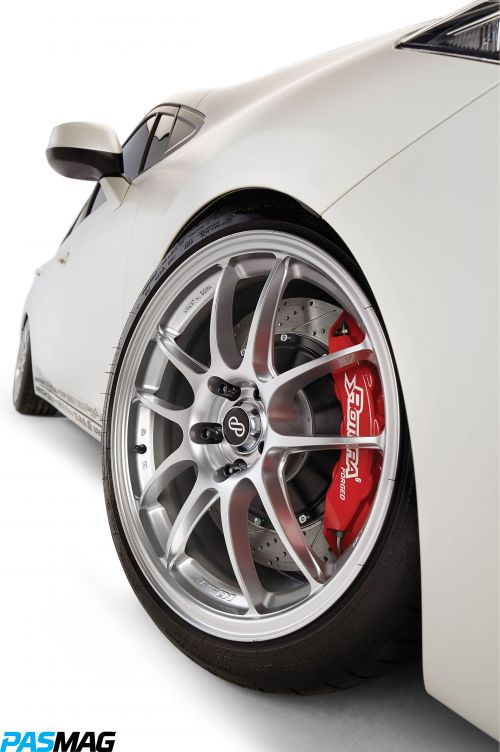 ReStyleIt wrapped the exterior with a 3M matte white, satin-finish vinyl and a Retrofit Source LED headlight and projector kit is installed for a clean, updated look.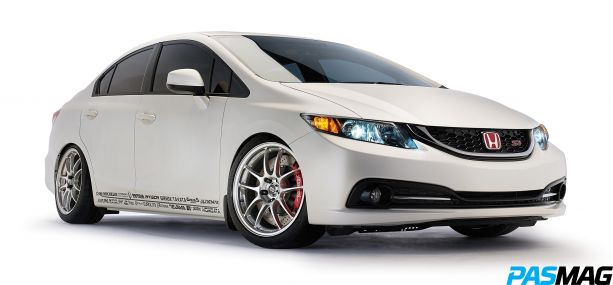 For the exhaust, an Ultimate Racing down-pipe, high-flow ceramic catalytic converter, cat-back exhaust, muffler and tip are TIG-welded together to make the car sound as good as it looks.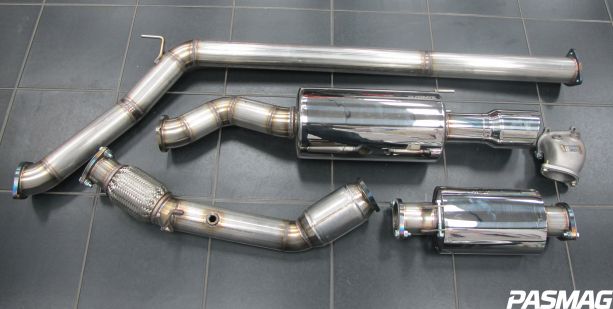 Open the doors to the Si and it's obvious this car means business. A pair of Bride DIGO reclining racing seats sit atop custom-fabricated HS Performance seat rails, while Takata Drift III and Drift II four-point harnesses hold driver and passenger firmly in place. The rearview mirror is covered in carbon fiber by Kplayground and interior lighting from Toucan Industries accents the interior with red LEDs.
On the audio side, Ultra Auto Sound has designed a completely new system featuring a Stinger power supply, amp wiring kit and Road Kill sound deadening insulation — especially useful given the Alpine audio components that lay within.
Hidden in the trunk is a showcase that surprised even us. The custom HJC Motorsports Si-12 helmet painted by Black Widow Airbrushing is displayed prominently while red accents continue in the custom trunk box. The new Alpine PDX-V9 five-channel, 1,600-watt amplifier pushes power to two SWS-12D2 12-inch subwoofers that sit neatly inside.
In the cabin, a pair of SPS-610s and SPX-17PRO two-way speakers ensure the audio is loud and clear. Because of the high power and efficiency of the PDX-V9 amplifier and Type S subwoofers, we were able to install an audio system that has great low end and is extremely power-efficient – meaning great sound without sacrificing horsepower. So, the Circuit Sports Civic not only turns heads, it's fast and seriously loud.
OWNER: Honda Canada
VEHICLE: 2013 Honda Civic Si Coupe
LOCATION: Toronto
ENGINE: 2.4-liter DOHC i-VTEC 4-cylinder
ENGINE MODIFICATIONS
K&N 69-1019TS Typhoon air intake
Hondata FlashPro
EXHAUST
Ultimate Racing (ceramic high-flow cat, down-pipe, cat-back exhaust, muffler, tip)
WHEELS / TIRES / BRAKES
Enkei PF01 wheels – 18x8.5 +30 (f/r)
Tejima Motorsport lug nuts
Michelin Pilot Super Sport tires – 225/40 R18 (f/r)
Rotora Big Brake kit (15-in. drilled/slotted rotors, six-piston calipers, H2 ceramic street pads (f), 13-in. drilled/slotted rotors, two-piston calipers; H2 ceramic street pads (r))
6061-T6 aluminum hats with anti-rattle float drive mounting hardware
IPSCO parking brake
Hi-Speed Performance E-brake bracket (custom fabricated 6061 aluminum)
Stainless steel brake lines
SUSPENSION
Hi-Speed Performance four-point engine brace (custom fabricated, 6061 aluminum/ seamless DOM steel tubing)
Megan Racing (EZ Street coil-overs, MRS-HA-0610 rear upper camber arms)
EXTERIOR
3M matte white satin wrap and matte black decals
Kplayground red JDM style Honda emblems (f/r)
Retrofit Source (LED lights, projector kit)
INTERIOR
Bride DIGO front seats
Takata (Drift III 4-point harness (driver), Drift II 4-point harness (passenger))
Planted Technology seat brackets
Hi-Speed Performance custom seat rails
Kplayground carbon fiber rear mirror cover
Road Kill sound-deadening material
HJC Motorsports Si-12 helmet customized by Black Widow Airbrushing
AUDIO / MOBILE ELECTRONICS
Alpine (PDX-V9 five-channel 1,600 W amplifier, SWS-12D2 12-in. subwoofer (2), SPX-17PRO 300 W component speakers, SPS-610 230 W speakers)
Stinger (SK6641 four-gauge amp wiring kit, SHW14B four-gauge Hyper-Flex power/ground cable SHW14C four-gauge power wire, SQD4 quick-release connector (2), 50' 18-gauge signal wire, 80' 16-gauge speaker wire, 120' 18-gauge speaker wire)
Wirez (Signature 6-ft RCA wire (3), 70 sq-ft sound deadening roll)
PAC Audio Line Converters (3)
XS Power XP750 battery (2)
Toucan Industries (white LED strip roll, red LED strip roll)
6.5-in. speaker spacers (misc.)
SPONSORS
Hi-Speed Performance
Enkei
Michelin
Ultra Auto Sound
Megan Racing
Planted
Ultimate Racing
Invision
Bride
Takata
Alpine
Stinger Electronics
XS Power
Wirez
ReStyleIt
Premier Wheels
K&N
Eurolite
Rotora
Tejima
TRS (The Retrofit Source)
Hondata
HJC Motorsports
Black Widow Airbrushing
Kplayground
Mahovlich Photography
AUTO LUXURY VIP ACCORD
The Honda Accord really is the best of both worlds. The coupe shows off some of Honda's best performance and styling cues while the sedan continues to be one of the most sought-after options for VIP-inspired rides.

When PASMAG and Honda teamed up for the Remix 2.0 Accord last year, the car underwent a number of upgrades geared toward building a high-performance machine. Highlighted by a CT Engineering supercharger, that Accord coupe was built for speed. This time around, PASMAG called on a number of custom shops to take the Accord V6 sedan in a totally new direction — a luxury VIP-inspired machine.
Pushing plenty of power, the Accord's 3.5-liter V6 makes use of a K&N 69-series Typhoon air filter for added performance without too much work under the hood. Combined with four custom Vibrant Performance aluminum race mufflers and custom-fabricated exhaust tips by Weir Technologies, it's easy to see this car is VIP.
On the outside, the Accord is dressed in a custom 3M matte black vinyl wrap with white decals thanks to ReStyleIt. Premier Wheels Direct stretched a set of Yokohama S.drive 225/35-series tires onto 20-inch VIP Modular VR08 wheels, using 7 mm spacers and BLOX extended studs in the front and 20 mm spacers in the rear. McGard SplineDrive lug nuts with laser-etched PASMAG logos keep the wheels secure and show some of the fine details in the build.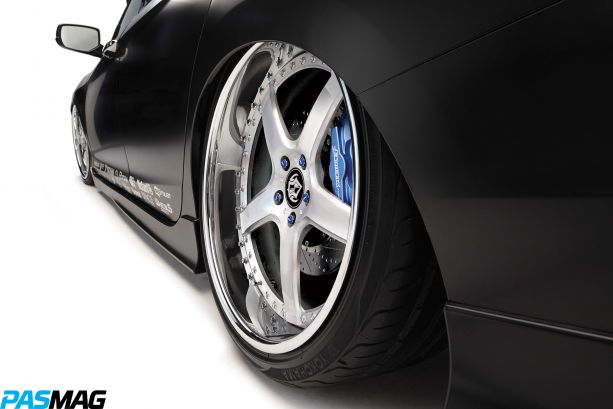 Hi-Speed Performance installed a giant Rotora Street Challenge big brake kit in the front and rear of the car, customized with blue calipers and giant rotors to make it even more eye catching. Air Assisted installed the ultimate choice in air ride suspension, using AirLift Performance universal air struts and an AccuAir e-Level Stage 2 air management system to control ride height. Using the TouchPad™ controller or iOS i-Level app, the Accord can be raised or slammed from inside or outside of the car.
In the cabin, the Accord is decked out in VIP-lounge style with custom grey and black, diamond-stitched leather seats from New Image Interiors. Front passengers are treated to a VIP'd Out handmade wood tray matched to a hydro-dipped center console and door inserts using TWN wood grain film. Oracle Interior Flex LED strips complete the subtle touches throughout the Accord's interior with white and blue accent lighting. Neck pads and a Kintsuna knot from Junction Produce complete the upscale passenger accommodations.
The trunk is loaded more goodies than a small electronics store. Starting with a custom box that houses two 1,100-watt Memphis Car Audio HYBRID MClass amplifiers, four M5 12-inch subwoofers and two MClass component speakers mounted in the trunk lid, there's some boom in the back. The cabin gets an array of MClass component speakers to make sure the audio also keeps with the heightened luxury of the interior appointments.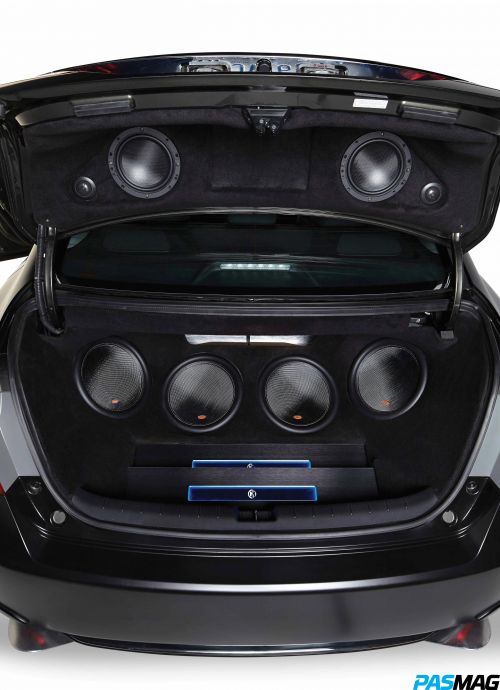 Hi-Speed Performance, Air Assisted, Premier Wheels Direct, Chase Custom Car Audio and Weir Technologies were able to complete the Accord with luxury fit and finish down to the finest detail. In our third year partnered with Honda, we're proud to have such a refined Accord project, and can't wait to show you the next one.
OWNER: Honda Canada
VEHICLE: 2013 Honda Accord V6 Sedan
LOCATION: Toronto
ENGINE: 3.5-liter SOHC i-VTEC V6
ENGINE MODIFICATIONS
K&N 69-1019TS Typhoon air intake
EXHAUST
Vibrant Performance aluminum race mufflers (4)
Weir Technologies custom fabricated exhaust tips
WHEELS / TIRES / BRAKES
VIP Modular VR08 wheels — 20x9 +45 (f), 20x10 +34 (r)
Yokohama S.drive tires — 225/35 R20 (f/r)
McGard SplineDrive lug nuts (w/ PASMAG laser-etched logo)
Spacers (7 mm (f), 20 mm (r))
BLOX extended studs (f)
Rotora Street Challenge Big Brake kit (15-in. drilled/slotted rotors, six-piston calipers, H2 ceramic street pads (f), 13-in. drilled/slotted rotors, two-piston calipers, H2 ceramic street pads (r))
6061-T6 aluminum hat with anti-rattle float drive mounting hardware
Stainless steel brake lines
SUSPENSION
AirLift Performance universal air struts
AccuAir (Stage 2 e-Level air management system, Stage 2 eXo mount bracket system, i-Level WiFi controller kit, 5-gallon (18.9-liter) pressure tank)
EXTERIOR
3M matte black satin vinyl wrap and white decals
INTERIOR
New Image Interiors (custom diamond-stitched seats, centre console insert, door inserts)
VIP'd Out hydro-dipped front passenger tray
TWN Industries grey wood grain hydro-dipping film applied by Liquid Carbon Shop
Dynamat Xtreme Mega Pak sound deadening
Junction Produce (Kintsuna knot and neck pads (4))
AUDIO
Memphis Car Audio (HYBRID MClass 16-MC5.1400 five-channel 1,100 W amplifier (2), M5 15-M512D2 12-in. 1,200 W subwoofer (4), MClass 15-MCC6 150 W speakers (3), MClass 15-MCS5 80 W speakers, six-channel line output converter)
Wirez (0-AWG Signature Series amp kit (2), 0-AWG ANL0 fuse holder, RCASBK-FFM Signature Series Y-cable, RCASBK-6 Signature Series Interconnect, PRT0-516B zero-gauge ring terminals)
Kinetik Batteries (KHC-600 power cell (2), KHC-1800 power cell)
Oracle Interior Flex LED strips (white and blue)
SPONSORS
Hi-Speed Performance
VIP Modular Wheels
Yokohama
Chase Custom Car Audio
Air Assisted
AccuAir Suspension
Rotora
Air Lift
Oracle Lighting
McGard
New Image Interiors
Memphis Car Audio
Kinetik Batteries
Wirez
Dynamat
Premier Wheels
K&N
ReStyleIt
TWN Industries Inc. Water Transfer Printing
Weir Tech
Liquid Carbon Shop
Mahovlich Photography