10 November 2014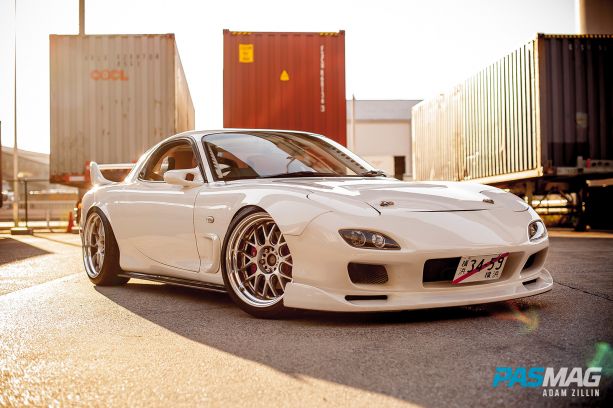 I've experienced many amazing cars during the last 10 years of living in Japan. Many are outright powerhouses. Some defy the laws of physics. Others are so amazingly presented that your jaw hits the floor. All have carried legendary tuner credentials, parts and tuning approaches that truly define what JDM is at its core. And then, earlier this year, I met Yuki Kamakura.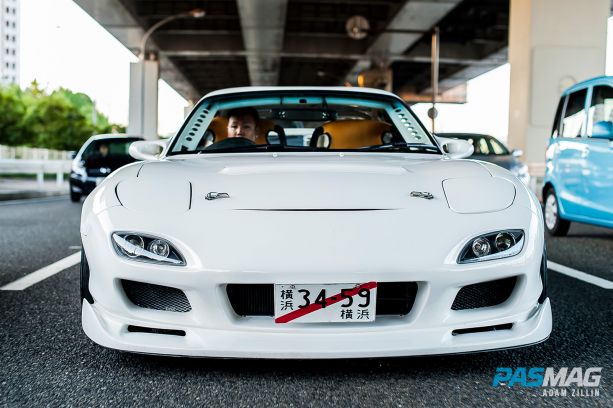 Every once in a while, you find an incredibly rare gem that combines all the best approaches into a knockout punch that would make Mike Tyson proud. So, say hello to Yuki's 1997 vintage Series 4 Type RS FD3S. On the surface, everything about it is beautiful to a fault, with the pure white paint and classic curves sitting perfectly on Work Meister M1R wheels. But there is a screaming, murderous intent that lurks beneath that carbon fiber hood. Nestled into this particular engine bay and mounted four inches further back towards the firewall to give it better weight distribution, is the same engine that launched Mazda into the International Motorsports Hall of Fame when they took to LeMans in 1997 with the 787B. Yuki's car carries essentially the same type of engine; a quad rotor, naturally-aspirated 26B.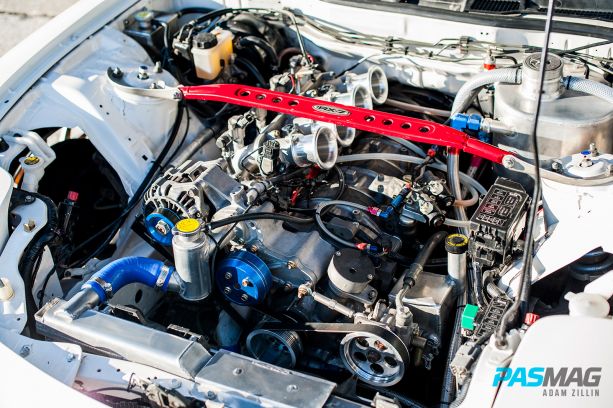 With a flick of a couple of latches on the custom carbon fiber switch panel, the fuel pumps begin to whine, as the injectors are primed with go-juice. Then, with a twist of the key, the quad rotor whirs, coughs, spits and then blasts to life with an angry, tempestuous, ill-mannered idle; the FD rocking and heaving from the thunderous lump the peripheral port is delivering to the chassis. BRRAPBRAP-BRRAP, it barks. It's positively, absolutely unhinged; straining at the engine mounts, impatiently anticipating being unleashed.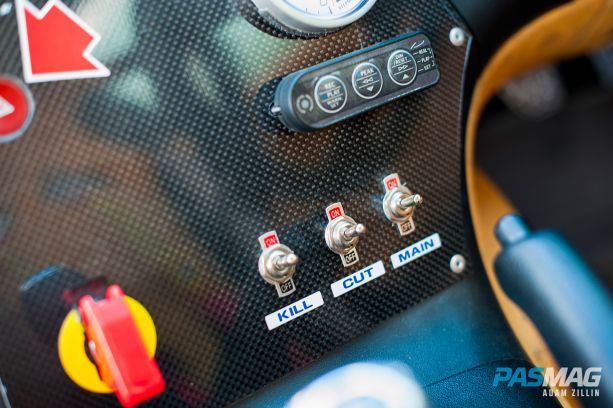 The noise alone, even at idle, is rearranging my internal organs and it is stopping literally everyone in their tracks. I can't remember the last time I witnessed a car snap this many necks — young and old — within a two-mile radius.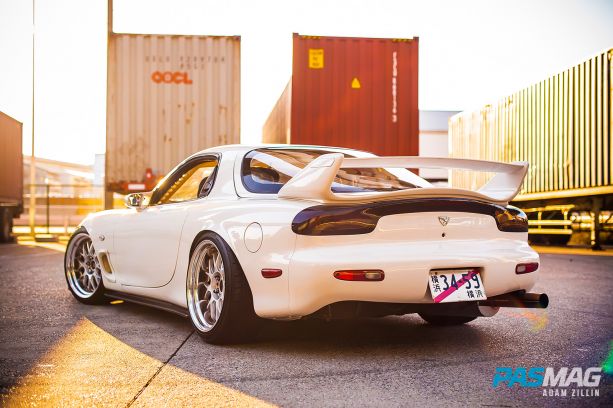 The maniacal lump of metal built by legendary rotary tuners Scoot Sports Japan redlines at 10,000 rpm, produces 600 horsepower and has a banshee scream so intense that every hair on your body stands on end as your blood starts to curdle. It's an engine unlike anything else on the planet and, quite simply, is the Holy Grail for rotary fans the world over.
The noise. Dear God, the noise! It's almost unspeakable. I'm strapped into the carbon Kevlar bucket and Yuki is only going easy to start with, in order to get the engine and driveline up to operating temperatures. But the orchestra is already in full swing and shit is - quite clearly - about to hit the fan.
Because this FD3S is virtually devoid of all interior appointments, sound deadening and luxury items, we're looking at a scant curb weight of 2,381 lbs. (1,080 kg) all in, and that means an incredible power-to-weight ratio to boot. This, while endowing the FD with freakish performance, amplifies the otherworldly and overpowering sensations you experience from within the cabin. It's visceral in the purest sense of the word, and easily one of the angriest street cars I have ever traveled in. I admit to feeling a little incredulous that something this unhinged, something this crazy could possibly be street legal and yet, it's all that and then some. Yuki nails the throttle from the lights and all hell breaks loose, the blood curdling scream the 26B emits as the revs build is deafening and utterly intoxicating. We break traction in first, then second, third and fourth; the overwhelmed Dunlop Direzzas struggle to provide any grip at all. This wasn't from dumping the clutch — this was merely from the torque overpowering the rear wheels!
But Yuki has it all under control, feeding in the throttle progressively to manage the towering and linear torque delivery. Needless to say, with a build like this, compromises must be made and a quad rotor engine is a notoriously fickle creation. If you decide to push it regularly to its 10,000-rpm cutout, you won't get much change out of 20,000 miles before needing a complete overhaul. Short shifting at 8,000 rpm will stretch engine life to 30,000 miles, but then you have to take into account that building one of these motors will instantly make you up to $40,000 poorer. That's just the motor.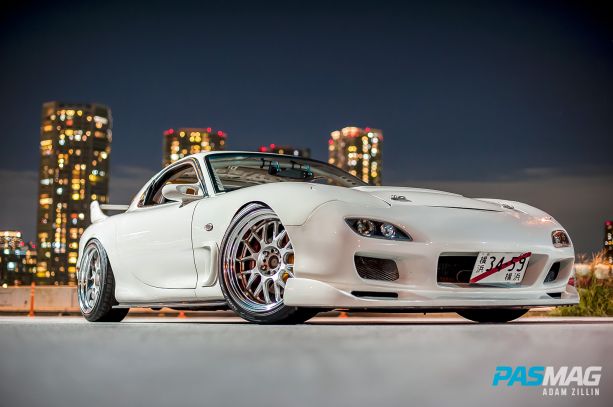 Scoot Sports took four, 13B-spec RX-8 rotor housings and rotors and then mated them to an Australian-made eccentric shaft. Not stopping there, the entire setup is peripheral ported, which is what gives the motor its lumpy idle. Scoot then fashioned a custom intake manifold that is mated to a TODA Racing Honda S2000 ITB induction set-up. Throttle response, as you can imagine, is instant.
Fuel delivery in this car is crucial and the FD utilizes three Bosch fuel pumps and eight SARD injectors — four 600 cc primaries and four 800 cc secondaries. Unsurprisingly, the Trust ECU-managed quad rotor is thirstier than an alcoholic at a beer convention. Fuel economy? What fuel economy?
On the street, and with a full 15.8-gallon tank, the FD averages 1.86 measly miles per gallon. At the track, the quad rotor will suck the tank bone dry in under 62 miles! One really neat party trick that offers some increased mileage comes thanks to a little dash-mounted switch that cuts fuel to two of the four rotors, thereby extending not only engine life but also range. The difference to drivability and noise production is night and day, as this one little switch seems to turn the FD3S from an axe-wielding murderer into a playful kitten. Oil starvation isn't an issue thanks to a dry sump configuration and custom feeder tank. Blasting out the combustion gases is Scoot's full custom set of stainless headers, SARD catalytic converter and a one-off custom muffler. The quad rotor then releases its power through a carbon mix ATS twin-plate clutch setup on its way through to the Cusco two-way mechanical differential.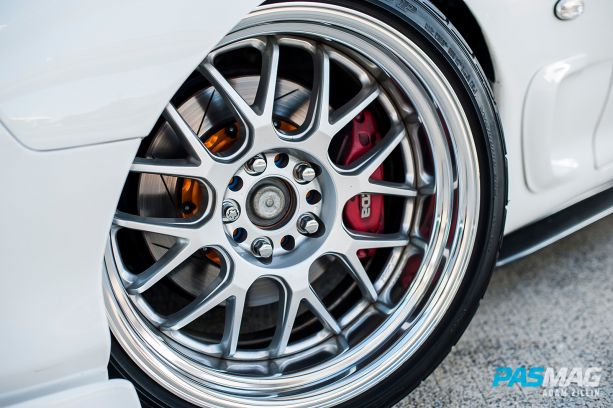 Not that the car gets much traction even with these modifications, but all that power is driving through 235/40 series Dunlop rubber, so you can now imagine how hair-raising acceleration through the gears can be. I shudder to think how petrifying the car would be to drive in the wet.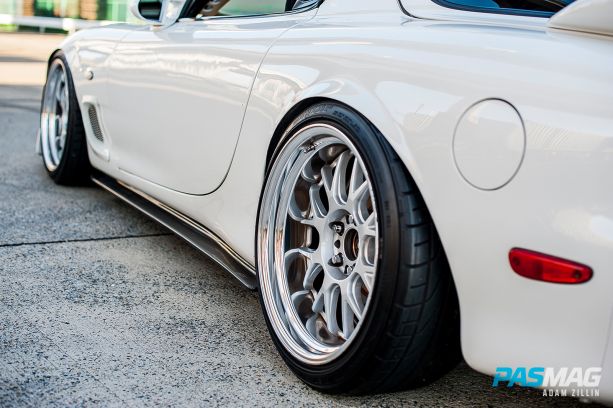 The RX-7 sits on Kansai Crux dampers wound stiff (39.7- and 44-lb. spring rates in the front and rear, respectively) to allow for the lowered ride height, and Yuki has also paid attention to the upper and lower suspension arms, replacing bushings where and when he needs to. Pulling up the FD is a standard set of RS-spec front and rear calipers that have been added to with larger 17-inch, two-piece Endless rotors and Project Mu pads. But with just over a ton to haul, there isn't much to pull up.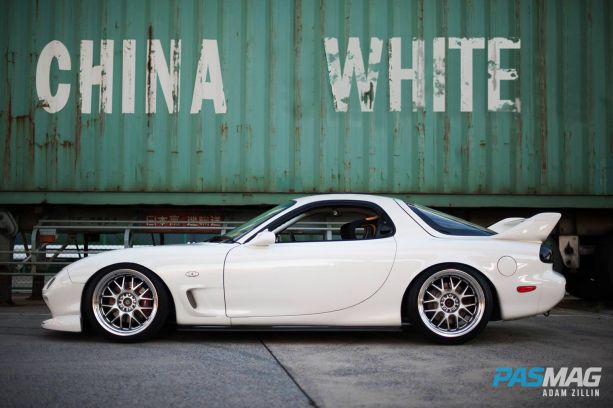 Aesthetically, things are classic Mazda and you won't find a VeilSide or RE Amemiya kit on this car. Instead, Yuki has kept it clean and simple, accentuating the natural lines of the FD3S with a Mazdaspeed rear wing, custom front bumper assembly, Fujita Engineering carbon fiber side skirts and a D-Speed carbon fiber hood. The doors too, are lighter carbon fiber items sourced from auction. Inside, things are spartan and aggressive, but tastefully arranged. This was not built for luxury, but for maximum performance, so there is no air conditioning or other creature comforts. It has been stripped to the metal then rearranged in order to keep the weight as low as possible.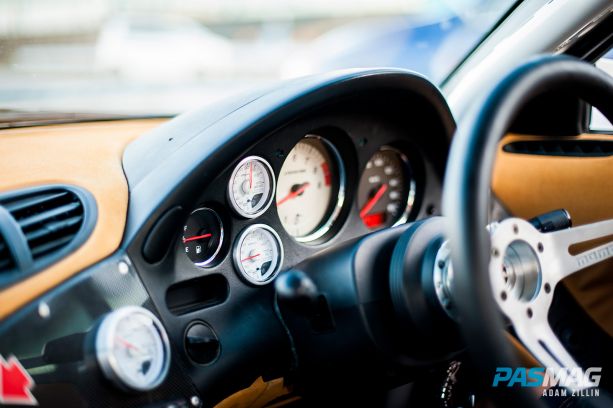 That said, Yuki wanted to give the interior a tasteful look as well, so he went with some camel-colored Alcantara and re-trimmed the door inserts, dash assembly and seats with it. The result is gorgeous, even if a bit rough around the edges. Remember, this entire car is basically homemade. There are the unsurprising additions of the Defi gauges, Defi controller unit and a Momo steering wheel, but the combination of camel on white on chrome and silver is a tasty mix.
What makes this car amazing on a different level though is how Yuki approached the build. As I just alluded to, he did a lot of the work himself and was involved in the process every step of the way. The cage is by Garage Craft, but of Yuki's design. He also had a hand in re-trimming the interior. Then there was the work he did on preparing the underbody of the car and interior for its new paintjob. Not only that, he installed the apex seals himself. This car was built, not bought, and that's what elevates it to a different level altogether. Yuki just loves his dream car right now. When asked why he chose an FD, his answer was philosophical, "The car is light and has a strong reputation. Loads of people love the FD3S." But when I asked him about the reason to go the route of a quad rotor, the answer totally surprised me, "The 787B was a great inspiration for rotary fans, so I wanted to build a similar engine to what the racecar had."
Oh, and did I mention Yuki is only 20 years old? Yes, you read that correctly. How many 20-year-olds do you know that understand the legacy of the 787B, and then go all out and build an FD3S with the same engine? I can count them all on one finger.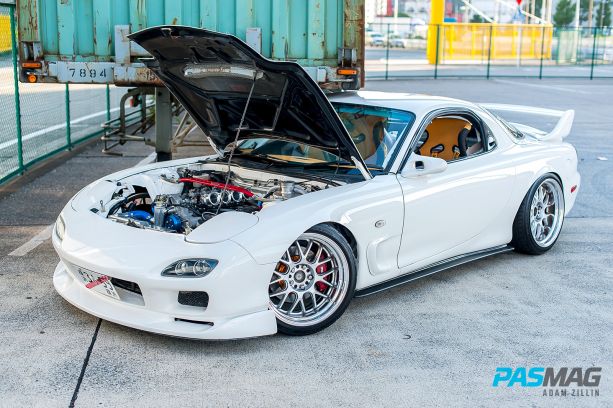 "I bought the car when I was 18," he explains. "At the time it was completely stock and I wanted an RS spec FD because it came with some great upgrades over the base package. The engine was blown, but everything else on the car was in good working order. I was only going to replace the 13B with a 26B, anyway."
So, what excuses do we have? If an 18-year-old who works a full-time, nine-to-five engineering job can envision building something this incredible, then there is no excuse. Real grassroots tuning in Japan has been on the decline for a while now, with the younger generations unwilling to go further than the occasional bolt-on and stance mod, purely for visual appeal and social acceptance. But that's not what I call tuning.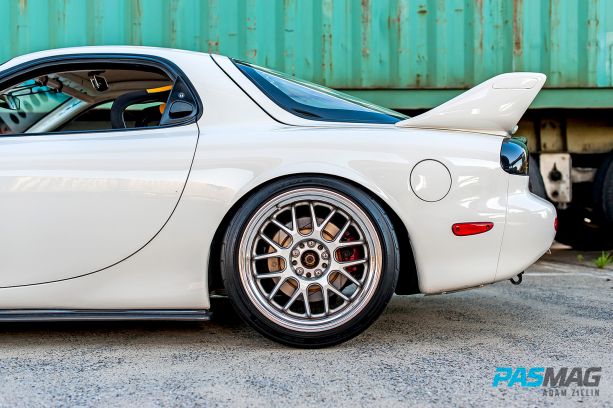 This is. I'll also tell you that I was massively relieved to see, feel and present this car and that, perhaps, just maybe, there is hope after all for those in the younger set who simply "get it." Yuki is nowhere near done with the build. The aim is to go even lighter and faster by swapping out the fenders for carbon fiber items, installing a carbon rear diffuser, Fujita Engineering front bumper assembly and removing anything else that compromises weight, and with it, performance. Then, the car will be raced at Fuji Speedway.
All things considered, this is, without question, one of the most stunning FDs on the planet, not just because of the sum of its parts. Yes, it's rough around the edges and yes it has been built on a budget, but it exists because of an 18-year-old's vision of his dreams.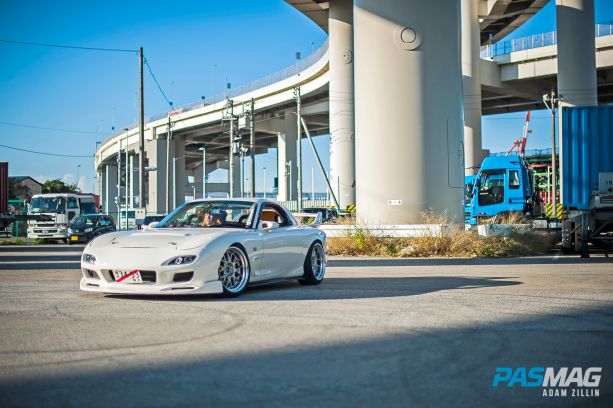 ESSENTIALS // Vehicle: 1997 Series 4 FD3S Type RS, Owner: Yuki Kamakura, Built By: Yuki Kamakura & Scoot Sports Japan, Club Affiliation: Team Heavy Hitters, Engine: Peripheral-port Mazda 26B quad rotary, Horsepower: 600 hp, Redline: 10,000 rpm, Weight: 1,080 kg
ENGINE MODIFICATIONS // Peripheral porting, Scoot custom intake manifold, RX-8 (apex seals, 13B rotors (4), coil packs (8)), Australian made eccentric shaft, TODA racing Honda S2000 individual throttle bodies, SARD injectors (600 cc high (4), 800 cc low (4), Dry sump feeder tank, Custom triple-core aluminum radiator, Relocated wiring harness and battery
EXHAUST // One-off Scoot Sports full custom (stainless manifold, center pipe, muffler), SARD catalytic converter
DRIVELINE // Factory Mazda 5-speed manual transmission, ATS (carbon mix twin-plate clutch, flywheel, pressure plate), Cusco mechanical two-way 4.3 final drive
CHASSIS / SUSPENSION // Rebuilt Mazda RS upper and lower arms, Kansai Crux dampers - 18 kg (f), 20 kg (r)
WHEELS / TIRES / BRAKES // 18-in Work M1R wheels – 18x8.5 (f), 18x9.5 (r), Dunlop Direzza tires – 225/40 R18 (f), 235/40 R18 (r), 5 mm spacers (f), 35 mm spacers (r)
Mazda RS-spec brakes - 17-in. Endless 2-pc. slotted rotors, Mazda RS four-piston calipers (f), 17-in. Endless 2-pc. slotted rotors, Mazda RS single-piston calipers (r), Project Mu pads, Stainless brake lines, Wakos brake fluid
EXTERIOR // Mazdaspeed rear wing, Fujita Engineering carbon fiber side skirts, D-Speed carbon fiber hood, Custom front bumper, Zenki Series 3 rear lights, Carbon fiber doors
INTERIOR // Garage Craft multi-point roll cage, Stripped interior, Retrimmed dash and door inserts w/ camel Alcantara, CGC carbon-kevlar front bucket seats re-trimmed in camel Alcantara, RX-8 shift knob, Momo steering wheel, Carbon fiber center panel, Defi (controller, gauges, oil pressure, oil temperature, fuel pressure), Fuel kill switch to two rotors
Contributor: Adam Zillin / 7Tune