Written by Jacob Leveton | 15 April 2015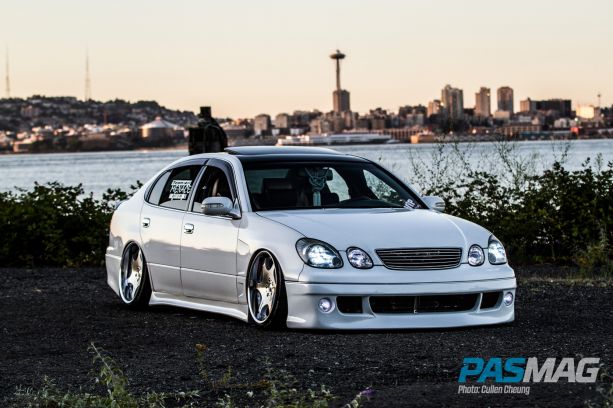 In the late '90s Kenji Nishimura owned an Acura Integra like many of his friends. As easy as they were to modify, Nishimura decided to part with his in favor of something more unique. His next car, a Nissan S14 styled after a Japanese motorsport called "drifting" that had yet to hit the US at the time, was much more unique, until the marketing of the sport in the US made it far more popular than Nishimura wanted. The Lexus GS300 caught Nishimura's attention because of its comfort as a daily driver, and potential to be built into a cool VIP car. More than 10 years later, the car has evolved into the fully tuned VIP that Nishimura never knew possible.
Text by Jacob Leveton. Photography by Cullen Cheung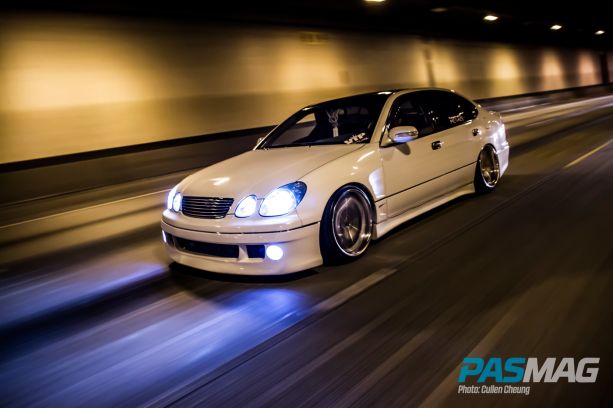 Nishimura had seen several VIP-styled cars on the Internet, but none were on the show circuit in the Pacific Northwest at the time. The initial plan for the car included minor mods, but it had to remain functional as a daily driver. Like many cars, an intake and Tanabe Hyper Medallion exhaust were some of the first to go onto the 300. Later, an SRT ECU helped maximize the horsepower, followed by the Nitrous Express kit - squeezing the most horsepower out of the stock 2JZGE motor without having to boost or crack it open.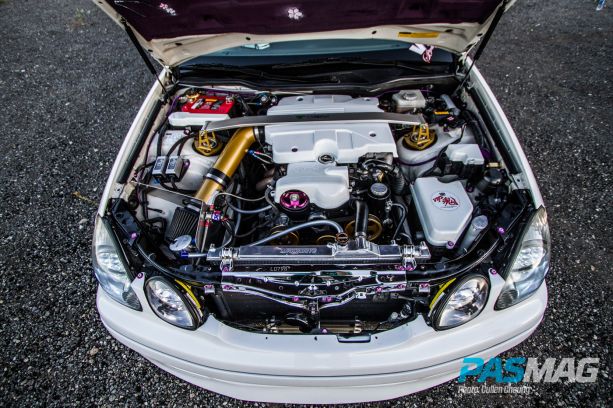 Nishimura slowly cleaned the engine bay and upgraded several parts. A Mishimoto radiator setup and transmission cooler, Hose Techniques silicone hoses, and TRD oil cap have all replaced the old stock. Several pieces in the engine bay have been chromed or painted to clean up the overall appearance, highlighted by the custom airbrushed Sakura hood completed by Nishimura's Team Menace teammate Walter Franco.
The inside of the car has also evolved over the years to its current setup.
"When I was deciding how to upholster the interior, I saw a lot of VIP cars that just had black leather or suede," Nishimura says. "But I think black is too sporty and doesn't fit with the theme I was going for. I wanted to have a nice luxury look that was still plush with a factory influence."
The tan leather and chocolate brown inserts with diamond stitching provide the mix of plush and OEM-plus that Nishimura was looking for. Accessories that include Anceltion curtains and side tables, a slew of Junction Produce pillows and covers, and JDM Toyota Aristo doorsills and emblems help trim out the interior. Several wood grain panels replace the dated color-matched factory inserts, and an RX300 wood grain steering wheel and 5Zigen wood grain pedals tie everything together nicely.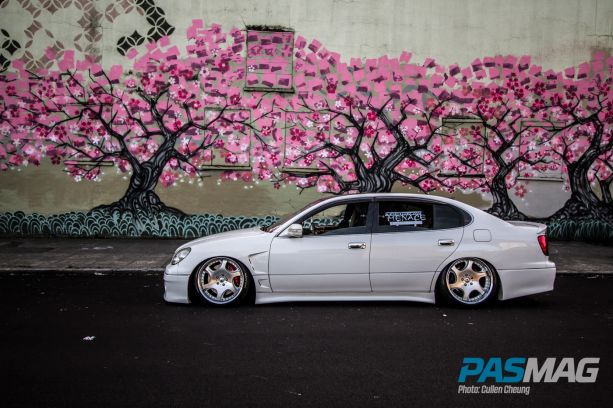 Like many VIP cars, Nishimura went with a complete air-based suspension setup to provide the low look for show, but keep the drive quality Nishimura needed. Air Runner components produce the proper look and feel, and Dakota digital pressure gauges ensure that he's riding level and balanced. Intec lower control and tie rods keep the alignment tidy and within spec.
Stopping power for the massive sedan comes courtesy of upgraded calipers on all four corners, slotted rotors and braided lines, all stamped with StopTech name.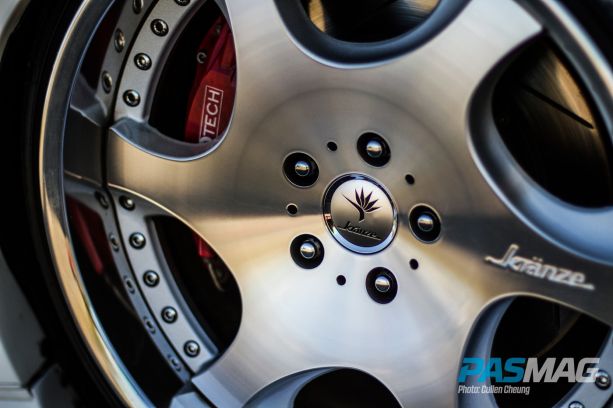 Of course, a JDM-style VIP is going to need some suitable wheels, and the Kranze is legendary. The 19-inch Weds Kranze Bazeirea wheels sit snug in Nitto Neo Gen tires; nine inches up front and 10 in the rear. This GS is rolling right.
A custom Explosion body kit was modified to Nishimura's specifications, filling several openings and modifying the grills to provide cleaner lines and a refreshed look. An RMM three-piece rear spoiler and UGO roof spoiler round out the GS300's massive rear end. A Junction Produce billet grill, door handles, and trunk bar accent the white paint without being too gaudy. All Lexus markings were replaced with Toyota Aristo badges from Japan, while LED turn-signal mirrors, driving lights, and puddle lights brighten things up.
One of the most elaborate changes to the car is in the trunk. Initially, Nishimura had the simple false floor subwoofer box built to allow for continued use of the trunk, as the car was still a daily driver at the time. Famed drifter Tanner Foust, who was already sponsored by Memphis Car Audio, had the opportunity to select a vehicle to upgrade with the Memphis Car Audio product line. Foust's decision was between a Skunk2 Race Team and Nishimura's GS300, and he favored the latter.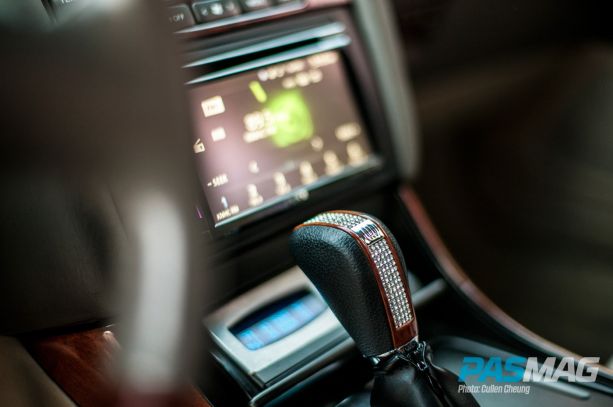 Once a more substantial enclosure was built, it was filled with a pair of Memphis Audio M1 10-inch subwoofers, powered by an M-Class two-channel amp. Under the box, a second M-Class four-channel amp powers M-Class speakers. For those who don't know, Memphis' M-Class line is their ultimate performance one. With two amps powering this worthy system, this GS sounds as clean as it looks. All inputs are controlled from the Sony in-dash DVD screen, and the whole system not only sounds upgraded, but is neatly installed away from passenger sight. Tattoo artist Keahi Hooe airbrushed the demon and sunrise theme on the box with meticulous attention to detail.
Now that the car is a clean, well-rounded and award-winning vehicle, Nishimura is proud of the journey he has taken to get the car to this point.
"When I first got the car, people made fun of me and asked me if I was driving my mom's car," he laughs. "Now that they see the finished product, there's no mistaking that this car is my masterpiece."
Nishimura has even been approached at events by fellow VIP enthusiasts who are now getting into the scene and building cars of their own. They've all mentioned Nishimura's GS as a major influence in their decisions.
As the saying goes, imitation is the sincerest form of flattery, and while it would be hard to imitate the unique style that Nishimura's GS300 has, it's easy to see that this car was built with a decisive decisions and Nishimura's vision.
ESSENTIALS // Vehicle: 1999 Lexus GS300, Owner: Kenji Nishimura, Location: Seattle, Washington, USA, Engine: Toyota 2JZGE 3.0L I-6, Built By: AK Autoworks, Revision Audio, AtomDD, Club Affiliation: Team Menace
ENGINE // SRT (Race ECU, High Flow intake), TRD oil cap, Mishimoto (radiator, radiator cap, electric fans, transmission cooler), Hose Techniques silicone hoses, HKS (cam gears, Circle Earth grounding kit), Cusco oil catch can, Nitrous Express nitrous kit, Lexus 2001-2005 GS engine cover, Custom chrome, painted engine components, Airbrushed Sakura hood art by Walter Franco
EXHAUST // Tanabe Super Hyper Medallion Touring exhaust system
WHEELS / TIRES / BRAKES // Weds Kranze Bazreia wheels – 19x9 (f), 19x10 (r), Project Kics wheel spacers, Nitto NEO GEN tires – 215/35 R19 (f), 245/35 R19 (r), Garson Dad Swarovski crystal air filler caps, StopTech (big brake calipers, slotted rotors, braided brake lines), Axxis Ultimate brake pads
CHASSIS / SUSPENSION // Air Runner air suspension system, Dakota digital pressure gauge, Intec Racing (lower control arms, tie rods), Tein strut bar
EXTERIOR // Explosion custom body kit, RMM 3-piece spoiler, UGO roof spoiler, Custom vented fenders, Infiniti Q45 headlight projector retrofit, Hella Optilux 2500 fog lights, Black painted roof, Junction Produce (billet grille, chrome washer nozzles, chrome door handles, chrome trunk bar), TRD tinted window visors Toyota Aristo (rear badge, rear carbon fiber pillars), Carbon fiber license plate garnish, VIP LED turn mirrors, LED driving lights, VIP puddle lights, Sonar taillights, 15% window tint
INTERIOR // Tan leather upholstery, Chocolate brown diamond stitched (inserts, door panels), Anceltion VIP (curtains, side tables), Black VIP rear pillows, Junction Produce (fusa, tsuna, neck pillows, tissue box cover, seat pillows), Toyota Aristo (doorsills, circle emblem), Garson Dad Swarovski crystal (mirror, glitter shift knob, interior accents, mink chain), Garson leather shift boot, Wood grain interior pieces, Lexus RX300 wood grain steering wheel, 5ZIGEN wood pedals, Jaguar retrofitted rear wood grain tables, Air brushed Hokusai trunk piece
MOBILE ELECTRONICS // Sony in-dash DVD receiver, 7-inch headrest monitors, Memphis Car Audio (M1 10-inch subwoofers (2), M-Class multi-sync speakers, M-Class 4-channel amplifier, M-Class 2-channel amplifier, wiring, capacitors), Compustar Pro Alarm system, Optima Yellowtop battery, Fiberglass enclosure custom airbrushed by Keahi Hooe
SPONSORS // AK Autoworks, Intec Racing, Diamond Lighting, Nitto Tire, Stoptech Brakes, Mishimoto, Memphis Audio, Hose Techniques, Luxurymods.com, Junction Produce
SPECIAL THANKS // My loving wife Myra, my family, Team Menace, Andy Wong, Lawrence Ojas, Harry Kong, Howard Hsai, Maho, Samson, Cullen Cheung, Adam Nonis, VIPstylecars.com
Read more of Kenji Nishimura's 1999 Lexus GS300 feature in PAS Apr/ May 2015 Issue. Available on newsstands in North America between March 30, 2015 and May 29, 2015 or Order HERE.