Written by Anna Brown. Photography by Jeremy Brian | 13 October 2015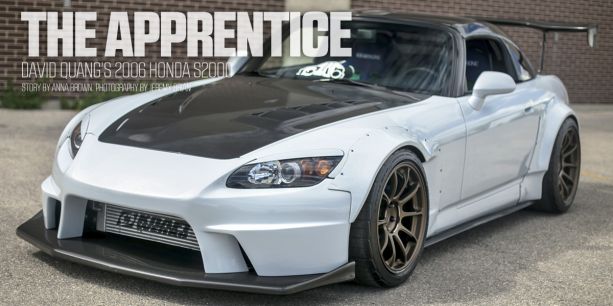 David Quang of Winnipeg, Manitoba, has long had a passion for Hondas. He has worked on eight custom cars, including a 2008 Honda Civic Si fa5 and a 2008 Acura RL Elite, but it is clear that this 2006 Honda S2000 is his baby. David comes from a family of mechanics and after completing part of his mechanic apprenticeship, he began to work for Honda as a sales manager. Although he modified and drove other Hondas, it has always been the S2000 that he desired; even at 16, he knew it was the car for him. He's been saving and planning since he started working and, in 2011, he was able to purchase the car of his dreams. He has dedicated the last four years to customizing the S2000, pouring about $70,000 into the car in the process. Along with his brother Donald and friend Benji Tran, everything from the chassis to the suspension has been modified.
The fender flares and wheels, which give the illusion of width, are his favorite parts of the car. Many of the parts David used are difficult to acquire in North America, but he wanted to use only high quality Japanese parts to set this build apart. This attention to detail and desire for perfection made the project time consuming, which was a challenge as David did all the work himself while working full-time. David credits his club, the G106 crew, for providing inspiration throughout the course of the build. They have certainly helped him achieve his goal of turning heads on the road!
#TBGLIVE WINNER: DRIVEN 2015: RED RIVER EX, WINNIPEG, MANITOBA, CANADA
52% OF THE POPULAR VOTE
For more info, go to http://ppmg.ink/jv.
ESSENTIALS
2006 Honda S2000
LOCATION: Winnipeg, MB
CAR CLUB: G106 Crew
ENGINE: Honda 2.2L SOHC 16V I-4 (F22)
HORSEPOWER: 350 WHP
TORQUE: 240 LB-FT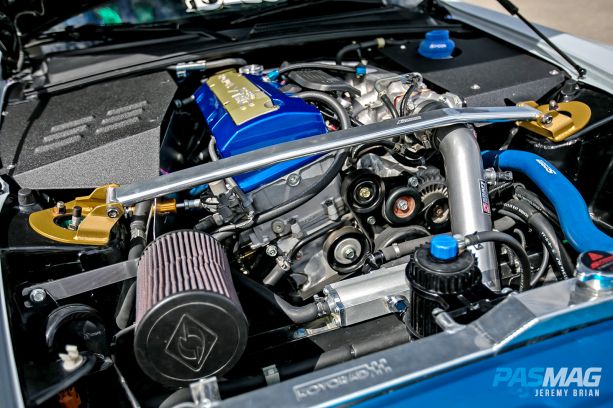 ENGINE
kraftWerks high-boost supercharger kit
Koyo radiator
Spoon Sports (rad hoses, cap, stays, oil cap, reservoir covers)
Mishimoto aluminum fan
Hasport 94A motor mounts
GReddy hood damper
Hondata (intake manifold heat shield, Flash Pro [E-tunez], 4-bar map sensor)
NGK Iridium IX- no. 7 Spark plugs
ASM throttle body spacer
J's Racing (torque damper, heat shield)
Cusco cooling plate
Optima Yellow top battery
Gladfab battery / fuse box and brake master cylinder cover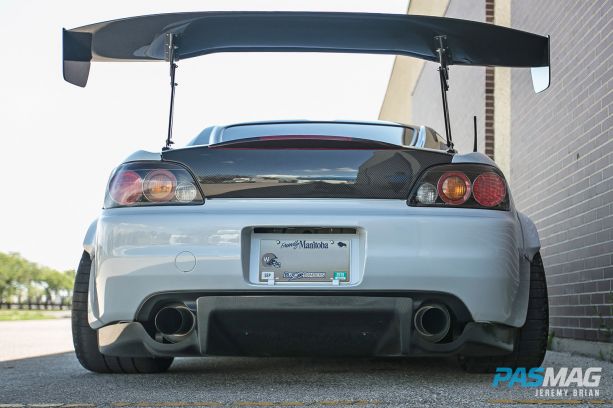 EXHAUST
Toda 2.75-in. High Power Exhaust System
J's Racing (header, test pipe)
DRIVETRAIN
Exedy hyper single clutch
Driveshaft Shop level 2.9 V2 axles
Hasport 94A differential mounts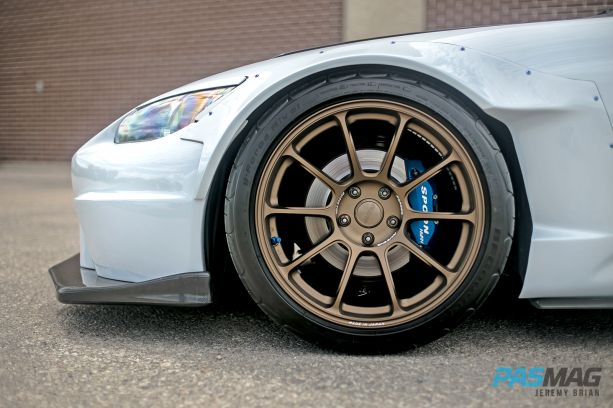 WHEELS/TIRES/BRAKES
Volk Racing ZE40 18 x 10.5 +24 (f), 18 x 12 +20 (r)
BFGoodrich G-Force Rival tires 275/35R18 (f), 315/30R18 (r)
Spoon Sports 4-piston monoblock front calipers
Acura NSX rear brake conversion
Stainless steel rear brake lines
Project kics RC40 neo chrome lug nuts
ARP extended studs
CHASSIS / SUSPENSION
TEIN Evasive Spec SR-C coilovers
J's Racing (inner fender brace, upper strut bar)
Cusco (front / rear sway bars, rear lower arm bar, subframe bar)
Buddy Club P1 racing front / rear ball joints
SPC front / rear camber kit
T1R rear bump steer kit
Spoon Sports (subframe rigid collar, steering rack rigid collars)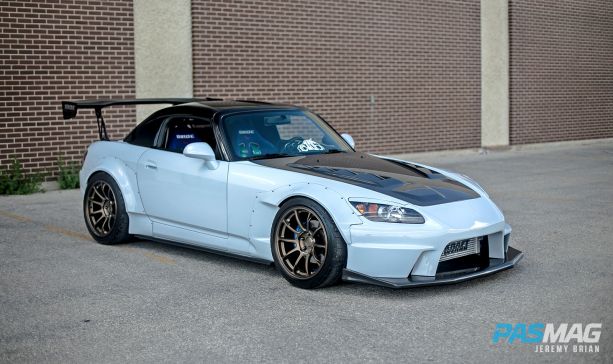 EXTERIOR
Sorcery carbon fiber front bumper
Mugen (carbon fiber hood, hardtop roof)
C-West eye lines
J's Racing carbon fiber rear diffuser
Downforce carbon fiber side diffuser
Voltex Type 2 GT wing
Seibon Carbon OEM trunk
Circuit Garage over fenders with PROTI forged titanium bolts (f/r)
Body work by Fleet Autobody
Audi Suzuka Grey paint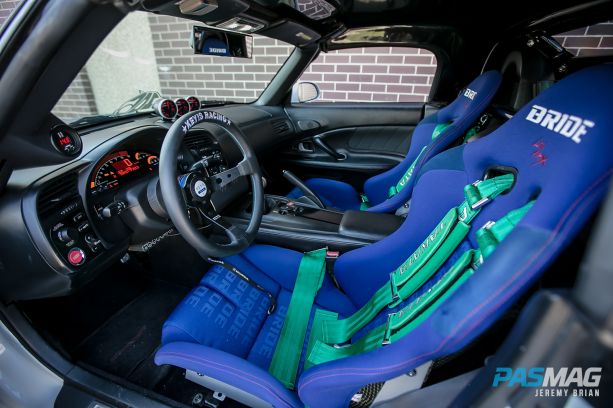 INTERIOR
Bride Stradia II carbon fiber seats
Keys Racing 350 mm deep steering wheel
Works (bell short hub, bell Rapfix II quick release)
Safety 21 five point roll cage
Takata Racing harness with gel pads
Stack wideband with Science of Speed single pod A-pillar trim
Defi gauges (boost, water temp, oil temp)
JDM Honda Civic Type R shift knob