Written by Jacob Leveton | 17 November 2015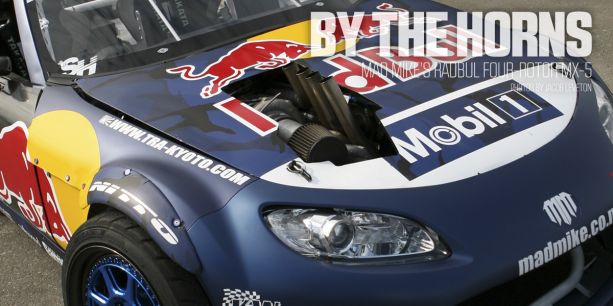 Back in 2010, "Mad" Mike Whiddett received a rude awakening. A champion in New Zealand, Whiddett had seen numerous international drivers make the smooth transition to Formula Drift competition. While his "BADBUL" three-rotor RX-8 was one of the more stylish cars on grid, it simply wasn't as competitive as Whiddett had hoped, and finished in 21st overall. His goal of finishing as the Rookie of the Year fell short to a fellow by the name of Aasbo, and Whiddett returned to New Zealand to await the right opportunity to return in a competitive chassis.
Five years later, this four-rotor powered 2015 Mazda MX-5 was the opportunity Whiddett had been waiting for. Over the past few years, Whiddett had mastered the Formula Drift judging system by competing in the Formula Drift Asia series, amassing several event wins and podiums. Taking the knowledge of his past builds, Whiddett set out to build a 1,000-plus horsepower chassis capable of competing against the biggest builds in the Formula Drift USA series. The chassis, as you see here, has been dubbed "RADBUL" and is one of the most elaborately-engineered cars on the Formula Drift grid.
What started off as a 2015 Mazda MX-5 was quickly broken down by the crew at Pulse Performance Race Engineering (PPRE) prior to being acid dipped, seam-welded, and then fitted with a Formula Drift compliant roll cage. Since the plan was to drift this chassis without its hardtop from the beginning, care was taken to ensure the cage structure is rigid enough to fully protect the driver and occasional passenger. Additional tubing was added to triangulate the main hoop with the halo section, and the NASCAR-style door intrusion bars also utilize more bars then necessary to ensure the integrity of the passenger compartment in the event of hard contact.
Under the hood, the RADBUL is truly a piece of automotive art. While Mazda's four-rotor engine has previously competed in Formula Drift, the only car to utilize the motor was a naturally-aspirated RX-8. To be competitive in this day in age, Whiddett knew he needed to turbocharge the powerplant, and ended up going with a twin-turbo setup after some careful consultation with Garrett engineers. Initially, fitting all four rotors into the engine bay was thought to be tight, but due to the MX-5's recessed firewall, which can't be modified due to the Formula Drift rules, the engine actually sits further behind the front axle than Whiddett's previous 20B-powered RX-8.
Even more impressive was the amount of OEM Mazda parts used in the engine build. Although PPRE modified the OEM rotor housings and rotors for optimal performance, the only major non-OEM piece is the custom eccentric shaft. Paired with custom PPRE intake and turbo manifolds and four Mad Mike signature edition wastegates, all airflow has been carefully planned. All engine tuning is handled by a Haltech Platinum Sport 2000 EMS, displaying all vitals on a Haltech/Racepak 1Q3 digital dash.
Style has always been Whiddett's forte, and this build would be no different. Starting with FD3S Rocket Bunny rear over-fenders, Whiddett carefully planned the body lines and graphics to ensure the menacing look he is known for. Up front, Autokonexion front over-fenders provide the perfect complement to the Rocket Bunny lines, while Goodwin Racing carbon doors provide weight reduction and a bit of style. Once Whiddett started testing the car, a few adjustments were made to help with performance. A custom Lexan diffuser now tops the windshield to create an air pocket in the cabin and clear out the smoke, while the original Rocket Bunny rear wing was replaced with a lower profile custom carbon fiber spoiler out back. As with all of his cars, Mad Mike handled the livery design and application, a unique trait that is rarely allowed by Red Bull.
Always one to pave the way with his wheel fitment, Whiddett knew this build had to uphold his reputation. Working with Rotiform, forged SLC three-piece wheels in 17x9.5 (front) and 18x10.5 (rear) sizes fill the arches nicely, while 235/40 R17 and 265/35 R18 Nitto NT05 tires in the front and rear, respectively, provide the grip. Sitting just behind the wheels are Wilwood brake calipers and Ultralite rotors on all four corners, with six-piston calipers in the front and a pair of four-piston calipers at each rear corner.
Suspension and steering modifications are often carefully guarded with drift cars, but we know that KW Suspension V3 adjustable coilovers with remote reservoirs take care of the height, compression and rebound adjustments, while Megan Racing adjustable arms and links handle the camber and caster tweaks. Steering angle is provided by way of a custom Wisefab setup as well.
With the 2015 Formula Drift season coming to a close, Whiddett has already seen some success with a chassis many felt would never be competitive, though prior to the final fight at Irwindale, still finds himself outside of the top 20. Shipping delays caused Whiddett to miss the first event of the season in Long Beach, and a schedule conflict with Goodwood Festival of Speed caused Whiddett to miss New Jersey, but otherwise, Mad Mike has consistently earned Top 16 appearances and shown signs of being one of the fastest and most stylish drivers on course.
Despite a five-year layoff , Whiddett continues to be one of the most popular drivers, with hordes of fans lining up in the paddock to get his autograph being the norm between rounds of competition. With more seat time and fine tuning, we won't be surprised to see the RADBUL land its first podium in the U.S. at some point in early 2016.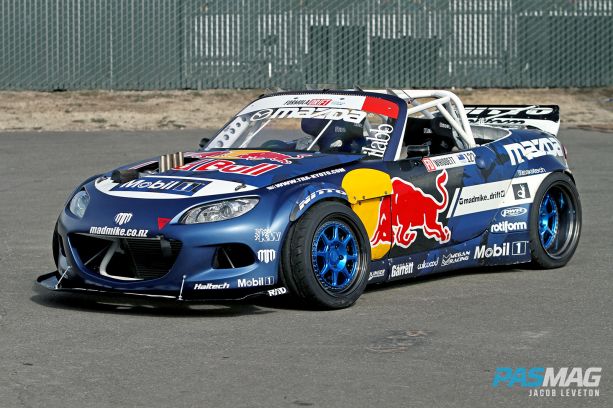 ESSENTIALS
2015 Mazda MX-5
DRIVER: "Mad" Mike Whiddett
LOCATION: Whanganui, NZ
ENGINE: Twin-turbocharged Mazda 2.6L 4-rotor (26B)
HORSEPOWER: 1,032 hp (low-boost setting)
ENGINE
PPRE (Mazda 26B 4-rotor rotary engine, modified OE rotor housings & plates, modified OE rotors, 3-pc. eccentric shafts, aluminium intake manifold & plenum)
Garrett GTX40 turbochargers (2)
Turbosmart Mad Mike Signature Line Comp-Gate 40 wastegates (4)
ProStreet Performance modified billet merge collectors
PWR (front-mount intercooler, rear-mount radiator, inline water-cooled oil cooler, dry sump)
Plazmaman throttle body
Mechman alternator
Haltech Platinum Series Sport 2000 engine management system
M&W Ignitions CDIs
WB2 wideband controller
CAN Hub modules Racepak SmartWire solid state power module
Fuel injectors (8)
EXHAUST
PPRE custom (exhaust manifold, 4-in. exhaust system)
DRIVETRAIN
Holinger Engineering 6-speed sequential transmission
Direct Clutches ceramic twin-plate clutch
Winters Performance quick change rear end by ASD
PPRE custom differential cradle
The Driveshaft
Shop axles
WHEELS / TIRES / BRAKES
Rotiform SLC 3-pc. forged wheels – 17x9.5 (f), 18x10.5 (r)
Nitto NT05 tires – 235/40 ZR17 (f), 265/35 ZR18 (r)
Wilwood (Dynapro forged billet calipers – 6-piston (f), 4-piston (r), Ultralite rotors (f/r))
ASD hydraulic handbrake
CHASSIS / SUSPENSION
PPRE Formula Dift-spec roll cage KW Competition 3A 3-way coilovers w/ remote reservoirs
Megan Racing adjustable control arms & links
Wisefab custom steering lock kit
EXTERIOR
Rocket Bunny FD3S RX-7 modified rear over-fenders
Autokonexion front over-fenders
Goodwin Racing carbon fiber (doors, hardtop)
Hybrid Lab FRP rear fenders
Mazda modified OE (front fenders, hood)
INTERIOR
Racetech RT9009HR carbon-Kevlar seats
Takata Race 6 harnesses
Haltech/Racepak 1Q3 digital dash
Sparco Competition steering wheel
Lifeline plumbed fire extinguisher
Racepak switch panel
PARTNERS
Pulse Performance Race Engineering (PPRE), Mazda NZ, Red Bull, Mobil 1, Nitto, Rotiform, PWR Performance, KW Suspension, Holinger, Turbo by Garrett, Megan Racing, Haltech, Rocket Bunny, Wilwood Disc Brakes, After Market Industries, Racetech, Takata, ilabb, Direct Clutches, Brown & Miller, Wisefab, Plazmaman, Turbosmart, The Driveshaft Shop, Autosport Dynamics (ASD), ProStreet Performance, Any Mazz Spares, Hybrid Lab, Autokonexion, Goodwin Racing
Contributor: Jacob Leveton