Written by Nick Jambrosic. Photos by Tara Lynn Photography | 05 January 2016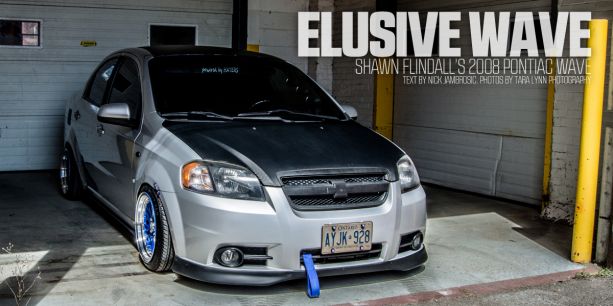 Shawn Flindall of Cobourg, Ontario originally had no intentions to become a tuner. Flindall simply bought his Wave because it was an inexpensive car that would take him from point A to point B.
As the years went on, Flindall started to become more involved with the car scene, adding bits and pieces to his car, but never anything major. Eventually, he wanted to be the one to stand out, and decided to build something completely different from the rest of the scene. With a Chevy Aveo face swap, the "Sloveo" was born.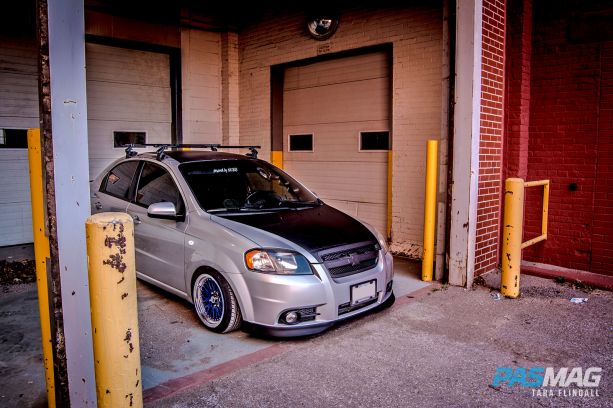 Flindall realized pretty quickly that there wasn't a big market out there for Aveos and Waves. He was at the point where he almost gave up on the build, until one day an online forum gave him hope. Listed there he found how-tos, parts he could use and do-it-yourself write-ups that would give him all the knowledge he would need to bring his car to life.
After two years of building (and many more to come), Shawn poured out over $5,000 to make his car what it is today. His biggest supporters are his two boys and his wife Tara, who also does all of his photography. His club, Elusive Rides, is another inspiration for him, and they are a big part of what keeps him going. Shawn's favorite aspect of the build is his custom VW suspension and wheel setup. It never fails to put a smile on his face every morning when he walks out to his car sitting low and stanced.
Right now, the Sloveo is still a daily driver. After this year, Flindall is hoping that it will be off the roads and in the shop for some major upgrades to turn the Sloveo into something not so slow anymore.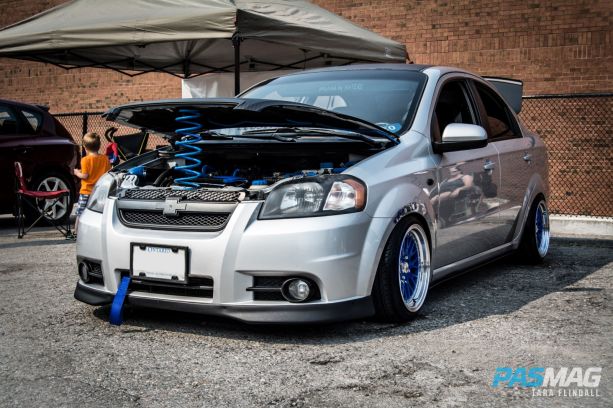 #TBGLIVE WINNER | TORQUE MODIFIED
GARRETT B. RICHARD ARENA, BOWMANVILLE, ONTARIO
63% OF THE POPULAR VOTE
ESSENTIALS
2008 Pontiac Wave
OWNER: Shawn Flindall
LOCATION: Cobourg, ON
CAR CLUB: Elusive Rides
ENGINE: Chevrolet 1.6L ECOTEC I-4
HORSEPOWER: 103 hp
TORQUE: 107 lb-ft
ENGINE
Tejima Motorsport air filter
ChromesIntake cold air intake
NGK Iridium (spark plugs, ignition wires)
Password JDM fender/bay bolts
EXHAUST
Custom 2-inch cat-back exhaust system
Spec-D performance muffler
WHEELS / TIRES / BRAKES
Avid.1 Av-12 wheels - 15x8 +15 (f/r)
Nankang NS-2 tires - 185/45 R15 (f/r)
EBC (drilled rotors (f), ceramic brake pads (f/r))
Blue painted rear drum breaks
RTX chrome lug nuts
Wheel spacers – 5 mm (f), 1-in. (r)
CHASSIS / SUSPENSION
CX Racing (VW MK2 Jetta/Golf coilovers (f), VW MK1 Jetta/Golf coilovers (r))
Custom adjustable front endlink kit
KYB top mounts
EXTERIOR
2000 Honda Civic Type R front lip
Custom side & rear lip extensions
2008 Chevrolet Aveo (front bumper, grille)
Password JDM quick release bumper kit
BMW-style trunk lip
Black housing headlights
VHT tinted taillights
Carbon fiber vinyl wrapped (hood, roof, trunk)
RTX (high-beam/ low-beam 8K HID kit, 6K LED fog lights)
CREE LED (signal lights, reverse lights, license plate lights)
INTERIOR
Blue stitched (shift boot, e-brake boot)
Dragon Gauge gauges (voltage, air/fuel ratio, oil pressure)
GlowShift A-pillar 3-gauge pod
Cipher Auto racing seats
Sparco floor mats
Brushed blue aluminum vinyl accents
Color-matched interior panels (pillars and roof liner)
NITTO carbon-fiberstyle pedals
Blue LED (accessory switches, interior, trunk)
AUDIO / MOBILE ELECTRONICS
Sony double-DIN head unit
Kenwood 2,000-watt monoblock amplifier
MTX (12-in. JackHammer subwoofers (2), ported enclosure, 6.5-in. component speakers, 6.5-in. 3-way rear speakers, 1-in. A-pillar component tweeters)
6.5-in. MTX component speakers (front)
7-in. rear monitors (2)
MotoMaster Eliminator performance battery
Contributor: Nick Jambrosic, Tara Lynn Photography