Written by Adam Gordon. Photos by Jeffrey Liu | 28 June 2016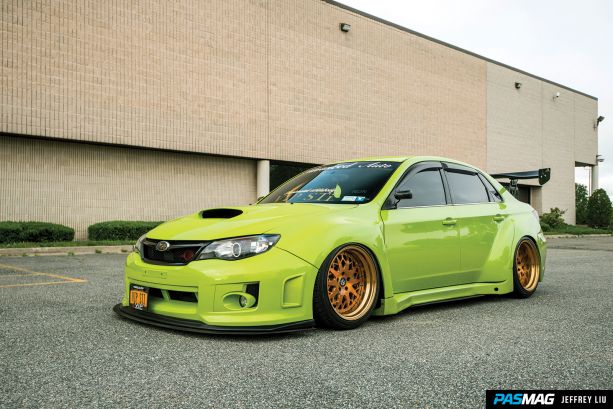 Mohammed Hosein is no stranger to cool custom projects. His 2013 Subaru STI is the successor to several previous builds that were built alongside his father, including a 2006 STI on air ride. Currently in their garage sits a 1973 Beetle with a 500-horsepower STI-swap, a 1976 Porsche 911 with a twin-turbo small block V8, and a candy-apple-red 2005 Ferrari F430. With a repertoire such as theirs, it's only fitting that Hosein tackled his newest project car with outside the box thinking.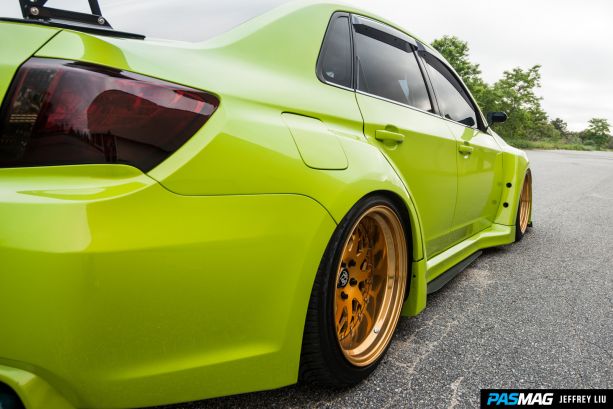 After seeing all of the popular widebody kits available for the Subaru platform, Hosein made the decision to stray onto the road less travelled and build a show car with something custom, hoping to achieve a never-before-seen look. Looking at the car today, he seems to have succeeded.
"Seeing other people buy their body kits and spending $20,000 on these various kits, made me just want to be more unique with the build and not run to a brand named widebody," writes Hosein, recalling some of his early motivators for the project.
While the car has been modified in several areas, the custom widebody is the focus, and is Honsein's favorite aspect of the build.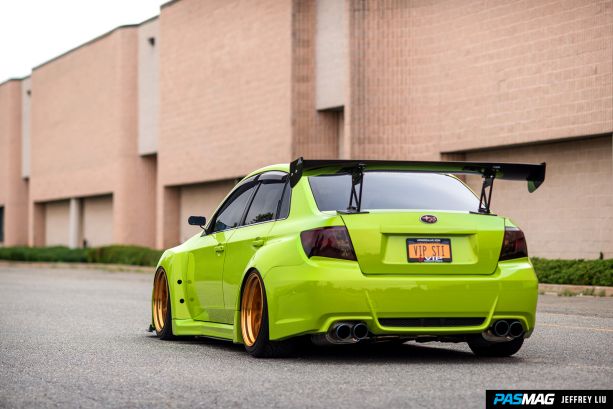 "The biggest challenge was to figure out how to continue cutting this car and making it wider, while still keeping the stock body lines and [figure out] how to get the car as wide as I want it," explains Hosein.
Ultimately, the father-son team overcame the aforementioned challenge by just continuing to build as they went. Hosein tells us they went in without a plan and just played it by eye to maintain the stock body lines.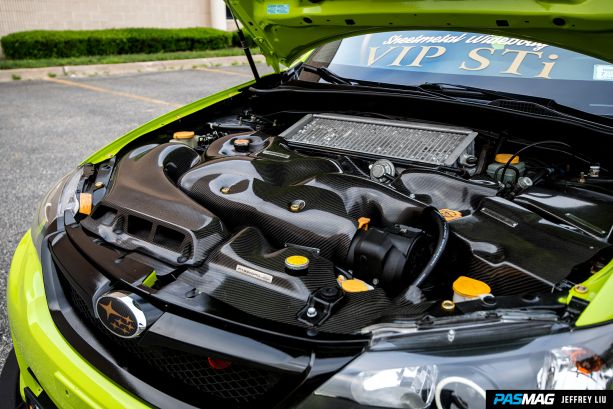 At ground level, the car is outfitted with an Air Lift Performance air suspension system, which helps the widened body sit properly over the 18-inch VIP Modular VX-910 wheels. The Perrin EQL headers and up-pipe allow the engine to breathe freely through an Invidia exhaust, which sings the boxer-four's signature song. Kudos to Mohammed and his father for another unique build to add to their stable!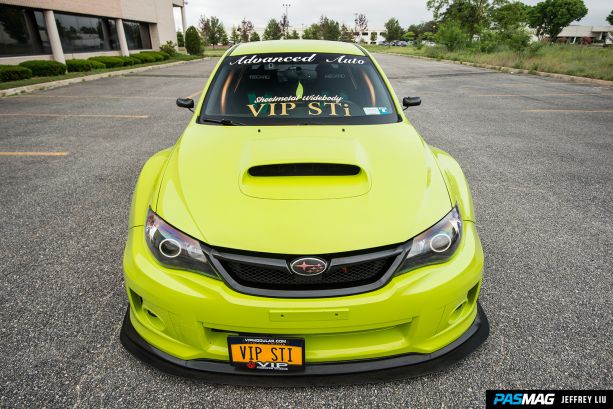 #TBGLIVE WINNER | ELITE TUNER: MITSUBISHI VS SUBARU (PHILADELPHIA, PA)
TOTAL VOTES: 233
POPULAR VOTE: 53%
REACH: 81,219
IMPRESSIONS: 84,363
@tunerbattlegrounds @elitetuner
ESSENTIALS
OWNER: Mohammed Hosein
VEHICLE: 2013 Subaru WRX STI
LOCATION: South Ozone Park, NY, USA
ENGINE: Subaru EJ257 2.5L H-4
HORSEPOWER: 330 hp
SOCIAL
Facebook: Mohammed Hosein
Instagram: vipsti.com_
ENGINE
Perrin hoses
K&N Typhoon cold air intake
PERFORMANCE ELECTRONICS
COBB Tuning ECU
EXHAUST
Invidia Q300 exhaust
Perrin (EQL headers, up-pipe)
Invidia (down-pipe, burnt tip exhaust)
DRIVETRAIN
Exedy (Stage 2 clutch, flywheel)
CHASSIS/SUSPENSION
Air Lift Performance air suspension
Whiteline (sway bars, bushings, rear strut bar, control arms)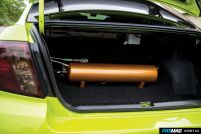 WHEELS / TIRES / BRAKES
VIP Modular VX-910 wheels – 18x11 -8 (f), 18x11 -12 (r)
Nexxen tires – 255/35 R18 (f/r)
INTERIOR
iNfocus Clothing (shift boot, e-brake boot)
Recaro racing seats
Sparco harnesses
Full roll cage
EXTERIOR
Custom metal (widebody, lip kit, side skirts)|
Modified OEM bumpers (f/r)
JDM Fanatic grille overlays
APR GTC-300 spoiler
HID angel/demon-eye headlights
PPG Vibrance Collection "Key Lime Green" paintjob
Contributor: Jeffrey Liu