02 December 2016
The second generation of Chevrolet's Camaro is an iconic car to many, including Chevrolet, but you would be hard pressed to find someone who would sing praise of this car more than Miro Pavletic. Having longed to build a second-gen Camaro for most of his life as a car enthusiast, he didn't just jump into the build process on a blind leap of faith. The murderous machine you see before you is the result of detailed planning and a vision that went overboard, brought to fruition by people who know damn well what they're doing. The end result is a Camaro that's ready for war.
Miro is not alone in his admiration for the second generation of Chevrolet's pony-car. When the newly designed Camaro hit showroom floors in 1970, poised as the ultimate "driver's car" of the time, it was an instant favorite. It was longer, lower and wider than its first generation predecessor. Heavy modification of the platform was soon widespread, spanning all sorts of styles and influences.
"[I] wanted to build the baddest Camaro on the streets," Miro says. But, in a category where builds are frequent and purists are scarce (albeit passionate), how does one stand out definitively as the baddest? Miro started modding the Camaro with his close friend Joe Maria, a corvette restoration expert from Stingray Auto Tech. Bolt-on mods included front coil-overs and a 150 shot nitrous kit. That was just the beginning.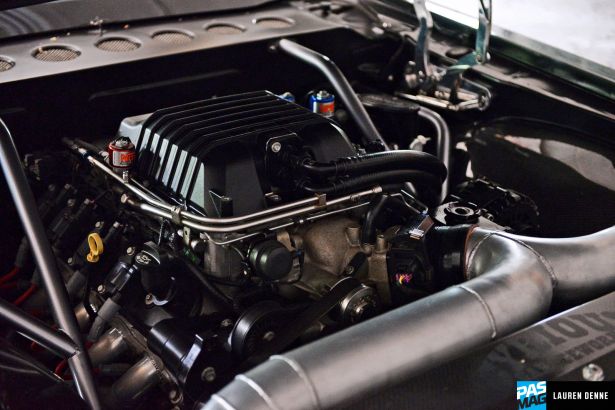 The first step in building this monster to the level it is now, and the first step in just about any project of this magnitude, is to get the right people on the job. For this specific job, the team at Cyrious Garageworks was enlisted. The car was already lightly modified when it made its way to the shop. Thankfully, "lightly modified" wasn't satisfactory enough for Miro, and the overhaul began. Step one was to give the Camaro a new heart – a 6.2L supercharged LSA from a 2013 Cadillac CTS-V, which already makes more than 550 horsepower from the factory. Not a bad place to start.
The original plan was to keep the LSA mated to its factory 6L90 automatic transmission and install a special paddle-shift system. While the engine may have fit nicely without much hassle, a lot of careful tweaking and bending was required to make space for the massive 6L90 transmission. Unfortunately, after all that work, the team discovered that the paddle-shift transmission just wouldn't shift the way they wanted, and it wouldn't hold a gear at redline without automatically changing gears. That is just not compatible with hardcore burnouts, and simply wouldn't fly for this project.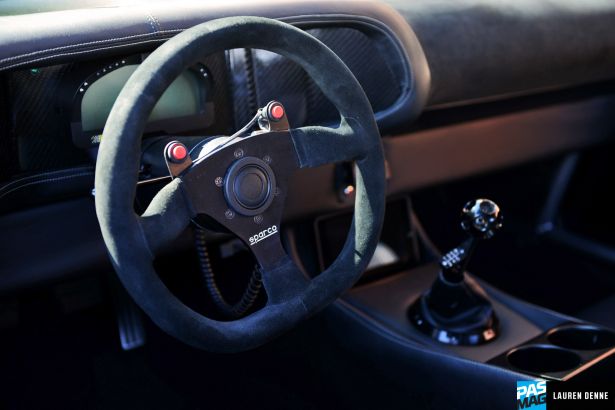 After much deliberation on a solution to their transmission problem, the crew decided it was best to go the way of a true muscle car – with a manual transmission to bang gears. They soon found themselves in possession of a 6-speed Tremec T56 Tranzilla transmission, the same bulletproof transmission they use on twin-turbo Dodge Vipers, featuring carbon synchros and good for over 1,200 lb-ft of torque. A Ringbrothers anodized six-speed shifter topped off the transmission for precise shifts. Now we're in burnout country.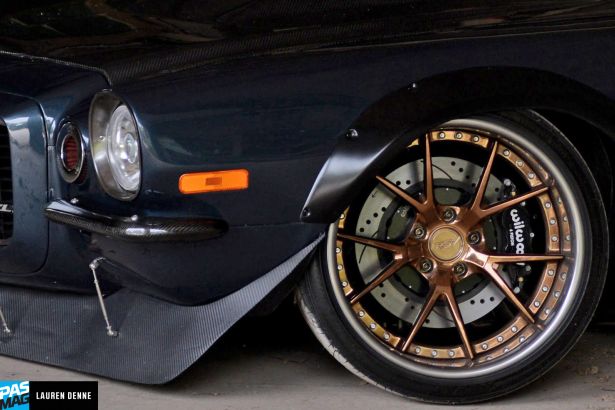 It wasn't long before the custom set of deep dish 19-inch RSF1s arrived from RSV Forged in a stunning polished bronze finish, and it was time to set up the Camaro's street stance. Thanks to a sophisticated auto-levelling stage 2 air ride system from RideTech, and some cut out fenders, World War Z is able to squat low over the wheels. Of course, with wheels that measure 12.5-inches wide in the front and 13.5-inches wide in the rear wrapped in 295 and 325 Nitto Invos respectively, the stock body just wasn't wide enough to contain the massive wheels and tires. Enter Cyrious Garageworks' custom craftsmanship skills once again to fabricate some impressive flares that look like they could have been bought out of a showroom.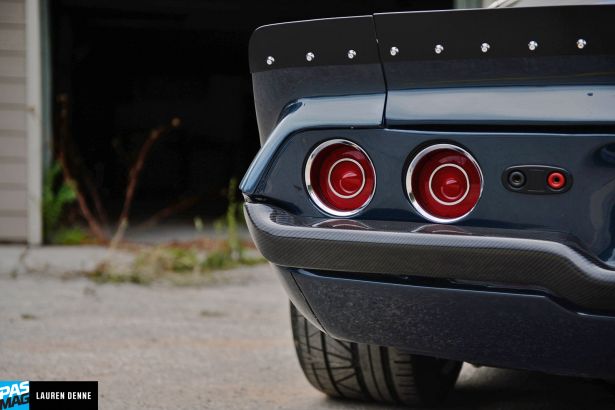 Other than the custom flares and a stylish ZL1-style spoiler extension, carbon fiber is the name of the game on the car's exterior. Other aggressive body add-ons include custom carbon fiber front and rear bumpers, a low-slung carbon fiber splitter with aluminum struts, and even a custom full carbon fiber hood from Anvil Auto. Even the engine bay itself is completely carbon fiber. The 70's lighting receives an update as well, courtesy of Digi-Tails with their LED taillights and a set of HID headlights with halos for a modern resto-mod look.
The modernized classic theme continues in the cockpit with a slew of custom touches and upgraded tech. Immediately noticeable is the integrated roll cage, custom built by the Cyrious boys. The gauge trim panel continues the carbon fiber diet theme we saw on the outside, and a an intricate Racepak IQ3 display dash serves as the primary source for information on the car's performance at any given time. Most of the interior is met with a reupholstery of leather and alcantara in liberal doses, including a wrapped dash and center console. Sparco takes care of the driver with their Chrono seats, harnesses, and a full alcantara steering wheel that features both a 2-step button and a nitrous button for some extra jam in an instant, thanks to the Nitrous Outlet 200hp LSA wet-shot kit. Wait, what?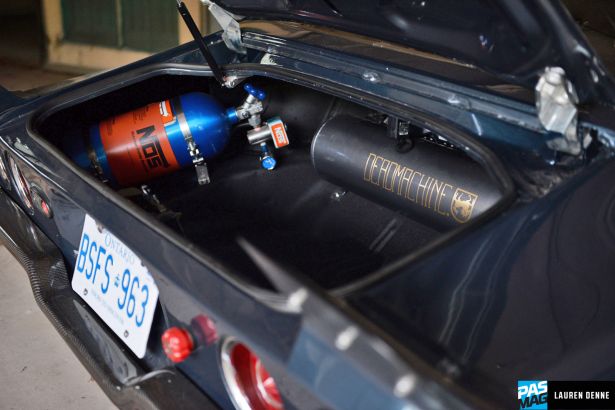 You didn't think the factory LSA was the end of the engine work, did you? Of course not. For a build as menacing as this, no corners were cut (unless you count the fenders, but I'm speaking figuratively here). To boost power to supercar-killing levels, Miro and the Cyrious boys used a Brian Tooley Racing's stage 3 supercharger cam and valve springs, a Ligenfelter 14-lb pulley and one seriously cool air intake system. In case haven't noticed it in the photos yet, take a look at the inner headlights. Those aren't headlight at all anymore. Instead, the K&N air filters stealthily take the place of the inner headlights to route air directly through the custom intake tubing and upgraded ZL1 intake manifold. As soon as you see the chrome ends of the air filters poking through, you know this car is all business.
The end result of all this careful planning, engineering prowess and custom fabrication is a Camaro unlike any that we've ever seen. With an eclectic styling taking inspiration from both drifting culture and Pro-Touring racecars, coupled with some seriously impressive power, there's no mistaking that this Camaro is ready to be driven to war. Miro also has a 1968 Charger in the works at Cyrious Garageworks, which he says will surpass the Camaro in terms of power. After that, he tells us he's already got plans for 1970 Boss 302. We like where this is going. #pasmag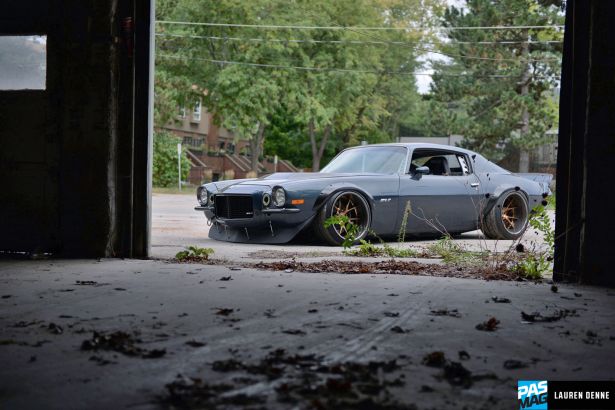 ESSENTIALS
VEHICLE: 1970 Chevrolet Camaro Z28
OWNER: Miro Pavletic
BUILT BY: Cyrious GarageWorks
LOCATION: Mississauga, ON
ENGINE: Chevrolet LSA 6.2L Supercharged V8
HORSEPOWER: 826 whp
TORQUE: 725 lb-ft
SOCIAL
Facebook: Miro Pavletic
Instagram: @callmiro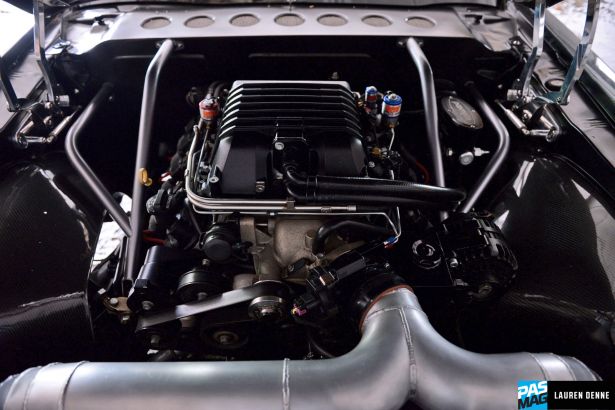 ENGINE
Brian Tooley Racing (stage 3 supercharger cam, valve springs)
Ligenfelter 14-lb pulley
Nitrous Outlet 200hp LSA wet kit
K&N air filters
Vibrant (custom air intake, hoses)
Upgraded ZL1 intake manifold
Dual Walbro LS in-tank fuel pump
Iridium spark plugs
MSD ignition wires
Custom in-trunk grounding system
ARP hardware
Carbon fiber engine bay
EXHAUST
Custom 3-inch exhaust
Hooker 1.875-inch long tube header
Custom 4.5-inch exhaust ports
Flowmaster 3-inch race mufflers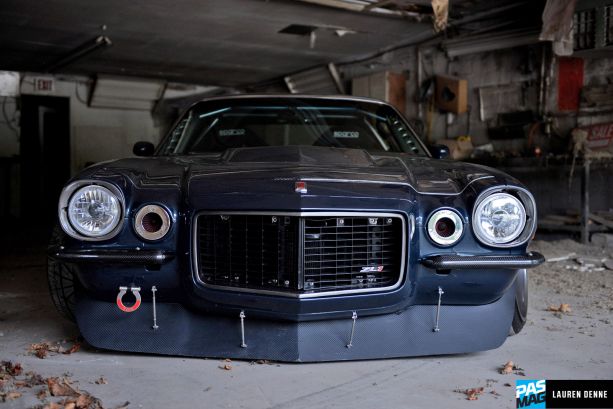 DRIVETRAIN
Centerforce dual plate DYAD clutch
Tremec T56 Tranzilla transmission w/ carbon gears
Strange custom 31-spline axles
Custom driveshaft
Auburn posi LSD w/ 3:73 gears
WHEELS / TIRES / BRAKES
RSV Forged RSF1 wheels – 19x12.5 +60 (f), 19x13.5 +82 (r)
Nitto Invo tires – 295/30/19 (f), 325/25/19 (r)
Wilwood 6-piston calipers (f), 4-piston calipers (r)
Wilwood drilled & slotted 14-inch 2-piece rotors (f), 12-inch 1-piece rotors (r)
Custom braided lines
Wilwood master cylinder
CHASSIS / SUSPENSION
RideTech Shockwave (stage 2 w/ StrongArms (f), with 4-link (r), tubular StrongArms control arms, Stage 2 Air Ride w/ air management and auto-levelling)
Hotchkiss polyurethane bushings
EXTERIOR
Custom (carbon fiber front bumper, carbon fiber rear bumper, fender flares w/ Anvil Auto carbon fiber inner fenders, ZL1-style rear spoiler extensions, carbon fiber front splitter w/ aluminum struts)
Digi-Tails custom LED taillights
Anvil Auto carbon fiber hood
HID headlights w/ halos
2FORTYTWO Customs custom paint
INTERIOR
Leather and alcantara reupholster including dash wrap
Custom leather and alcantara center console
Ring Brothers (shift knob, shift boot)
Sparco (full alcantara race wheel w/ nitrous and 2-step buttons, harnesses, Chrono seats)
Racepak (IQ3 display dash, gauge pods)
Carbon fiber gauge trim panel
Custom fully integrated Cyrious Garageworks race roll cage
MOBILE ELECTRONICS
iPad head unit
Kicker hideaway subwoofer
Bose Soundlink
Samsung sound bar
Optima Red Top battery
Contributor: Lauren Denne