Written by Micky Slinger. Photography by Keith Treder | 23 March 2018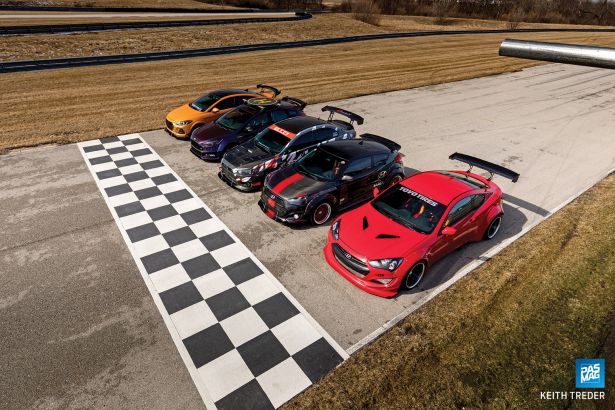 Whether you know Blood Type Racing as a KDM tuning powerhouse or SEMA show car builder, chances are that you don't know the humble beginnings of the firm. Before advising customers on what kinds of modifications are needed to get their Genesis to meet their goals, Sam Lee, the owner of Blood Type Racing (BTR), was advising customers on where to go for their next trip as a travel agent. As you can guess, sending others on trips and never going yourself can be a little depressing, and that's something that Lee's wife noticed more and more as he came home each night. Knowing he had a thing for cars, Lee's wife asked if there was something he could do in that field, and after some thought, Lee quit his job and created a new online retail website for KDM car parts called "Blood Type Racing" in 2011, which he ran out of his parents' basement on a $300 budget.
Finding the right Korean contacts made all the difference for BTR when first starting out, especially in the ECU department, which has become their specialty. Fun fact: South Korea gets Hyundais and Kias first, almost a year before North America. Having this knowledge, Lee established partnerships, and eventually an office in Korea to start R&D on parts and tuning a year beforehand. Once the North American models were dropped, R&D was tweaked to match any differences, and BTR was first out of the gates with the modifications you wanted for your KDM car.
Since then, BTR has moved out of its first physical location to a larger one and even opened their own garage, plus built five SEMA cars in the meantime. Starting in 2014 with a Genesis Coupe that donned the very first kit designed by Kei Miura of Rocket Bunny/Pandem, BTR tackled a Veloster and Elantra, as well as platforms outside the KDM realm, like an Evo X and, most recently, a Focus ST.
BTR SEMA BUILDS
2014: Genesis Coupe – Hyundai
2015: Veloster Turbo – Hyundai
2016: Evo X – Enkei Wheels
2017: Ford Focus ST – Ford
2017: Elantra Sport – Hyundai
With knowledge and experience from their successful SEMA projects, BTR is now transitioning from a retailer and day-to-day shop, to offering full-on car building services, whether it's for the track, strip, or show circuit. If you have certain goals you'd like to meet, BTR offers Mod Planning on these builds and lays out a budgeted timeline with deadlines, just like your car would have if it were going to Vegas. And with the positive feedback and relationships established through their Ford SEMA build, they've welcomed some new Ford clientele into the fold, as well as becoming a COBB Tuning Pro-Tuner for supported Ford platforms.
In 2018, BTR is looking to expand even further, all the way from Korea to Europe, for their future endeavors, and wants to tackle the Audi and BMW market. As we speak, they're toiling away on a new shop car, a 2012 BMW Z4, and they have some big plans for it, so stay tuned! This doesn't mean that they've forgotten their roots though, as they are planning to take their very first SEMA build, the widebody Genesis Coupe, and bring it out to some NASA-type sanctioned events to show what it can really do. If you'd like to see it in action, BTR will be posting track footage to their YouTube channel: YouTube.com/user/TheBTRcc.
Since 2011, the explosion that is Blood Type Racing really hasn't stopped, so be on the lookout for some big things moving forward from the BTR team in 2018!