Written by Micky Slinger. Photography by Daniel Colmenares | 04 April 2018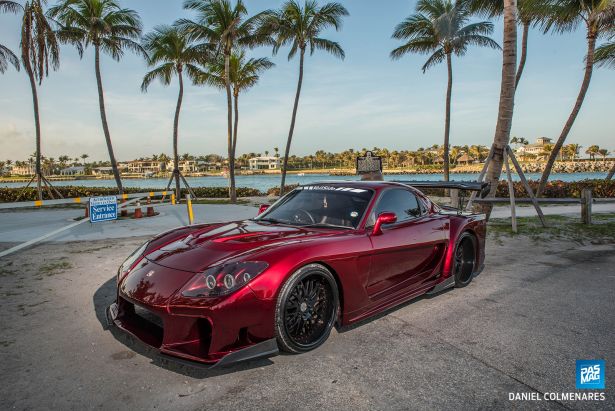 In June of 1992, an FD RX-7 rolled out through the gates of Mazda's assembly plant in Hiroshima, Japan. After enjoying a few years of JDM life, the car was snatched up and imported to the United States, quite illegally. If you'll recall, the U.S. has a 25-year import law, so the RX-7 wouldn't be up for legal import until 2017. Landing in Georgia initially, it was then sold to a body shop in Dallas, Texas, where it received Veilside's infamous Fortune body kit, was painted black and green, and was featured on some early Hot Import Nights flyers.
Over the years, the RX-7 would fade into obscurity while being sold off to different owners, eventually finding its way to Florida and in front of Jason Neering's eyes.
"I saw this car on the road and spent three years looking for it," Neering recalls, citing his love for the Tokyo Drift RX-7 as the cause for hunting this car down. "That December, near Christmas, I got the gift I wanted."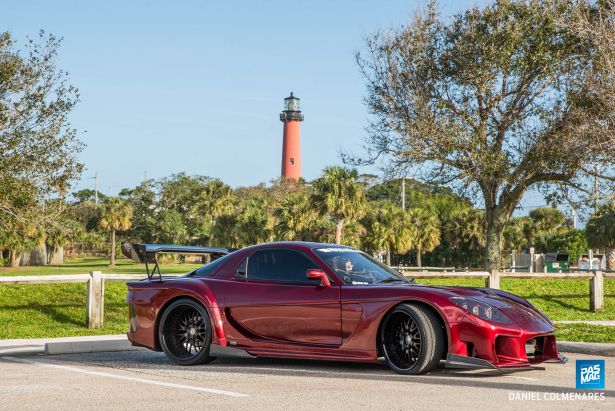 Neering finally found the Veilside RX-7, neglected and practically falling apart in a warehouse, and offered cash on the spot to take it home and restore it to its former glory. With only six months to go before the FD was legal in the U.S., Neering made sure all the paperwork was good to go, so no one could take all his hard work away.
The goal was to take a car that was very planted in the early 2000s and bring the build up to modern day standards. With the Veilside kit being the most dated part, Neering brought it back up to spec by shaving all rivets and side markers off and coating it in a metallic candy apple red paint. Under the hood, the 13B rotary got the Greddy treatment with a full V-mount setup, and even ported, polished, and refurbished the twin Hitachi turbos. Between the Apexi Power FC and nitrous and methanol injection (the first Cryo2 methanol injected rotary ever), the RX-7's twin-turbo 13B puts out 425 horsepower!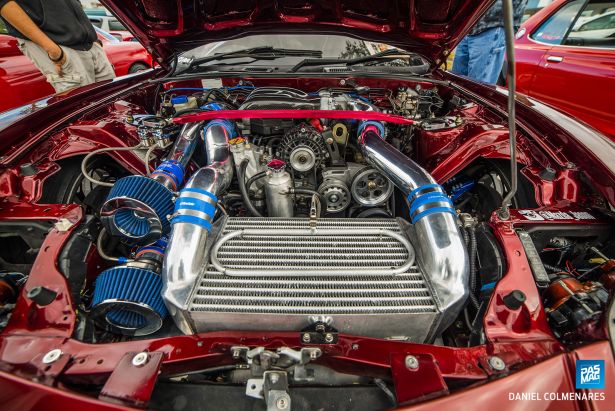 "I wanted an updated version of the famous Veilside Fortune RX-7, and that is what I think I delivered with this 25-year-old car," Neering says.
We think he's more than achieved his goal.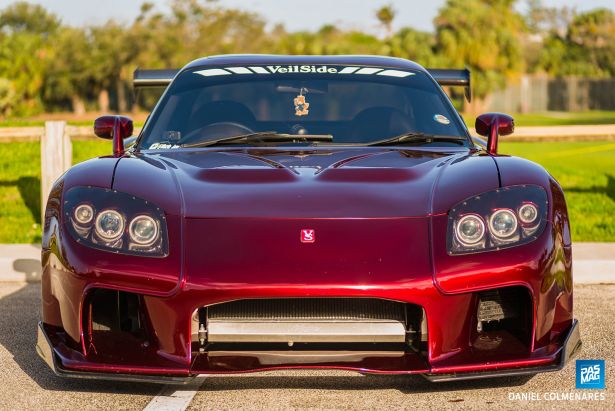 ESSENTIALS
Vehicle: 1992 Mazda RX-7
Owner: Jason Neering
Location: Jupiter, FL
Engine: Mazda 1.3L 13B rotary
Horsepower: 425 hp
Club Affiliation: Team Outcast
ENGINE
Hitachi ported & polished high-flow twin turbochargers (2)
Greddy (V-mount intercooler, hoses, Type-FV blow-off valves (2), wastegate, air intake)
DEI nitrous system
Cryo2 methanol injection
Full Function Engineering fuel rails
Aeromotive 235-lpm fuel pump
Fuel Injector Clinic (2000cc fuel injectors, 850cc primary injector)
NGK spark plugs
Magnecor ignition wires
ARP hardware
Apexi (Power FC ECU, ECU reader)
EXHAUST
HKS (header, Hi-Power header-back exhaust system)
DRIVETRAIN
Exedy twin-disc clutch
Short throw shifter
WHEELS / TIRES / BRAKES
iForged Essen 3-piece wheels – 19x9 +4 (f), 20x12 -43 (r)
Toyo Proxes tires
Cross-drilled & slotted rotors – 14-inch (f), 10-inch (r)
Stainless steel braided brake lines
Hawk HPS brake pads
CHASSIS / SUSPENSION
BC Racing coilovers
Pettit Racing springs
Cusco sway bars (f/r)
Megan Racing (front upper control arms, front strut bar)
Tanabe rear strut bar
Engine torque damper
EXTERIOR
Veilside Fortune (body kit, carbon fiber canards, emblems)
House of Kolor Kandy Apple Red paintjob
Carbon fiber door handles
INTERIOR
Italian leather upholstery (shift boot, e-brake boot, seats)
Carbon fiber custom dash
Mishimoto shift knob
Momo Tuner steering wheel
Snow Performance Evo methanol & boost controller
Steering wheel hub gauge pod
Cipher Auto 4-point harnesses
MOBILE ELECTRONICS
JVC double-DIN head unit
Polk Audio amplifier
JL Audio (6x9 mid-bass drivers, tweeters)
Gel battery
SPONSORS
Design Engineering Inc. (DEI), Pettit Racing, Snow Performance
Full feature in PASMAG #148. Click To Order.