Written by Micky Slinger. Photography by James Hall (J3P Cinema) | 09 April 2018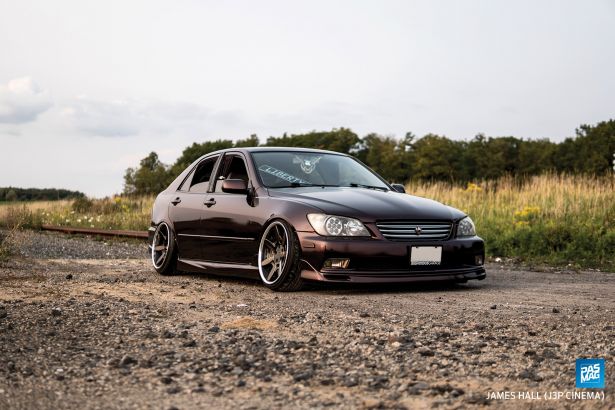 We have a local legend in our corner of Southern Ontario about an elusive car that's spotted only a few days a year during car season – a unicorn, if you will. A shining wheel lip is spotted, causing a double-take at the amazing fitment and high-class exterior, but on that second look, the car has already disappeared back to its hiding place to be meticulously detailed and reworked for a new season. On its last sighting, we made sure to track it down for a proper look behind the myth, the legend, Aidan Borges' "Unicorn" Lexus IS300.
While Borges' Lexus is only really in attendance as a sure thing at Fitted and an occasional appearance at Importfest – two of Toronto's biggest car shows – Borges himself can be seen milling around with show-goers, peering over the latest builds and updates, and catching up with friends – the same friends that he says gave his car its moniker.
"I get people always asking me when I'm bringing [the car] out, and they joke about how it hardly sees the road, but they all know why the car isn't out," laughs Borges. "The name 'Unicorn' originated as a joke, but just stuck."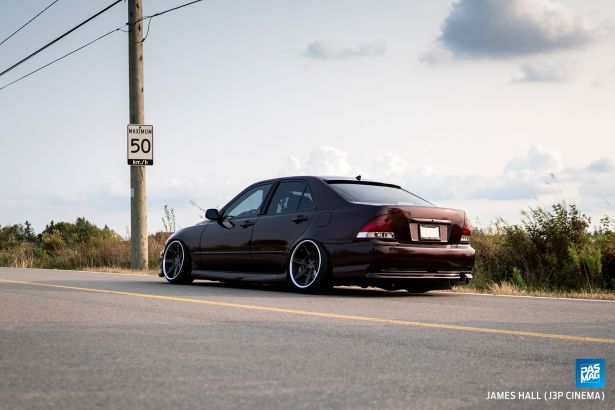 It's not called "Unicorn" because it's white or has a big horn tacked to the front either; it just comes out when the planets align just right. As a nurse, Borges can work some pretty crazy hours, so that definitely doesn't help with scheduling the car to be at a show, but the biggest reason is as personal as it gets – it's a build for him, not for others. This is a car that was built to his taste over years of contemplating how all the parts in his head would fit together to create his vision. And Borges has done his homework in the parts department.
Becoming more and more interested in VIP, Borges decided he'd like to take his build in a "VIP style" direction – a sub-genre for platforms that aren't the usual VIP fare. The Lexus emblems on the car were just right for VIP, but the smaller sporty proportions were way off from the luxury yachts that are synonymous with the Japanese luxury lifestyle. Borges took this into account and made decisions about parts very carefully to make his take on VIP style as legitimate as possible.
"The car has many of the rarest body options from Japan, while keeping clean lines, and is something that I can cherish for many years to come," he explains. "Some parts, like the fog lights and front lip, even though an option only available in Japan, are rare to come by over there as well."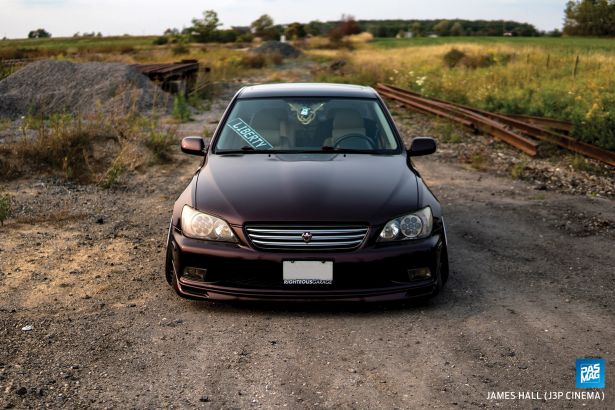 The front bumper is from an IS300 Sportcross (the wagon version) that's paired with an Altezza Gita (Japanese wagon version) dealer optional front lip, and flows back into the Modellista side skirts and rear bumper – more luxurious options from Toyota dealers in Japan. The headlights and fog lights are both rarer dark chrome versions, with the headlights having been retrofitted with projectors from an Infiniti Q45 in a "Gatling gun" arrangement. Everyone knows there's nothing classier than having stitched leather on the outside of your car, so Borges went for Luxury Abstract's waterproof and UV-resistant Grassor leather door pillars, which lend themselves nicely to the Luxury Abstract wheels he's had fine-tuned to meet up with the pulled and rolled fenders of the IS.
"The suspension was all picked to adjust the alignment to allow for negative-eight degrees of camber, while pushing the wheel limit on stock body and static suspension," says Borges. "I knew I could rely on Blain from Righteous Garage to ensure it came out perfect."
On SCALE coilovers with custom spring rates (20k in the front and 18k in the rear), Toyota Chaser front upper control arms, TCS rear upper control arms, and Megan Racing LCAs, toe arms, and traction arms, Blain had plenty of adjustability to manipulate in order to make sure the Unicorn came out looking as perfect as Borges expected. We'd like to think he succeeded, as the Luxury Abstract 18x9.5 and 18x10 Madors look impossibly clean and lend to the bodyline of the car, even when tilted at negative-eight degrees.
The interior has seating made-over with two-tone Ultraleather and carries the VIP staples you've come to expect. Junction Produce Kitsuna and Tsuna knots hang from the rear-view mirror, and privacy curtains adorn the B-pillar, tucked just inside the window trim. Belleza neck pads add comfort, support, and style to the seats, while a VIP'd Out mahogany tray and custom Dolce & Gabbana pillows make the rear seats the next best place to be after the driver's chair. Even the trunk has been made homelier, with the addition of a mahogany wood grain floor and a vintage piece of luggage from the '70s, which has been repurposed into an enclosure for the single 10-inch Pioneer subwoofer.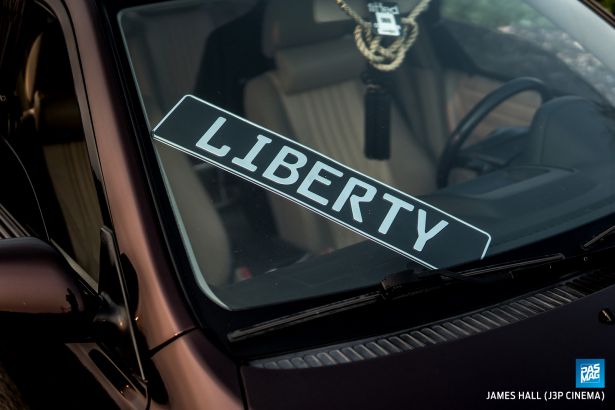 Some may ask what the point was in putting all this effort into a VIP style build that doesn't come out often. If he was going to go to these lengths, why not invest in a traditional VIP build? To Borges, his IS300 means much more than a label, and is something that will never leave his side.
"The car became sentimental to me prior to starting the build," explains Borges. "When I purchased the car, my father was becoming ill. Him and I went to see the car, and purchasing it was the last thing my father and I did together before he passed away. With that, I did not and do not want to sell the car, ever."
As well as carrying important memories, this car also taught Borges an important lesson about building cars: it's always going to take time. It takes time to afford the right parts, for those parts to come, for those parts to be installed, and for the car to be ready each season. Eventually, over time, the car will get to where you want it to be. And with even more JDM goodies and adjustments to be made, the Unicorn, just like any other build, isn't done, it's just done for now. It's just about ready for its next spotting.
ESSENTIALS
Vehicle: 2001 Lexus IS300
Owner: Aidan Borges
Location: Toronto, ON
Built By: Righteous Garage, Nextmod
Engine: Toyota 2JZ-GE 3.0L I-6
Club Affiliation: Liberty VIP
ENGINE
Blitz air filter
JoeZ air intake
EXHAUST
Fujitsubo Power Getter customized exhaust system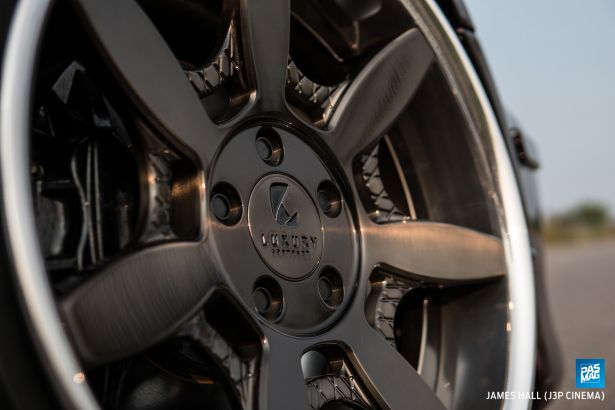 WHEELS / TIRES / BRAKES
Luxury Abstract Mador wheels – 18x9.5 +24 (spaced to +9) (f), 18x10 +24 (spaced to +9) (r)
Nankang NS2 tires – 215/35 R18 (f), 225/35 R18 (r)
Sumitomo Lexus LS400 4-piston brake caliper (f)
FIGS caliper adaptor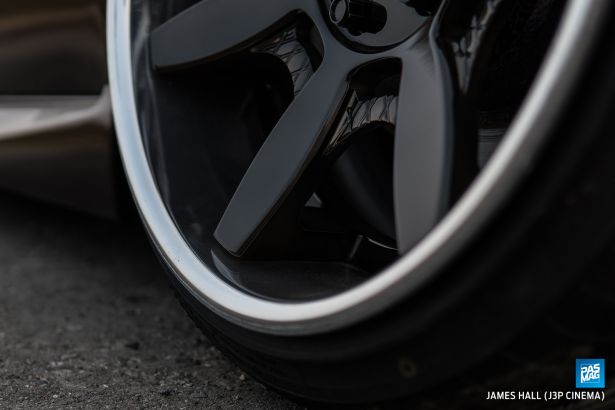 CHASSIS / SUSPENSION
SCALE Suspension Innovation Series coilovers – 20k springs (f), 18k springs (r)
Toyota JZX100 Chaser upper control arms (f)
FIGS RCA spacer
TCS upper control arms (r)
Megan Racing (lower control arms, toe arms, traction arms)
Street Faction rear bash bar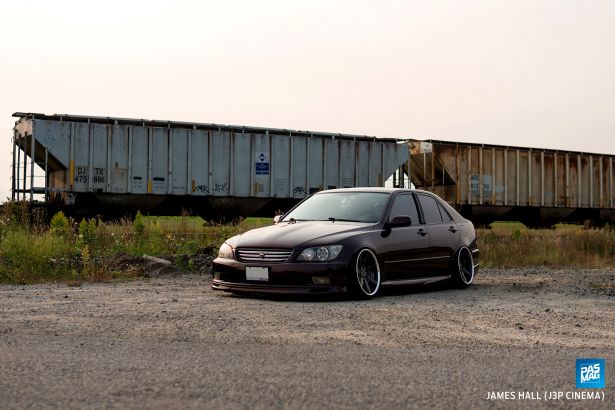 EXTERIOR
Lexus IS300 (Sportcross front bumper, 2002 dark chrome headlights)
Toyota Altezza (Gita Option front lip, Gita Option dark chrome fog lights, Modellista side skirts, Modellista rear bumper, Z-Edition grille)
AC Schnitzer BMW E90 roof spoiler
DEPO LED taillights
Luxury Abstract Grassor door pillars
Wrap Works Black Rose wrap
Righteous Garage (pulled & rolled fenders, shaved trunk taillights)
Nextmod Infiniti Q45 "Gattling Gun" headlight projector retrofit
INTERIOR
Uneek Upholstery two-tone Ultraleather upholstery
Bellezza neck pads
Dolce & Gabbana custom pillows
VIP'd Out mahogany VIP tray
Junction Produce (VIP privacy curtains, Kitsuna knot, Fusa knot)
Junction Produce x Hello Kitty limited edition accessories
Garson D.A.D. cigarette lighter
Polo Umbrella trunk-mounted
Mahogany wood grain trunk floor
MOBILE ELECTRONICS
JBL Class-D 300-watt mono subwoofer amplifier
Pioneer 10-inch subwoofer
Vintage 1970s luggage case custom enclosure
SPONSORS
Righteous Garage, Wrap Works, Akii Tire, Nextmod
Full feature in PASMAG #148. Click To Order.