Written by Micky Slinger. Photography by David Barnhouse | 16 April 2018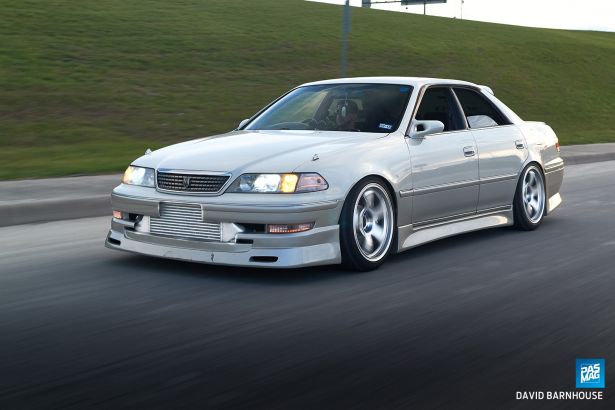 There was a moment in 2010 that brought the Toyota JZX100 way up in coolness factor, and it was during the fifth round of D1GP at Ebisu. Coming in extra-spicy, Daigo Saito initiates his drift right at the apex of the turn, catching air mid-initiation, and landing his red Toyota Mark II in a full-on drift at full lock. If you've never seen this jump drift, here's your homework: watch the 35-second clip of the jump on YouTube, and then immediately watch it seven more times because it's so rad.
For some, this would make the Toyota Mark II or JZX100 platform in general more awesome, but also expose Daigo Saito and his D1 shenanigans to an international audience. For others, like Ethan, this stunt was something that Daigo and his drift-mates on the WELD team were known for. Sliding sedans with crazy graphics, big power, big body kits, big wings, and big wheels that could leave the track and probably place at a car show are what WELD is all about, and that's what Ethan fell in love with.
While S-Chassis were really common in the mid-to-late '00s in Japanese drifting, they were also a big part of Ethan's life. After getting his modifying start in Hondas and VWs, Ethan went on to own a few of Nissan's most popular sport compact – seven in fact. Some highlights include an S13 with a 1JZ swap, SR20-powered hatch and convertible versions, and an S14 with some rare parts and the reliable power of an S15 SR20. The thing is, Ethan's car has to do dual duty by being up for drifting at the track, and then be good to drive home or do the occaisional road trip, and by looking at those requirements, a Japanese sedan with rear-wheel-drive and a dependable 1JZ-GTE engine seems to fit the bill perfectly.
Full feature of Ethan's 1996 Toyota Mark II can be seen in PASMAG Tuning Essentials: Style Book Vol 5. Click here to order.