Written by Dave Pankew | 29 April 2010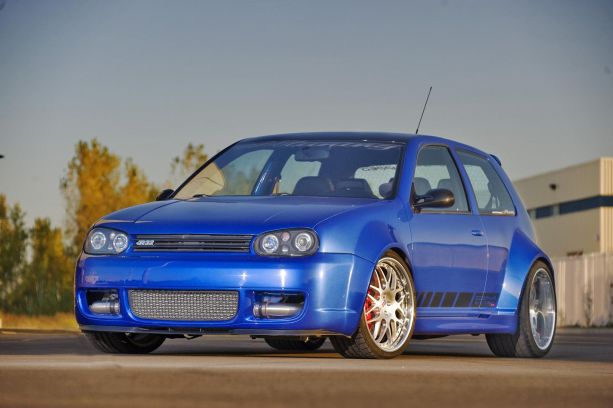 Written by Dave Pankew | Photos By: Jeremy Alan Glover
Isn't it satisfying when the companies you do business with actually listen to the consumer, and follow that up with products that offer the features, durability and functionality that the public asks for? The Volkswagen R32 was just such a car, a platform that enjoyed years of success as a commuter car and was modified beyond belief. Volkswagen decided to silence all of the critics when it released a car based on the GTI model but with an all wheel drive configuration borrowed from the A4. Everyone in the tuning world knew that the VR6 powerplant responded well to turbos and what could be created was a Frankenstein of VW AG.
Canadian chip tuning manufacturer Unitronic knows a thing or two about VWs. In fact, it accounts for almost all of their business in the area of maximizing performance of stock ECUs. "This car took tremendous amounts of work to complete," says Unitronic Marketing Director, Michael Szmigiel, "the work took over two years but the response has been huge in the VW community."
And for good reason! VW enthusiasts are hardcore and they won't respond to any smoke and mirrors approach to tuning. Unitronic however, delivers the goods on their promises and churns out 759whp from this 3.2L with their Stage 3 Big Turbo software! Most of us would suspect a smaller displacement motor like that would make a meager amount of torque, wrong again, because this narrow angle V6 makes 735lb-ft of twist.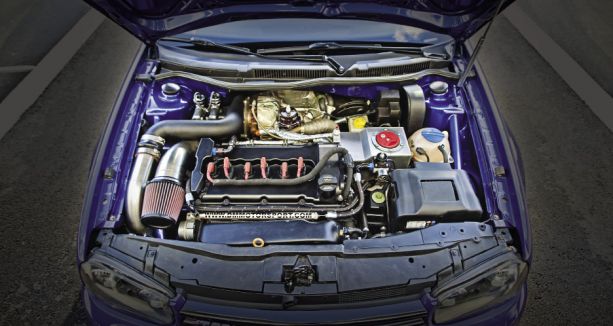 Naturally, we wanted to know more about how they accomplished this and relay that info on to our readers. The built motor features honed cylinders, plugged with Ross 8.5:1 pistons connected by Eurospec rods. Each bank was fed with 830cc Bosh injectors and a total of four fuel pumps, twin Walbro 255lph in Tank and twin Bosch 044 inlines. The intake air is hauled in with a custom 4-inch intake with a K&N cone filter before heading to the Precision front mount intercooler post-compression. The factory intake has been replaced with a Huber-Rennsport Technik short-runner intake manifold with DM Motorsport custom long runner exhaust manifold on the hot side. The turbo selected is a Precision T74/76 custom ball bearing snail regulated by a TiAL 44mm wastegate with a DM Motorsport screamer pipe. The exhaust dumps into DM Motorsport twin 2.5-inch stainless steel exhausts through Magnaflow stainless mufflers. With all of the boost, oil temps would creep up and that was delegated to the Mocal external cooler. The resulting high EGT temps are dealt with by a Snow Performance water/methanol injection kit that draws high-grade meth from a Mososo race tank.
All of that extra jam meant other parts were soon -to break on the driveline. A 6-speed Volkswagen AG box was disassembled and fitted with treated gears. A Peloquin limited slip differential with a Blue HPA Haldex controller. To put the power down, a DM Motorsport triple disc clutch was custom built for the project.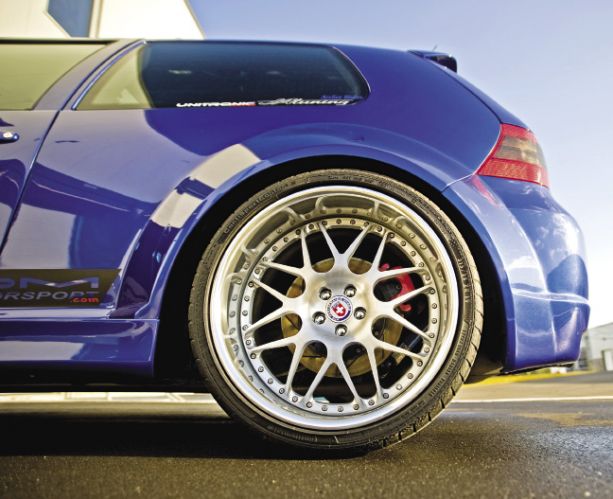 The attention then focused on the footwork that needed to be modified to maintain traction and control of the V-Dub. A set of HRE 590R19x9-inch front HRE 590R custom 19x11-inch rear were added wearing some rubber thought impossible on a Golf. The Continental ContiContacSport 3s measure 255/30ZR19 in front with shocking 315/25ZR19s in the back.
The braking department was revamped with Porsche Cayenne 6-piston calipers fitted with Hawk HPS pads clamping 14.1-inch 2-piece cross-drilled and slotted rotors. In the handling department, things got an overhaul with some of Germany's finest H&R fully adjustable coilovers and some ECS Tuning rear adjustable control arms to dial-in camber.
The shell of the car certainly gets the most attention with its casual insanity approach to a widebody. Of course, any widebody like this is custom since most V-Dub owners aren't planning on running 315s on the back! The body was fitted with a Euro R32 front and rear bumper along with tails and rear spoiler. After custom fitting R32 sideskirts, the fenders were widened 3-inches up front and a healthy dose of half a foot extra booty in the rear. The entire car was shaved and items like the Caractre rear hatch and badge-less grille were added before the car was shot in VW Deep Blue Pearl and Black Magic Pearl. With an added roll cage (for obvious reasons) and a custom roll cage, the results are nothing short of outstanding.
From what we have seen from Unitronic, this car was basically what we have come to expect from them – a no nonsense rocket. This V-Dub has all of the right parts on it and simply cut no corners in the pursuit of power. With the kind of power one might expect in a high dollar supercar, this V-Dub has all of the gear on board to hang with a pack of them.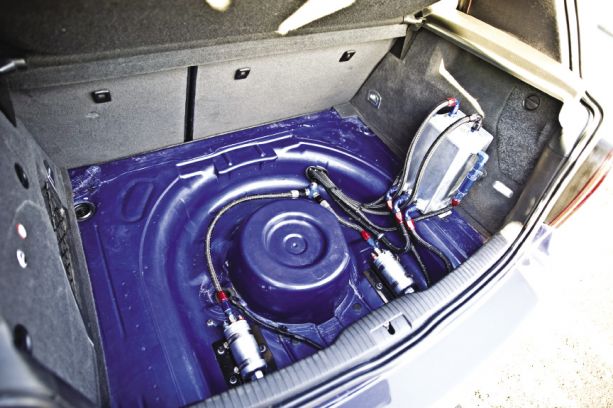 ESSENTIALS // Owner: Jeremie Arpaia | Location: Valleyfield, QC | Vehicle: 2004 Volkswagen R32 | Engine: Volkswagen 3.2L VR6 | V6Power: 756whp with 735lb-ft
ENGINE MODIFICATIONS // Precision T74/76 Custom Ball Bearing Turbo | High Precision Cylinder Honing | Eurospec Connecting Rods (3/8 bolts) | Ross Pistons (8.5:1 ratio) | DM Motorsport Custom Long Runner Exhaust Manifold | Huber-Rennsport Technik Short Runner Intake Manifold | Race Connecting Rod Bearings & Cank Bearings | TiAL 44mm Waste Gate | 830CC Custom Injectors | Twin Walbro 255lph Fuel Pumps | Twin Bosch Motorsport 044 Fuel Inline Pumps | Forge Motorsport 007 Diverter valves | Precision Front Mount Intercooler | DM Motorsport Custom 3-inch IC Piping | DM Motorsport Custom 4-inch Intake with K&N Filter | Mocal External Oil Cooler | Snow Performance Water/Methanol Injection | Moroso Race Tank for Water/Methanol | VF-Engineering Polyurethane Engine Mounts | DM Motorsport Custom Front Subframe | Hyperformance Short Shifter | Black Powder Coated Valve Cover / SRI / Turbo Compressor | DM Motorsport Custom Stainless Steel Turbo Back Exhaust System | DM Motorsport Custom Stainless Steel Piping for Waste Gate Discharge | MagnaFlow Muffler
ENGINE MANAGEMENT // Unitronic Stage 3 Big Turbo Software
DRIVETRAIN // OEM Volkswagen AG 6-speed manual O2M | Peloquin limited slip differential O2M / Haldex | DM Motorsport Custom Triple Disks Clutch | Blue HPA Haldex Controller
SUSPENSION // H&R Coilovers | ECS Tuning Rear Adjustable Control Arms
WHEELS, TIRES, BRAKES // HRE 590R custom, 19x9-inch (f), 19x11-inch (r) | Continental ContiContacSport 3; 255/30ZR19 (f), 315/25ZR19 (r) | Porsche Cayenne 6-Piston Calipers | Hawk HPS Pads | 12.1-inch 2-piece cross-drilled and slotted rotors (f), 14.1-inch 2-piece cross-drilled and slotted rotors (r) | Stainless Steel Braided Lines
INTERIOR // OEM Volkswagen AG Golf R32 Euro Cluster | Autometer Boost Gauge | Autometer EGT Gauge | AEM UEGO Wideband Gauge
EXTERIOR // Euro R32 Deep Blue Pearl Paint | Euro R32 Black Magic Pearl Paint | Euro R32 Rear Bumper | Euro R32 Rear Rebar | Euro "Hella" R32 Taillights | Euro Switch with Front / Rear Fogs | Euro Polo Rear Wiper | Custom Widened Rear Quarter Panels (3") | Custom Widened Front Fenders (1.5") | Custom Widened R32 Side Skirts | Caractre Hatch Blend Custom Molded to Hatch | Shaved Back of Door Handles | Custom 2 Bars Badgeless Grille | Hella Projector Headlights Custom Black
Bosch HID H7 Conversion | Eurolite Blue High Beam
SHOUTOUTS // Ateliers Richer, DM Motorsport, JA Tuning, Unitronic CHIPPED