Written by and photos by Jacob Leveton | 03 December 2012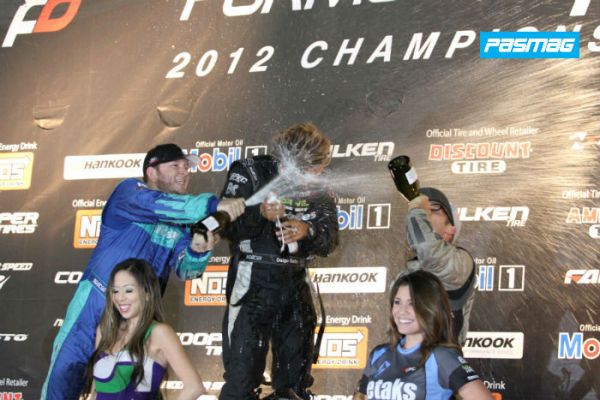 Every year, FD hands out a few awards on top of the championship trophy to acknowledge those who have made substantial accomplishments across the season. Several of the awards are voted on by the fans while others are based strictly on performance. For 2012, FD wanted to profile a few of the awards to recognize some of the drivers who have caught the eyes of the fans or made substantial achievements through the year.
Fan-voted Awards:

Best Drifting Style - Fredric Aasbo
Aasbo came into the year driving one of the few 4-cylinder cars left on the grid, but you wouldn't know it by the way he drove it. The car earned a top qualifying effort in Las Vegas and three other third-place qualifying spots, showing that the four-banger could keep up with the V8 cars on grid. In tandem, you could count on Aasbo to have some of the most smoke and most outrageous angles of any of the cars on grid, hence why the fans recognized him for his aggressive style.
Spirit of Drifting - Danny George
As a rookie it can be difficult to win over the hearts of the FD fans. However, because of his jovial attitude and his uniquely-marketed CrabBroker.com orange and black V8 Miata, George became a fan favourite and they rewarded him accordingly with this award. George brought "Human Clipping Point" Bill Baldwin out to the east coast with him, documenting the road trip via Youtube and giving fans from all over an opportunity to meet the man who stands against the clipping point in Long Beach, unphased by the cars brushing the wall just inches from him. We can't think of a better person to win this award in 2012.
Best Personal Style - Ryan Tuerck
Between his 8-bit livery (including matching 8-bit graphics on his fifteen52 Tarmac wheels) and his own Hoonigan brand t-shirt, Tuerck created a lasting impression with his car and clothing style. In a judged sport where style is a driving criteria, looking good away from the track is nearly as important as looking good on it. Perhaps aiding Tuerck in all this is the fact that his title sponsor, RETAKS, is a lifestyle brand as well.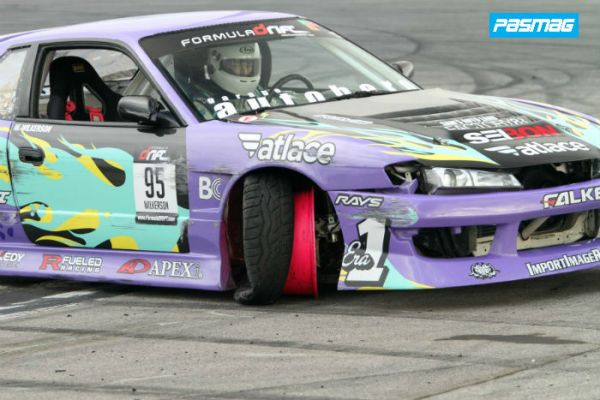 Crew Member of the Year - Mike Kojima
For the second consecutive year, suspension and chassis engineer Mike Kojima was voted crew member of the year. His work with Falken Tire, specifically with Dai Yoshihara, has made the team competitive for the championship for a second consecutive year. Although Yoshihara finished seventh overall, the team earned three podium finishes this year, which is nothing to shake a stick at.
Team manager of the year - Stephan Papadakis
Papadakis earned this award previously with driver Tanner Foust and has found himself to be most deserving of again. Taking a grocery-getting FWD car and making it competitive in the most elite drifting series in the world is quite the accomplishment and Papadakis is the brains behind the whole operation. As one of the most recognizable faces in the pits from his drag racing days, Papadakis is one of the rare team owners or managers who gets asked for autographs and photos.
Fan Favorite Driver of the Year - Fredric Aasbo
Formula D opened up the voting for a month prior to Formula D, and it seems that the Nordic fans flooded the box in favor of their driver. Aasbo had a tremendous year, earning a pair of podium finishes in the Need for Speed Scion tC. Just two years removed from a privateer effort in his Toyota Supra, Aasbo has quickly become one of the top 10 drivers in the series both in the standings and with the fans.
Fan Favorite Car of the Year - Daigo Saito's Lexus SC430
Saito's car, and the nearly 1,200 hp it packed, was the talk of the paddock and the grandstands all season. As it turns out, the fans liked it more than any other car on grid, allowing Saito to walk away with this prize. The flat black paint and giant fender flares made it stand out against the rest of the grid and the 1,200 hp certainly proved itself on track, as evidenced by his 2012 FD championship title.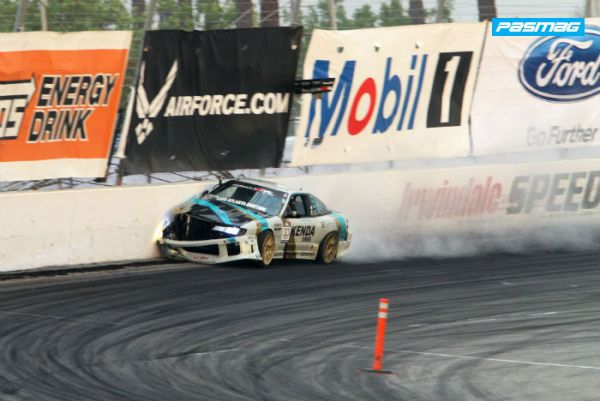 Awards Based on Performance:
Comeback of the Year - Rhys Millen
This award went to the driver who drove from the lowest qualifying position to the highest finish. At Round 5 in Seattle, Millen qualified 28th overall after facing some mechanical issues on practice day but turned around to defeat Chris Forsberg, Dai Yoshihara, Matt Field, and Ken Gushi en route to a third-place podium finish. The top 32 format has produced several great battles but Forsberg vs. Millen in Seattle was one of the best ones we saw all season.
Most Improved Driver of Year - Robbie Nishida
Nishida is a veteran of Formula D, having been involved with the series since 2005, but has run a limited schedule several times. Nishida went from finishing ranked 34th overall after only attending four rounds in 2011 to ranking 13th overall this season that includes a fourth-place finish in Las Vegas. Nishida's Lexus SC300 wasn't even ready until Atlanta due to delays with parts and fabrication but he turned it on to be one of the top drivers in the second half of the season.
Top Qualifier of the Year - Vaughn Gittin Jr
Vaughn Gittin Jr. earned 58 qualifying points this season, ahead of Aasbo (41.5 pts), Millen (39.25) and Pawlak (35 pts). By comparison, Saito only earned 8.5 points in qualifying, a margin that nearly earned Gittin the championship despite winning several fewer tandem battles than Saito. Qualifying has become just as important of a role as tandem wins in the past few years with the margin of victory being less than 20 points in three of the past four seasons.
Rookie of the Year – Daigo Saito
While his rookie status has been something of controversy due to his previous international experience, Saito has done the unthinkable by winning the FD championship in his inaugural season. No other rookie has even been in competition for the championship with the highest previous ranking for a rookie being eighth overall (Mike Peters in 2005). He joins fellow ROTYs Odi Bakchis (2011), Aasbo (2010), Eric O'Sullivan (2009), Michihiro Takatori (2008), Darren McNamara (2007) and Bill Sherman (2006).
Tires.com Triple Crown Champion: Justin Pawlak
Discount Tire awards a $10,000 bonus check to the driver who earns the most points in three selected rounds. This year, those events were Atlanta (Round 2), Seattle (Round 5), and Irwindale (Round 7). By the narrowest of margins, Pawlak edged out Saito and Gittin Jr. to earn the $10,000 bonus check. He joins Yoshihara (2011), Foust (2010), Forsberg (2009) and Millen (2008) as a Triple Crown champion.

| | | | |
| --- | --- | --- | --- |
| 1 | Justin Pawlak | Falken Tire Ford Mustang | 235 Points |
| 2 | Daigo Saito | Achilles Tire Lexus SC430 | 234.5 Points |
| 3 | Vaughn Gittin Jr | Monster Energy / Falken Ford Mustang | 232 Points |