Written by and Photos by: Dave Pankew | 10 December 2009
One of my first professional assignments in the magazine biz was tracking down motorsports legend Steve Millen for an interview. Since Millen had accomplished so much on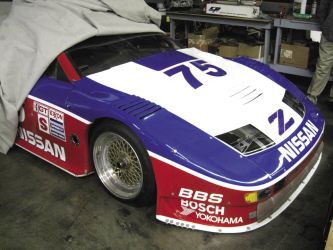 the racetrack, in the desert and in the aftermarket performance business there was a lot to talk about. A projected half-hour interview turned into almost two hours and a visit to Stillen headquarters in Costa Mesa, CA which seemed fitting to see it all in motion.
Nestled amongst mature trees and surrounded by manicured lawns is the center for one of the most recognized aftermarket performance manufacturers in the US. While Nissan performance products are still the staple of Stillen's manufacturing base they actually began manufacturing parts for mini trucks back in 1986. The Stillen Sport Trucks division now develops parts for popular platforms and is typically first to market with them. However, it was soon after the demand for performance parts increased that Stillen Sport Parts has since developed product lines for: Infiniti, Toyota, Lexus, Mitsubishi, Mazda, Honda, GM, Ford/Lincoln, and Daimler Chrysler in addition to almost ever Nissan made since.
While on a recent visit, the grounds were stuffed with Stillen projects new and old. Everything Nissan was on display from anemic Sentras to angry GT-Rs and everything in between. But there were more than a few surprises like Mustangs, Ford GTs and outrageous Chevy Tahoes to drive home the fact that Stillen is capable of engineering products that perform beyond expectations in a variety of markets and motorsports. It is a philosophy fostered by Millen over his 30+ years as a racer, which is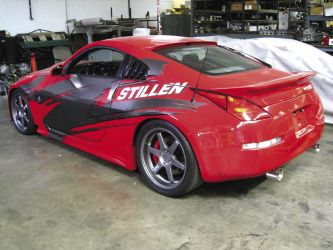 rivaled only by his partner David Schollum. According to the co-founders, parts have to be engineered to fit easily, perform flawlessly and last like OEM equipment.
At the extensive 100,000 sq. ft. facility, Stillen employs 120 people and houses everything under one roof. The company designs, engineers, manufactures and markets their product here. Much of the R&D is done in house but the actual testing is performed on race tracks under real world conditions. Stillen is committed to bringing a worthy product to market each and every time making this final stage the most critical.
Upon entering the Stillen facilities you are greeted by a friendly receptionist and several artifacts of the companies racing heritage. An array of framed articles crowd the walls, some of which yours truly have contributed too. Resting in the foyer is the Stillen 300ZX SMZ, a rare 300ZX that was available through Nissan dealers. The administrative area is bustling with activity, employees connecting with suppliers for materials and dealer networks to ensure their product is readily available for consumers.
In the manufacturing areas, it was fascinating to see the Stillen parts take shape. Stillen manufactures a vast array of products including: superchargers, performance intakes, flywheels, strut tower bars and exhausts. A wealth of advanced CNC-machinery including 5-axis CNC-mills- CNC-lathes, TIG welders and benders are running constantly to keep up with the demand for Stillen hard parts. Beyond the chassis and engine gear, Stillen also has an extensive line of aero parts. Not your run-of-the-mill fiberglass or FRP parts but OEM-caliber urethane that can literally be run over and still retain the same shape. The process involves techs crafting full scale body parts on the modeling table. A mold is then built that will be the base for urethane injection that Stillen is known for. From mass produced parts for popular platforms to low production pieces like Ford GT front splitters, we saw an impressive stock of urethane parts in the warehouse.
Beyond the branded parts, Stillen has been the sole US Importer and Co-Development arm for renowned brake manufacturer AP Racing and assists in engineering parts for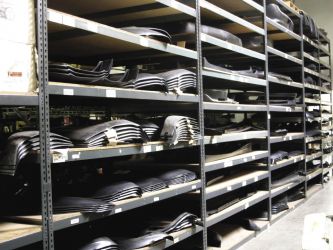 North American cars. AP Racing's accolades translate into an application for every sports car around but recently have developed many products for trucks and SUVs with massive wheels. In conjunction with AP Racing engineers, every part of the manufacturing process is performed in-house including: prototyping development, tooling, CAD-CAM engineering and final production. The quality brands Stillen retails don't stop at AP Racing either, log on to www.stillen.com where we stopped counting at 115!
Finally, we concluded our tour of the Stillen facility in the Service Department. Did you know that it isn't just corporate projects being pumped out there but you can even bring in your project too? The Stillen Service Department was full to capacity when we toured the facilities; mostly Zs looking to get more power or at least the power they were promised elsewhere but, primarily they are busy installing and tuning their own products for the massive enthusiast base in SoCal. Try finding another manufacturer that does everything Stillen does and keep the jobs here at home.