14 October 2014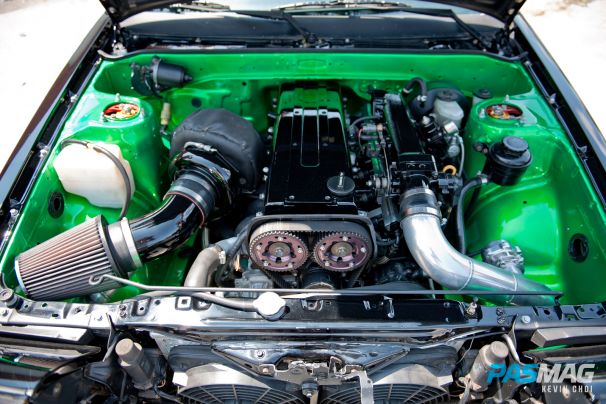 Written by Micky Slinger | Photos by Kevin Choi, Dante Damanti, Terrence Gamble, John Liwanag
Two things have been constant in the world of car tuning and modification: first is the need to stand out. A scene can easily become oversaturated if everyone does the same thing. Being the one breath of fresh air can get you plenty of notice and respect. The other constant is the quest for horsepower. One could argue that the need for speed has existed since the idea of the car was conceptualized. Thankfully, there's something that falls under both constants and gives enthusiasts access to both worlds. That something is engine swapping.
A person swaps an engine for one of two reasons: to replace an older one that doesn't work anymore, or to make significant gains over the stock powerplant. An engine swap is also a new beginning to your car-building journey. According to Ryan Basseri, head honcho at Rywire, swapping an engine should be your go-to for more power and a clean slate.
"It's just a better starting point to make power without going to internal work, bigger turbos, more boost, stuff like that," he says. "If you swap the engine, you're at a more factory starting point and you have a lot more room to build."
When you think of engine swaps, your mind probably drifts off to a place of beastly 2JZs, fire-spitting SR20DETs and growling 5.0-liter Coyotes. The reality is that the more common swaps are actually of the four-cylinder, naturally-aspirated variety. Honda enthusiasts have been doing the swap from SOHC to DOHC ever since VTEC kicked in, yo! It's universal knowledge that the best way to make gains from your Civic's D16 is to move on up to the B18. Owner of Teknotik, Eric Daoust has dealt exclusively with Hondas for years, and says that transplants are a natural progression.
"As far as the Honda/Acura community is concerned, [swapping] is a totally accepted and normal part about modifying the vehicle," he says. "The most popular for us is probably the B-series swap into most Honda chassis, but K-series engine swaps are quickly becoming more popular as those cars age and mileage goes up."
That's good and all for Honda owners, but what about bigger blocks and higher outputs? Tired of blowing through apex seals like cheap bubblegum and think your RX-7 is ready for that badass LS1? V8 aficionado Mark Born from Bishop Customs has some food for thought for those looking to dive into bigger motors.
"There's a lot of stuff to think about," warns Born. "What is the ultimate goal for this vehicle? Is this a track car? Is it a daily driver? Is it a weekend driver? Do you want it to sound mean, or do you want a sleeper? Is the wife driving it as well? Are the kids going to be driving the car?"
Another thing to think about is the law. We're looking at you and your CARB laws, California. Having any type of modifications to your car, especially an engine swap, can also mean a huge pain trying to find an insurance company that will cover your monster in the garage. Basseri knows the strict rules in his Cali stomping grounds of first hand, but warns the larger issue is the responsibility of doing the swap itself, instead of the responsibility that comes with the modification.
"Your ability to finish the swap is a huge, huge thing," he explains. "I know a lot of people who build over their heads and it's not that they're not able to do it, but they're like, 'Well if I do this, then I might as well do that,' and they keep wanting to do add-ons. Whether it be slight internal work or fancier parts or maybe a nicer wire harness, that might push them over their budget or just over their time."
As with any major modification, being able to support them has to be at the front of your mind. If you're putting a powerplant into your car that doubles your original engine's output, are the brakes enough to stop all the extra power? Also, how heavy is that new block of metal? Your suspension better be up to the task, otherwise your ride is going to be bowing down, but not out of respect.
Swapping in a new engine is a bit of a daunting task if you don't know what you're doing. There are some DIY guys out there that may be all gung-ho about fabricating their own mounts and harnesses, but what about the average enthusiast looking to have an engine under the hood that's as unique as their vehicle? That's where the always-amazing aftermarket comes in. With the surge in engine swaps, there's a kit out there for almost any chassis and engine combination available.
"The aftermarket is very supportive of putting all of these different swaps in different vehicles," says Daoust. "There are now kits and there are all these swap parts made to be able to make that possible."
You want to be like your drift heroes and toss an LS-series V8 in your 240SX? There are companies that specialize in making mounts and headers to make sure the whole thing fits right. Born does have some solid points to think about before diving into the swap aftermarket though, especially when dealing with one-off companies that aren't as established as others.
"The quality control isn't always there; these are custom made one-off parts so they're not always going to be exactly be the same," says Born. "Especially when you have a lot of stuff made out of bent tubing and stuff that's welded together. You bend up all the parts and weld it together and it's a completely different shape and now because of the heat, it is twisted and warped and doesn't fit.
Born goes on to say that these companies are usually pretty good about replacing these parts — all it takes is a call and an explanation — but wouldn't you want the part you paid for the first time?
With the ease of swapping in an engine for that unique build, some say everything has already been done. To really stand out, you need to do something extreme. Basseri disagrees. He feels that there's always a way to put a twist on your build and make it your own.
"There's still plenty to do and they're all cool in their own way," explains Basseri. "Guys are doing twin turbos, single turbos, individual throttle bodies, crazy electrical systems with tons of sensors and e-throttle — all these things. There are still a million things you can do that's different from the next guy."
There is one piece of advice from these engine-swapping veterans that is unanimous across the board: do your research and plan your resources. Pick an engine you can handle and still be happy with long down the road, and don't cut corners to jam it in the bay. Make sure you budget not only your money, but also your time. One of the worst things to happen is seeing a passion project become a chore, get 80% done and end up at a swap meet or in the classifieds.
So, do your research, mount a sweet engine, and put your ride in a class of its own. Who knows, maybe we'll see you in here for a feature someday.