Written by Jacob Leveton. Photos by Jacob Leveton & Brad Hodgin | 02 October 2015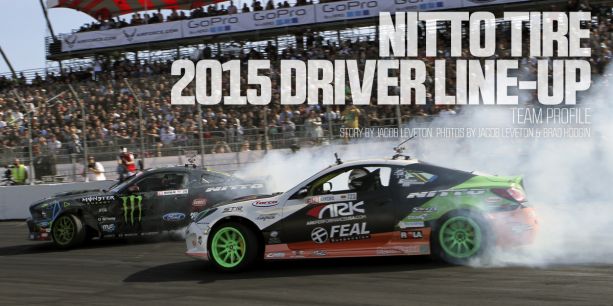 There's no denying that drifting at a competitive level requires the support of a tire company. Over the years, 12 different tire companies have earned a podium finish, with 10 of them earning an event win. Nitto Tire has been one of the biggest supporters of Formula Drift and continues to field one of the strongest teams on the grid. In the past, drivers like Dai Yoshihara, Ryuji Miki, Matt Powers, and Toshiki Yoshioka have represented the Nitto Tire brand, which has seen five event wins and 17 podium finishes prior to 2015. The current roster of Nitto supported drivers have already contributed a few more trophies to the case at Nitto HQ. Here's a look at the drivers who are drifting on NT05s this season.
ALUMNI
AURIMAS "ODI" BAKCHIS
Odi Bakchis has been one of the fastest rising drivers on the circuit over the past few years. After earning his license through the Pro-Am ranks, Bakchis quickly showcased his car setup despite being underpowered. Earning "Rookie of the Year" honors in 2011 and his first podium last year in New Jersey, Bakchis is definitely a driver to watch, but few expected him to come out of the gate as hard as he has so far.
Entering a new partnership with ARK Design for 2015, Bakchis will be splitting time between the ARK Hyundai Genesis Coupe and his Nissan S14 that he has piloted for several years. Both cars have well over 700 horsepower, and although the Genesis is closer to 1,000, Bakchis has proven to be competitive in either car. In his first competitive event in the Genesis, Bakchis took home a podium finish in Long Beach, added his first career win in Atlanta and is currently leading the Formula Drift championship race. Should Bakchis remain atop the points table, the championship would be the first for Nitto Tire.
VAUGHN GITTIN JR.
The former 2010 Formula Drift champion has been looking to regain his championship form of years past. After finishing 2014 in third place, including a pair of back-to-back wins earlier in the season at Atlanta and Miami, Gittin Jr. was likely on the short list of favorites entering the 2015 season. Gittin Jr. didn't start the season as strongly as he would have preferred, but has enough points to be within distance of his Nitto Tire teammate Bakchis.
Gittin Jr. chose to stay with the 2014 model Ford Mustang RTR to remain competitive while he works to develop the new suspension configuration associated with the 2015 Mustang's independent rear setup. 2005 marks the eleventh consecutive season that Gittin Jr. has competed in a Ford Mustang, and undeniably he has more seat time each year than most of the FD grid due to all the demos and international events he competes in. We haven't heard any immediate plans from Gittin Jr. to run the entire world championship schedule, but he's a strong competitor capable of wining any event he competes in.
"MAD" MIKE WHIDDETT
New Zealand native "Mad" Mike Whiddett has slowly been planning his return to the Formula Drift grid for the past five years. His 2010 rookie year in FD didn't quite go as planned, finishing 21st in points with a lot of lessons learned. With some recent success in the FD Asia series and a new Mazda MX-5 chassis built, a return was planned and executed. Delays in shipping his car left Whiddett watching from the sidelines in Long Beach, but a pair of top 16 finishes have him within striking distance of finishing in the top 10 in points overall.
Whiddett has long been known as a rotary car builder and this car would be no different. Pushing over 1,000 horsepower through the quad-rotor twin-turbocharged engine, power is the least of Whiddett's worries. The 92-inch wheelbase of the NC Miata is much shorter than what many people consider to be optimal and the wider track that Whiddett has built out makes the car even trickier to drive. Oddly enough, Whiddett likes the challenge and how snappy the car transitions from one direction to the other. With a bit more seat time and some chassis development, the car could prove to be competitive.
TANNER FOUST
Arguably the most successful drifter away from the race track, Tanner Foust is one of the most recognizable drivers on grid. After finding success in rally, rallycross and as a television host, Foust has returned to Formula Drift on a limited schedule to enjoy the motorsport that helped launch his career. Although Foust is four seasons removed from his last year of competition and six from his last championship, Foust believes he has the team and driving skill it takes to be competitive.
Due to the limited schedule, the team went with a tried-and-true 700-horsepower built Chevy LS7 motor and an additional 200-shot of nitrous, pushing a reliable 900 horsepower to the rear wheels. The same Papadakis Racing team that built Foust's previous championship-winning 350Z and his Scion tC1 drift car built this unconventional chassis. Foust's first two events in Long Beach and Atlanta didn't go quite as planned, with a pair of top 32 exits, but Foust hopes he can get some seat time in before the season finale at Irwindale. It's unlikely that this year's guest appearances will be his last in the series, so we should expect to see Foust back on track next season, possibly for a full championship schedule.
Contributors: Jacob Leveton, Brad Hodgins