Written by Dave Pankew Photos By: John Jackson | 15 June 2010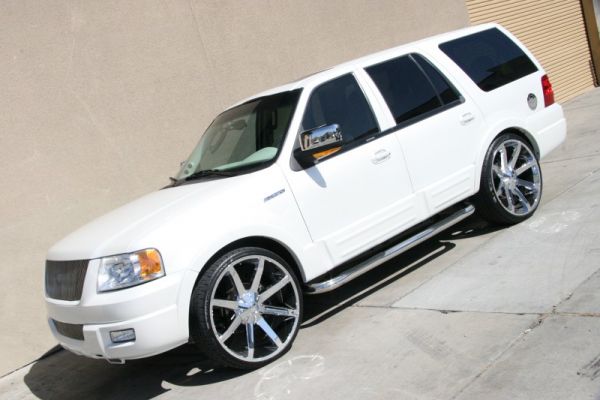 If you are nuts for car audio, Vegas odds say that you have heard of this guy before. Known as "Fishman" by his peers and named Dave Riveria by his parents, he's an installer in it for the long haul. Fishman is bent on building one-off masterpieces for his clients at Fish Customs and has been praised all over the audio world for his work. He admits though that he has been so busy building his business he wasn't had much time for himself. Things changed, however, when he took his daily driven Ford Expedition to new heights of technological creativity.
His Expedition had gone though several iterations of audio and multimedia installs, but the final effort of more than 5000 man-hours over a 2.5 year period is absolutely stunning.
Before we got into the specs on this article, we had to watch the YouTube video of Fishman walking through his install. A grand tour through his 'Fish Edition' Expedition yields more surprises than we ever anticipated with hidden compartments, motorized trays and fascinating technology on board. Although we see a lot of video overviews, this one had us captivated. Each and every gadget Fishman dreamed up worked flawlessly as if it were designed by the factory. His Expedition had gone though several iterations of audio and multimedia installs, but the final effort of more than 5000 man-hours over a 2.5 year period is absolutely stunning.
At his Fish Customs headquarters in Fresno, CA, the project received some modest visual upgrades. With a multi-stage peal applied and some custom emblems, the look is ramped up with a custom grill and with 26-inch KMC rims wrapped with Pirelli 295/25R26 PZeros. Under the hood is all stock, but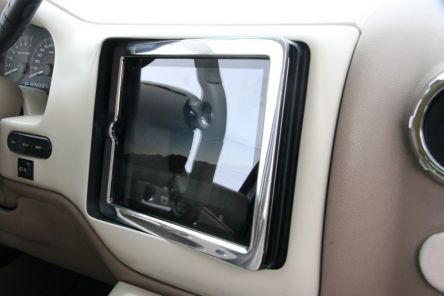 under the roof is a totally different story and offers a glimpse into Fishman's thinking.
Fishman has accomplished many world firsts, but this time around he shocked everyone buy installing an Apple iPad in the dash. There is no headunit, the iPad controls everything and stores hundreds of MP3s and videos. As soon as the iPad became available, Fishman wanted to integrate it into the final stages of his project and got the dimensions at his local Apple Store before the unit was even shipped out. By relocating the headunit and some controls, there was enough real estate to fit the iPad docking station into the dash. The docking station hinges outward so the iPad can be pulled out for travel or used in the rear of the truck. With over 100 movies and 600 albums, Fishman says he will rarely have to sync it for some new media. Beyond the custom iPad install is a neat gadget that contains everything for what life may throw at you. An innovative motorized tray pops up with a variety of cologne, watches and rings for the [Fish] man on the go.
From the iPad source unit, the audio signals travel through Tsunami interconnect to an Arc Audio XEQ equalizer, which is mounted in the center console where Fishman can tune and tweak the sound to his liking. The signal then heads to twin Arc Audio Signature Edition 4200SE amplifiers that were installed under the seats and behind trim panels. One powers highs, while the other drives the midrange/mid bass compliments of Arc Audio 6000 6.5-inch components. What about the bass?  Sub bass is always a crucial part of every system. The Expedition is home to a quartet of Arc Audio 10D4 10-inch subs under the rear limo-style seat driven of Arc Audio Signature Edition SE2300 amplifiers.
The rear of the cabin is another spectacular space with loads of audio and video onboard. Clad in a rich tan interior, the handiwork was done by Classic Interiors of Fresno, CA. Fishman added the 50 or so aluminum pipes inside the interior to complete the look and a Plexigas bar for after hours enjoyment. A Kenwood KOS monitor was added to control the various sources along with a wireless keyboard to control the iPad from the rear seat. The video display is on a stunningly crisp Apple LCD monitor in the lounge area attached to a motorized tray. Another Fishdrive actuator opens up the trademark fish tank and cigar humidor that is pretty much mandatory for a project like this.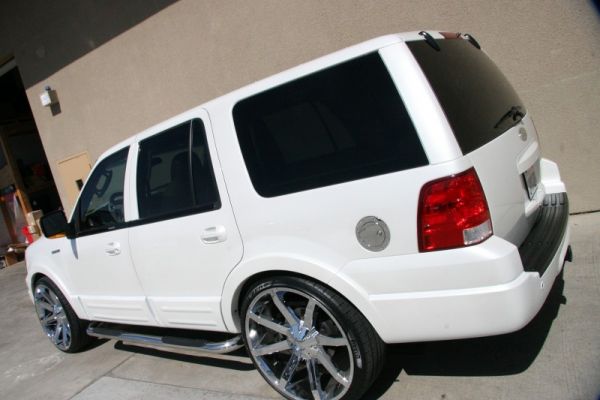 THE ESSENTIALS
Owner: Dave "Fishman" Riveria
Location: Fresno, CA
Vehicle: 2003 Ford Expedition

WHEELS & TIRES
KMC 26-inch wheels
Pirelli PZERO 295/25R26 tires
EXTERIOR
Multi-stage pearl paint
Fish emblems

INTERIOR
Classic Interiors of Fresno, CA leather
Fishman custom aluminum trim
Fishman Plexiglas bar
Fishman Fishdrive actuators
Fishman logos
AUDIO / MULTIMEDIA
Apple iPad in dash
Arc Audio XEQ equalizer
Arc Audio Signature Edition SE4200 amps x2
Arc Audio 6000 6.5-inch components x4
Arc Audio Signature Edition SE2300 amps x2
Arc Audio 10D4 10-inch subs
Kenwood KOS monitor
Apple LCD display
Apple Wireless keyboard
Tsunami batteries x2
Tsunami wiring
Tsunami interconnects
SHOUTOUTS

ARC Audio, Kenwood USA, Metra Electronics, David @ Sound Speed in Clovis California, Me the Fishman (for never Giving up), To all of my old students at Fishcamp who at one point or another had their hands in this, I wouldn't be here without you guys…and to my ex wife who always said it couldn't be done!
The computer and networking setup was done by Jason Boyd and Albert Riveria. Wired by Sound Speed In Clovis, CA handled the vehicle electrics which included a pair of Tsunami batteries, one under the hood and the other near the amps in the cargo area to provide plenty of reserve power for the system. A Tsunami high-output alternator was added to provide ample charging and the power, ground and interconnects were all Tsunami wire as well.
At a cost of almost $250,000 and plenty after hours labor, Fishman has truly outdone himself here. But he has paid his dues and this is the reward. We can only imagine how many copycat projects rocking iPads we'll see at the next CES Show.