Written by Dave Pankew // Photos by Michael Marrs | 01 September 2007
Rewind back to SEMA '07 and the entire PAS staff is atop the Rio hotel in Las Vegas. The venue is the Voodoo Lounge and we're hosting one of the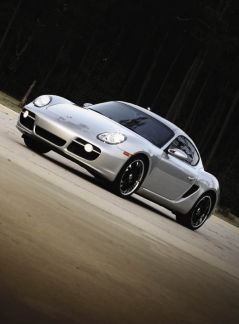 most memorable parties of the year with our good friends at HIN (Hot Import Nights) and everyone, who is anyone is there. We even invited a few competitors from other publications because anyone that knows us, realizes there is no hate, we just work harder! The bottles are flowing and the hottest models on the scene are throwing down their moves (and clothes) for a soiree we won't soon forget. And while I am in the middle of being introduced to people, WHAM – head-butt! Um… ok what the hell, just before I take it personally, Mark (PAS Editor-in-Chief) is beside me laughing his ass off saying, "he got you too? That's my homie Danger Dave, he's head-butted over 30 people tonight."
And that is how I met "Danger" Dave Johnson, President and CEO of the Acoustic Edge Institute. Say what you want about the first impressions, Danger Dave turned out to be a chill guy even though he could literally be mistaken for an Ultimate Fighter. He also turns out to be a bit of a car aficionado and wasn't driving the 1978 Silverado pickup we expected from this Oklahoma native.
Danger Dave had built up a load of audio vehicles over the years but was after something that would make a nice daily this time around. Plus in the past it has been trucks like the Hummer and the International CXT for demo vehicles. This was an all new Porsche platform that they couldn't wait to rip apart. The guinea pig they selected was the 2007 Porsche Cayman S finished in the classic Porsche Arctic Silver. With a tight and compact interior, the crew had their work cut out for them, not to mention German cars are not well known for the wiring simplicity.
Before the intense audio install, Danger Dave had his Acoustic Edge Institute students rip most of factory interior. The plan was to rethink the design from the seats back but keep the craftsmanship on par with the legendary Stuttgart manufacturer. The black suede accents would be giving both Danger Dave some extra style and his students an extra credit!
Behind the luxurious sport seats (yes, Porsche makes those two possible) begins the audio landscape only fit for a guy like Danger Dave. Firstly, the guy has two subs right behind the seats, not tucked low but right behind his head! With two fibreglass enclosures wrapped in black suede are set two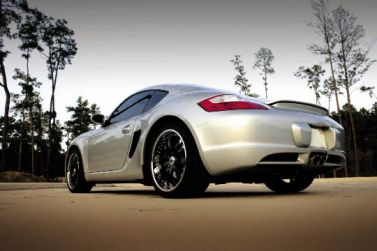 very popular JL Audio W7 10-inchers. Now that is true love of audio surviving a pounding like that. At least it accomplishes some pre-SEMA head-butt training for Danger Dave since he had a huge lump on his head the following day. The twin JL subs belting out the lows have a slick fiberglass cover that is swept back and color-matched in Artic Silver. "I wanted that Carrera GT design element in the Cayman and it works," admits Johnson.
To power the JL subs, using JL Audio amps was a natural choice. Driving the lows is a pair of JL Audio 500.1 amps pushing them to their limitations. The mids and highs are generated with a JL Audio 300.4 feeding components around the cabin. Up front are JL Audio C5 components in the doors and in the rear is another C5 set used as filler. Connecting the power and sound is all JL Audio gear including the: distribution blocks, fuse holder, cabling and power wire. All of which the factory Bosch alternator is not sweating to feed.
Johnson admits he is very happy with the Cayman performance. Settling in somewhere between the Boxster and the 911, the Cayman packs powerful 3.4L flat-6 hammer. It sports almost 300hp and 250lb-ft of torque and runs the 60mph dash in 5-flat. Plus with the hardtop, they are very rigid and great handling cars. But Johnson needed something to set it apart from the other one in Oklahoma (yes there are only two). So he added a set of custom 19-inch Asanti 3-piece forged wheels. The Asanti forged wheels feature black face and polished chrome lip. Cloaking the wheels are a set of Pirelli PZeros with 275/30R19 in the rear and a nimble 245/35R19 up front.
Beyond that how can you argue with Porsche perfection. Yeah, yeah we know TechArt and Gembella would beg to differ but they are in a different league. Danger Dave wanted something fast and to showcase the work of his audio installer team. With some subtle love to the sponsors on the rocker, this is one rolling showcase that can blend in as an everyday driver too.
Read on for Full Spec Sheet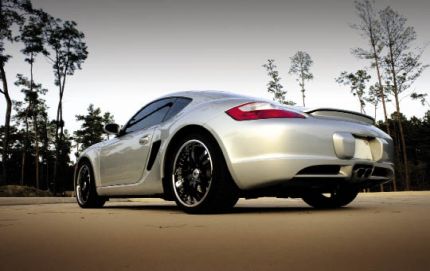 THE ESSENTIALS

Owner: Dave Johnson
Location: Edmond, OK
Vehicle: 2007 Porsche Cayman S
WHEELS & TIRES

Asanti 19-inch alloys
Pirelli PZero Nero 275/35R19 (rear), 245/35R19 (front)
AUDIO / MULTIMEDIA

JL Audio W7 10-inch subwoofers
JL Audio 500.1 amplifiers
JL Audio 300.4 amplifier
JL Audio C5 components
JL Audio wiring and distribution