17 October 2011
Page 2 of 3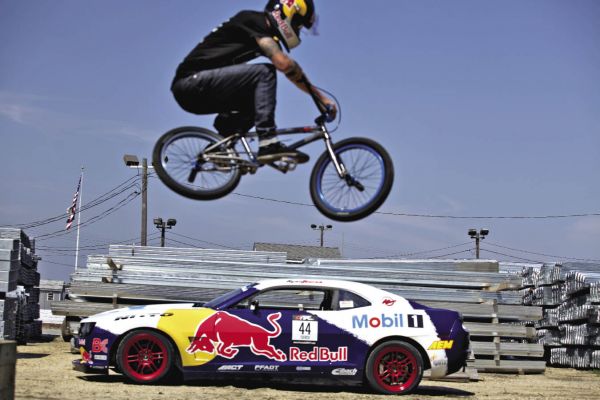 If you are feeling inspired by Tuerck's car, but don't want to swap out your own motor or fenders, look no further than the wheels and tires. Enkei RPF1s are wrapped in Nitto NT05 rubber with a dash of negative front camber for an aggressive stance. The RPF1 design has been around longer than Facebook, yet t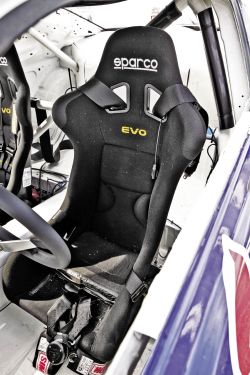 hey still look fresh in a custom Red Bull paint scheme. It's an affordable combination that is perfect for just about any driving application.
Past the wheels lie the brakes. A Wilwood 4-piston big brake kit with drilled rotors provides front and rear stopping power. Although it is popular among drifters to use a dual caliper setup in the back (one for the foot brakes and one for the hand brake), Tuerck chose to stick with a single caliper for both. This setup is what he ran on his previous cars, so it made for an easier transition to an untested chassis.
Drifting is all about taking corners with maximum angle, and this can't be achieved without nimble steering response. That's where the suspension comes in. Eibach springs and struts replace the stock setup on the four corners, while a Pfadt sway bar, bushings and camber kit stiffen things up even more.
On the interior, a Sparco Evo bucket seat and Schroth six-point harness hold Tuerck steady so he can twist the Sparco steering wheel and nail every clipping point. Although the carpeting, consoles, door panels, and rear seats were ditched to make room for the custom roll cage, a black matte front dash panel was kept, molded in the shape of the original, to reduce glare coming through the windshield. Instead of traditional analog gauges, a Racepak IQ3 dash/datalogger displays the vehicle's speed, rpm, engine temp, and other information from the FAST XFI ECU.
For many years, Tuerck has been a part of the Drift Alliance, a crew of drivers that pushes the limits of the sport and each other. They have performed in countless drift demos, and produced a full-length DVD of their antics in 2008. Tuerck is also a Red Bull athlete, which means he will have many opportunities to show his extreme nature in front of the camera - the first came earlier this year when he and Rhys Millen got sideways through the streets of downtown Atlanta. Look for more from Tuerck and his Mobil 1 Gardella Racing Camaro as he continues to chase down victory in the 2011 Formula Drift Pro Championship!