Written by Dave MacKinnon | Photos by Mark Privitera | 24 January 2012
Page 2 of 2
The trunk has been meticulously reworked with new trim panels. Perforated mesh combined with black vinyl and silver, black and orange accents create a very clean, tidy and modern installation. The floor, back wall and side panels were all addressed, and the results are amazing.
Hiding out of sight in the trunk, in the stock battery location, is a Stinger battery and a Stinger 70 Amp power supply. Stinger 0 gauge wiring feeds the amplifiers with 14 and 12-gauge speaker wires sending signals forward to the speakers.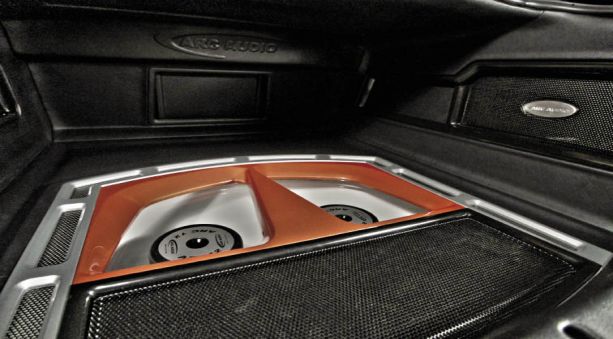 The installation was handled masterfully by "2011 Installer of the Year" (Mobile Electronics Association), Jon Webb at Performance Audio in Las Vegas. As a current ARC Audio dealer, Webb choose this car to feature and showcase Arc Audio's new line of ARC Series Speakers, which was unveiled at the 2011 SEMA show and displayed in the ARC Audio booth at the 2012 CES Show in Las Vegas. To top it all off, this car was lucky enough to get the prototypes.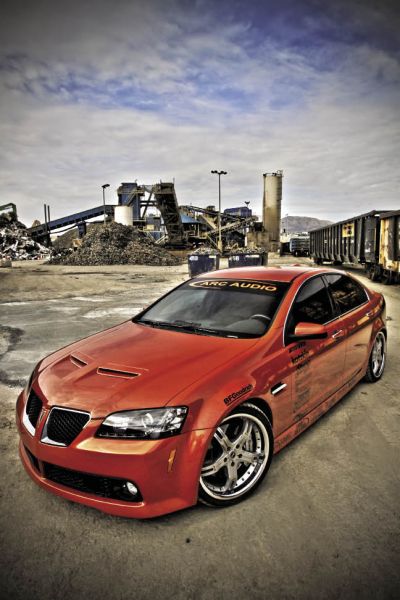 Passarge points out that this is his daily driver, and even after four years, the car is still ding and dent free. He credits this to some obsessive long-distance parking and attentive driving while out and about. His iPod is filled with a diverse selection of music, but he is proud to say that thanks to the efforts of Webb and the Arc Audio gear, there is nothing that doesn't sound good in this car. No one could ask for more!

ESSENTIALS
Vehicle: 2008 Pontiac G8/GT
Owner: Michael Passarge
Location: Las Vegas, NV
Engine Displacement: 6.0L
Horsepower: 373
Club Affiliation: Team Hybrid

ENGINE / PERFORMANCE
Air Intake: Rotofab (CAI)
Exhaust: Flowmaster 40 Series & resinators

EXTERIOR / CHASSIS
Grilles / inserts: Paint Gloss Black
Headlights: Spyber Auto w/ Projection
Lighting: LED side markers, tail light, reverse and license plate light
Custom Body work: Shark Fin Antenna

WHEELS / TIRES / BRAKES / SUSPENSION
Wheels: SE3 Sport Design
Wheel Size: 20 x 8
Tires: BFGoodrich
Front Rotor Size: 14" One Piece Slotted and Drilled
Front Brake Calipers: Brembo 4-Pistons
Rear Rotor Size: 13" One Slotted and Drilled
Springs: Road Magnet Springs
Front Strut Bar: BMR Fabrication

INTERIOR
Dash: Custom painted dash and shifter trim
Upholstery: Katzkins Tuscany Leather with orange stich
Gauges: Prosport EVO Series
Gauge Pod: JHP HSV (3 cluster)

AUDIO / VIDEO / MULTIMEDIA
Equalizers: Arc Audio XEQ
Processors: Arc AudioSRI for integration
Sub Amps: Arc Audio KS300.2 (2x)
Midbass Amps: Arc Audio KS300.4
Rear Fill Amps: Arc Audio KS125.2BX2 Mini
Sound Deadening: D'Amplifier Pro & Luxury Liner Pro
Subwoofers: Arc Audio ARC 12D4 (x2)
Mid Bass: Arc Audio ARC Series 6.2 6.5" Component Speakers (x2)
Tweeters: Arc Audio ARC Series 6.2 Component Speakers (x2)
Rear Fill: Arc Audio ARC Series 602 6.5" Coaxial Speakers(x2)
Extra Batteries: V Performance
Back fuse holder: Stinger
Main power wire: Stinger
Interconnects: Stinger RCA's
Distribution Blocks: Stinger

SPONSORS
Arc Audio
Performance Audio
Prosport Performance
BFGoodrich
Stinger
Spyder Auto
NOS Energy Drink
Meguires
K40 Electronics
Grafik Impact
US Speedo
Mobile Solutions
Mishimoto
Team Hybrid
Spring Mountain Auto Body
Clutch Masters