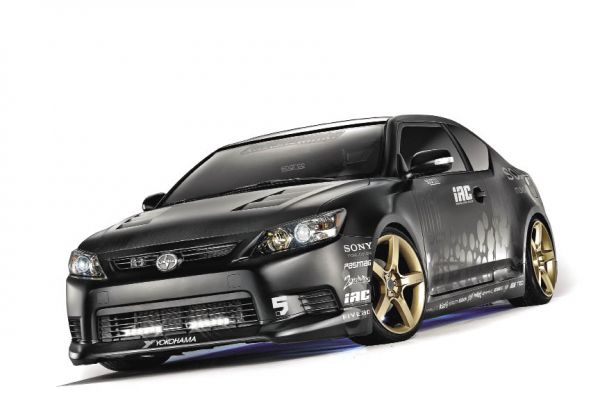 Scion has been in Canada for about a year, and as a brand that is closely tied to the aftermarket, it was an easy and logical decision to choose one of their vehicles as the platform for a great build.
---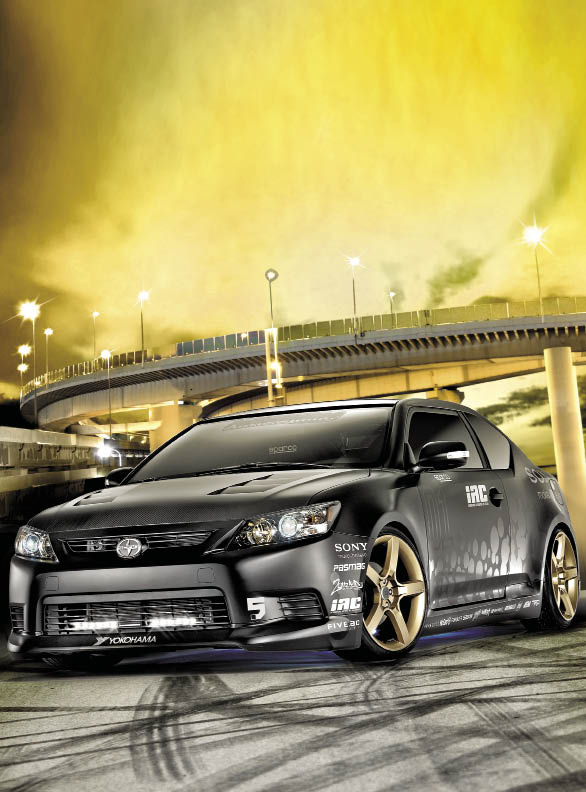 In Alpine White 2011 Scion tC served as the palette upon which the crews at International Automotive and Custom and 20Hz Audio Sound and Security would work their magic. When it came to modifying the performance and style of the Scion, the car was taken to International Automotive and Custom in Woodbridge (IAC), ON. A FIVE:AD aero kit, including front and rear bumpers along with side skirts were skillfully grafted onto the car by the crew at IAC. After hours of preparation, the car was treated to a stunning flat black paint job. IAC's attention to detail is impressive - even the OEM tail lights were treated to a matte clear coat to make them blend with the rest of the build. The hood and hatch were replaced with lightweight carbon fiber units from Seibon. The hood
features reverse louvers to maximize airflow under the hood and through the radiator. Black vinyl graphics on the body
serves up some subtle styling and give love to the supporters of the project. Eurolite HID headlight and LED driving light kit keep things bright. Upping the ante in the interior was next on the list. Sparco Chrono Road seats replace the factory units and the appropriate mounting hardware and seat track kit were used to install them. A Sparco Globe shift knob and Grip pedal kit help the proverbial driver tovehicle contact patch. Underneath the new lightweight hood is an Injen Technology performance intake and to help expel spent exhaust gases, a TRD Muffl er assembly was fitted out back. The combination results in extra horsepower and an improvement in efficiency. To keep an eye on the tweaked engine, a trio of AEM gauges were installed in the center console. Wideband air/fuel, coolant temperature and voltmeter gauges provide accurate vital signs. The tC rolls on sleek FiveAxis R5:F wheels with a bronze fi nish. The wheels are all 19-inches in diameter and the fronts are 8.5 inches wide while the rears are 9. Wrapped around the wheels are Yokohama S.drive tires sized at 215/35R19. Keeping these rollers secured are a set of McGard wheel locks and chrome/black lug bolts wheel installation kit. The factory suspension was replaced with TEIN Basic Damper coilovers to provide the adjustability to lower the car and ensure a perfect stance. With a plan to make some serious additional power, we got excited when we heard that TRD had recently released their 4-piston, 340mm performance brake kit. Brake systems are a complicated item and require careful planning, development and testing. We knew that TRD had put in the hours to make sure this system was balanced and reliable. The technicians at IAC took care of the install. Next on the agenda was power.

A call to WORLD Motorsports in Torrence, CA put us on the path to having one of their 2011 Scion tC Turbocharger Bolt On & Go kits being installed. The kit is put together by Descendant and features a turbo, all the piping, wiring, a wastegate, intercooler and even an AEM F/IC controller as well as Deatsch Werks 750cc injectors. We took the tC to the WORLD Racing office in Redding, PA for the install. The kit was thoroughly tested during development, so the install went smoothly. We tried to convince them we needed a Rado-spec front spoiler, but they suggested a little more boost was going to be required before that could happen.
At the heart of this build is the Sony entertainment system. A full gamut of Sony speakers, amplifiers, subwoofers and huge TV now occupy the space previously assigned to rear passengers and cargo storage. The car went to 20Hz Audio Sound & Security for the audio install. The interior was stripped to run wiring and install Hushmat Ultra sound deadening. The rear seats were removed to make way for a pair of subwoofer enclosures and the amp rack. Eight Sony 10-inch subwoofers flank a quartet of Sony monoblock amplifiers – their total power output is an impressive 2,400 Watts. The amp rack and enclosures are finished in dark grey suede and trimmed with grey vinyl panels. Permitting the fl ow of electrons through the system are Stinger HPM cables and distribution blocks. A pair of 1 Farad Stinger HPM capacitors helps to ensure the system stays tight when being cranked on. Hovering above the amp rack, bolted to a custom steel bracket is a 32-inch Sony BRAVIA® LCD TV. This is connected to a Sony PlayStation®3 that is located at the front of the amp rack. The PS®3 is equipped with a complete PlayStation® Move Motion bundle. Heading up the audio system is a Sony XN-V770BT Audio Video Navigation receiver complete with iPod interface, TomTom navigation and Bluetooth hands-free. Flanking the TV is a pair of Sony 6.5-inch coaxial speakers
that ensure whoever is enjoying the PS®3 can hear all the action. A Sony XA-R800C rear vision camera was mounted above the TV to let the driver see who's lurking behind the vehicle.
Scion has always embraced the aftermarket community. All of their dealers are equipped with an extensive list of optional accessories like wheels, suspension components, audio and styling upgrades. With such a tuner-friendly philosophy, Scion was the perfect partner for this build.
Vehicle: 2011 Scion tC

Owner: Performance Auto & Sound Magazine

Location: Toronto, Ontario, Canada

Engine Displacement: 2.5L (2AR-FE)

Horsepower: 260 HP
Engine Modifications:
DESCENDANT S.S. Turbo Manifold
DESCENDANT Aluminum Intercooler Tubing Kit
DESCENDANT Side Mount Intercooler
DESCENDANT S-Pipe
DESCENDANT OBD2 Down-Pipe
DESCENDANT Emission Control Brackets & Mounts
DESCENDANT P-N-P Engine Wire Harness
DESCENDANT Custom Fuel Map
DESCENDANT Custom 55mm. V-Band Turbocharger
AEM Performance intake system
Mishimoto Radiator
Bosch - OEM Style Recirculating B.O.V.
Tial MV-S Wastegate
AEM F/I C Controller *tuning is required for maximum performance gains.
Deatsch Werks Injector P-N-P 750cc Injectors
TRD Muffler Assembly
Exterior Modifications:
FIVE:AD body kit (front bumper, side skirts, rear bumper)
Seibon Carbon Fiber Hood
Seibon Carbon Fiber Hatch
Eurolite HID kit
Eurolite LED Driving Light Kit
Wheels & Tires:
FIVE:AD R5:F Wheels 19x8.5 (front)19x9.5 (rear) in custom bronze
Yokohama S.drive 215/35R19 tires
Suspension & Brakes:
Tein USA Basic Damper coil-over kit
TRD High Performance Brake Kit
McGard Wheel Locks & Tough Nut lug nuts
Interior Modifications:
Sparco Chrono road seats
Sparco Globe R shift knob
Sparco Grip pedal kit
AEM Air/Fuel ratio, Oil Pressure and Voltmeter gauges
Interior:
Sony XNV770BT 2DIN Audio/Video Receiver with Navigation
Sony KDL32EX701 32" Bravia LCD TV
Sony XAR800C Rear-View Camera
Sony XS-GTR100L 10" GTR Series Subwoofer x 8
Sony XS-GTR1720S 6-3/4 component speakers
Sony XS-GTR1720S 6-3/4" 2-way speakers x 2
Sony XM-ZR704 4-Channel Amplifier
Sony XM-ZZR3301 Class-D Mono Amp x 4
Sony PlayStation3 with 320GB Move Bundle
Sony PSP Go
Stinger HPM Power and Speaker Wire
Stinger SPS70 Power Supply
Autopage C3-RS665 Security System
HustMat Ultra Sound Deadening