Written by by Jacob Leveton • Photos by Dino Dalle Carbonare | 09 March 2012
Page 1 of 2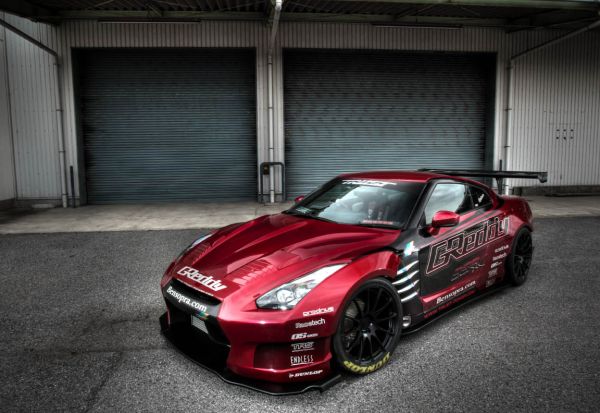 The GReddy/Trust 35RX Nissan GT-R was built to set the speed record at Fuji speedway and attack lap records around Japan.
---
Japanese culture prioritizes pride. For tuners in Japan, there is not just an emphasis on the quality of the work, but also on putting parts to hard use. Trust Japan decided that simply building a demo R35 GTR for Tokyo Auto Salon wouldn't be enough – it needed to kick butt on the track too.
At the time, rival tuner HKS's GTR held the top speed at Fuji Speedway. As Trust Japan started planning the build, nothing less than a new record would be acceptable. GReddy's existing 800hp twin-turbo kit would be put on steroids for this build. The stock displacement wasn't enough, so a 4.3L stroker kit was put together with a forged crank, connecting rods, custom pistons, and a full sleeved block. Paired with a prototype 1,250hp twin turbo kit, full 90mm exhaust, Greddy Spec-R-HG Type-29 twin-entry intercooler, GReddy RX intercooler piping, GReddy blow-off valves, and GReddy billet fuel rail, the kit is all business from start to finish. Under the valve cover, GReddy 272º camshafts are paired with upgraded valves and valve springs, a metal GReddy headgasket, GReddy prototype intake and throttle bodies, 1,000cc injectors, custom dual fuel pump, and E-manage ECU to monitor all air and fuel ratios. Cooling is provided by a GReddy radiator and oil cooler, while the power is driven through the Dodson first gear upgrade, GReddy DCT upgraded clutch kit and OS Giken LSD. To say this car was built for serious track business is an understatement..
Under each corner, GReddy's custom 30kg/mm front and 32 kg/mm rear spring rate racing suspension keeps the car planted in the corners. While the car was originally built to set the top speed at Fuji speedway, there are plans for the car to attack lap records around Japan when everything is fully set up. Top Secret adjustable upper and lower arms replace the stock units while Endless 6-pot front brake calipers grip massive 400mm 2-piece rotors and 4-pot rears grip 387mm 2-piece rotors for some amazing stopping power. Starts and stops run through the Prodrive 20x10.5" GC-012L wheels and Dunlop Sport Maxx GT600 285 tires.
Outside the car, the Trust GTR35X wears the first production BenSopra widebody kit. The kit widens the car an astronomical 4" all around with an unmistakable 1-piece front clip consisting of a molded fender and bumper piece. The front end is on a custom front-hinge system reminiscent of early '80s German technology, which allows for full access to the motor and all intake and exhaust piping. Out back, the rear over fenders, bumper, and wing are all part of the conversion, giving the GTR a menacing look while providing extra room beneath the fenders for meaty rubber.