Written by Dave Pankew // Photos by Somya Siva | 27 November 2009
When it comes to drifting in North America, no company has been more influential than Falken – period. The name is synonymous with the sport because the foresight and resources they have invested are unparalleled!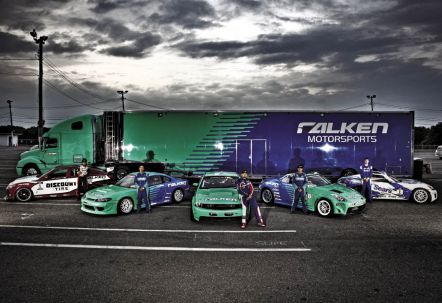 Although it was not the first event, I think the turning point for drifting in the US was at the Falken Drift Showoff on March 2, 2003. The Irwindale Raceway venue was expecting 2,500 people but when nearly 10,000 showed up they had to turn many away. It was clear at this point the sport of drifting had been cemented into the car culture of SoCal and would gradually spread throughout North America. Although this drifting demo only had three pro D1 drivers not competing against each other, the crowd went into a frenzy and it has been contagious ever since.
The coveted 18-34 male demographic was hyped about the explosive new form of motorsport. This generation was latched onto anything that was coming out of Japan and getting sideways in the mountains has been a leisure activity for Japanese youth for decades. Drifting was unlike doing burnouts in a parking lot, it was extreme car control while seemingly out of control. The sport had all of the elements needed and incorporated the best of what motorsports had to offer: billowing smoke, screeching tires, reckless moves and of course lots of crashes! The kind of stuff that make fans of other motorsports rise to their feet and cheer. Falken knew this well in advance of many other aftermarket manufacturers doing business in the US and their product was the main focus. Burning tires up only meant good things for the company and that is why the Falken name continues to dominate the drifting scene here.
The top brass at Falken understood that shredding up tires in drift competition would equate to better sales and priceless brand exposure. They also figured out supporting a sport enthusiasts love translates to respect among tuners and quickly lead to fans considering their brand when shopping for tires from Falken's massive applications list.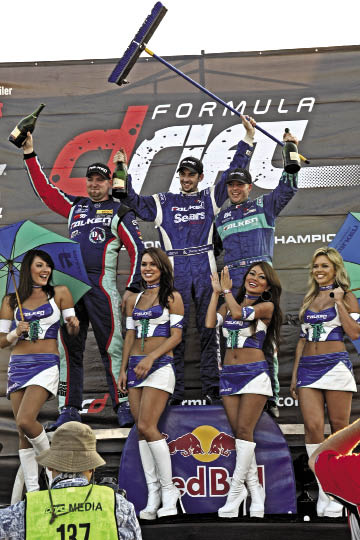 By carefully selecting the right drivers in the hottest cars, Falken appeals to many fans at events and in the number of TV and DVD broadcasts of the motorsport. All of the mass market appeal of their efforts were fully realized in April of 2004, when the Formula Drift series was born. Despite tough times and obstacles, Falken has stuck with Formula Drift and built a solid reputation. Today they are a force to be reckoned with by inking deals with some of the top drivers around and building machines that not only caught attention on the track, but took their talent onto the podium event after event.
Falken's efforts and true dedication have really paid off in many ways but none more important than their recent accomplishment during Formula D Round 3 at Wall Speedway in New Jersey. Dubbed "The Gauntlet" by series organizers, the unforgiving track has claimed dozens of cars into its menacing walls. The tricky transitions and banked surfaces equate to a track that it difficult to drift solo never mind in tandem. However, the tandem battles ensued and Falken drivers battled through mechanical problems, deep-sixed former champions and took their game to a whole new level. Despite almost losing their star driver Vaughn Gittin Jr. to mechanical problems, the remaining members and their crew forged through anything the fierce competition could throw at them. In the end, it paid off in copious amounts of praise for the team, as their first ever sweep on a Formula D podium. Irishman Darren McNamara in the Falken Saturn Sky won over teammate Vaughn Gittin Jr. in the legendary Falken Mustang who graciously took second spot. The third and final place would be decided in a heated tandem battle between young superstar Ken Gushi versus Tyler McQuarrie in the V8-powered Falken 350Z. With McQuarrie victorious, history was rewritten by Team Falken. A win this big doesn't come easy, as every Falken driver, car and crew earned this victory over their years of Formula D competition. Their all-star line up of drivers and high performance drift cars are committed, dedicated and proven professionals who represent the scene (and Falken brand) to the fullest.
Drifting has rapidly become a cornerstone of racing in the USA and throughout the world. Falken has built its reputation on the momentum of the sport as well as the tires its teams run on to make it a household name among enthusiasts and fans. Falken has invested heavily to reach the right customers and put their tire brand ahead of some competitors at least in the tuner market. The plan was to introduce an entire younger generation to what the Falken brand is all about. The bold racing colors of teal and blue are instantly recognizable, as are their always stunning umbrella girls. The Falken models have been winning over fans for years and even launched a few careers in the process. The results speak for themselves as Falken has not only left their mark on the drift world, but cemented the now recognizable Falken brand thanks to their supportive contribution to put drifting where it is today and where it will be tomorrow.

Read on for Driver Bios and Car Specs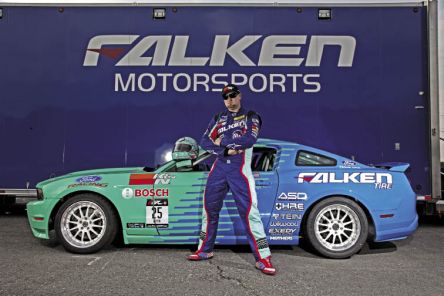 Vaughn Gittin Jr.
Age: 29
Hometown: Glen Burnie, Maryland
Years Drifting: 8
www.vaughngittin.com

While drifting is just the latest talent Vaughn has developed behind the wheel, he's had the speed sensation for a long time. "Since I was born, I have lived and breathed cars," he declares, asking his namesake to do "fishtails" and "burnouts" the way other dads drive their children around the block to soothe them. "I have always loved the feeling of the back end skating around, engine screaming and tires smoking," he adds, which ultimately led him to choose a career in motorsports. Moving from motocross to drifting paid off quickly, and Vaughn rose to the top of the field. He caught the eye of Falken Tire who in 2004, was eager to expand their drifting efforts and take the U.S. drifting scene by storm. The rest, as one says, is history, and Vaughn has become a key part of Falken's extensive commitment to this exciting sport, both in the U.S. and internationally. His 2010 Ford Mustang featuring state-of-the-art technology is the center-point of Team Falken, ready to meet and conquer the competition.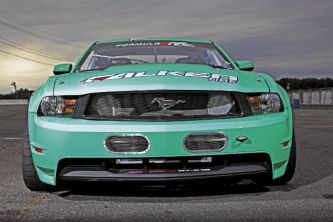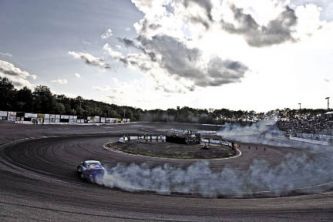 Falken Ford Mustang
4.6L Aluminator V8 with Ford Racing Supercharger
Dry carbon body panels
HRE Comp 21 wheels
Front: 255/40R18 Azenis RT615 Rear: 295/40R18 Azenis RT615
TEIN coilovers
Sparco safety equipment
Wilwood front and rear big brake kit
Motec M800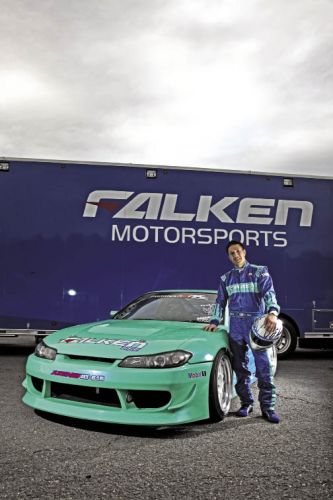 Calvin Wan
Age: 30
Hometown: San Francisco, CA
Years Drifting: 7
www.calvinwan.com
The talented NorCal driver participates in more than 20 professional events each year and has received extensive media coverage with both national and international media outlets. When he's not driving, he's building race cars or serving as both a Drifting Judge and Instructor, holding special drifting performance clinics for private groups.
Drifting and race fans alike know the name Calvin Wan, and he is highly regarded and respected by his competitors. As one of the pioneers in drifting especially in the U.S., and one of the driving forces on Team Falken, Calvin has definitely earned his reputation and stands ready once again to help take Team Falken to the top of the podium.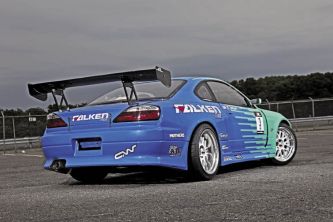 Falken Nissan Silvia S15
2.2L HKS Stoker SR20DET engine
HKS GT3037 pro turbo
HKS 5-speed sequential transmission
OS Giken 2 way LSD and Clutch
KW Coilovers
Vertex Ridge body kit
SSR Professor MS1 wheels
Front: 245/40R18 Azenis RT615 Rear: 275/35R18 Azenis RT615
Tyler McQuarrie
Age: 30
Hometown: Danville, CA
Years Drifting: 5
www.tylermcquarrie.com
Tyler earned significant notice when he became co-champion of the highly popular 2008 Redline Time Attack. It was his accomplishments in this competition and his strong efforts in many Formula Drift events that got him noticed by Team Falken, and in 2009, Tyler becomes a new member of the squad, driving a V8-powered Nissan 350Z convertible on Falken Azenis RT-615 tires; a very potent combination. And on the subject of combinations, when you name your firstborn daughter McLaren, there's no question this man has oil pumping through his veins and tremendous control at the pedals. He is a dangerous addition to the 2009 Falken Drift Team.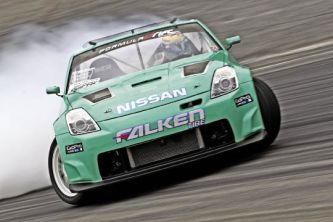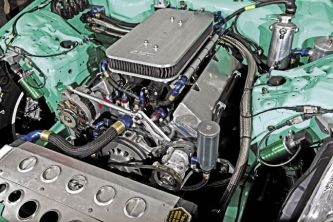 Falken Nissan 350Z Convertible
6.7L Hasselgren Aluminum V8
Seibon hood and rear over fenders
Ings +1 Body kit
Enkei RPF1 wheels
Front: 255/40-18 Azenis RT615 Rear: 295/40-18 Azenis RT615
Tein Coilovers
Sparco Safety Equipment
Wilwood front and rear big brake kit
Motec M800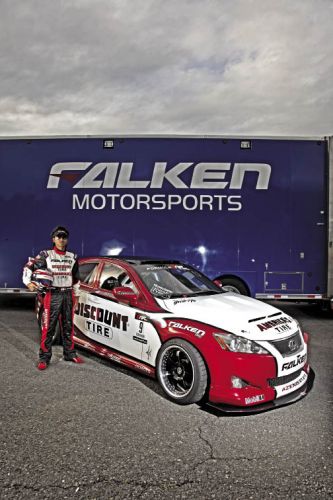 Daijiro Yoshihara
Age: 29
Hometown: Tokyo, Japan
Years Drifting: 11
www.ilovedaijiro.com
Dai enjoyed a successful 2008 season, taking 2nd place in the Red Bull World Championships and finished in 4th overall in the ultra competitive Formula D Series. For 2009, with the support of Team Falken and Discount Tire, Dai's expectations are set higher, as he is earnest about moving up several notches and scoring top place in more rounds and finishing on the top rung of the series championship.
"I feel so happy that I can participate as a driver for Team Falken," Dai notes. As popular with the fans as he is with his fellow drivers, Dai states, "I want to please our drift fans this year making use of my skills developed from my many past experiences. At the same time, for my new team, I want to do my best to be able to end this season with the best result for myself!"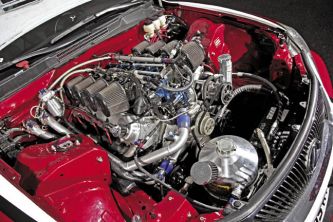 Falken Lexus IS350
6.7L Hasselgren Aluminum V8
Dry carbon body panels
iForged sprint wheels
Front: 245/40R18 Azenis RT615 Rear: 315/30R18 Azenis RT615
KW coilovers
Sparco Safety equipment
Motec M800
Griffin dual pass radiator
OS Giken 2 way LSD
Ings +1 body kit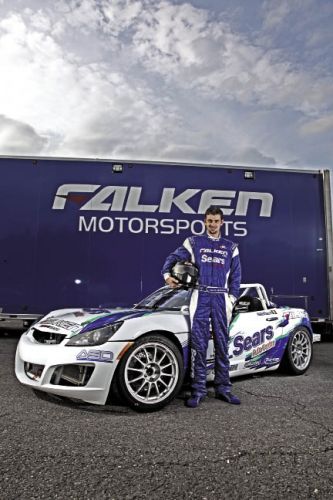 Darren McNamara
Age: 25
Hometown: Cork Buttevant, Ireland
Years Drifting: 7
www.mcnsport.com

Darren is the first to admit that competing in the US has proven to be a huge challenge although he has plenty of skill and optimism, as well as some significant experience behind the wheel, better understanding of the tracks he's drifting on and the drivers he's competing against. For 2009, Darren is driving the Falken Tire / Sears Auto Center Azenis RT615 equipped V8 Saturn Sky and expects his results to be much improved as he strives for his first major U.S. title win. All told, this is a young man who's going places in the world of drifting.
Falken Saturn Sky
6.7L Hasselgren Aluminum V8
Dry carbon body panels
SSR Type-F wheels
Front and Rear: 255/40R18 Azenis RT615
TEIN Coilovers
Sparco Safety equipment
Wilwood front and rear big brake kit
Motec M800