27 November 2012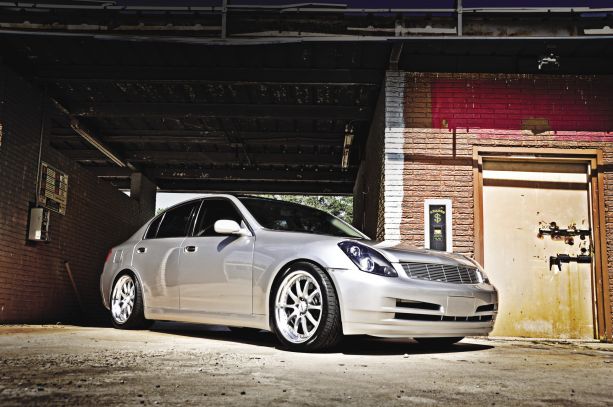 Written by David MacKinnon / Photograohy by Klifton Keplinger
How many of you know of someone who has taken a daily driven vehicle - even one that was used for parts to finish another project car - and turned it into a piece of art? The 2003 Infiniti G35 you see on these pages is one of those vehicles. It was originally purchased as a way to get around, to grab groceries, and most importantly, to pick up parts for "Black Betty" (a $300K Nissan 260SX Spec GT-R project car, shown in these pages exactly a year ago). Scott Buwalda owns this G35, and after deciding to perform a simple upgrade to improve his travels, it quickly expanded into a competition vehicle project. After all, when you are the founder and owner of Hybrid Audio, one of the world's top mobile audio speaker manufacturers, your car's destiny is always in question.
While the heart of this car lies in its audio system, Buwalda likes his performance just as much. He upped the output of the VQ35 engine to nearly 300 hp with the help of products from Jim Wolf, Greddy and Z1 Motorsports.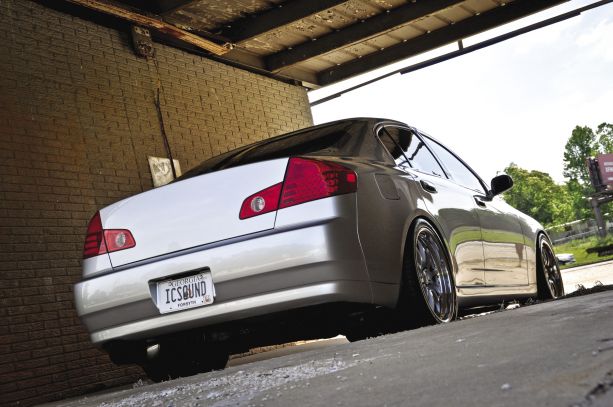 He cleaned up the exterior by removing the side moldings, and coating it in a Brilliant Silver with a bold black roof. JDM-spec lighting is installed throughout the G35, which rolls on 19-inch Forgeline ZX3R racing wheels wrapped in Hankook Ventus V12 rubber – 275s in the front and 305s in the rear. BC Racing coilovers keep the tires on the ground and Willwood brakes give the car some much needed stopping power.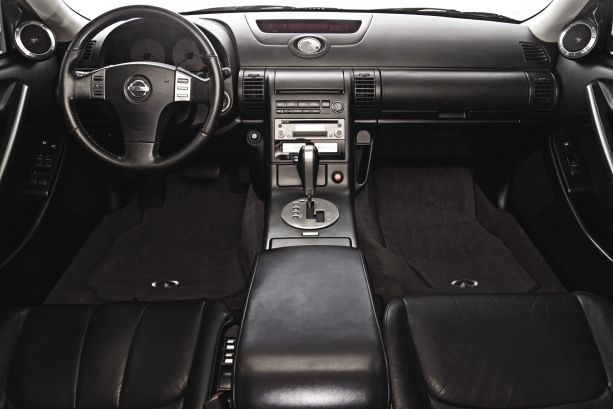 The audio system starts with a McIntosh MX5000 head unit into a processor that Buwalda refers to as a "Franken-Processor." In a previous life this was an Audison Bit One, but nearly everything has been upgraded to bring the performance in line with the rest of the components, including a JK Labs digital volume control interface. The signal then travels to six JL Audio 750/1 monoblock amplifiers.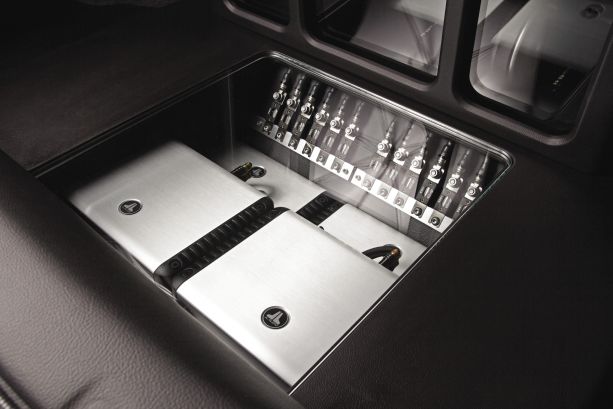 One pair of amplifiers feeds a set of Hybrid Audio Technologies Legatia L3SE 3.7-inch wide-bandwidth, high-frequency drivers. A second pair of amps feed Hybrid Legatia L8SE 8.85-inch drivers to produce midbass. The final pair of amps each feed a pair of Hybrid Imagine I6SW 6.5-inch subwoofers. Yes, Buwalda put a 750-watt mono block on every front-stage speaker. That's 3,000 watts to the front four speakers. Talk about headroom!
In case you thought there is a crucial component missing, you're right - there are no tweeters in this system. Buwalda purposely did this, as the Legatia L3SE drivers are capable of playing frequencies to 20,000 Hz when installed less than 30-degrees off-axis. This is truly a remarkable feat of engineering. It also means that there is no crossover in the ever-so-delicate midrange group of frequencies, which can cause phase errors and distortion. This means smooth response and no phase issues throughout the audio spectrum.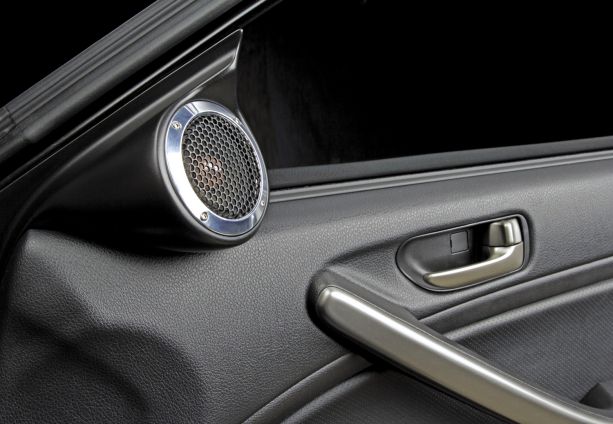 The mids are installed in custom pods in each door near the mirrors, with an infinite baffle in the door frame. Each of the pods was treated to a cosmetic finish to match the interior, from color, grain, and texture, and protected by custom CNC perforated mesh grills.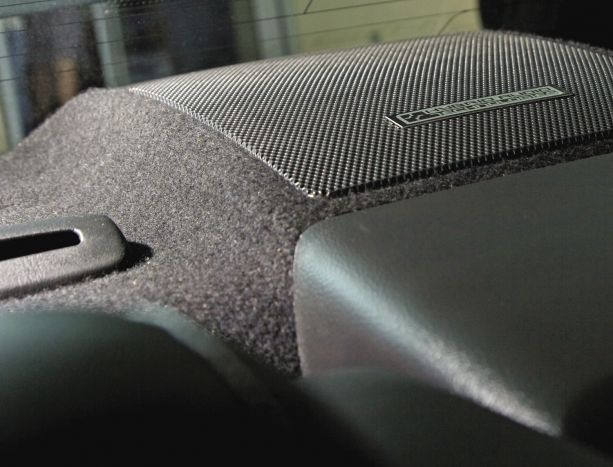 The midbass drivers are mounted to thick steel baffles in the footwell area. Attached to the car using a mixture of fiberglass, cabosil and chop matte, these baffles help reduce any tactile resonance. Each speaker is hidden in a custom perforated grill installed into the factory kick panel. Metal behind the speaker was removed to allow adequate airspace to breathe and provide proper low frequency extension. A large vent was then cut into each wheel arch to displace any back pressure outside the vehicle.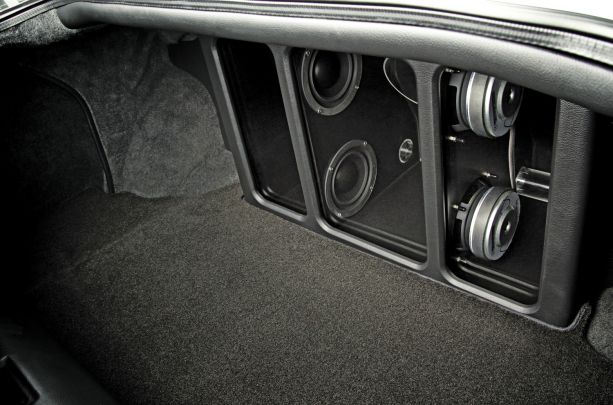 The four Imagine 6.5-inch subwoofers (yes, Buwalda uses 6.5-inch subs!) are mounted in a sixth-order bandpass subwoofer enclosure. Each pair of drivers plays into a common ported chamber which is vented into the interior of the vehicle by a lexan tube through the rear seat pass-through. Buwalda notes that the ¼ wave of the sub propagates perfectly at the windshield of the vehicle, giving the illusion that the bass is coming from the windshield, and not the trunk.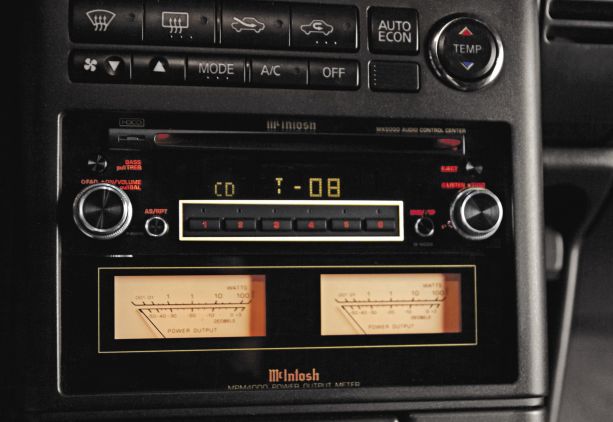 In the dash of the car, the McIntosh MCD5000 head unit is mounted in a JDM 2-DIN dash bezel. Touted as the finest deck ever made, it has been extensively reworked by JK Laboratories to match the interior lighting, function with the OEM steering wheel controls, and improve components throughout the audio path. Underneath the head unit is a McIntosh MPM4000 analog power meter which monitors the power to the Legatia L3SEs. This allows real-time monitoring of the small-diameter full-range drivers, important for system longevity, since a 750-watt amplifier is strapped to each mid.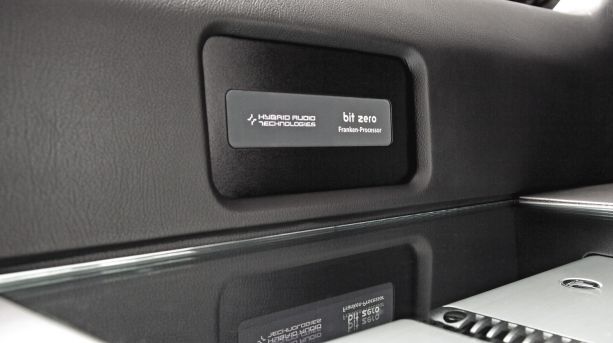 In the trunk of the G35, the sixth-order subwoofer enclosure is the centerpiece of the design. Lexan windows allow you to see the inner workings of the enclosure. A custom carpet covers the floor, and removing it exposes the two-tier JL Audio amplifiers and a custom power distribution system in the tire well. On the back wall, the Bit-Zero "Franken Processor" is surrounded by fiberglass panels covered in matching vinyl.
Buwalda prides himself on the attention to detail. He has actually torn his car apart at IASCA competitions to show the judge's first-hand the detail in system. All the wiring in the system is wrapped with expanding nylon braids and terminated in heat shrink tubing. A look at the midrange mounts show the mounting hardware is perfectly perpendicular to the driver edge. All the vinyl in the car is from the same dye lot for a perfect match. Hard surfaces were crafted to replicate the OEM surfaces, and Buwalda even claims to know the type, size and pitch of all the hardware used in the system. Impressive to say the least.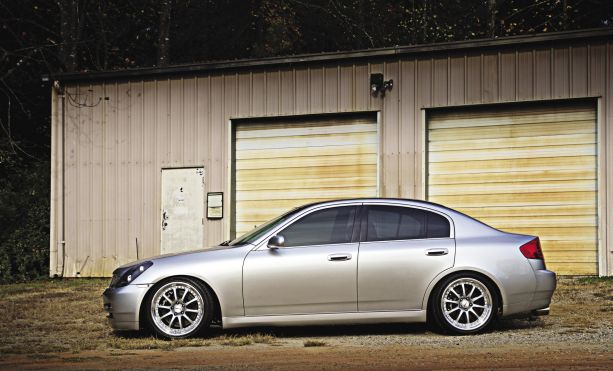 I was fortunate enough to listen to the car at the 2012 CES show in Las Vegas. Putting that experience into words is isn't easy, and doesn't do the car any justice. It obviously sounded excellent. But what stood out was the depth of the soundstage. It extended out past the windshield, making the performance that much more realistic. The midrange was smooth and very natural. The midbass was tight and fast, and the bass seemed to come from the soundstage itself – a sign of a great design and lack of unwanted harmonic content. It was an awesome experience that will stand as one of the top two or three systems I have ever heard.
Buwalda has won the IASCA Expert Solo championship four times with the G35, but said his competition days with it have come to an end. He retires with a record ten IASCA North American Championships under his belt, said he will spend his days cruising in a '09 BMW 535i x-Drive. But given his 25-year involvement in competitions we can never completely classify him as 'retired.'
He told us he recently sold the car to another competitor, who plans on continuing its legacy of domination. Word has it that ECU electronics have already been manipulated and a methanol injection system has been installed, and wheels, tires, and suspension are also on order. Maybe we'll see the car grace the pages of Performance Auto & Sound Magazine next January - after all, it does seem to be a yearly occurrence! Given the work he's already done with the car, when the Doctor works his craft, we can only imagine what will happen with the new machine. We wait with bated anticipation!
ESSENTIALS
Vehicle: 2003 Infiniti G35
Owner: Scott Buwalda
Location: Georgia
Engine: VQ35
Horsepower: 300 hp
Torque: 270 lb-ft
ENGINE MODIFICATIONS
Jim Wolf air filter and intake
Z33 charge pipe
Z1 Motorsports plenum intake manifold spacer
JDM battery cover, JDM engine topper/cover
EXHAUST
GReddy exhaust and exhaust tips
Z1 Motorsports (header, up-pipe, down-pipe, y-pipe and cat)
CHASSIS / SUSPENSION
BC Racing Suspension coilovers
Circuit Sports (rear traction rods, rear camber arms, rear toe arms, front camber adjustment arms)
WHEELS / TIRES / BRAKES
Forgeline ZX3R Wheels - 19 X 9.5 (f), 19 X 10.5 (r)
Hankook Ventus V12 Evo Tires - 275/35 R19 (f), 305/30 R19 (r)
Wilwood Big Brake Kit (14.1-inch two-piece drilled and slotted rotors with six-piston calipers (f), 13.1-inch two-piece drilled and slotted rotors with four-piston calipers (r) and braided lines)
Super Blue brake fluid
EXTERIOR
Painted OEM (side skirts/valence, front & rear bumper)
Custom machined front grille
JDM-spec black housing lights with dual projector HID assembly
2005 specification trunk lid
INTERIOR
JDM dashboard cluster for double-DIN radio
Single dye-lot vinyl of consistent color and grain as OEM upholstery.
JDM-spec. Nissan Skyline V35 steering wheel and airbag
JDM front corner markers
AUDIO / MOBILE ELECTRONICS
McIntosh MX5000 head unit
Hybrid Audio Technologies (Legatia L8SE 8.85-inch Wide-Bandwidth Midrange/Midbass, Legatia L3SE 3.7-inch Wide-Bandwidth Midrange/Full-Range, Imagine I6SW 6.5-inch Subwoofer (x4), Bit-Zero (Started life as an Audison Bit-One))
JL Audio 750/1 Amplification (x6)
Alarm DEI Viper with remote start, windows up/down, door locks, trunk release
V-Power 12/16 V racing battery
Wires Stinger
Fuse box Custom
SPONSORS
Hybrid Audio Technologies, JL Audio, JK Laboratories, Mothers Polishes and Waxes, and Forgeline.