Written by Text By: Dave Pankew Photos By: RCH Designs | 29 March 2010
Page 2 of 2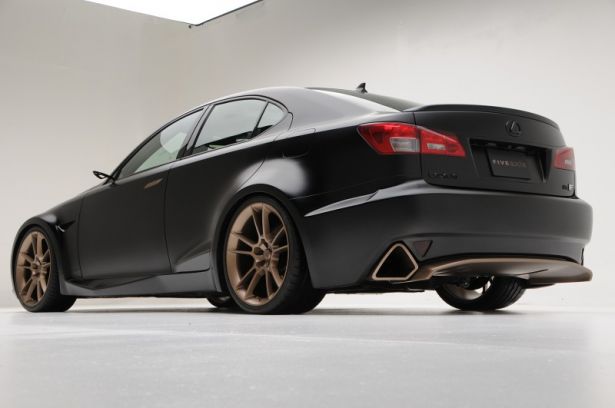 THE ESSENTIALS
Owner: Troy Sumitumo of Five: Axis Designs
Location: Los Angeles, CA
Vehicle: Prototype Lexus IS-F

ENGINE
Yamaha 5.0L Quad-cam V8

ENGINE MODIFICATIONS
Bored to 100mm and stroked to 91.5mm to yield 5.8L
Forged JE Pistons
12.8:1 compression ratio
Titanium intake and stainless steel exhaust valves
Nitrided crankshaft
Dyers connecting rods
Custom fabricated low restriction system with dual finishers

WHEELS, TIRES, BRAKES
Yokohama Advan Sport
F:  245/30R20
R:  295/25R20
FIVE:AD Onyx S5:F Wheels
F: 20x8.5-inch
R: 20x10.5-inch
Brembo GT Brakes
F:  380mm/6-piston
R:  345mm/2-piston

SUSPENSION
TEIN FLEX Coilovers

EXTERIOR
Five:Axis 6-inch Widebody Conversion
SEM Products "Hot Rod Black" Satin Paint
Satin Bronze Accents

INTERIOR
Uniquely Appointed Five Axis Interior Trim and Color
Chilewich floor mats
Five: Axis Sculpted Front and Rear Seats Upholstered in Alcantara
with Garrett Basket Weave Leather and Stainless Steel Woven Inserts
Material Specifications by Zing Design
Upholstery by Turinmodel Inc.

AUDIO
Pioneer Reference Series
DEX-P99RS Reference Series CD Player
PRS-A900 Reference Series 400.4 Amplifier x2
PRS-D1200SPL Reference Series 1200.1 Mono Amplifier x2
TS-C172PRS Reference Series 6.75-inch Component Speakers x2
TS-S062PRS Reference Series Component Speakers x2
TS-W252PRS Reference Series 10-inch Subwoofers
Pear Audio Cables, Connectors, and Speaker Wires

Sumotumo has a design education and that clearly shows through in everything he does, including the interior. The Five:Axis crew reconstructed the seats and had Turinmodel Inc. reupholster them in Alcantara basketweave leather and stainless steel weave inserts. The materials were spec'ed out by Zing Design for results that really have no equal.  From the custom floormats, to the exclusive prototype interior treatment by Five: Axis, the results surely made Lexus interior designers envious.
Sumitumo has many staunch allies in his projects and none are more visible than Pioneer. His projects get huge visibility for the company and they are more than thrilled to supply product and cut checks to help with the build. Pioneer Marketing guru Jaed Arazon decided a top level project like this could only roll with their exclusive Pioneer reference line. At the core of the system is the DEX-P99RS Reference Series CD player pumping out signals for amplification. The mids and highs head to a pair of PRS-A900 Reference Series 400.4 amps which feed TS-S062PRS Reference Series and a pair of TS-C172PRS Reference Series component speakers. The bass lines are directed to twin PRS-D1200SPL Reference Series mono amps driving two TS-W252PRS Reference Series 10-inch subs. The system is linked with Pear interconnects, speaker wire and power wire for clean, noise-free sound.
Sumitumo has come a long during the past decade, but it has been far from easy. The labor of his love has converted to success and has built some of the most recognizable tuner cars of the decade hands down. His project partners will hop onboard any project he tackles and his influence has spread throughout the World. Now his line of products are available for your project as well, to achieve an end result that took him many sleepless nights to bring to the mainstream.