Written by Adam Gordon | 15 January 2015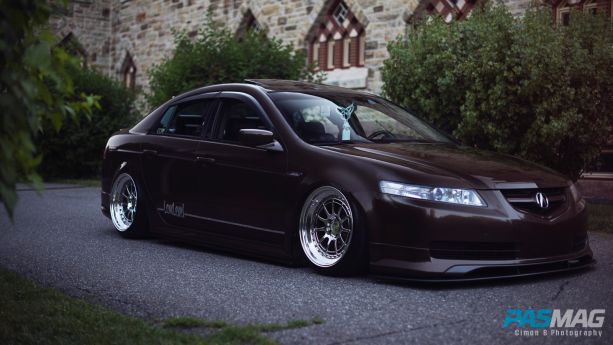 Taking the winning Tuner Battlegrounds spot at Fitted Toronto is just a starting point for Alexandre Angers and his luxuriously low Acura TL. Angers aims to keep improving to make his LowLevel TL even more of a showstopper. Being a mechanic himself, he and his friends have made this car a rolling showcase of fit and finish.
Photography by Cimon Brouillette / Cimon B Photography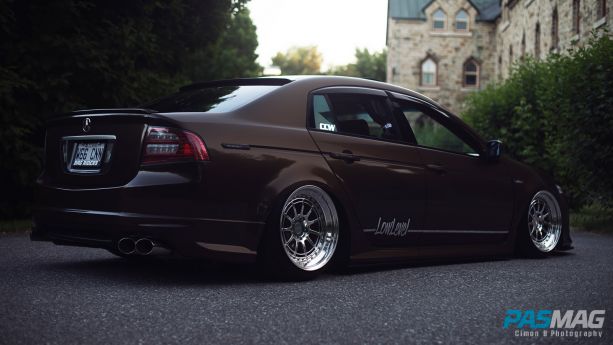 Angers set out to build something simple and clean, but also something he could drive on the daily. The TL catches your eye with OEM aero bits pulled from Type-S and A-Spec TL models all wrapped in a rich, custom brown wrap by Custom Graphique from Angers' hometown of Saint-Hyancinthe, Quebec. Jérémie Lecours pulled and rolled the fenders, shaved the bumper, and fabricated front and side splitters to add to the Acura's presence.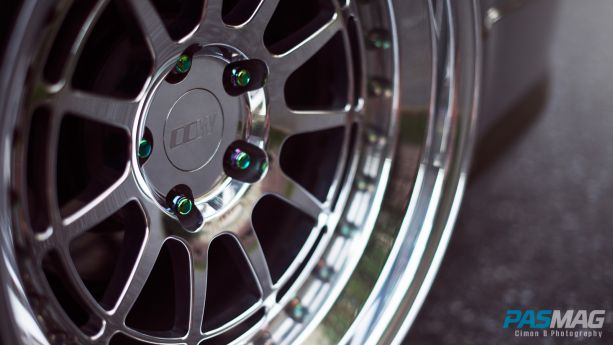 "The biggest challenge has been to fit the wheels," laughs Angers. "I never really calculated or tried the wheels before buying them. I fitted the car, not the wheels!"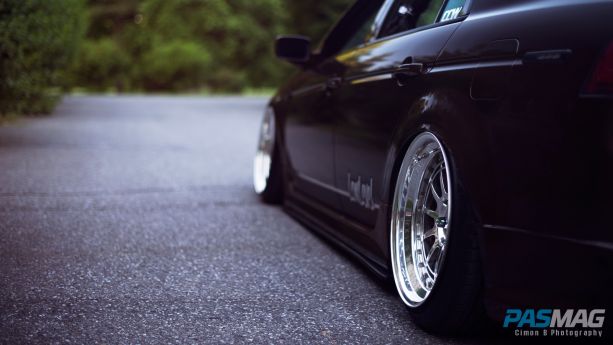 We're really glad Angers did end up fitting the wheels on there because those high polish CCWs are works of art. 18x10.5 -7et in front and 18x11 +7et in the rear, combined with neo-chrome ARP hardware, sit on AirREX suspension and are angled up into the fenders by Skunk2 and Ingalls camber kits. If this car is the masterpiece, the wheels are the focal point.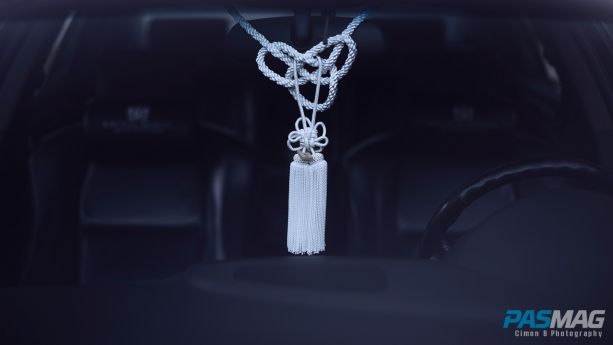 Peeking through the blue-tinted windows gives view of a VIP-inspired interior. Junction Produce is everywhere. Neckpad pillows are on every headrest, sirotuna and fusa knots hang around and there's even a cover on Angers' tissue box. The VipdOut center tray and wood-floored trunk are definitely point scorers.
"It's a passion and a way to express myself by building what I like," says Angers. "I'm doing it to my own satisfaction and I'm not looking for others' approval."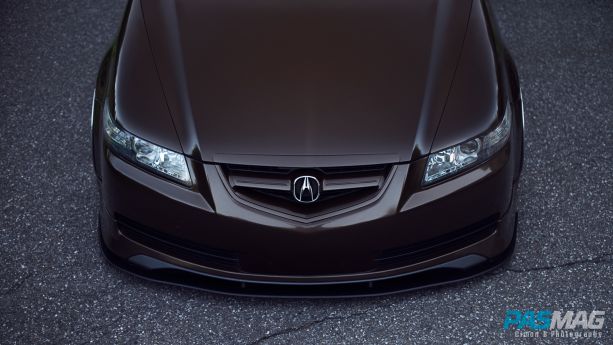 That's the fantastic attitude that goes into building a winning car. Even though Angers asks for no approval, he got it in spades by winning the Tuner Battlegrounds event at Fitted. The only people he has to worry about hating on his ride now are those pesky cops in Quebec scoping for stanced rides.
See Alexandre Angers' 2004 Acura TL feature in PAS October 2014 issue (Order HERE)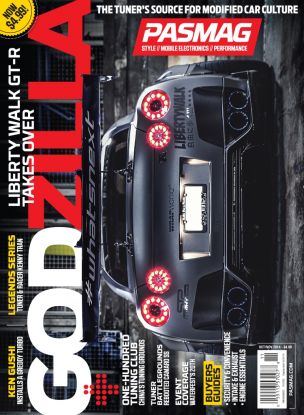 ESSENTIALS
Owner: Alexandre Angers
Location: Saint Hyacinthe, Quebec
Vehicle: 2004 Acura TL
Team: LowLevel
Horsepower: 270 hp
Torque: 233 lb-ft
ENGINE MODIFICATIONS
Injen air intake
XLR8 Performance engine torque damper
DRIVETRAIN
Torsen LSD
EXHAUST SYSTEM
Magnaflow (mufflers (2), resonator)
Custom 2.5-in. pipes
RV6 Performance (PCD header, J-pipe)
Acura (2007-2008 TL Type-S exhaust tips)
WHEELS / TIRES / BRAKES
CCW D11L full polish wheels – 18x10.5 -7et (f), 18x11 +7et (r)
Yokohama S-Drive tires – 215/40 YR18, 225/40 WR18
ARP neo-chrome wheel hardware
One-piece drilled rotors
CHASSIS / SUSPENSION
AirREX air suspension
Skunk2 front camber kit
Ingalls Engineering rear camber/toe kit
Accuair (Switchspeed management, five gallon air tank)
VIAIR 444C air compressor
EXTERIOR
Jérémie Lecours (custom front splitter, custom side splitter, rolled and pulled fenders, shaved front bumper)
Acura (A-Spec front lip, Type-S rear lip, A-Spec side skirts, window visors, trunk spoiler, rear window spoiler, 2007-2008 TL taillights, Type-S sidemarkers)
Custom Graphique vinyl wrap
LED license plate lights
Garson license plate bolts
INTERIOR
Blox neo-chrome shift knob
Junction Produce (neckpads, curtains, sirotuna knot, fusa knot, tissue box cover)
VipdOut tray
50% blue window tint
Custom wood floored trunk
ELECTRONICS
Zaetech (Touchbox air pressure app, Digigauge air pressure gauge)