Written by Chris Nicholls | 25 September 2015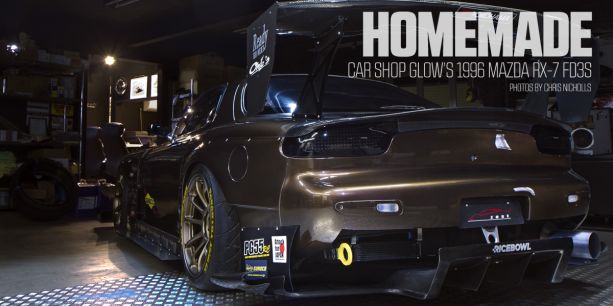 A race car for the road." How many times have you heard that tagline used in advertising? And how many times has it actually been true? Well, Yukimitsu Hara isn't the kind of guy who does things by halves, so when he bought a tired, ex- Knight Sports FD3S demo car from a customer at his Car Shop Glow automotive light business in 2009, he had a vision of a true race car for the road. As you can see, he's executed it pretty well.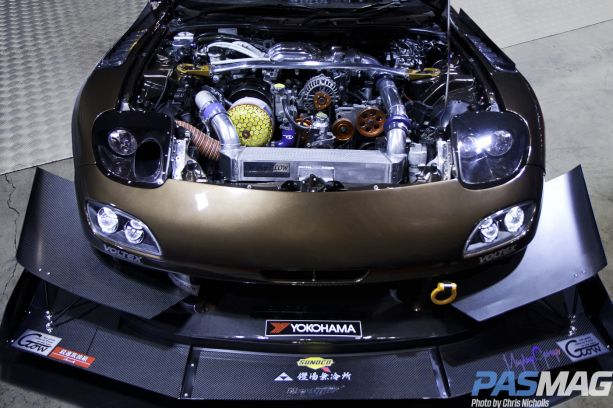 First, the numbers: Thanks to its bridge-ported 13B, T88-34D Trust turbo and 3.5-inch Zest Racing custom titanium straight-pipe, this RX-7 puts out 522 horsepower and 361 lb-ft of torque while emitting a most glorious noise. Combine that with all of the Voltex aero, including a 67-inch (1,700-mm) GT wing on Zest Racing custom 12.5-inch stays and an HKS six-speed dog box, and you have a 2,579-pound car capable of driving to Tsukuba, lapping in the 56-second bracket, then driving home. Or going to work. Or running errands… All of which Hara-san has done in the past.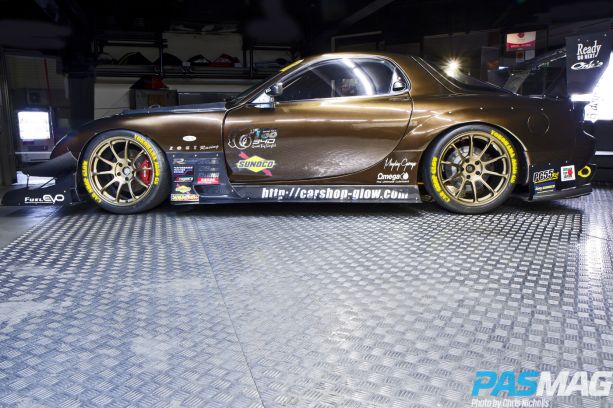 You might think the custom Zest Racing-spec Aragosta suspension on rock-hard 16 kg/mm Hyperco springs and Super Now pillow ball bushings would make road driving aspects a bit tiring, but the aftermarket sound system, functional A/C and ABS keep things tolerable. Hara-san badly wants to break into the 55-second zone, but he's unwilling to compromise on his "race car for the road" philosophy to get there.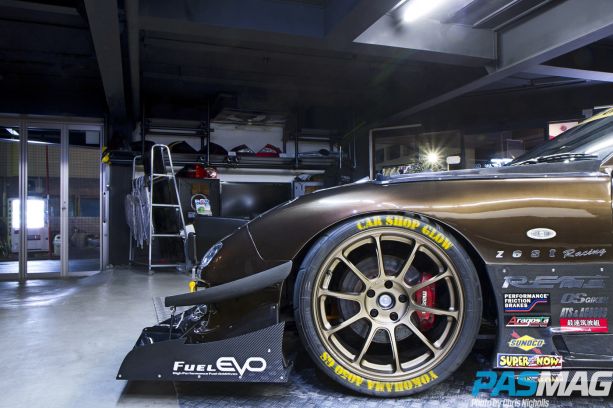 That means keeping the upgraded stock brakes, too, which isn't so bad given that they're relatively light. Because the RX-7 is still heavier than a dedicated track car, he recently added the enormous Voltex upper canards you can see, as well as even more custom carbon front fender vents just days after this shoot.
"If I can't win on weight, I'll have to do it via aero," he laughs. Amazingly, that aero isn't even an issue when Hara-san goes touge-hunting. When asked if he's ever scraped going over Japan's notorious mountain road mid-corner "speed bumps," designed to slow drivers down, he says no. And he's got a lot of touge experience. To understand why, you have to know about Hara-san's past.
Growing up, Hara-san was surrounded by older friends who were into fast cars. So inevitably he bought one himself – a 180SX that he tuned for drifting and touge work. That ended up being sold for an R32 GTS-t, used for the same purposes. After that came the first of three FDs. On this initial purchase, Hara-san started off small, with just a boost increase and intake/exhaust parts. This was still enough to allow him to enjoy touge work, as well as his new loves of circuit racing and blasting along Japan's tollways. His second FD gained a side port and T04E turbo, and while he decided to abstain from tollway work in this one, he still gained plenty of touge and circuit seat time. Of course now he has this monster, which progressed from a side port and TD07S-25G turbo to its current circuit/ touge/tollway-crusher status.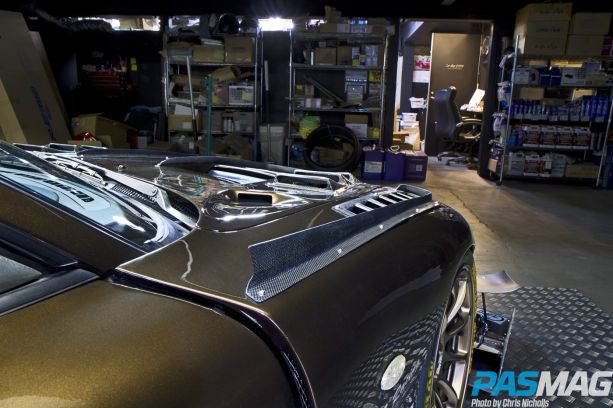 The funny thing is that while much of Harasan's money goes into making this FD3S the fastest it can be around Tsukuba, a big reason for making a road-registered RX-7 this fast still lies with his friends. Just as Harasan kept building faster and faster cars, so did his mates, and now he has to compete with friends who think a 2.8-liter conversion is a starting point for a fast Skyline. Can you imagine the all-night touge runs with this crew?
If all his friends stuck with Nissan, though, why the FD? "I love rotaries," he says. "The sound and the feeling as it revs is just a different world to piston engines. The FC is nice but the FD is my favourite. And it's the only rotary that can beat a GT-R!"
And when he does beat his friends, he looks good doing it. Hara-san's favourite parts of the car are the custom brown pearl paint and the overall balance of the aesthetics, an aspect he's put just as much work into as anything else. Indeed, many of the carbon elements on the car, such as the fender vents, wing end plates, wing stay covers, and new ducktail spoiler are his creations and sold through his Car Shop Glow business. As are the machined aluminium door handles. Let's not forget the awesome Car Shop Glow taillights either — a signature item now sold in the US via Mayday Garage.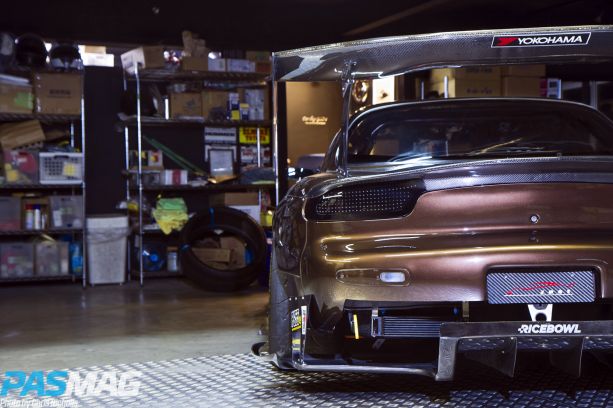 As Hara-san says, "My inspiration when building this was to make a car that was faster, better looking and cooler than anyone else's." While such statements are subjective, I personally think he's doing pretty well on all three fronts.
ESSENTIALS
VEHICLE: 1996 Mazda FD3S RX-7
DRIVER: Yukimitsu Hara
BUILT BY: Zest Racing/Car Shop Glow
ENGINE: Mazda Bridge-ported 13B Rotary
HORSEPOWER: 522 HP
TORQUE: 361 LB-FT
ENGINE
Rotorland 6 mm bridge port
Trust T88-34D turbo
HPI core custom V-mount intercooler
Motch Racing custom hoses
Trust Type R wastegate
HKS (Powerflow air filter, F-Con V Pro, Apex Power FC (for incar control))
Sard (fuel pressure regulator, 1,000 cc/min injectors)
Strengthened R34 GT-R fuel pump
Four NGK 11.5 spark plugs
NGK Power Cable plug leads
Balanced factory eccentric
8.5:1 low compression factory rotors
Fuji WPC DLC-coated threepiece apex seals
EXHAUST
Trust exhaust manifold
Zest Racing (3.5-in. custom titanium straight-pipe, 3.5-in. stainless steel up-pipe)
DRIVETRAIN
HKS H-pattern 6-speed dog box
ATS carbon twin-plate clutch and flywheel
Zest Racing-spec Mazdaspeed 4.1 2-way LSD
CHASSIS / SUSPENSION
Stripped and spot-welded
Zest Racing 12-point welded-in cage
Zest-spec custom Aragosta dampers (f/r)
Hyperco 16kg/mm springs (f/r)
Mazdaspeed strut tower bars (f/r)
Super Now (control arms, three-piece tie-rod ends, Duralumin toe control upper/lower arms w/ 3-pc. rod-ends, short stabilizer brackets, pillowball bushings (f/r))
WHEELS / TIRES / BRAKES
RAYS Engineering ZE40 wheels (time attack) – 18x10.5 +15 (f) 18x11 +15 (r)
RAYS Engineering TE37 SL wheels (race) – 18x10.5 +22 (f) 18x10.5 +18 (r)
Work Meister S1 wheels (street) – 18x9.5 +24 (f), 18x11 +18 (r)
Yokohama Advan AO50 GS wheels (time attack) – 295/30 R18 (f/r)
Kumho V710 slick tires (race) – 305/30 R18 (f/r)
Dunlop Z1 Star Spec tires, (street) – 265/35 R18 (f), 275/35 R18 (r)
Stock Spirit R 4-piston brake calipers, 2-pc. PFC 3D Racing drilled rotors (f)
Stock single-piston sliding calipers, stock 1-pc. rotors (r)
PFC brake pads (f/r)
EXTERIOR
RE Amemiya (Face N-1 (2002 model)
GT-AD widebody kit (custom widened by a further 1.57-in. (40 mm) each side), FRP bonnet, carbon front diffuser, front fender diffusers, carbon side step vortex generators, Sleek Lights)
Car Shop Glow (rear carbon ducktail, carbon fender ducts, carbon rear vortex generators, LED taillights, HID headlights)
Ready Go Next carbon bonnet ducts
Bodyshop Newtype custom carbon front undertray
Voltex (carbon three-layer canards, carbon side skirts)
Voltex 67-in. (1,700 mm) carbon GT wing w/ Voltex carbon gurney flaps, Car Shop Glow carbon end plates, Zest Racing 12.5-in. (320 mm) stays
One-off carbon rear diffuser
Speedglass windscreen
Yumekoubou (FRP rear tailgate and acrylic window, FRP doors and acrylic windows)
Custom brown pearl paint
INTERIOR
RE Amemiya carbon door skins
Custom machined aluminium door handles
OMP Super Turismo flat suede 33cm wheel
A'PEXi gauges (boost, oil temp, oil pressure, carbon gauge pod)
Recaro TS-G Alcantara seats
Schroth 5-pt. harnesses
Okuyama heel adjustment plate
ETC toll card holder
MOBILE ELECTRONICS
Carozzeria HDD navigation head unit
Orion mid-bass speakers ∂ Odyssey battery
SPONSORS
Car Shop Glow
Stardast Japan
Zest Racing