Written by Randi Bentia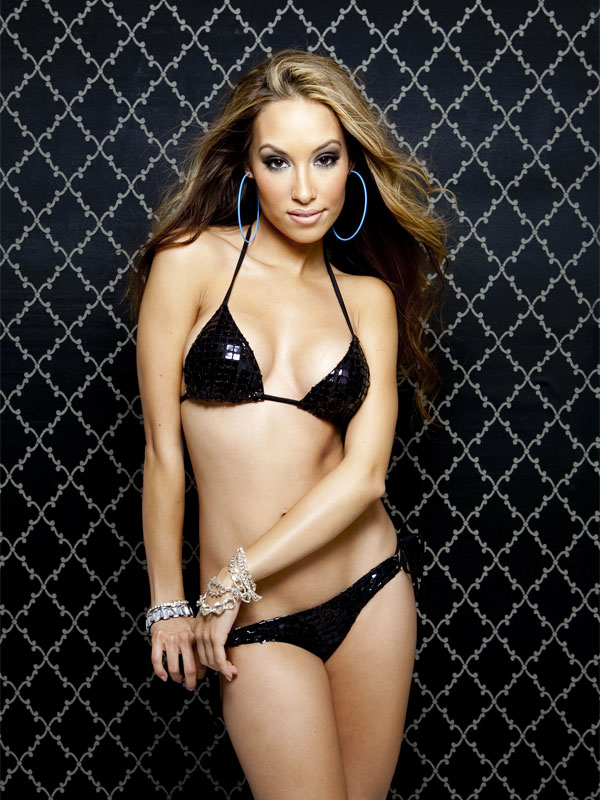 The sexy and alluring Alexia Cortez is a sweet blend of both beauty and brains. Here is a smoking hot LA chick with all the right assets, who also holds a degree from USC. Not your average import model, Miss Cortez is climbing up the ladder now scoring acting gigs for Entourage and CSI: NY. But she is still down with her roots claiming she loves to do car shows and one of here personal goals was to get on the cover of PAS Mag and meet hot PAS Editors. Alright, maybe that last part is a bit over the top. Either way, Alexia is definitely one to watch and you can see how the care for her mind and body shines through in all of her work.
---
The Essentials
Birth date: April 12
Location: L.A., Cali baby!
Zodiac Sign: Aries
Height: 5'5"
Weight: 110 lbs
Measurements: 32D-24-35
Ethnicity: [Mexican]/[French, Cherokee, Irish, Norwegian]
Location: L.A.
Pet Peeves: People who self-proclaim celeb status, idiotic drivers, people with no manners,
Website: www.MzSexia.com (will soon be www.AlexiaCortez.com)
Facebook: www.facebook.com/AlexiaCortezLA (my personal page has reached its friend limit, so please add my fan page: www.facebook.com/ILuvAlexiaCortez
MySpace: www.myspace.com/alexia.cortez
Twitter: www.twitter.com/AlexiaCortezLA
PASNATION Username: AlexiaCortez
---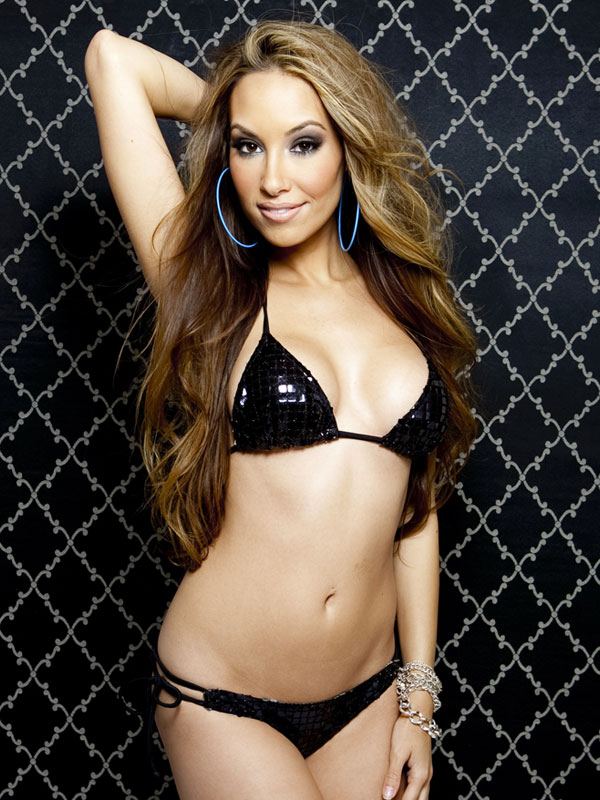 The Interview
PAS: How long have you been modeling for?
Alexia Cortez: As a hobby for 5 years, and seriously for about 3 years
PAS: How did you get your start in modeling?
Alexia Cortez: I started by meeting up with friends and photographers at Lowrider car shows and taking pictures with cars and people all over the shows. I got a lot of attention from various people and started making a name for myself in the scene and online with websites like cPixel and MySpace.
PAS: What's the best part of being a model?
Alexia Cortez: Hmmm that's a hard question to answer, but I would have to say making someone else's day (or year or decade, ha ha) by your presence and body of work!
PAS: What would you say are your strengths as a model?
Alexia Cortez: I get a lot of compliments on my eyes, smile, and hair. I also have been told I have a pretty face and a nice figure, as well as a nice butt.
PAS: Describe yourself in three words or statements.
Alexia Cortez: Ambitious, intelligent, and unique
PAS: What are some of you modeling highlights so far?
Alexia Cortez: Getting chosen to be on the covers of Lowrider Magazine (a dream I'd had since I was little) and of course the prestigious PASMAG, which I had doubted I'd ever achieve. I'm proud to finally be part of the club!
PAS: Tell us your likes or dislikes about modeling?
Alexia Cortez: I like having beautiful and artistic photos of myself and pleasing my fans (my number one fan is my mom!). I like making money doing what I love. I also love the many opportunities I've had (and hopefully will have) to travel as part of my modeling jobs. I love meeting and making friends with all different kinds of people and getting to go places I probably wouldn't have been able to otherwise. I don't like dealing with some of the other models out there who are catty and stuck-up models. The competitiveness and politics behind the scenes gets to me sometimes. Also, modeling is a lot of work, even when you're not actually in front of the camera or at a gig. There is so much networking, working out, eating right, photo editing, negotiating, and other tasks involved that it gets overwhelming sometimes.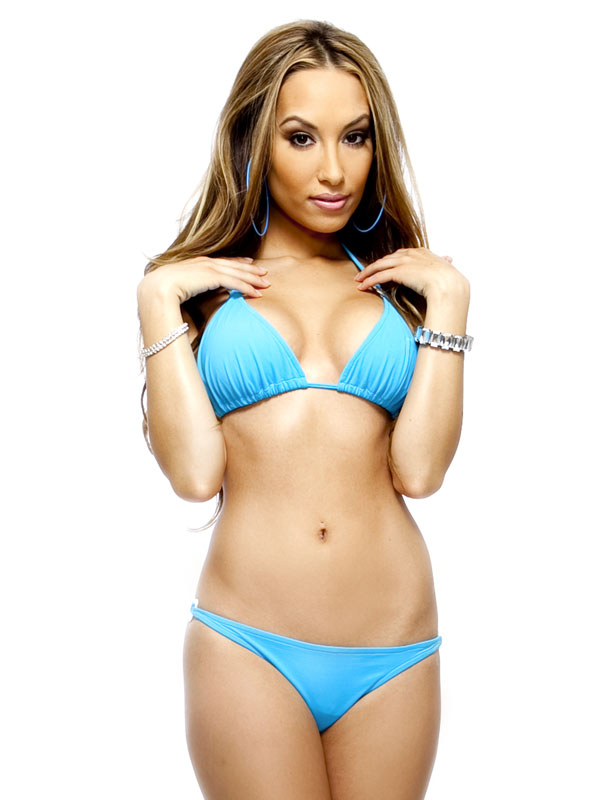 PAS: What is your best beauty secret?
Alexia Cortez: I think eating healthy, high-quality food is very important to looking and feeling your best. My body looks so much better since I started making an effort to eat well.
PAS: How do you keep in such great shape?
Alexia Cortez: I try my best to stay away from processed and junk food. No soda, no white breads, no refined crap. I do give in to sweets every so often though; I have a major sweet tooth. My education at USC helped me learn how much nutrition matters to how we feel and look on the inside and outside. I also try to work out when I have the time and motivation.
PAS: What is the strangest photo-shoot that you've done?
Alexia Cortez: A photoshoot for a Mexican Revolution-style calendar on an old Western movie set in the dead of winter in Santa Fe, New Mexico, while it was literally 15 or 20 degrees Fahrenheit on set. I was dressed in flimsy, ruffly tops and skirts, and in boots that belonged to the studio that were pretty fugly. That shoot lasted ALL DAY. Luckily the money was well worth it.
PAS: What is your best physical feature?
Alexia Cortez: I can't decide between my eyes and my hair.
PAS: What physical feature would you change if you could? Why?
Alexia Cortez: I wish I had a smaller, cuter nose! But my bone structure is pretty strong so maybe it would look off-balance then.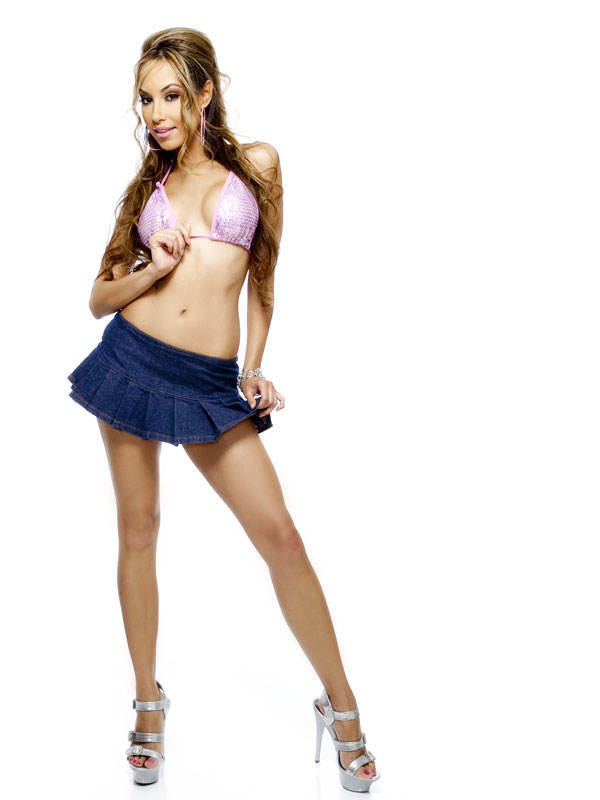 PAS: What traits do you like most about yourself?
Alexia Cortez: I like that I like to be the best at everything that I do, and that I am very smart. I also feel very blessed to be physically beautiful.
PAS: What traits do you dislike most about yourself?
Alexia Cortez: I have some bad habits like procrastinating and being too hard on myself. I am a perfectionist and it has both helped and harmed me.
PAS: What do you most value in your friends?
Alexia Cortez: I like friends that are caring (about more than just themselves) and who like to listen when you need them to. Trustworthiness is very, very important to me. If I can't trust you, that is a fatal flaw and will significantly impact if not destroy our friendship.
PAS: Can you tell us about your first kiss?
Alexia Cortez: Well, my first peck was in 2nd grade with a cute boy I had a crush on from across the street. We were playing in one of those huge refrigerator boxes so had all the privacy we needed for our little show of childhood affection. My first French kiss was in 7th grade in a stairwell at my middle school. Neither of us really knew what we were doing so it was pretty sloppy, ha ha! The next person I kissed a couple months after that showed me how it was done though. I think I've been a pretty good kisser ever since.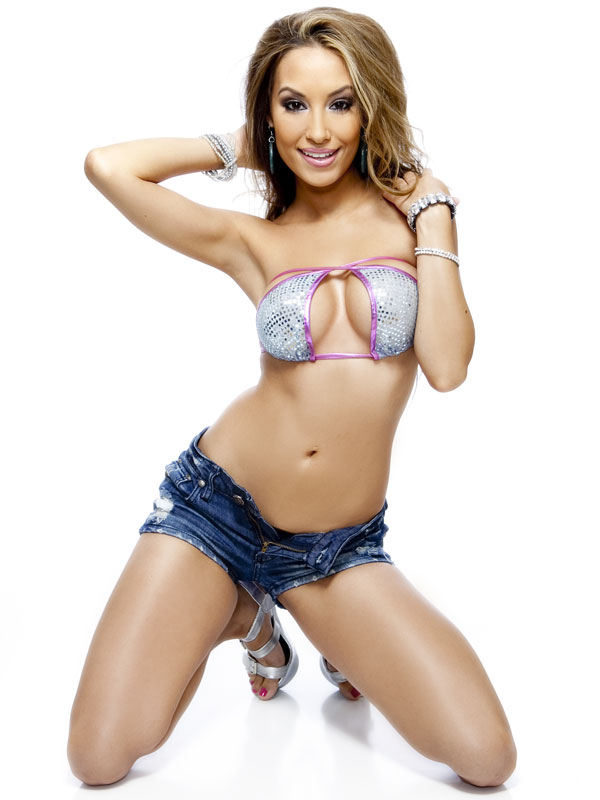 PAS: What is your top unfulfilled fantasy?
Alexia Cortez: I really want to spend a super romantic time with a hot guy on a tropical island somewhere like the Caribbean or Tahiti. I want a warm breeze, stars, clear water, rose petals, candles, white sand, fruit and whipped cream, the whole nine.
PAS: Do you have any birthmarks, scars or tattoos? Please state "what", "where", "how noticeable?"
Alexia Cortez: I have a few birthmarks, including a really noticeable one on my right shin that used to really bother me, but not as much anymore. It's kind of meticulously placed right in the center! I also have one on my stomach that always gets confused for a hickey! Ha ha! I don't have any tattoos, but maybe someday I'll get a pretty one somewhere I can hide it. I like being the unique one in that I DON'T have any tattoos. I have some battle scars here and there, including one on my wrist I got from jumping a fence while running from the cops in high heels (long story).
PAS: Do you have any pets? What kind?
Alexia Cortez: I have a "niece" Chihuahua (uniquely brindle in color) whom I love to death! She's so cute, and her personality is freakin' adorable! It used to be my sister's dog but she decided she would have a happier, more spoiled life with me. Her name is Baby.
PAS: What do you like to do for fun?
Alexia Cortez: I like to watch movies, go shopping, just chill with friends, go to the beach, and go to amusement parks. I read sometimes too. I'm yet another one of those girls who read all the Twilight series books in a ridiculously short amount of time.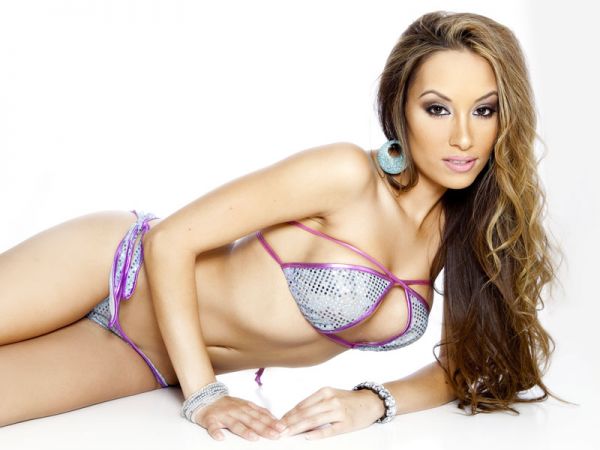 PAS: What frightens you the most?
Alexia Cortez: I'm scared of house fires, black widows, and wild animals on the attack.
PAS: What's your most prized possession?
Alexia Cortez I have a lot of things I'd be sad to lose, but I would say it is my diploma for my bachelor's degree from USC.
PAS: What is your idea of perfect happiness?
Alexia Cortez: I think financial security, good health, healthy, fulfilling relationships, true, unconditional love, and attaining personal goals are all important factors getting to that perfect state happiness.
PAS: What is your favorite type of food?
Alexia Cortez: I love Mexican food! I love New Mexican green chili, and I also love fresh pineapple, mangos, strawberries, kiwis, and homemade cake!
PAS: What is your dream car?
Alexia Cortez: I see myself in a custom-painted GranCabrio Maserati convertible.
PAS: Who is your favorite recording artist?
Alexia Cortez: I've always been a fan of Tupac. I never get tired of his music.
PAS: What is your favorite quote/lyric?
Alexia Cortez: "Only God can judge me"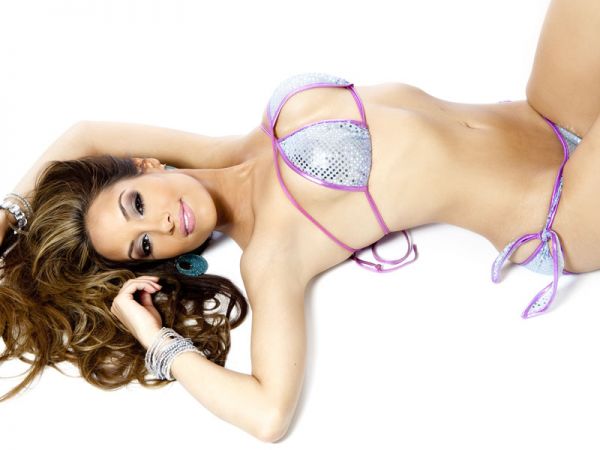 PAS: What's the best prank you ever played on someone?
Alexia Cortez: I can't think of any good pranks since I'm not much of a jokester, but by far the work prank I was a part of was prank-calling 911 in the 4th grade with my best friend. We got in so much trouble!
PAS: If you had one wish, what would it be?
Alexia Cortez: I would wish to be financially well-off so I could eliminate a lot of stress and worry in the lives of myself and my loved ones, and travel the world!
PAS: Who are your heroes in real-life? Why?
Alexia Cortez: My mom is one of my real-life heroes because she has always found a way to make things work regardless of her circumstances. She never gave up. She is a very strong woman, and I admire her for that.
PAS: Have you posed in the nude? If so, how did it make you feel?
Alexia Cortez: I never have, and probably never will. At least not for anyone but my significant other.
PAS: What quality do you like most in a man?
Alexia Cortez: I like a man who is confident and outgoing but still holds me high on his list of priorities.
PAS: What quality do you like most in a woman?
Alexia Cortez: I think it's important for women to be down-to-earth and able to bond with other women. Some girls get stuck on their high-horses and it's really annoying.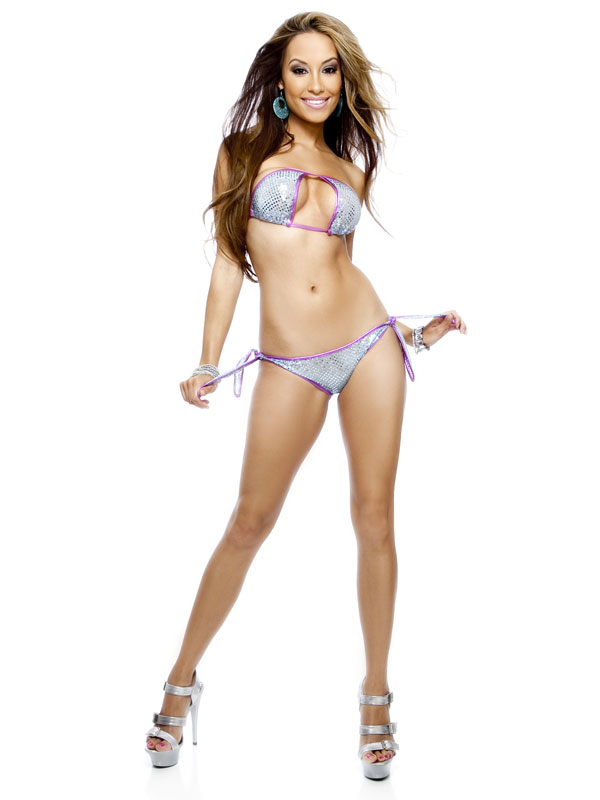 PAS: What can a guy say to make you melt?
Alexia Cortez: That I am the most beautiful woman in the world to him.
PAS: What would make you slap a guy?
Alexia Cortez: I have slapped, and punched, guys for grabbing my ass.
PAS: How do you seduce a guy?
Alexia Cortez: I think just being yourself is the best way to get a guy to fall for you. If he likes your personality, then he'll love it. If not, then you weren't a good match to begin with.
PAS: Have any of your fantasies become reality?
Alexia Cortez: A few that I'd like to keep private, but I have a lot more to check off the list!
PAS: Size or Stamina?
Alexia Cortez: A little of both!
PAS: Tell us about any upcoming projects of yours?
Alexia Cortez: I just started getting into acting so hopefully I will become more involved with that in the near future. So far I have been on Entourage and CSI New York. I also want to be on more magazine covers!
PAS: What current, past or future projects are you most excited about or are the most memorable for you?
Alexia Cortez: I am currently in the 2010 Maxim Magazine Hometown Hotties Contest and I hope to be featured in the actual magazine soon! I really love modeling for automotive magazines, especially for the cover of PASMAG. Being on the cover of Lowrider was also an honor since it had been a dream of mine for so long. I'm also very excited to be an official spokesmodel for the new Ken Block sponsored racing series, Gymkhana Grid. I'm very flattered to be one of the few girls taken by SpoCom to Hawaii for the 1st SpoCom Show there!
PAS: With any 'spotlight' type of job, you are looked upon as a role model. What advice would you give out to aspiring models?
Alexia Cortez: Never give up on your dreams and goals, no matter what obstacles you might face. Be respectful yet assertive. Never compromise on your values for the desires of someone else—know what your limits are and stick to them! Put out the kind of energy into the world that you want coming back to you; in other words, treat others how you want to be treated.
PAS: Do you have any shout outs or last words?
Alexia Cortez: Just want to send love to all my friends, fans, and supporters, especially my mom! I love you! Gracias to everyone who has ever supported me on my social networking sites over the years. Last but not least, thank you PASMAG for making yet another one of my dreams come true!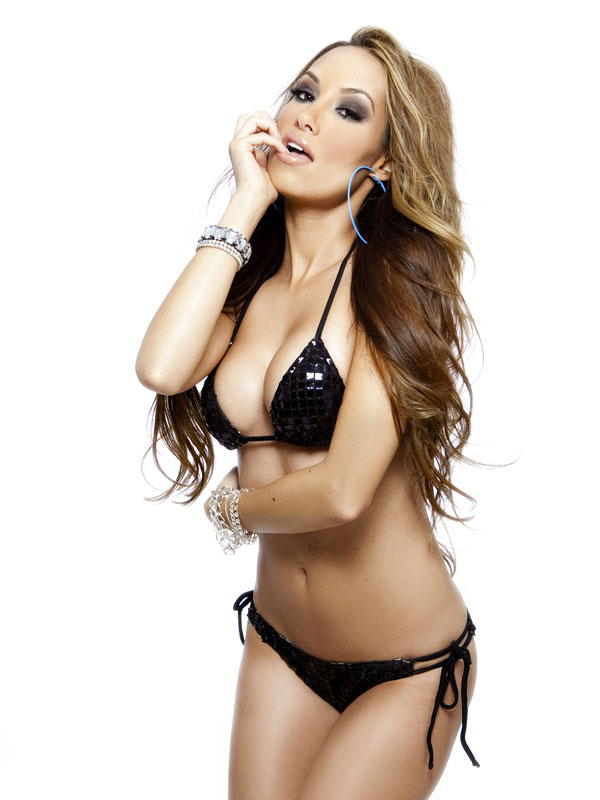 {yoogallery src=[/images/phocagallery/AlexiaCortez] width=[150]}