Written by Neal Jones | Photos by Fireball Models (Anthony Felix)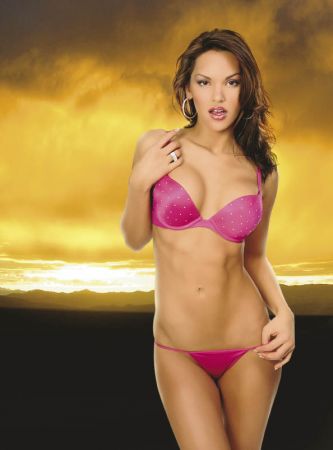 The Battle of the Coasts, as we like to call it, isn't limited just to drag racers and show cars. Living proof is CJ Gibson (and her sister, Raquel, but let's focus here.) Apparently, the large concentration of beaches also lends itself well to growing natural beauties such as these.
One look into CJ's mesmerizing eyes is all it takes for men to stop dead in their tracks and forget about the world around them. After being hooked, it's pretty easy for CJ to get any man to do her bidding. This girl pumps iron and her buns of steel graced the pages of mags like FHM, Muscle & Fitness, Muscle Magazine, as well as catalog work. And her fun-loving attitude just makes her appeal all the more seductive; causing anyone within sight to fall in love in a heartbeat.
Her career as a fitness model has taken her all over the world, and recently she finished a video set with www.envyseries.com (she's the abs of envy girl). CJ's flat stomach is her own favourite feature and there's little doubt that a few men would love the chance to bounce a quarter off it! Her fit body shape has created many opportunities for the Floridian bombshell and CJ has been featured on numerous magazine covers during her short tenure in the modeling world. CJ's beautiful poses have made her an Internet favourite as Maxim magazine calls her "one of the most downloaded models on the net."
Although CJ can be fearless at times (she did a photo shoot with sharks once!) she still quivers when a spider comes by. CJ has a breathtaking smile and captivating eyes that quickly envelop the most jaded individual. As a highly sought-after model, CJ enjoys the travel that comes with her career and always has a smile and a word for the fans.
Then there are those rare occasions when she appears with her sister Raquel – hearts beat triple and men fall all over themselves chasing the stunning siblings. It's not often the sexy sisters get together outside of an airport, but they have worked together in the past and the results were… well, breathtaking doesn't quite do it justice. It's almost unfair that two sisters should look so good!
---
THE ESSENTIALS:
Birthdate : November 30
Sign of the Zodiac : Sagittarius
Measurements : 34C-22-35
Nationality : Filipina, Italian
Hometown : Clearwater, FL
Turn-ons : Cleanliness, family values, goal oriented, white t-shirts (they look so fresh, crispy, clean… like sexiness written all over it!)
Turn-offs : Laziness, lack of confidence, and dirty shoes (Payless is right around the corner… get some clean shoes!)
---
PAS: Describe yourself in three words:
CJ Gibson: Honest, friendly and active.
PAS: How did you get started in modeling?
CJ Gibson: A single photo shoot with a great photographer – thank you Jeff Black! And the Internet helped me get noticed. Thank you WWW! Laughs
PAS: What was the strangest photo shoot you've done?
CJ Gibson: How about a shoot with sharks? Needles to say, those pictures did not come out so well. Laughs
PAS: What physical feature would you change if you could?
CJ Gibson: Absolutely nothing. I have learned this was the way I was meant to be. Why change your creation? Then you're not you!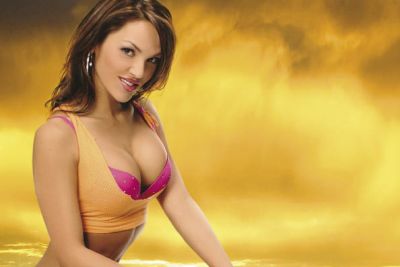 PAS: What is your most prized possession?
CJ Gibson: My precious nieces and nephews. I love being an aunt.
PAS: What is your idea of perfect happiness?
CJ Gibson: When the smile won't leave your face.
PAS: What is your greatest regret?
CJ Gibson: None, you learn from your regrets… and I hate dwelling on the past of what I did or didn't do, say, act on or where I was that moment. Everything happens for a reason!
PAS: Have you posed in the nude? If so, how did it make you feel?
CJ Gibson: Yes I have, but not publicly. And posing did not bother me; it was the few pictures that got into the wrong hands that entitled everyone to see it later. It felt intruding.
PAS: What is the sexiest thing about a man?
CJ Gibson: Confidence and the security he makes you feel inside and out.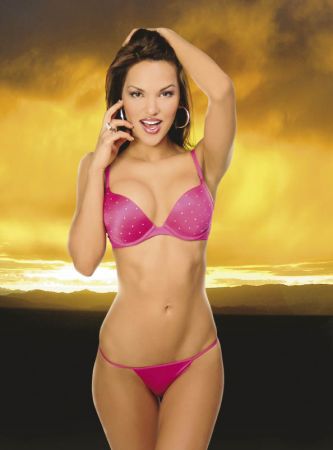 PAS: What would make you slap a man?
CJ Gibson: Slap where? I don't believe in violence. But I would slap his butt if it was nice. Laughs. Or maybe the back of his head lightly to knock some sense into him if the case came up.
PAS: What quality do you like most in a woman?
CJ Gibson: Their innocence, when they still have it.
PAS: What is your motto?
CJ Gibson: Share your smile with everyone but your heart with only one.
PAS: What current, past or future projects are you most excited about or are the most memorable for you?
CJ Gibson: I don't know what the future holds for me, but I am just hoping that my success continues. Oh, and I am also excited to be finally getting a website created (www.misscj.com), so be on the look-out!
PAS: Any shout outs or last words?
CJ Gibson: Yes, shout outs to all the sweetest models whom I have come across to work with and gained as a friend. And to all the fans out there supporting us models! And last, but not least… to all who are reading this! Thank you!


{yoogallery src=[/images/phocagallery/801CJ_Gibson] width=[150]}