Written by Neal Jones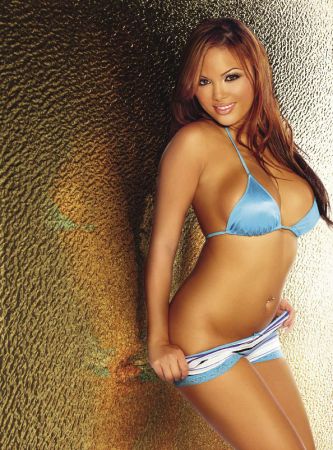 The term "Hotlanta" may refer to the temperature during the summer in Atlanta, but after this photo shoot it could very easily be a description of Justene Jaro. Born in the Philippines, this busty beauty now calls Georgia home and has set fire to the scene with her great look and engaging personality.
Amazingly, Jaro never had any thoughts of modeling until she was discovered at a theme park and the rest, as they say, is history. She has appeared in numerous magazines and advertisements, including the cover girl for magazines like D Sport and 2 Wheel Tuner. Being featured in the www.war42.com ad was her most memorable experience thus far and you can be sure it grabbed the attention of any man with a pulse. Her seductive style and playful attitude keep her admirers coming back for more and that line of pursuers grows with each passing day.
Jaro's piercing brown eyes feel like an arrow through the heart and her warm smile invites even the most timid males to saunter over to say hello. Her flowing brown hair accentuates her beauty even further and her great curves remind of a great scenic drive along the coast – who wouldn't want to weave their way around this 5' 5" bombshell?
Of course, her sense of adventure and playful nature are what grabs your attention, but don't think this hot-blooded temptress is a pushover – leave the cocky attitude and stupid remarks at home or you'll be quickly heading in the opposite direction from whence you came. Jaro's sweetness is belied by her stunning beauty and aggressive attitude.
Jaro has a great sense of humour and is always up for some fun and excitement. Just talking with Jaro is enough to bring any man out of the dumps as her hyperactive style is contagious.
Baseball Hall of Famer Ty Cobb may have been the "Georgia Peach" back at the beginning of the 1900s, but now the state has another "peach" for the new millennium. Justene Jaro has definitely taken the heat meter up a few notches in the deep south and you get the sense that with a wink of her eye she could set Atlanta ablaze once again!
---
THE ESSENTIALS:
Birthdate : November 17
Sign of the Zodiac : Scorpio
Measurements : 34DD-25-36
Nationality : Filipina, Puerto Rican
Hometown : Atlanta, GA
Turn-ons : Individuality, independence, intelligence
Turn-offs : Cockiness, stupidity, followers
---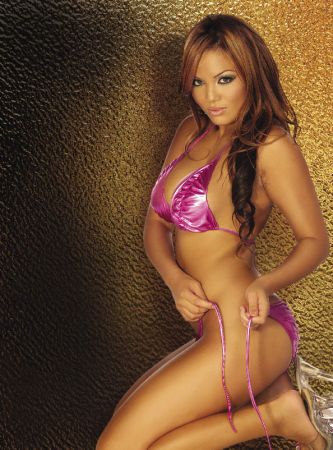 PAS: Describe yourself in two words.
Justene Jaro: Hyper, family-oriented.
PAS: How did you get your start in modeling?
Justene Jaro: Pure luck! I was ghost-riding the whip and shaking my dreads, getting real Hyphy and along came a model scout. That's it!
PAS: Are you into cars?
Justene Jaro: Not so much, but I enjoy the shows.
PAS: What kind of car do you drive?
Justene Jaro: Honda Accord – a hot dog cart on Daytons…
PAS: What's the best pick-up line a guy has used on you?
Justene Jaro: "You wanna be my girlfriend?" Works for me…
PAS: Is your body "Naturally Aspirated" or "Heavily Modified?"
Justene Jaro: I wouldn't say "Heavily Modified," but modified nonetheless.
PAS: What does someone have to do to get a date with you?
Justene Jaro: It's nearly impossible.
PAS: If you could travel anywhere for a photo shoot, where would it be and why?
Justene Jaro: Brazil, during Carnival because it is so dope!
PAS: Do you work out or are you just one of those lucky girls?
Justene Jaro: Laughs I don't work out. I'm a large fan of Photoshop.
PAS: Where's the craziest place you've ever got it on?
Justene Jaro: My parents are going to read this!
PAS: What is the strangest photo shoot you've ever done?
Justene Jaro: In a bath tub full of plastic cups.
PAS: Tell us about your first kiss.
Justene Jaro: It was gross. I brushed my teeth for almost 30 minutes.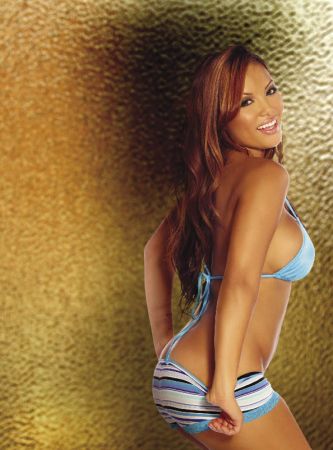 PAS: What is your top unfulfilled fantasy?
Justene Jaro: Hitting a million bucks off penny slots in Vegas!
PAS: What are your likes and dislikes about modeling?
Justene Jaro: I love meeting cool people. I hate the perverts.
PAS: Describe your sexiest outfit.
Justene Jaro: Dickie shorts, wife beater, Jordans and a New Era fitted cap.
PAS: Shout-outs or last words?
Justene Jaro: To the crew at PAS Magazine first of all, for the opportunity, love, support and friendship throughout the years (cuz I've known some of the guys for a while now). My family because they're the most amazing people in the world. My friends who are ALWAYS down for me. Nationwide: "watch out for panda ninjas... those bastards are crazy." A million kisses!
{yoogallery src=[/images/phocagallery/908Justine_Jaro] width=[150]}