Written by Neal Jones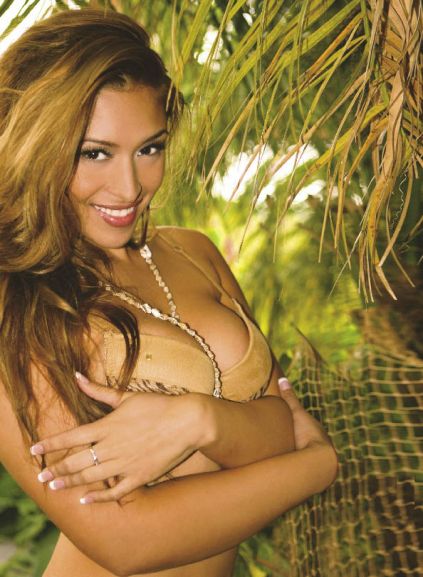 All Melanie Tillbrook really wanted was to be a singer and entertainer. So one day she entered a singing competition and ended up being chosen as the cover girl for the DVD that was released. From there, a career in modeling began for the half-Filipina, half-British beauty.
With a body even Aphrodite would be jealous of, Tillbrook has been in high demand since she started. The young Tillbrook has been showcased in numerous bikini competitions and is a highly sought-after spokesmodel for a variety of shows and products. One of her biggest achievements was winning the famed Miss Hawaiian Tropic bikini contest. One look at these photos and you can tell this well-tanned hottie was the perfect choice. And we can think of a few guys in the office who would love to be her lotion guy at her next shoot.
Raised in the warm climate of Tampa, FL, Tillbrook is a well-rounded girl who is comfortable anywhere — be it the beach, the classroom in front of the camera or the volleyball court. I'm sure you guys would have no problem playing a little bump-and-volley with this bodacious babe.
Still in college, Tillbrook models when she can, but her main focus is on developing her music career. Being a model has opened many doors for her and she hopes to capitalize on that by following her true passion. Her success as a model has given her the chance to develop her own independent label (Fire House Entertainment) and she is working with producers across the United States.
"I would have to describe my musical style as being a soulful R&B styling mixed with sweet soprano textures," she says on her website. "I'm taking this precious time to write new material and strengthen my voice, while I finish my last year of school. My music and lyrics are the most important thing to me, I feel I have a lot to say and I can't wait to share this art with the world."
But don't worry, Tillbrook will still be in the sport compact scene as she truly enjoys everything her modeling career entails. From magazine and calendar shoots to major event stages, Tillbrook travels across the country leaving gawking men in her wake. Her talents were quickly noticed by Prestigious Models and as part of that agency, Tillbrook continues to find the perfect opportunities for both her modeling and singing careers.
As one of the hottest models on the scene, Tillbrook should be wowing crowds for years to come. In addition to all her modeling gigs, television has taken a big interest in this vivacious lady in recent years. She is a Home Shopping Network model and was interviewed by SPEED Channel at the LA Hot Import Nights show while hanging out in the PAS booth.
So make sure you take the opportunity to meet Tillbrook at her next show as this Rockstar Energy Drink spokesmodel may one day be a rock star herself. To see more of Melanie Tillbrook, visit her personal website at
www.msmelanie.com
---
THE ESSENTIALS:
Birthdate : December 5
Sign of the Zodiac : Sagittarius
Measurements : 34C-25-36
Nationality : Filipina, British
Hometown : Tampa Bay, FL
Turn-ons : In shape, confident, and sexy smile
Turn-offs : Cocky, a liar and stinky breath
---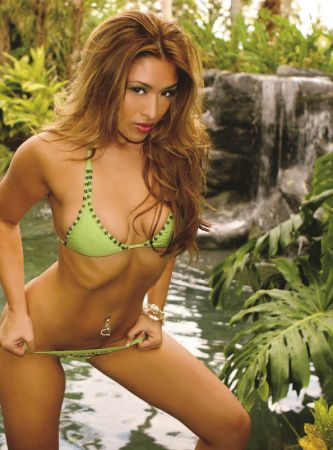 PAS: Describe yourself in three words.
Melanie Tillbrook: Passionate, charismatic, fun-loving.
PAS: How long have you been modeling and what did you do before then?
Melanie Tillbrook: I've been modeling for a few years. I was singing before modeling and going to business school.
PAS: What's the best part about being a sport compact model?
Melanie Tillbrook: Having an exotic look and representing a different part of the world.
PAS: How and when did you start modeling?
Melanie Tillbrook: I started when I was 14 and then in the import scene when I was 19.
PAS: What is the most exotic location you have traveled to while on the job?
Melanie Tillbrook: The beautiful Bahamas.
PAS: What is your dream car?
Melanie Tillbrook: Ferrari Enzo.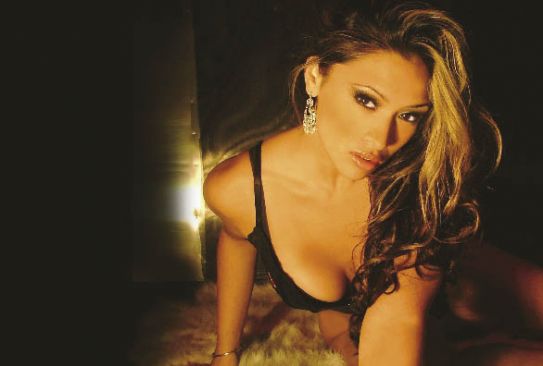 PAS: Which part of your body is your favourite?
Melanie Tillbrook: My lips and the small of my back.
PAS: How do you stay in such great shape?
Melanie Tillbrook: I hit the gym five or six times a week. My favourite exercise is hip-hop aerobics, the Stairmaster and my special nighttime cardio!
PAS: What do you do for fun?
Melanie Tillbrook: Shopping, traveling with friends, playing volleyball and dancing at the club.
PAS: What are some of your upcoming projects?
Melanie Tillbrook: Currently recording new music, shooting the 2006 Exotic Imports calendar and a new music video feature.
PAS: What kind of music are you into?
Melanie Tillbrook: R&B, hip-hop, house, rock, dance, polka
(just kidding!) – basically a little bit of everything.
PAS: Would you rather drive fast or cruise?
Melanie Tillbrook: Drive fast — I love speed and am always on the go.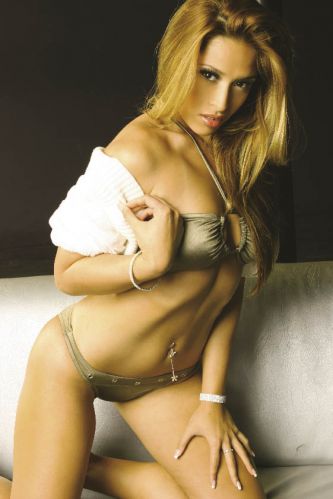 PAS: Are you naturally aspirated or heavily modified?
Melanie Tillbrook: Au naturel, completely! 100% Melanie, baby.
PAS: Have you posed in the nude?
Melanie Tillbrook: Nope, not yet… I have to leave something for the imagination.
PAS: What is the sexiest thing about a man?
Melanie Tillbrook: A strong, confident man who is secure with himself is so... super sexy!
PAS: What can a guy say to make you melt?
Melanie Tillbrook: He can just be honest and original... No more cheesy pick-up lines.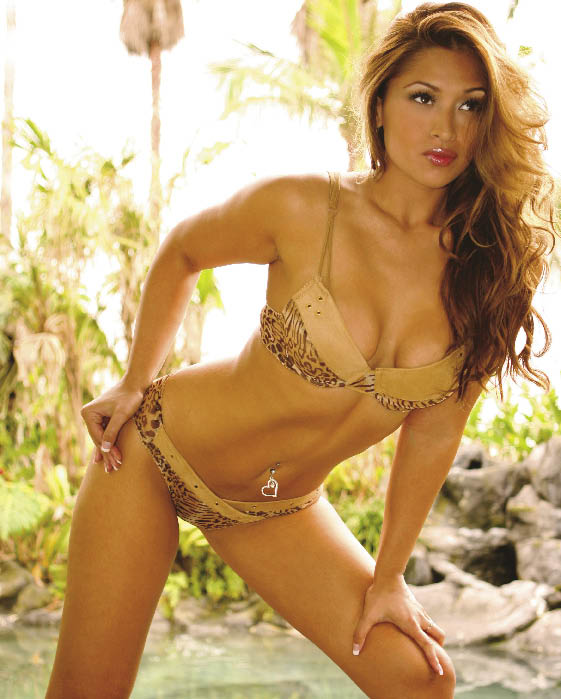 PAS: What would make you slap a guy?
Melanie Tillbrook: Cheating would definitely end in slapping or worse...
PAS: Have any of your fantasies become a reality?
Melanie Tillbrook: Let's just say I have been on balconies overlooking the city and on rooftops, and I have achieved a lot of career and life goals that were once fantasies.
PAS: What body part are you most proud of?
Melanie Tillbrook: My legs go for days… Laughs
PAS: Tell us about some of your upcoming projects.
Melanie Tillbrook: Well, I have been spokesmodeling full-time for Falken Tires and for a fitness company called BSN. I've been recording and singing for years and just started a new project with producers in Cali and FL. And I am working with an indy label, Fire House Entertainment. So look out for the music soon.
PAS: Any shout-outs or last words?
Melanie Tillbrook: Definitely shout outs to PASMAG (good times in Toronto, no comment...) And to my gorgeous PM girls worldwide, FSU, and to my family and friends and fans... love you! Oh, and check out www.MsMelanie.com .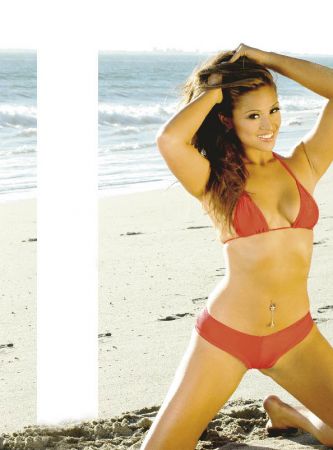 {yoogallery src=[/images/phocagallery/903Melanie_Tillbrook] width=[150]}