Written by Randi Bentia | Photography by Steve Bitanga (www.babeblvd.com, www.stevebitanga.com) » Hair & Makeup By Valerie JC (www.iconimage.net) » Bikinis By Lollime (www.lollime.com)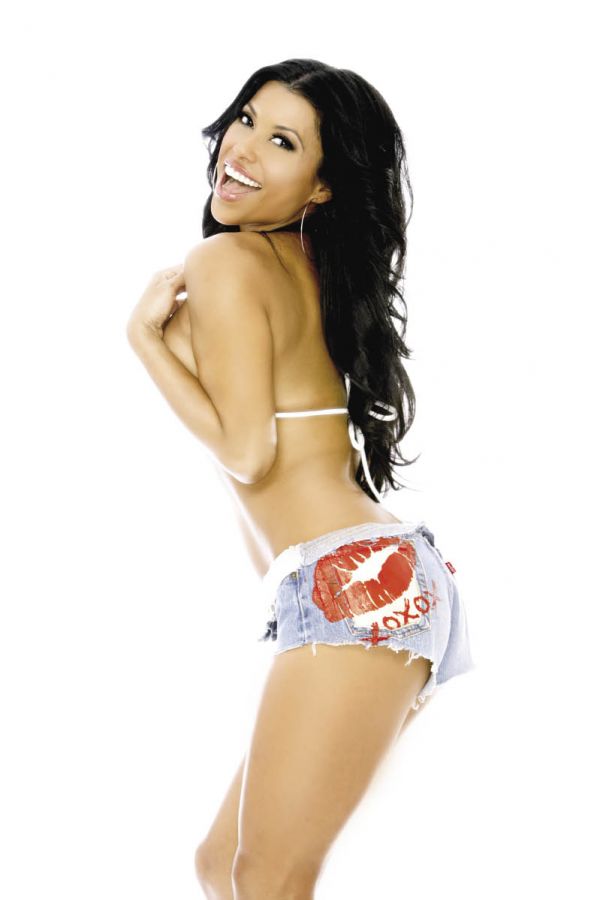 Known for her fiery temper, this pint-sized Latina knows what she wants and has been hard at work making it happen. For more than 10 years, Claudia Verela has been doing photoshoots around the world, but those waiting to see her pose in the nude shouldn't hold their breath. She has done it once and claims it will never happen again…ever. But who knows, for the right man she will do anything as long as you have muscles and manners. Claudia is a sucker for a good meal and says that she has to work out 4 times a week to keep her body looking good for all of us to enjoy. And enjoy it we did because this Haitian, El Salvadorian mix has got it going on, even though she claims she could use more booty. So read on and see if you have what it takes to handle a hottie like this, oh and one hint; driving a Maserati Gran Turismo might just help you out.
---
Where are you from? Are you currently living there? If not, where are you currently living?
I grew up in Miami, FL but have lived in Arizona since 2007.
How long have you been modeling?
Just over 10 years, wow that's a long time!
How did you get your start in modeling?
I went to a talent agency and signed up and the rest is history.
What's the best part of being a model?
Seeing myself in Magazines such as PASMAG! It's definitely an unconventional job but one that I'm blessed to be able to make a career of.
What would you say are your strengths as a model?
I'm professional, punctual and can follow directions. I also leave the attitude at the door. No one wants to work with a diva.
Describe yourself in three words or statements.
Spunky, spicy Latina
What are some of you modeling highlights so far?
Go Daddy '09 Super Bowl ad. Thanks Bob!
What is your best beauty secret?
Makeup off always before going to bed and hydrate, hydrate, hydrate!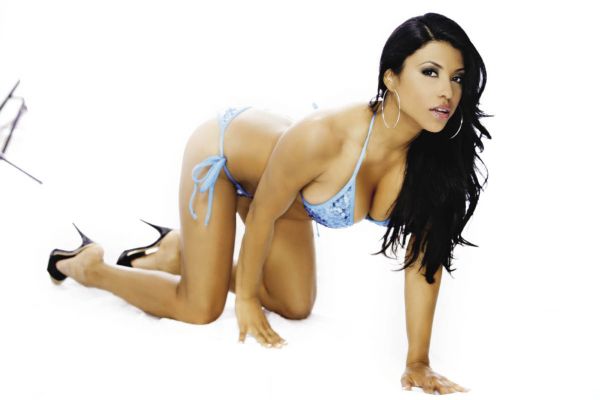 How do you keep in such great shape?
I try to eat fairly clean and I honestly workout hard- weights four times a week and loads of cardio. I'm not one of the lucky ones that says she eats cheeseburgers all day and doesn't ever gain a pound.
What physical feature would you change if you could? Why?
I'd have a bigger booty! Because guys like that!
What traits do you like most about yourself?
I'm tenacious, loyal and hard working. I strive to treat people around me with respect and kindness. Sometimes you look around and wonder why some people behave the way they do or treat others in such a bad way.
What do you most value in your friends?
Trust and Loyalty. Knowing that you always have each other's back.
What do you like to do for fun?
Spend time with my loved ones and my friends. I travel quite a bit for work, so when I am around I just want to be around my friends and family! Pretty chill!
What is your idea of perfect happiness?
First for me is being happy within yourself. All the money and power in the world can't make you happy if you're not content with who you are as a person. Then finding that partner in life that loves and accepts you unconditionally, in sickness and in health.
What is your favorite type of food?
When it comes to food, I don't discriminate. I love to eat!
What is your dream car?
Maserati GrandTurisimo S black-on-black
What is your favorite quote/lyric?
"People spend a lifetime searching for happiness; looking for peace. They chase idle dreams, addictions, religions, even other people, hoping to fill the emptiness that plagues them. The irony is the only place they ever needed to search was...within" Romana L. Anderson
Have you posed in the nude? If so, how did it make you feel?
I have…but realized afterward it was not for me. So only once (laughs).
What quality do you like most in a man?
Values and manners.
What can a guy say to make you melt?
What would you like to eat? (Laughs).
What current, past or future projects are you most excited about or are the most memorable for you?
Being on the cover of PASMAG!
With any 'spotlight' type of job, you are looked upon as a role model. What advice would you give out to aspiring models?
Don't ever agree to do a job that later on in life you'll be ashamed of, you will regret it.
Do you have any shout outs or last words?
Thanks to PASMAG and all the kick-ass guys that work there!
---