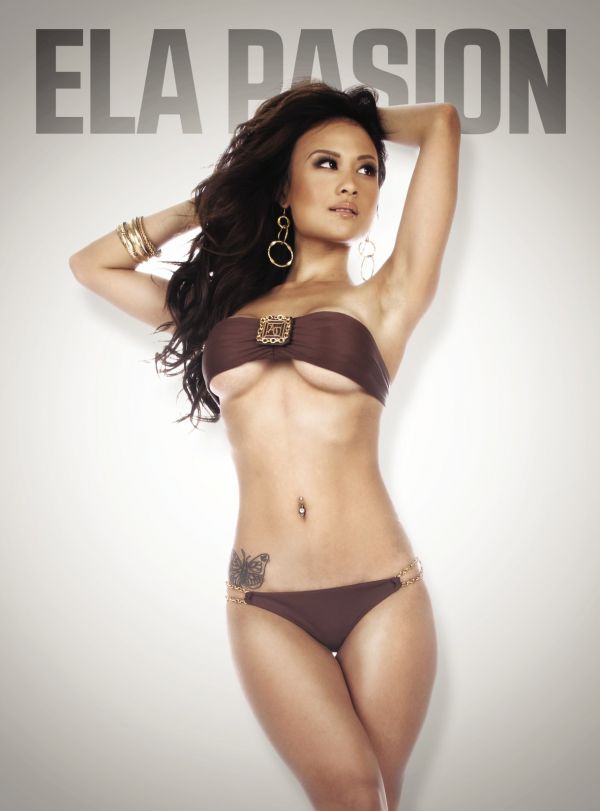 Ela Pasion might only be 5'1 and 100 lb, but she's a Taurus through and through. Her passion for her work is evident on first glance, with a stunning frame and an infectious smile that helped her win her first ever competition as Miss Hot Kush in California in 2010. Living in the San Fernando Valley, Ela's taken full advantage of the industry and the Los Angeles lifestyle, making use of her motto that when she wants something, she goes out and gets it. And with her drive and beauty, we image anyone would have a hard time turning her down!
The Interview
Where are you from? And, are you currently living there? If not, where are you currently living?
I was born in the Philippines, and moved to Los Angeles at a very young age. I left the city briefly to attend college and I'm now in the San Fernando Valley part of LA. I came back with high hopes to pursue my dreams.
How long have you been modeling?
I have been show modeling for about a year and a half. I started taking pictures around this time last year.
How did you get your start in modeling? Were you discovered?
I got started modeling when I won the Miss Hot Kush Girl contest at the Kush Expo in Anaheim in November 2010. I joined the contest to win some extra cash, but I had no idea what kind of modeling opportunities would come out of it. Before I knew it I was doing photo shoots, online interviews, and I started gaining a following. Let's just say I went with it!
What would you say are your strengths as a model? (ex. body, eyes, smile, certain poses and emotions...)
My biggest strength as a model is my desire to constantly be better. I came into the modeling industry a little over a year ago. I didn't know it was something I would love when I first started, but after learning more about the wonderful people and the opportunities it could bring me, I committed to it. I want to be the best model/ industry professional I can be. My innate desire for perfection is a personality trait I love the most about myself.
Describe yourself in three words or statements.
Enchanting, sweet and friendly.
What are some of you modeling highlights so far?
Shooting for PASMAG of course! It was a great time!
Does your personality match your Zodiac sign? Describe.
I am every bit like my Zodiac sign. Tauruses are known for being incredibly indulgent in life's pleasures. They love to enjoy life in the moment and sometimes a little too much! I am incredibly headstrong and persistent in my beliefs and goals - thus, the symbol of a bull. I have a vision for my future and a newfound love for modeling. I am "PASIONate" about success and just like a TAURUS, I enjoy every step of the journey. Life is too short!
What is your best beauty, fitness, nutrition secret?
The best way to stay beautiful is to be healthy! I love to exercise and eat right. There is no better feeling after a great workout. Exercise also plays a role in producing hormones that make you happy, and a happy girl is a pretty girl. :)
How do you keep in such great shape?
Many people don't believe it, but I work out entirely at home. I bought my own treadmill for cardio and a heart rate monitor to help me track my daily progress. I do at least 45 minutes of cardio a day. If I'm on a tight schedule I'll do 30. Afterwards, I do
strength training, including a combination of different workouts from P90x. I also use weights in order to get the best results. I mix it up based on how I feel, but I always do ab exercises, I'm obsessed with them! I noticed a huge difference after I started my routine last year.
What is the strangest photo-shoot that you've done?
I've been asked to do bondage before. It was at a group shoot and I wasn't too crazy about the concept, so we did a milder version of what he wanted. I wore leather with a chain on my neck but it still felt really weird!
What was the first major event that you modeled at? How was it?
My first major event I ever modeled at was 2010 Kush Expo in Anaheim. I was really nervous and I didn't even know how to dress! But I joined the Miss Hot Kush Girl contest and won! So it was a pretty memorable experience.
Who is your favorite model or celebrity of all time? Why?
I totally adore Zooey Deschanel. She's so cute and funny.
What traits do you like most about yourself?
One of the few traits I love about myself is I'm determined. When my mind is set on something, I make it happen. Even if it takes time, my persistence pays off if I'm passionate about it.
What is your top unfulfilled fantasy?
I have a fantasy where I'm making love on a private beach, but it hasn't happened yet. I'm still wishing it'll take my breath away.
Do you have any birthmarks, scars or tattoos? Please state "what", "where", "how noticeable?"
I have a tattoo of a butterfly on my hip.
Do you have any pets? What kind?
I have a Cocker Spaniel named Mona. She's a puppy and is the absolute cutest thing ever!
What are your hobbies? Any hidden talents you'd like to share with the world?
In my spare time, I love to workout. I also love to cook! Even if I'm on a strict diet I love to make amazing food for my boyfriend and family. I'm obsessed with the Cooking Channel and Giada DeLaurentiis is my idol!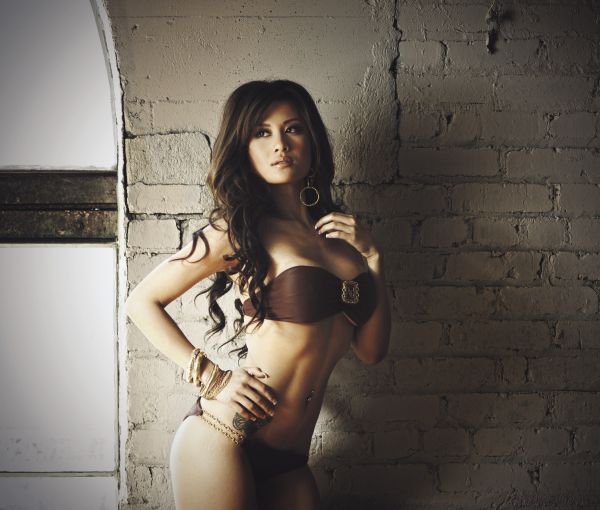 What is your favorite food?
I love all kinds of seafood. One of my favorite restaurants is King Fish. They change their menu everyday depending on the catch. It's a great place if you love seafood - the good kind, not the battered and deep fried stuff. I was raised eating seafood and it's so healthy for you! It is low in fat and high in protein. My favorite comfort food is Filipino. I don't eat carbs but when I have cravings I always stay true to my roots. :)
Everyone has their weird habits. Do you have any?
No I'm totally normal and perfect! (Haha) Just kidding! I have a bad habit of being messy. I'm not the neatest and it sucks. It's not that I don't know how to clean - I can tidy up very nice. It's keeping it nice that I have a problem with! I'm working on it. (haha)
What is your dream car? Why?
I want to buy a white Nissan 370Z someday.
What do you look for in a guy? What would he have to do to get your attention and to keep you interested?
I love guys who are personable and friendly. I don't like posers. I'm also the damsel-in-distress type, so if he can make me feel safe and loved, I'll be happy.
What gets you in the mood? What are some of your turn-ons?
Dirty movies get me in the mood. ;) (haha)
How do you feel about pick-up lines? What was the best line that was used on you? Did it work?
I don't really remember if anyone has anyone ever used one on me. Hopefully the guys were all clever enough to know they wouldn't work on me anyway.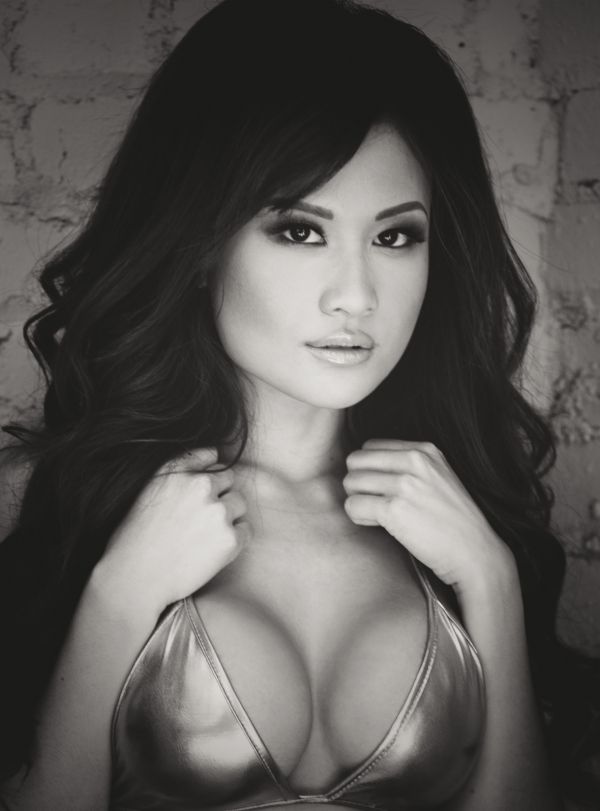 On a scale of 1 to 10, how wild are you in the bedroom?
I give myself a 10. I may not seem like that type in person, but you know what they say about the sweet innocent-looking ones.
What do you wear to bed? Why?
I like sleeping naked, because it feels good. :)
Have you posed in the nude? If so, how did it make you feel?
No I don't shoot nudes.
Who are your heroes in real-life? Why?
My real-life hero is my mom. She's the strongest woman I know. I would be lucky to even be a fraction of who she is.
If you could have one superpower, what would it be and why?
I would love the power to teleport, because traffic sucks!
Tell us about any upcoming projects of yours?
I have been saving up for sometime to visit the Philippines. I've never been, so I'm really excited. Another trip I will be taking is Las Vegas. I will be in Vegas a few times for modeling and some partying. This summer is going to be great! I'm looking forward to it.
With any 'spotlight' type of job, you are looked upon as a role model. What advice would you give out to aspiring models?
It's an honor to be seen as a role model. My advice to aspiring models is to always be positive. I've let myself down and been too hard on myself a few times. Always remember why you love to model and more importantly, why you love yourself.
Do you have any shout outs or last words?
I would like to thank all my friends and mentors. I would not be here without them and their support. I would also like to thank Performance Auto & Sound for the opportunity to be a PASMAG model. I am a huge fan of the publication, and it's an honor to be involved!