Written by Randi Bentia | Photography by Steve Bitanga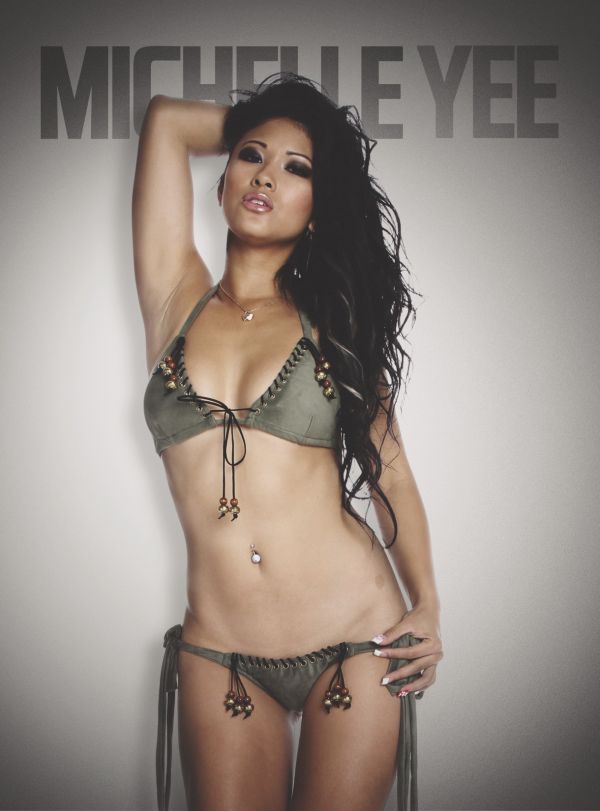 Hair & Make Up by Valerie JC | Wardrobe by Acqua Couture Swimwear
Michelle Yee knows exactly what she wants and how to get it. The girl from Cali is a speed freak who knows how to ride, and there's not much that can keep her down! She loves her cars, her bikes and a guy that knows what's going on under the hood, so without further delay, here's her interview!
Birthday: September 25
Location: Beverly Hills, CA
Zodiac Sign: Libra
Height: 5'5"
Weight: 120 lbs.
Measurements: 34DD-25-38
Ethnicity: 100% Filipino
"Follow" Michelle on Instagram


The Interview

Q: Where are you from? And, are you currently living there?
A: Originally I'm from Rancho Cucamonga, but I'm currently living in beautiful Beverly Hills.

Q: How long have you been modelling?
A: This year is my 10th year showing off my stuff.

Q: How did you get started in modelling? Were you discovered?
A: I started off as a ballerina model and was discovered at a car event after taking a photo next to a car I wanted my dad to buy me.

Q: What would you say are your strengths as a model?
A: My smile, my DDs, crazy nails and the power of seduction.

Q: Describe yourself in three words or statements.
A: Sexy, crazy, beautiful.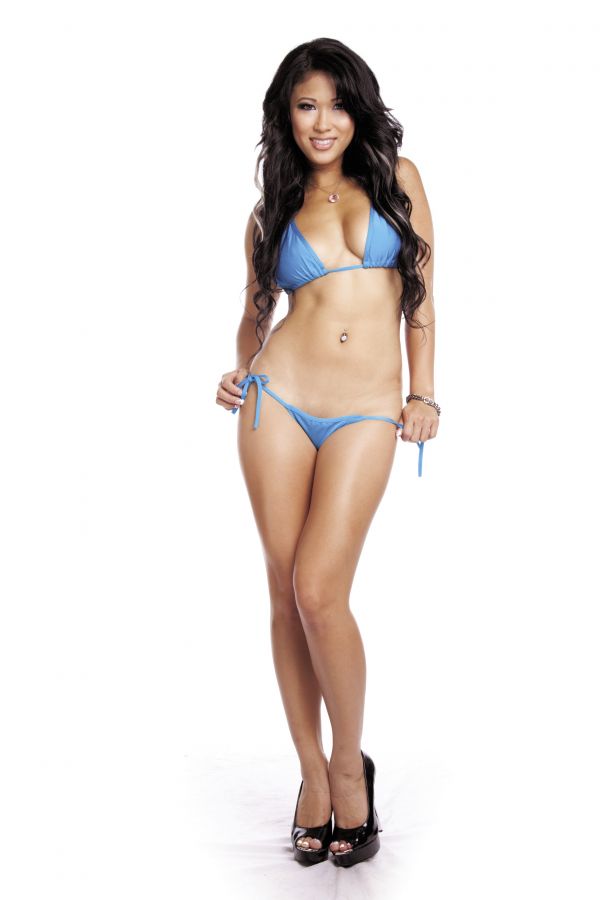 Q: What are some of you modelling highlights so far?
A: Maxim Hometown Hotties, Super Streetbike feature, TMT magazine cover, Emergency Hookers spokesmodel, featured model/actress on Roll Models reality show and, of course, my feature with PASMAG!

Q: What are your best beauty, fitness and nutrition secrets?
A: Take all your vitamins! I'm a huge vitamin freak and have to take my daily nutritional supplements.

Q: What is the strangest photo shoot you've done?
A: I was recommended to shoot with a photographer on the beautiful Hawaiian island of Oahu. Before the shoot, the photographer was wonderful and responding to all my requests. The day of the shoot, the location changed and there was suddenly a video camera set up where I was supposed to change and it went from a lingerie fashion to him wanting nudes. Let's just say it didn't go down in the end.

Q: What was the first major event you modelled at?
A: My first major event was S3, a Subaru event held in Chino Hills. It was amazing (as a Subaru owner myself) it was a great way to meet lots of enthusiasts and compare ball sizes. :P

Q: Who is your favorite model or celebrity of all time? Why?
A: Adrianna Lima. She's beautiful, sexy, has a great body and models for one of the most well-known brands in the world. You've got to love a woman who can stand out among hundreds of models.

Q: What are your best traits?
A: I'm totally awesome! (haha) I'm always there to help, and I believe I'm put on this earth to make eyes sore.


Q: What is your top unfulfilled fantasy?
A: Doing the dirty on a Ducati!

Q: Any hidden talents you'd like to share with the world?
A: A hidden talent that no one really knows is that I like to go fast. The only way to go really fast is on a motorcycle, and yes I ride!

Q: Everyone has weird habits. Do you have any?
A: I wash clothes all the time, sometimes three times a week. Dirty clothes give me the creeps.

Q: What is your dream car? Why?
A: Mercedes-Benz SLS AMG hard top in red! With that car I think I can pull off going commando like Paris Hilton.

Q: What do you look for in a guy?
A: He's gotta make me laugh. I'm always a class act when it comes to hanging out with people. If you're boring and dull there's no way your catching my attention. So make me laugh, and it helps if your hot too!

Q: What gets you in the mood?
A: A sexy motorcycle rider can get me to orgasm just by rolling up with a big pipe on his bike. Sexy cars are awesome too, I love when a guy can tell me what I'm looking at under his hood.

Q: What is the best pickup line somebody used on you?
A: Somebody once said to me, "Your daddy must have been a thief, because he stole the stars from the sky and put them in your eyes."

Q: On a scale of 1 to 10, how wild are you in the bedroom?
A: Absolutely a 10, I like clothes being ripped off, flung every which way, biting, nail scratching, pulling, grabbing – whoa! Are you as turned on as me right now?

Q: What do you wear to bed? Why?
A: Nothing, the best way to let your body breath in the morning air is to have nothing in the way.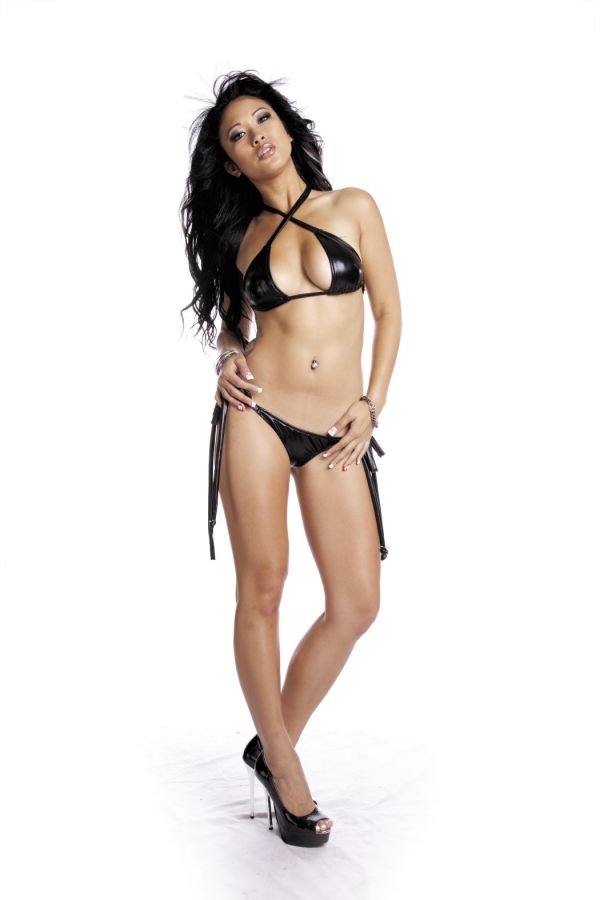 Q: Who are your heroes in real-life? Why?
A: My parents. They are my true inspiration. They showed me that no matter where you come from, you can surpass any obstacle and become something great.

Q: If you could have one superpower, what would it be and why?
A: X-Ray vision. No matter where I am, I always wonder what kind of underwear people are wearing – if any!

Q: With any spotlight job, you are looked upon as a role model. What advice do you give out to aspiring models?
A: Be yourself, forever and always. Don't ever let anyone tell you you can't be something, because with your drive you can be anything. You could be the next top model, maybe even someone I could look up to. I never let anyone kill my dreams, and I have more everyday. After all, even the big stars had to start somewhere.

Q: Do you have any shout outs?
A: Don't forget to follow me on my social networks and my website www.iheartmichelle.com! I post regular updates and would love to share them with you. I would also like to thank my family for the support they've given me throughout my life. Mom and dad, thank you for giving me inspiration. My brothers, thank you for making me tough and loving me. To my friends, thank you for the compliments, advice and love. My "Hooker" Victor for giving me support when I needed it the most and allowing me to be part of the Emergency Hookers Towing family, it's been a fun journey so far. To my fans, thank you so much! You inspire me every day to keep going and I promise to keep on delivering hot sexy me until the end of time. Thank you PASMAG for having me as a feature, you've helped me check off something on my bucket list. Love you all! xoxo
Do you have what it takes to be a Girl of PASMAG? Fill out our Model Submission Form at www.pasmag.com/modelsubform.