Written by Randi Bentia | Photos by: Steve Bitanga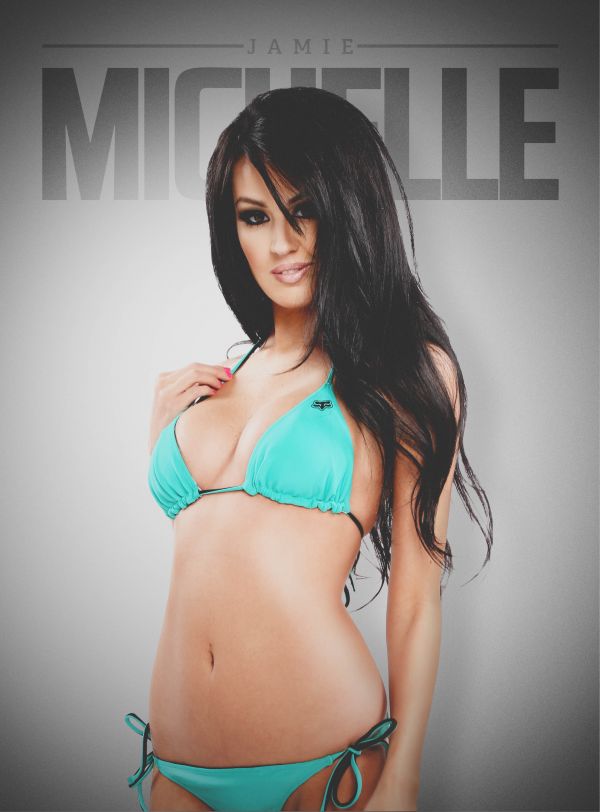 Hair & Make Up by Valerie JC | Wardrobe by Acqua Couture Swimwear | Facebook | Instagram | Twitter
What do we really have to say about Jamie Michelle? It's easy to see she's gorgeous and knows what she's doing. Add that she's from So Cal, loves old school Cadillac's and has more than a bit of a wild side, and we have to say we hit it out of the park with this month's cover model.
Birthday: April 21
Location: West Hollywood, California
Zodiac Sign: Taurus
Height: 5'5"
Weight: 106 lbs
Measurements: 30D, 23, 27
Ethnicity: French, Dutch, German, Cherokee
Turn-Ons: positivity, ambiition, education, respect

The Interview

Q: Where are you from? And, are you currently living there? If not, where are you currently living?
A: I'm from So Cal, but I lived all over; in Downey, Norwalk, Cypress and Death Valley, Idaho and even Kentucky! But I've been in Cali for the past 12 years now.

Q: How long have you been modeling?
A: I've been modeling for about 12 years off and on. I am a makeup artist as well. I love both and they go hand and hand, so it's perfect.

Q: Describe yourself in three words or statements.
A: Loving, friendly and sentimental.

Q: What was the first major event that you modeled at? How was it?
A: My first major event was XDC/HIN. On TV I was an extra on Real World/ Road Rules Challenge, so those were both super fun experiences.

Q: What are some of you modeling highlights so far?
A: Everything has made me stronger and smarter at what I do, really. But I loved being a part of Bravos Millionaire Matchmaker. It was pretty cool seeing myself on TV for the first time!

Q: What is the strangest photo-shoot that you've done?
A: Probably my 420 Times magazine shoot. It was my first shoot with a male model – it was a topless Adam and Eve-type shoot with two photographers – it was pretty strange but cool at the same time.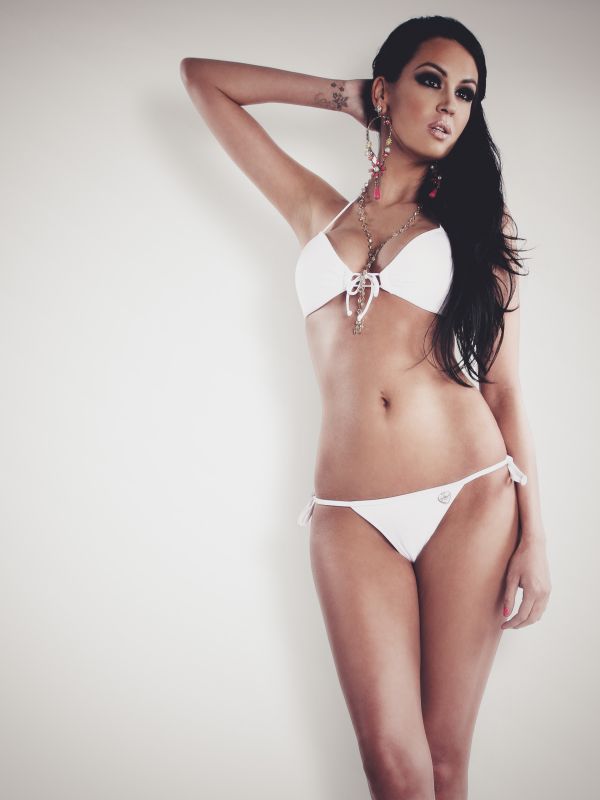 Q: Does your personality match your Zodiac sign?
A: Lol yes! I debate everything and I'm very stubborn, just like a Taurus!

Q: What is your best beauty, fitness, nutrition secret?
A: Moisturize and drink plenty of water… And always eat your veggies. :)

Q: How do you keep in such great shape?
A: I don't know lol! I don't work out. I guess walking is a work out right? (Hehe)

Q: What traits do you like most about yourself?
A: I have great work ethic, I'm very humble and a I'm a people person

Q: What are some of your turn-ons?
A: I love kissing. And scents or smells are really big for me too.

Q: What was the best line pick up line that was used on you? Did it work?
A: Lol I think they're so funny. And no they don't work! How about "The hunter has been hunted?" (lol)

Q: On a scale of 1 to 10, how wild are you in the bedroom?
A: Haha! I'm not saying.

Q: What do you wear to bed?
A: Depends if I'm hot or cold – If I'm hot nothing, sometimes panties. If I'm cold, socks, undies, sweats and a hoodie. (lol)

Q: Have you posed in the nude? If so, how did it make you feel?
A: Yes I have, it feels freeing. I love being naked. Until I'm old and shot out I'll be strippin' off my depends! (hehe)

Q: What is your top unfulfilled fantasy?
A: To own a makeup line would be amazing! I also want to write a book. :)

Q: Do you have any birthmarks, scars or tattoos?
A: I have a scribbled heart on my left wrist and a cluster of shooting stars on my right wrist. They aren't really noticeable.

Q: Do you have any pets? What kind?
A: I have a dog, his name is Rolo. He's a chocolate and tan Min Pin and he's a great little guy!

Q: What are your hobbies or hidden talents?
A: I absolutely love making little couture hats and I'm obsessed with makeup. I'm also really good at special FX makeup just to toot my own horn!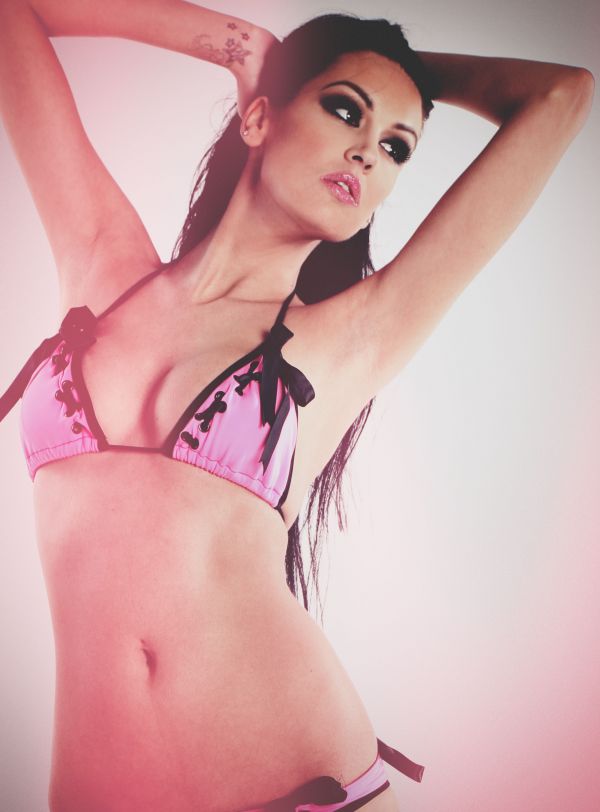 Q: What is your favorite food?
A: I love salmon – raw or cooked. And I'm a total junk food junkie – anything chocolate.

Q: What is your dream car?
A: A '63 or '64 Lincoln Continental with suicide doors.

Q: What do you look for in a guy? What would he have to do to get your attention and to keep you interested?
A: Someone who is loving, patient, friendly and can put up with me because I'm a handful!

Q: If you could have one superpower, what would it be and why?
A: To fly. I'm a control freak and flying in planes scares me. If I could fly myself I'd be all over the place!

Q: Who are your heroes in real-life?
A: My grandma – she's just absolutely an amazing, loving person. I Love you Gma!

Q: Tell us about any upcoming projects of yours?
A: You will just have to stay tuned and see!

Q: With any 'spotlight' type of job, you are looked upon as a role model. What advice would you give out to aspiring models?
A: Never give up. Stay strong, confident and true to yourself, and never let a "no" discourage you. Don't take it personal and pursue what it is you're working towards.

Q: Do you have any shout outs or last words?
A: To my fans, I love you all so much! I truly appreciate your love and support and for believing in me. Thank you for going on this journey with me!