Birth date: November 19
Location: Calgary, AB
Zodiac Sign: Scorpio
Height: 5'0"
Weight: 98 lbs
Measurements: 32-24-32
Ethnicity: Vietnamese
Location: Calgary, AB
Turn-ons: Great personality, sense of humor, ambitious, and polite
Turn-offs: Rude, ignorance, and cockiness
Pet Peeves: My pet peeves are like my turn offs but my other big pet peeve is racism.
Twitter: www.twitter.com/BambiLe
PASNATION Username (http://pasnation.pasmag.com): bambi_le




PAS: Is "Name" your real name or model name?
Bambi Le: Bambi is a nickname that was given to me when I was a baby and it just stuck.

PAS: Where are you from? And, are you currently living there? If not, where are you currently living?
Bambi Le: I'm from Calgary, AB. I currently am living there but will be moving to Toronto, ON in January for school.

PAS: Does your personality match your Zodiac sign? Describe.
Bambi Le: It does and it doesn't match my personality. I do live a double life in a sense, when I first meet people you see the "image" of me but when you really get to know me you'll find that I am very different. Other things that match my personality is that I am adaptable which would explain the many different types of friends I have. I do love being a long term relationship and being the dominant one but at the same time I prefer that my man be dominant so that's where the contradictory part comes in. I am very relax, cool and determined like how it says a scorpio is. I find that the description is very general and that there is aspects that match my personality and don't. Guess you'll have to get to know me to know my personality but I won't let you see all of it at once ;)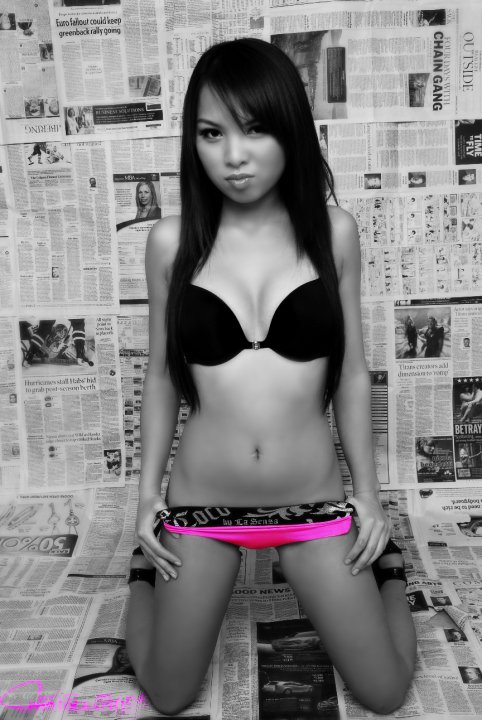 PAS: How long have you been modeling?
Bambi Le: I have been modeling for one year.

PAS: What would you say are your strengths as a model? (ex. body, eyes, smile, certain poses and emotions...)
Bambi Le: I believe my strength as a model is my posing and my eyes.

PAS: Do you have any birthmarks, scars or tattoos? Please state "what", "where", "how noticable?"
Bambi Le: I have scars on my leg from when I use to play basketball, they're not as noticeable as they use to be. I also have a scar on my right cheek, it's not very noticeable and I am able to cover it with make up.

PAS: Describe yourself in 3 words or statements.
Bambi Le: Silly, caring, and passionate.


PAS: What is your best beauty secret?
Bambi Le: Being a natural beauty, and not over doing my make up. I never really play around with make up and have always kept it very simple and natural and just found that it works for me. The only time I do up my make up is for photo shoots, big events, and when I go out to parties with friends.

PAS: Why do you love modeling?
Bambi Le: I love being in front of the camera in different outfits letting out my alter ego and I love meeting and learning from new people.

PAS: With any 'spotlight' type of job, you are looked upon as a role model. What advice would you give out to aspiring models?
Bambi Le: Don't ever doubt yourself. If opportunities don't come to you create your own, the hard work you put in will pay off.
PAS: Where can we see you? (ex. shows, tv, magazines, etc)
Bambi Le: I can't exactly say right now but just keep an eye out for me ;)

PAS: Words to live by?
Bambi Le: Live everyday like it's your last.

PAS: Any shout-outs or last words?
Bambi Le: I just want to thank Lexus Lee and Jennifer Nguyen who offered me so much great advice when I first started out. Thank you to the new friends and people I have met who have believed in me and have given their support. Big big shout out and thank you to my boyfriend, sister, and my bestfriends for their support, love, and believing in me since the very beginning. Last but not least my fans thank you so much, I wouldn't be here without you guys.