Written by pasmag staff
The Essentials
Christin Stoddard
Birth date: May 21st
Location: Seattle WA
Zodiac Sign: Gemini
Height: 5'7
Weight: 117
Measurements: 32/25/34
Ethnicity: White
Turn-ons: Confidence
Turn-offs: Arrogance
Pet Peeves: Whenever I see a man sitting in the car, letting his woman pump the gas OR when a man I just met refers to me as babe.
PASNATION Username: christinstoddard
The Interview
Is "Name" your real name or model name?
Real name.
Where are you from? And, are you currently living there? If not, where are you currently living?
I'm from the small town of Port Orchard, Washington, but currently, I live in Seattle.
Does your personality match your Zodiac?
I'm totally a Gemini, minus the evil twin thing. One twin is good... the other one is even better. ;)
How long have you been modeling?
Almost 2 years.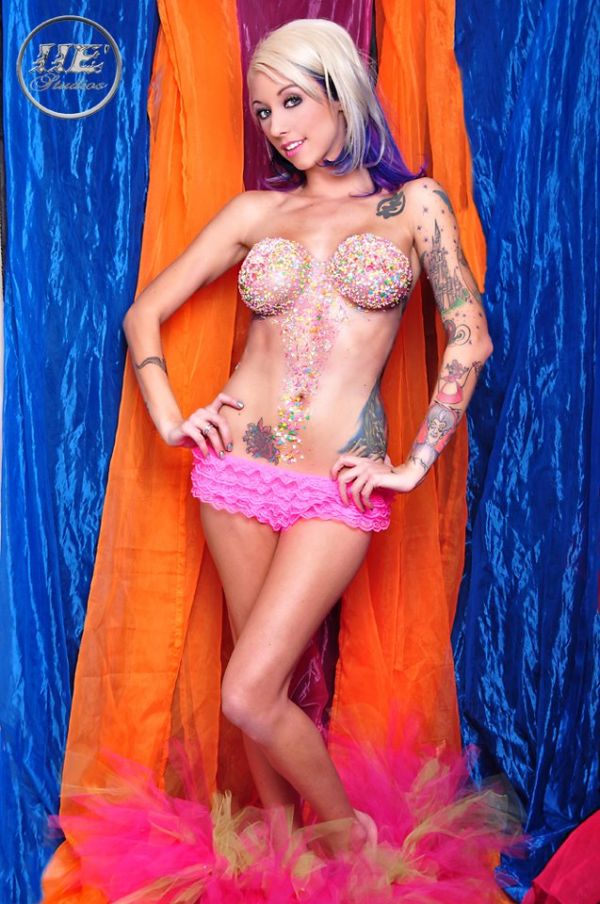 What would you say are your strengths as a model? (Ex. body, eyes, smile, certain poses and emotions...)
I like to think I'm sweet and sexy with a little edge.
Do you have any birthmarks, scars or tattoos? Please state "what", "where", "how noticeable?"
I have about 75 hours of tattoo work... I'd say it's pretty noticeable! I have a rose tattoo on my neck, a Cinderella inspired sleeve, and both sides of my ribs have been done. There's writing down both my legs, the back of my thighs have jellyfish, and both feet. There's more, but you get the idea.
Describe yourself in 3 words or statements.
Rambunctious, genuine, and blessed.
What is your best beauty secret?
Sleep! There's nothing sexy about being tired.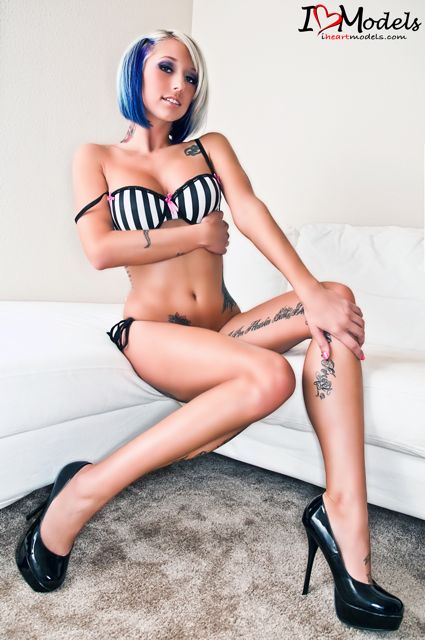 What do you look for in a guy? What would he have to do to get your attention and to keep you interested?
I don't really have a type, but there's definitely something about a guy who knows who he is and doesn't try to impress.
What gets you in the mood? What are some of your turn-ons?
Having a few extra minutes before you need to leave the house, or go in some place.
How do you feel about pick-up lines? What was the best line that was used on you? Did it work?
CHEEEESY! However, my ex used, "How much does a polar bear weigh? Enough to break the ice," when we first met. It took me 2 years to figure out it was a pick up line. He's my ex, so I guess the ones that leave you wondering work for a while.
So what is the weirdest thing that has ever happened to you on a date? How did the rest of the night go?
It clearly wasn't working out so we met up with some of my friends and I ended up drinking myself silly. When I woke up my best friend was in bed next to me and there was a "sorry to leave in the middle of the night, but my grandma died and I needed to fly home" note...???
On a scale of 1 to 10, how wild are you in the bedroom?
Wouldn't you like to know... that's privileged information.
What do you wear to bed?
Panties.
What item of clothing or accessory makes you feel the sexiest?
Fishnet anything with heels!
Have you posed in the nude? If so, how did it make you feel?
I'm super comfortable with nudity, but have only done implied shoots, which made me feel cold, haha! My biggest concern with full nudity shoots is what the photographer is going to do with the pictures when we're done. Photoshop is a powerful tool!
Where can we see you? (Ex. shows, TV, magazines, etc.)
Oh my... I've been on the news or Iheartmodels.com
What is your dream car? What modifications/upgrades would you make, and why?
I love my white '09 Lancer, he's turbo ready! I just need time and someone who knows what they're doing to help me upgrade him! Then I'll black out my tail lights and rims.
Do you have many traffic violations? Any stories you'd like to share with us?
Nothing major. If I get pulled over, I get a ticket. Never fails. Once, I was going 71 in a 60, completely topless... the cop that pulled me over told me to put a shirt on and he'd be back with my ticket. So I behave myself behind the wheel.
With any 'spotlight' type of job, you are looked upon as a role model. What advice would you give out to aspiring models?
Just because someone owns a camera doesn't make them a photographer. Network! Recognizing models in established portfolios makes is easier to find out if you're going to a professionals studio, or a creepers basement.
Words to live by?
Live fast, die pretty.
Any shout-outs or last words?
Thanks to my Iheartmodels family for all their support this last year!