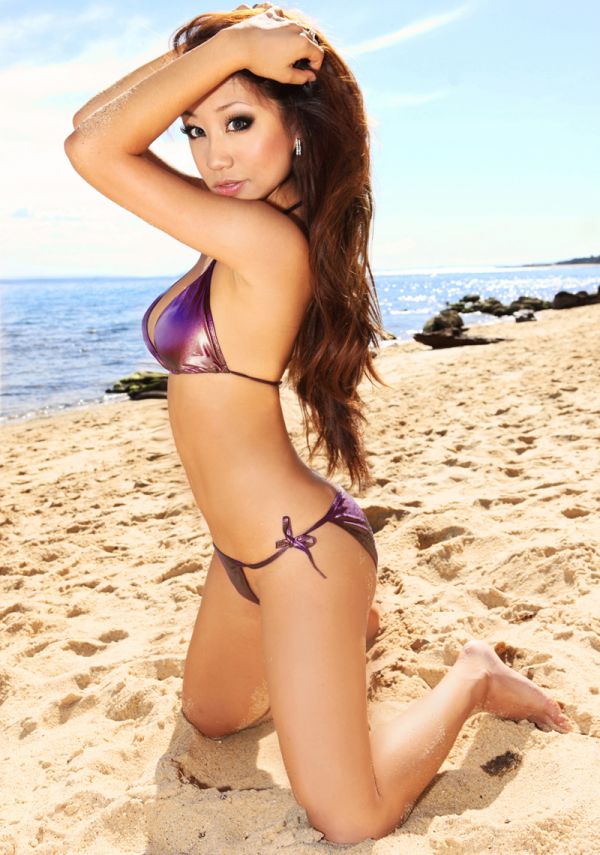 The Essentials
Name (First/Last): Rosie Ly
Birthday: March 3rd

Location (City, State/Province): Melbourne, Australia
Zodiac Sign: Pisces
Height: 5"
Weight: 94 lbs
Measurements: 32C Waist - 25" Hips - 32"
Ethnicity (Mother/Father): Mummy is Vietnamese, Daddy is Vietnamese/Chinese.
Turn-ons: Nice teeth and nice shoes.
Turn-offs: Arrogance and dirty fingernails.
Pet Peeves: Any mess of any form.
The Interview
Is "Rosie Ly" your real name or model name?
Rosie Ly is as real as it gets. Even translated.
What were you like growing up?
I was the biggest tomboy as a kid. First to run to the sandpit, first to shoot the marbles. I was very competitive. I guess I learnt to be tough before I learnt how to be girly. Can't be a bad thing.
Does your personality match your Zodiac sign? Describe.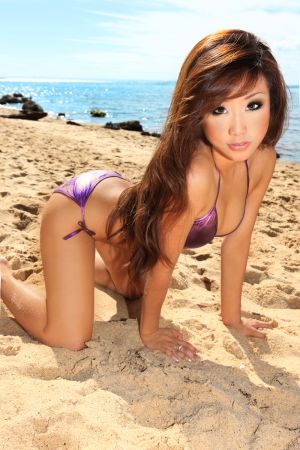 I'd say so. Apparently I'm a true softie and a dreamer. Reality just isn't good enough sometimes. Oh and apparently I'm quite a lover too! [Laughs] Yeah, we can't leave that bit out.
How long have you been modeling?
I've been modeling for a few years. If I go back to my first gig it would've been 6 years ago.
What would you say are your strengths as a model? (Ex. body, eyes, smile, certain poses and emotions...)
You wanna talk about 'strengths' eh?!! [Laughs] Hmm.. If you look up, it's my smile, I love smiling and you can tell. If you look down, my butt. She's been very good to me over the years. Flexibility helps when you gotta pose all day too!
Do you have any birthmarks, scars or tattoos? Please state "what", "where", "how noticeable?"
Nope. Actually, I thought of getting a tattoo once. A little word in script on the inside of my wrist but it would put my poor mother in shock. I got over that idea pretty fast.
Describe yourself in 3 words or statements.
Umm.. Extravagant, contagious and COOL! [Laughs]
What is your best beauty secret?
If it's shiny, BUY IT!!! Jokes. Apart from getting heaps of sleep, you have to eventually wake up and get outdoors, socialize, be funny and stay CLEAN!!!!
What do you look for in a guy? What would he have to do to get your attention and to keep you interested?
Humor makes anyone beautiful. I love men who are in control of themselves, focused but also laid back. It's not hard to get my attention. I read more into your body language than I do paying attention to what you say. If you try too hard, I can sense it and it becomes unnatural.
What gets you in the mood?
The raised eyebrows and a wink. [Laughs] Nah, okay maybe it takes a bit more than that. Privacy, sweet wine/cider and little conversation.
How do you feel about pick-up lines? What was the best line that was used on you? Did it work?
Pick-up lines can make or break a guy but I'm not that cruel. I choose to laugh it off so it works out for both parties. "If you were a Transformer, you would be Optimus Fine." It didn't quite get me but I haven't forgotten either.
What's the weirdest thing that has ever happened to you on a date? How did the rest of the night go?
I haven't had anything weird happen to me as of yet. I've got a really good sense and ability sifting out the weirdo's.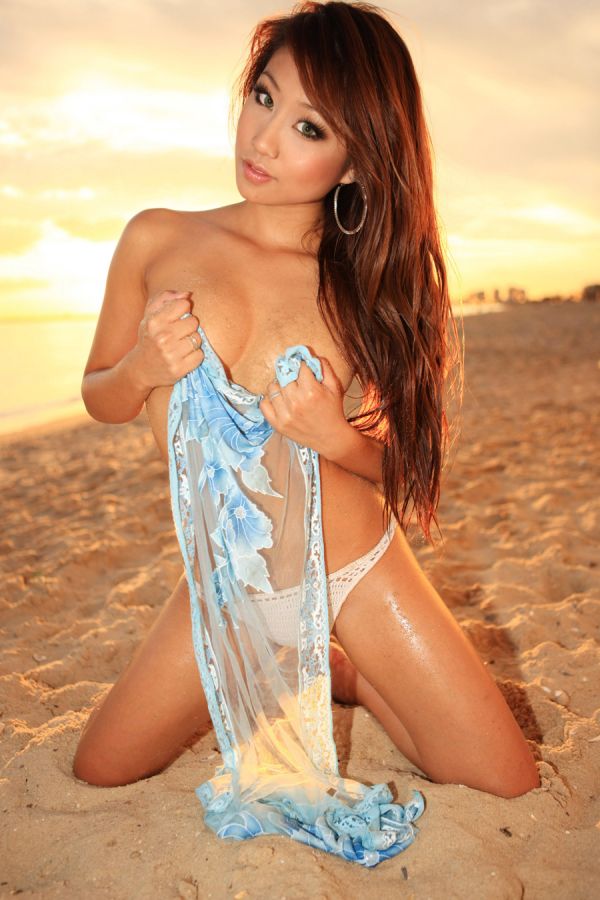 On a scale of 1 to 10, how wild are you in the bedroom?
A balance is certainly the way to go. Being a jungle cat ALL the time isn't good fashion.
What do you wear to bed?
I live alone so I prefer nothing in summer. I shower before bed and I love the feeling of clean sheets. In winter, I might throw on a pair of undies :) You know, to keep me warm and all. [Laughs]
What item of clothing or accessory makes you feel the sexiest?
A loose thick cozy hoodie.
Have you posed in the nude? If so, how did it make you feel?
I've implieed nude in a couple of shoots. The first time was nerve "racking", but after a few minutes I had to make it comfortable as I realized the photographer was more nervous than I was. Did you see what I did up there? [Laughs] No pun intended :P
Where can we see you? (Ex. shows, TV, magazines, etc)
Jamming on the city streets of Melbourne with some mates every so often and Australian magazine features, but I suggest Facebook if you wanna get personal.
What is your dream car? What modifications/upgrades would you make, and why?
I've always loved Audi's S5 Convertible as I do with Porsche's Boxster. So long as it has a manual transmission. I'm proud that I can make driving that bit more fun. We have limited cars to choose from in Australia though. As for upgrades, it has to have red and black leather interior and I'm happy. Not asking for much :)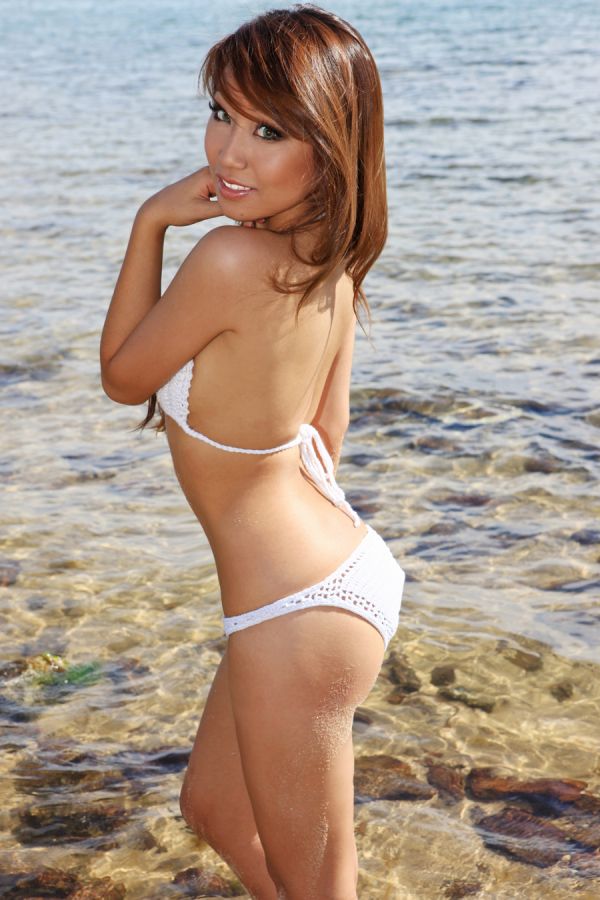 Do you have many traffic violations? Any stories you'd like to share with us?
I drove without a license for 4 years without hassles. I have it now, so all good and legal.
With any 'spotlight' type of job, you are looked upon as a role model. What advice would you give out to aspiring models?
Don't 'wait' for your break. The only person who will give you that opportunity is you. Network and learn from the best around you. There is much more to modeling and remember not to lose yourself in the process.
Words to live by?
Aim high.
Any shout-outs or last words?
Thank you Performance Auto & Sound for the representation and the support from friends, family & everybody!! Much love and appreciation.