Name: Mis Morning Star
Location: Edmonton, Alberta, Canada
Check out Mis Morning Star on Facebook
Follow Mis Morning Star on Instagram

Birthday: August 18th
Zodiac Sign: Leo
Height: 5'6
Weight (lbs): 125
Measurements: 34C-25-34
Ethnicity/Nationality: Vietnamese / Aboriginal
Experience:
Matrix products tradeshow

Sabastian products tradeshow

Runway model for "Edmonton Fashion Week"

Select Models Management commercial

Import Model

RXI magazine, Vexx magazine and PASMAG

BeerHunter calendar model

Playboy's "Girls of Golf"

"Miss Teen Alberta"
The Interview
Where are you from? And, are you currently living there? If not, where are you currently living?
I was born in Saskatoon and raised in Edmonton. Although I have extensive travelling experience, I always come home to Edmonton, Alberta.
Are you currently working? If so, where and what do you do?
I am a fully licensed hair dresser working for Shadified Salon. I also work with my mother who runs a cleaning service. I like to keep busy and don't mind getting my hands dirty.
Are you currently in school? If so, where and what is your majors/minors?
I just graduated from Marvel College for hair dressing.
Does your personality match your Zodiac sign? Describe.
I'm a Leo and my personality definitely matches my sign. I'm ambitious, courageous, motivated, and creative; dominate, strong-willed, and independent. When it comes to my friends, family, and those close to me, my generosity can be seen as a fault.
What would you say are your strengths as a model?
I'm energetic, funny, adventurous, motivated, and determined. I can easily adapt to any working environment, follow instructions, and able to work alone or with a team. I am also very ambitious and committed to my artistry; I believe that being unique is very important because that's what makes us individuals. My exotic look often works in my favor. I also strive to be the best person I can be in any situation.
What is your best beauty secret?
Plenty of rest, hydrating properly and plenty of sun screen. To relieve stress, I hit the gym.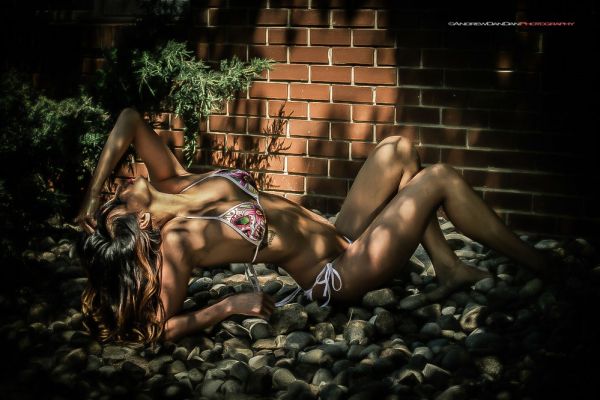 What car do you currently drive? Describe your likes and dislikes of the car.
I drive a Pontiac Torrent, 2007 SUV. I hope to one day drive a 2013 Aston Martin, which I feel describes my personality; sleek and sexy. The one thing I can't go without is my DVD player in my vehicle. When I drive around I listen to my chick flick seasons. Everyone thinks this is weird, but it keeps me centered and laughing.
What is your dream car? Why?
My dream car would have to be a silver 2013 Aston Martin. Who needs a man if your car is fast, handsome, and elegant?
Do you know how to change a spare tire? Do you have any interesting stories of any car problems you've had?
It's actually a funny story; my first car was a 1992 Ford Tempo and it broke down on me one day. I walked into an independently owned mechanic and body shop and said, "I know nothing about cars and need my vehicle to be fixed". I wish I didn't say the first part of that sentence; he billed me $900 for two brake pads and a barring and I paid it. I had no idea I was hustled. I told one of my friends and he then told me I basically got screwed. To this day I do the opposite and buy my own parts after getting different quotes and just pay someone to do the work.
What are your future plans (long term goals)?
I want to continue to work in a salon for at least 10 years to gain a strong clientele. After that, if everything works out I either want to own a salon or have a partnership in a chain of salons. I see a future in the beauty industry. I've enjoyed either being the model or helping others look the part to pursue their careers. I enjoy doing hair and makeup. Makeup and photography are my passion. With that said, pursuing my modelling career is also just as important to me.
Do you drink? If so, what do you drink? If not, why do you not drink?
I enjoy drinking white wine. White Zinfandel and Moscato are my favorite.
Where (restaurants) do you like to eat? What do you order? Why?
I enjoy Asian cuisine. As a toddler my mother would ask me what I would like to eat and I would always respond "mhmmm... rice and flowers." My favorite has always been rice, beef and greens and you can't forget the imperial rolls.
Are you saving for anything at the moment?
I've always been smart with money. When I want something I strive, save and work hard to get it. I am saving for my future salon.
What are your hobbies? Describe what you do.
I actually enjoy driving, doing my everyday errands and spending time with my micro-teacup Chihuahua (who thinks he's a Pit-bull). I enjoy movies and anything that has to do with the outdoors. I also enjoy doing hair and makeup on others to help them feel confident and beautiful.
How do you keep in such excellent shape? Explain your daily/exercise routine.
I usually spend three days a week at the gym doing full body workouts, as my schedule permits. I warm up using the stair master to get my heart rate up and blood flowing. Then I go straight to leg work. I started off squatting 70 pounds and I'm now up to 140. I'm very proud of myself. I continue doing other thigh and calf exercises and then move on to light arm work for toning and finish up with abs.
Are you big on first impressions? What do you first notice on a man?
I am; if I go on a date and he acts like a dick then I am definitely not going on the second date. I notice if the guy has good hygiene, has a good personality, and takes care of himself. If I make an effort to look good I expect the same too. I like someone that can make me laugh and isn't too shy as I tend to talk a lot. Some people say I talk too fast when really, they're just slow listeners?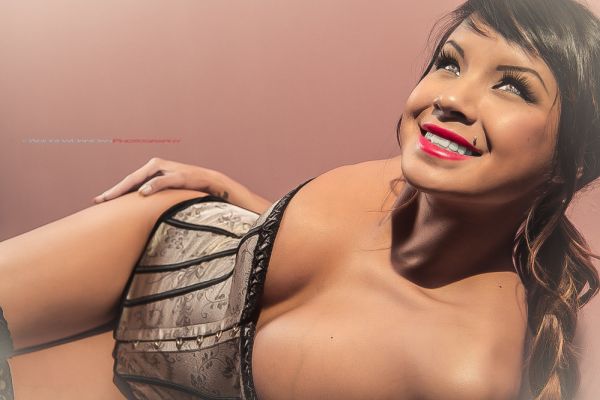 What's on your travel itinerary? Are you planning to go to any events in the future and/or vacation with your family, friends or 'significant other'?
My summer travelling itinerary includes 'Boonstock' (a huge rave event), the Calgary Stampede,' and working the Winnipeg Driven Car Show for PASMAG. I also plan to visit Kelona, Vegas, Las Angeles and camping on the Pembina River. I plan on having the best summer ever; last year was spent working. It should be fun and interesting.
Do you have a dream wedding? If so, where and describe?
If I ever get married it would have to be somewhere beautiful in Mexico with all my close family members and friends. I just want to be somewhere where I can feel my toes in the sand and a beautiful sunset on my face.
Who is your favorite music artist or band? Why?
Growing up, it was definitely Britney Spears. Today my favorite artist is Rihanna; her edge, style, music, and swag are inspiring. I also enjoy listing to reggae, hip hop, dance, house and some rave music. Basically, whatever has a good beat and gets me up and dancing.
Who motivates and inspires you?
Kim Kardashian minus the porn; her self-promotion has gotten her to where she is today. She has strived for what she wanted and achieved it. I also love her fashion sense, hair and makeup.
What else can you tell us about yourself?
Being the oldest of five children with four brothers keeps life interesting. I was a cheerleader in junior high and high school. I've been modeling since the age of 13 and did my first commercial at 14. My parents kept me in a bubble and I was constantly being grounded to keep the boys away. I hated it back then, but I understand it now.
Any shout-outs or last words?
I strongly believe everything happens for a reason, good and bad. It's always about the life lessons and experiences that mold you.